President Barack Obama jolted the long, tumultuous relationship between the United States and Cuba with his decision to normalize relations with a country that has fascinated and vexed Americans since the days of Theodore Roosevelt.
The decision led CNN to dig through the U.S. National Archives, finding troves of de-classified documents and letters that paint a fascinating picture of two nations as they begin to re-engage after a decades-long stand-off.
Here are a few of our favorite finds:
In 1940, a young Fidel Castro sent a letter to the White House praising Franklin Roosevelt and asking for a $10 bill
Castro was a teenager with basic English skills when he sent then-President Franklin Roosevelt a handwritten letter praising the American leader. He also had one special request: He wanted to add a $10 bill to his collection of American currency.

"My good friend Roosevelt," the letter Castro began, "I like to hear the radio, and I am very happy because I heard in it that you will be President for a new [term]. "If you like, give me a ten dollars bill green american in the letter because never, I have not seen a ten dollars bill green american and I would like to have on of them."
The CIA conducted a psychiatric evaluation of Fidel Castro in 1961

Years later, American spies conducted a "psychiatric personality" study of Cuba's young new leader in 1961 during John F. Kennedy's administration, and concluded that he was "highly neurotic," "unstable" and "vulnerable to certain kinds of psychological pressure."
The two-page memo relayed that Castro thrived on praise, and that his thirst for power could also bring his downfall.
"Castro's egoism is his Achilles heel," the CIA report, which was declassified in the 1990s, reads. "The extreme narcissistic qualities of his personality are so evident as to suggest predictable patterns of action during both victory and defeat."
9 questions you were embarrassed to ask about the embargo
The report also outlined ways the U.S. government could exploit his perceived emotional weaknesses.
"Castro is a person of superior intellectual endowment with insatiable narcissistic and exhibitionistic needs," and propaganda aimed at these characteristics would have an impact on Castro, the report read.
Kennedy's personal annotations on a Cuban map during the missile crisis
When the U.S. and Soviet Union found themselves on the brink of nuclear war when Russian missiles arrived on Cuba's shores, Kennedy personally wrote X's to mark the missile locations on the island.
Opinion: What Cuba deal says to Latin America
JFK doodled "Missiles, Missiles, Missiles," during a meeting at height of the crisis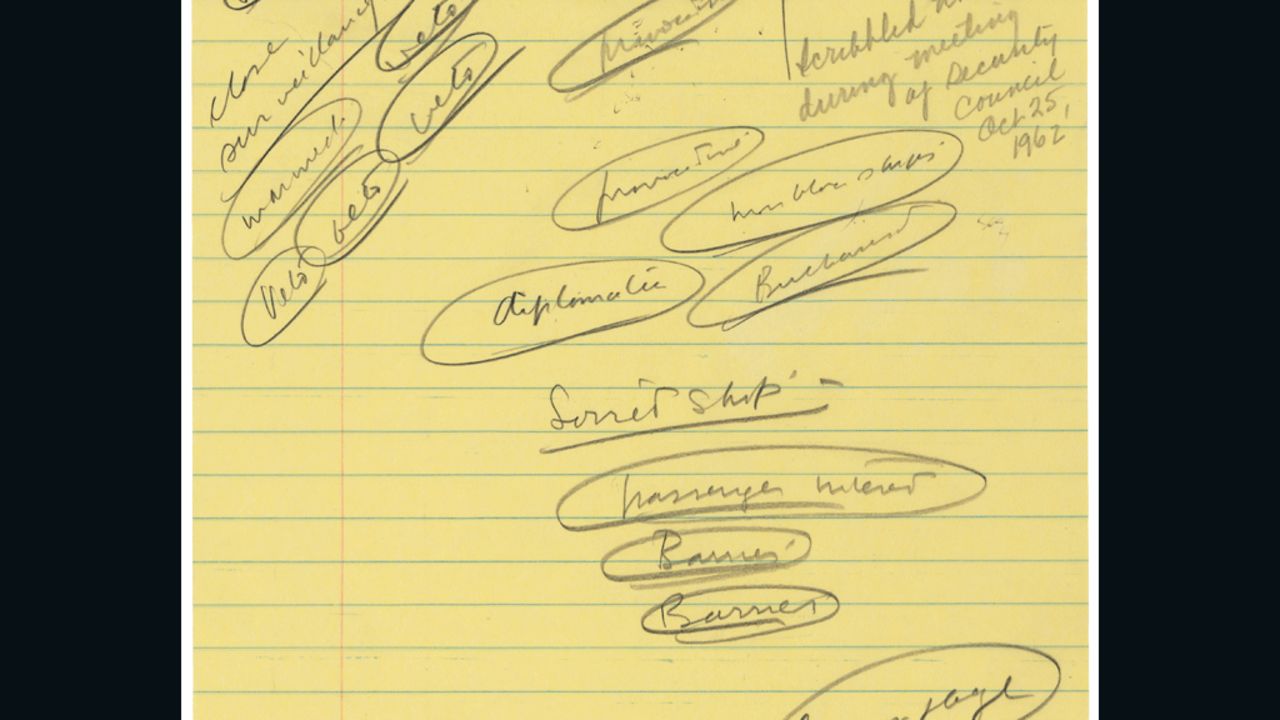 Kennedy scribbled these notes and doodles during an October meeting with security advisers on the tenth day of the Cuban Missile Crisis in 1962. The dramatic standoff between the U.S. and the Soviet Union ended three days letter, when Soviet Premier Nikita Khrushchev agreed to remove the missiles from Cuba in an exchange for an agreement that the U.S. would not invade the island nation.