Story highlights
French radio station RTL says line remained open after hostage-taker spoke via phone on Friday
If France "didn't attack other countries, I wouldn't be here," man believed to be gunman tells hostages
Israeli PM says survivor told him that one of the hostages had tried to take terrorist's weapon
Amedy Coulibaly apparently tried to justify himself to his hostages in a deadly standoff at a kosher market in eastern Paris – and perhaps unbeknownst to him, a radio station was listening, a recording purportedly reveals.
French radio station RTL says that it called the market Friday after authorities say Coulibaly took customers and workers hostage. Coulibaly apparently took the call and then tried to hang up, the station says, but the line remained open.
In a recording of what followed, a man the station identifies as Coulibaly holds a dialogue with others – apparently hostages – in which he says he attacked because the French military has attacked Muslims in the Middle East and Mali, including ISIS militants.
"I was born in France. If they didn't attack other countries, I wouldn't be here," a voice says in RTL's recording.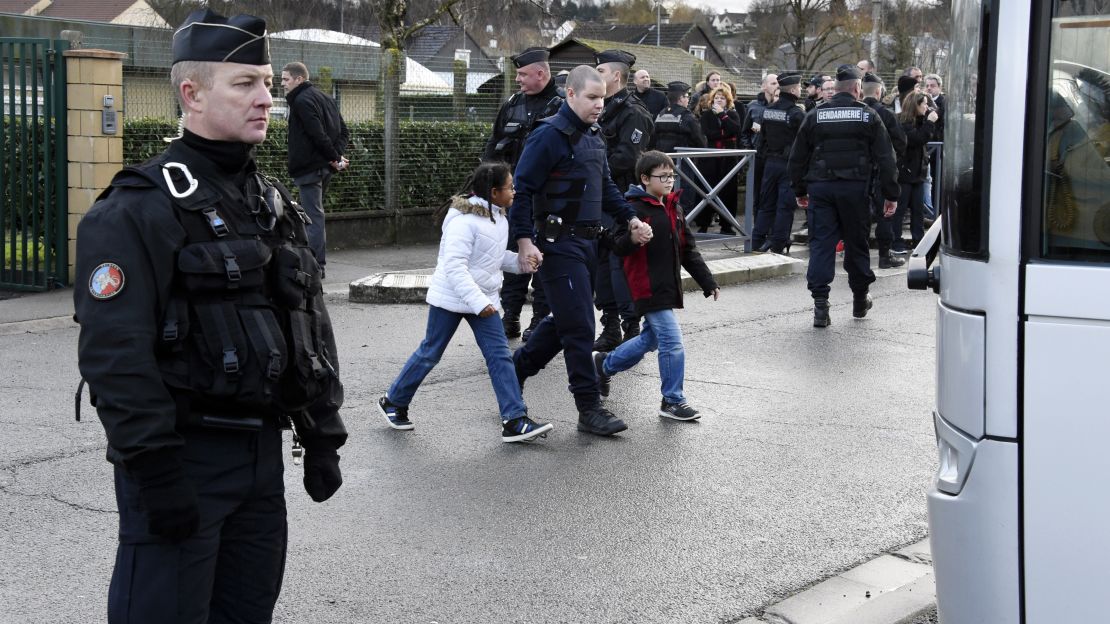 Officials say Coulibaly killed four hostages in the grocery store, and he was then shot and killed when police raided the store to free the hostages.
One freed hostage, who gave her name only as Marie, told CNN affiliate BFMTV that the gunman started shooting "as soon as he got inside."
"We were sitting, and at our right there were two corpses – two customers who died at the very beginning," Marie said. "… He scared us because he told us, 'I'm not afraid to die.' And he said, 'Either I die or I go to jail for 40 years.' "
Store worker Lassana Bathily told BFMTV that he guided a group of shoppers into a downstairs walk-in freezer.
Coulibaly demanded the people come upstairs or he would shoot them, Bathily said.
The worker said he shut off the light in the room and the power to the freezer and told the people to stay calm.
"I'm the one is going to go out," he recounted telling them. "I took the elevator and went upstairs."
When the doors of the freight elevator opened, he looked both ways. He saw no one, so he ran.
Once outside, he was detained by police, but later helped them by describing the supermarket floor plan. It was unclear whether the people were able to remain downstairs.
Israeli Prime Minister Benjamin Netanyahu said he'd spoken by phone with a survivor who told him that a young, male Jew was shot after he tried to grab the gunman's weapon.
"He was shot, and struggling for his life for 45 minutes," Netanyahu said, recounting what the survivor told him.
The four slain victims were identified Saturday by the French Jewish publication JSSNEWS as being Yohan Cohen, 22, Yoav Hattab, 21, Philippe Braham and Francois Michel Saada.
The four hostages were killed by the gunman before police stormed the market, Paris prosecutor Francois Molins said Friday.
Recording: 'Militants are going to come'
Coulibaly was part of the same Islamic jihadist groups as Cherif and Said Kouachi, the brothers who police say committed Wednesday's massacre at the Charlie Hebdo magazine offices in Paris and were killed in a separate standoff north of Paris on Saturday, French police union spokesman Pascal Disant said.
In RTL's recording, the man purported to be Coulibaly tells the hostages that they are accountable for France's actions against Muslim militants abroad, in part because the hostages pay taxes and elect the government's leaders.
"But I am telling you, it's almost over. Militants are going to come. There are going to be more and more. They (France) need to stop. They need to stop attacking ISIS," the man says, referring to the Islamic State in Iraq and Syria, the Sunni Muslim extremist group and al Qaeda offshoot that is waging a brutal war for what it says is its Islamic caliphate in the Middle East.
"They need to stop asking our women to remove the hijab," the man continues. A French law banning the burqa, a full-body covering that includes a mesh over the face, and the niqab, a full-face veil with an opening for the eyes, went into effect in April 2011.
Argument with hostages about taxes
The man purported to be Coulibaly, 32, apparently argued with hostages about taxes, RTL's recording shows.
"You pay taxes, so that means you agree" with France's actions in Mali and the Middle East, the apparent gunman says in the recording.
"But we have to pay," another voice says.
The response from the apparent gunman appeared incredulous: "What? We don't have to. I don't pay my taxes!"
"When I pay my taxes, it's for the highways, schools," an apparent hostage says. "We pay our taxes but we don't harm anybody," a person also says.
The man purported to be Coulibaly says: "Everyone could get together. If they could get together for Charlie Hebdo … they could do the same thing for us and get together for us."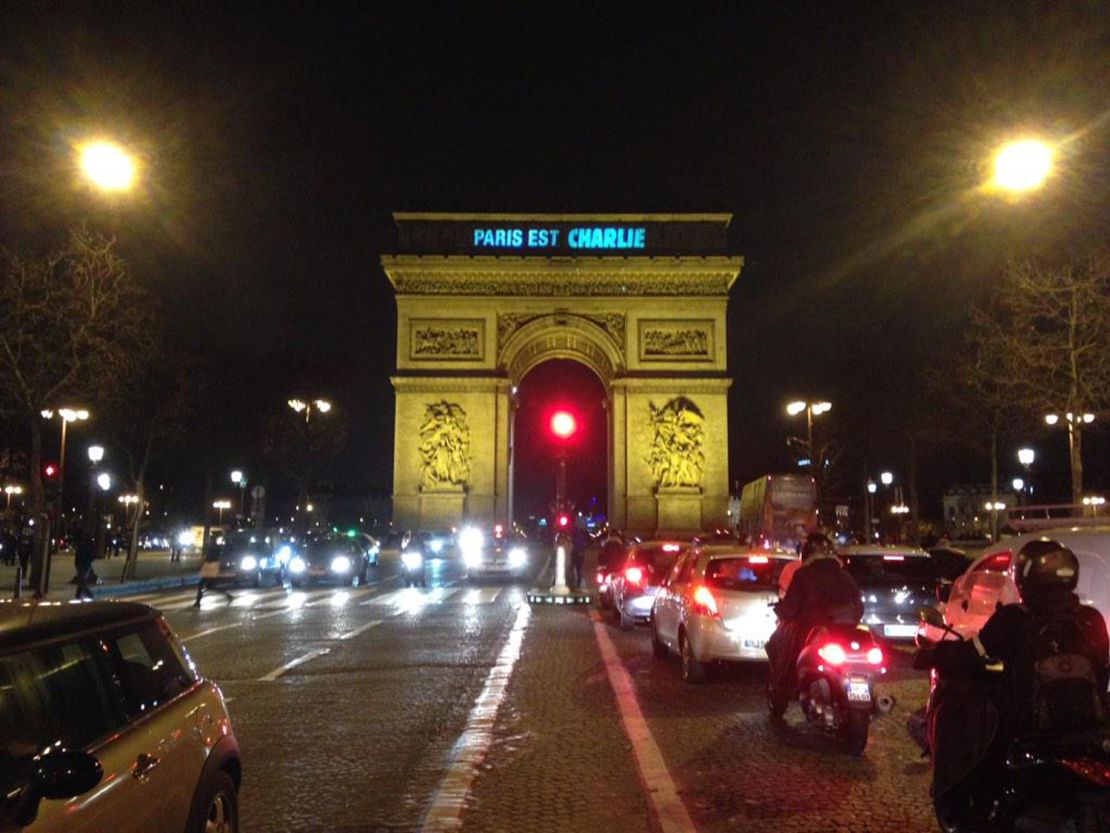 CNN could not independently verify that the speaker was Coulibaly.
Separately, Alexi Delahousee, a journalist with CNN affiliate BFMTV, spoke to Coulibaly on the phone during the hostage situation, BFMTV reported.
Coulibaly said that he belonged to ISIS and had synchronized his attacks with the Kouachi brothers. Paris police say that Coulibaly is suspected in Thursday's fatal shooting of a police officer in the Montrouge suburb, a day after the Charlie Hebdo massacre of 12 people and a day before the Friday market raid.
Israeli government sources told CNN that French President François Hollande had told Netanyahu that 15 hostages were rescued.
A new manhunt was launched, meanwhile, for the only surviving suspect from the two hostage situations, police union spokesman Pascal Disant said.
But it wasn't clear if she was in France. She entered Turkey on January 2, a Turkish prime ministry source told CNN on Saturday. If that is accurate, it could mean Boumeddiene was not in France at the time of this week's attacks.
CNN's Ray Sanchez and Margot Haddad contributed to this report.