They come in their thousands, crammed onto barely seaworthy boats to make the treacherous journey from Africa and the Middle East to Europe.
Even before the sea crossing, many have traveled far over land, paying people smugglers to clear the way, dodging bullets, knives and attempts to recruit them as fighters.
They've been robbed, beaten and in some cases imprisoned during their desperate attempts to escape life in their own countries.
CNN spoke to six migrants who made it to Italy about their lives now and whether the risk was worth it.
Ajmal Sadiqi, grocer from Kabul, Afghanistan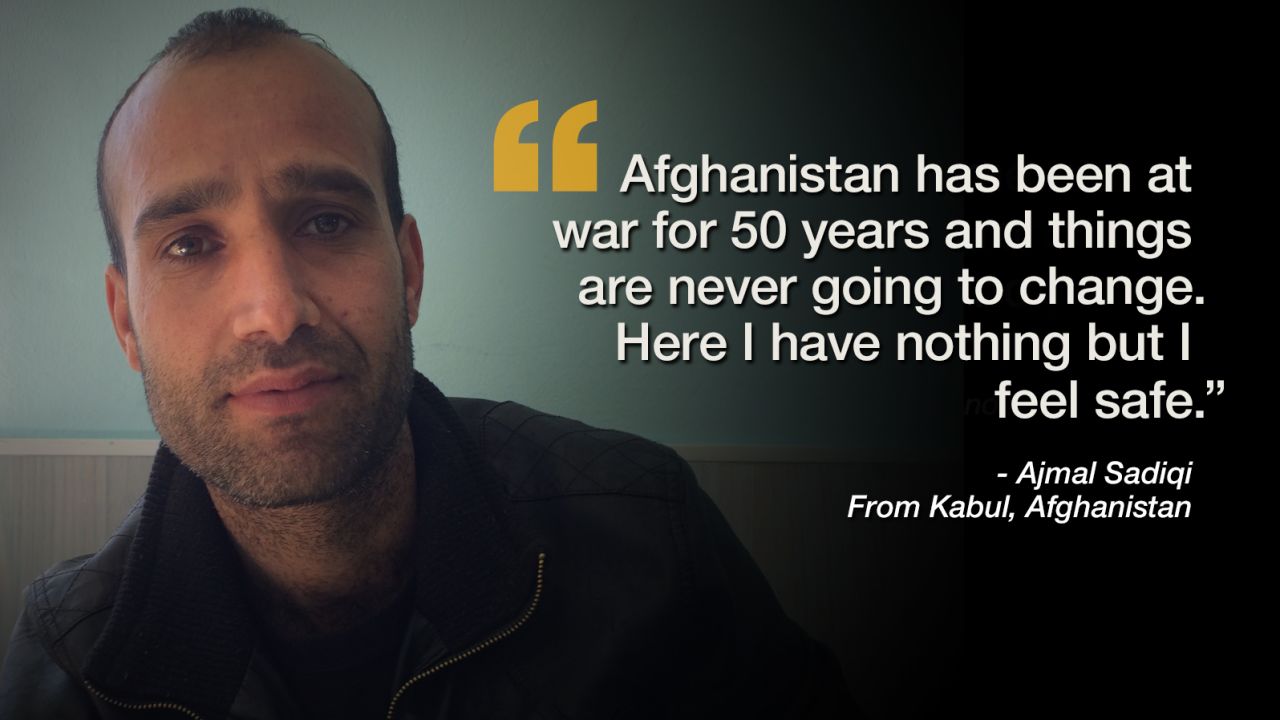 Ajmal Sadiqi wanted to escape the constant state of war in Afghanistan. He was tired of feeling afraid. "Even if you're not aligned with anyone, you can just be going to the market and you end up dead," he said.
He traveled first through Iran into Turkey. He boarded a small wooden boat with four other adults and three children. They rowed all night towards Greece and were picked up by the Greek coastguard. Sadiqi shared a grim statistic – saying 90% of people who take that same journey die along the way.
The grim job that haunts Italy's migrant patrols
He took a bus on the last leg of his journey to Italy, where he's been since 2008. He's been trying to get a job ever since but has not got the necessary documents. He tried to reach the United Kingdom in 2012 but was turned back at the border. He tried to go to Germany too, where one of his brothers lives, but that did not work out either. He returned to Italy, hoping to get the asylum he needs to get papers.
Home is now an abandoned house he shares with several other migrants of various nationalities. He still hopes his situation will work out.
"Afghanistan has been at war for 50 years and things are never going to change. Here, I have nothing, but I feel safe. I can walk on the street without being afraid."
Despite that, Sadiqi does not want his mother and sister to come to Europe. "The journey is too dangerous for a woman."
Idah Yaro, former economics student from Maiduguri, northern Nigeria
Idah Yaro dropped out of Jos University in his first year studying economics. He said there were tensions between Christians and he and his fellow Muslims at that time, even before the rise of Boko Haram.
He left Nigeria and traveled through Niger to Libya, then still ruled by Moammar Gadhafi. He stayed for a while with a Nigerian friend and then got a free passage on a boat owned by the employer of his friend. Yaro said he and 35 men from Ghana, Somalia and Sudan crowded on to an inflatable dinghy and made it easily to Malta.
Yaro was in Malta for six years. He was able to find odd jobs in restaurants and said he even paid taxes, though he reported his application for asylum and legal documents was rejected.
Six months ago he took a ferry to Sicily. Since then he's been sleeping on the streets of Catania or sometimes at a facility of the Catholic charity Caritas.
"I came because I wanted some peace – that's why I ran," he said of his decision to leave Nigeria. "But I have found no peace. I was detained for a year and a month in Malta. They don't care about you here. If somebody dies they don't care they just put you in a grave and that's it. They don't try and find your family.
"There's nothing good about life here. I feel like it's all upside down."
Umar Silla, mechanic from Sierra Leone
Umar Silla has a passion for cars, and worked as a mechanic back home in Sierra Leone. He left with the hope of finding work to support his sister and nephews. That decision, in 2006, led to a long, long journey. First he traveled to Senegal where he worked for a few months. Then on to Mali, Burkina Faso, Niger and Libya. He worked in construction there, and left just before Gadhafi was toppled from power.
He sailed from Libya in a rubber dinghy with a group of 50 or so other migrants. On the voyage they met some Tunisian fishermen who gave them food, water and directions. After three days, they were picked up by the Maltese Navy. He said he hadn't been afraid and had treated the crossing like a game of soccer. "Sometimes you win, sometimes you lose, sometimes you draw."
Six months ago Silla left Malta for Italy, but still cannot find work. Cars in Europe have more electrical components, he says, and he does not know how to fix them. He says he is a "good working man" and will try any kind of work, but "you need documents to do everything." Now, he's waiting for papers to allow him to travel to Scandinavia, maybe Iceland. "I want to go where it is cold, because there are not many people there," he said. He'd also like a change of diet – he's tired of eating pasta every day and misses the yams he used to cook in Sierra Leone.
One of his nephews was born after he left and it's been so long since he saw the other, he is almost forgetting his face. "I have not seen him in so many years."
Silla is also losing touch with his friends back home. He used to speak to them but stopped when they did not believe him saying that life in Europe was hard. "I told them not to come because, here in Italy, there is nothing."
Mahmoud Shubat, construction worker from Homs, Syria
For Mahmoud Shubat, there was no other option but to leave his four children in Syria to seek a better life for them all in Europe.
"If I stayed Syria, I would have to be part of one party or of ISIS. I'd have to take up arms and kill people. But I don't want that. I only want to take care of my children," he said.
Shubat left his home in Homs 10 weeks ago, paying people smugglers as he made his way to Italy, first by car across Turkey, then by boat from Turkey to Libya. In Libya, he boarded another boat crammed with around 300 migrants determined to reach Italian waters.
At each stage of the journey, Shubat said he paid people smugglers, who would then put him in touch with the next group who would demand further payment to take him on. Shubat said he had no doubt that the traffickers he dealt with in Libya were connected to political armed militias.
As they were about to leave the Libyan port, he said the people traffickers in charge allowed a gang of armed men to board the boat and rob them all. "They [were] wearing masks and they had guns. They searched us one by one looking for money and gold," he said.
Shubat was one of the lucky ones. His boat did not sink or capsize. As soon as the vessel and its desperate cargo reached Italian waters, they were escorted to Sicily by the Italian Navy.
The entire journey cost Shubat $7,600 – a fortune for the construction worker who says he just wants to earn enough money to bring his family, still trapped in Syria, to Europe.
"I want to be reunited with my family. If I can find a job I can send money to them. They have nothing," he said.
Esayas Nisque, 18, student from Senafe, Eritrea
For Esayas Nisque, home is a small town in Eritrea, a few hours walk from the Ethiopian border. Most of the local men leave to find work in other countries. Few want to stay in Eritrea, he said: "As soon as you finish school and are not learning then they want to make you a soldier."
Nisque's journey to Europe took him by way of a refugee camp in Ethiopia where he lived for six years, before heading to Libya and making the treacherous journey to Italy by sea.
From Ethiopia, Nisque walked for four days before catching a bus to Sudan. From there, he took another bus to Libya where he stayed for almost a year. During that time, he said he was kept prisoner with hundreds of other men in a small house guarded by "Libyan soldiers."
The guards forced their prisoners to sleep at certain times, did not permit them to wash and only gave them limited rations, he said. Those who dared to disobey were given electric shocks. "We were 250 men in one small house. No wash. Food was not enough. If you stand up electric shocks," he said.
Nisque said his father sent him the $1,800 he needed to pay people smugglers for the trip across the Mediterranean from Libya to Italy. The boat, carrying around 500 people, left Libya early one evening three weeks ago; it didn't take long for the unstable craft to start taking on water.
"Journey not good," Nisque said. "The boat opened up and we were a short [distance] from Italy and a helicopter came to help us."
The helicopter belonged to the Italian coastguard. Soon after, a cargo ship arrived and rescued all of those on board.
Nisque now wants to get to Rome to meet his brother, who is also an undocumented migrant with no work or money. The teenager's dream is to eventually get to Sweden.
"Italy no good. No work, no money," he said; but in Sweden, his friends have told him, life is good.
Grymay Tesfamical, 18, a Christian student from Eritrea
Grymay Tesfamical lifts his shirt to show a scar on his back, the mark of the bullet he dodged.
The 18-year-old former student said he was traveling with a group of fellow Eritreans on two buses when they were intercepted by 10 armed ISIS fighters, just south of Tripoli.
"Two buses were surrounded and they were looking for Christians and Muslims. They put Muslims here and Christians over there. That was Da'esh in Libya," Tesfamical said.
He said the ISIS fighters beheaded 20 people at the side of the road; he ran away, feeling the sting of a bullet as it grazed his back.
"In Libya it was very very dangerous. If you have this," he said, clasping the crucifix around his neck, "it means this," gesturing to suggest a knife slicing his throat.
Tesfamical said he fled Eritrea one year ago to avoid compulsory conscription. He took a route via Ethiopia, through Sudan before arriving in Libya by bus.
He said in Libya, Christian migrants were routinely beaten and denied food and water. From there, he too fled on a boat bound for Italy, in search of a safer, better life.
READ MORE: Eating toothpaste, avoiding gangs - how migrants get to Mediterranean
READ MORE: Sea-tossed storm of human misery hits the shores of Italy
READ MORE: Will Europe make Mediterranean migrant crisis worse?