Cristiano Ronaldo and Real Madrid have swept all before them in this season's Champions League – but perhaps they didn't anticipate being schooled by an 'old lady' and an ex.
The 'old lady' in question wasn't wielding a walking stick but instead came in the guise of a Juventus side powered by the insatiable Carlos Tevez and the familiar figure of Alvaro Morata.
Juventus, nicknamed 'La Vecchia Signora' or 'old lady' in English, deserved its win after a pulsating contest against the reigning champion.
It was Morata, once of Real, who punished his former side for its slow start and it was Tevez, who ran and ran all night, who finished off Real from the penalty spot.
In between, Ronaldo, who else, claimed an invaluable away goal for Real – his 54th of the season – but even he was unable to save his side from defeat.
"The most important thing was the win," Patrice Evra, the Juventus defender, who also played alongside Tevez at Manchester United, told ITV.
"It is never easy against Real and I am very proud of my team mates and staff. We prepared very well and we got the win. We are very confident. Well done, we are 50% of the way there.
"Nobody expected us to get this far, it is 12 years since we got this far.
"Carlos Tevez has United blood like myself. He is a champion. He has had a fantastic year and we want to win the Champions League. He is a massive professional."
Not since 2003, when it was beaten in the final on penalties by Milan, has Juventus competed at this stage of Europe's top club competition.
Fresh from winning its fourth consecutive Italian league title at the weekend, it produced a display full of courage, vigor and quality.
In Tevez, the top scorer in Serie A, it had a man seemingly determined to drag his team into the final by straining every possible muscle within his body.
It was Tevez who helped create Juventus' opening goal in the eighth minute – his effort was only parried by Iker Casillas, the Real goalkeeper, and Morata tapped home from close range.
Morata, who signed a five-year deal with Juventus in July 2014 following a move worth around $24 million, refused to celebrate his goal though his teammates were not so reticent in showcasing their delight.
Real, aiming to become the first team to successfully defend the Champions League crown, appeared stunned as Juventus continued to move the ball around at pace.
Carlo Ancelotti's side had not conceded a goal away from home in the competition in 444 minutes before Morata's strike and yet its defense looked hugely vulnerable.
Fortunately for Real, in Ronaldo, it has a player who can conjure something out of nothing and so it proved as the visiting team drew level on 27 minutes.
James Rodriguez, star of last year's World Cup, found space inside the penalty area and his hooked cross picked out Ronaldo to head home his 76th Champions League goal.
Suddenly, Real began to find its feet and should have taken the lead just before the interval.
Isco, the diminutive midfielder, skipped his way into the penalty area and produced a fine cross for Rodriguez only for the Colombian to head against the crossbar.
It was to prove a turning point in the contest as Juventus moved back ahead just before the hour mark.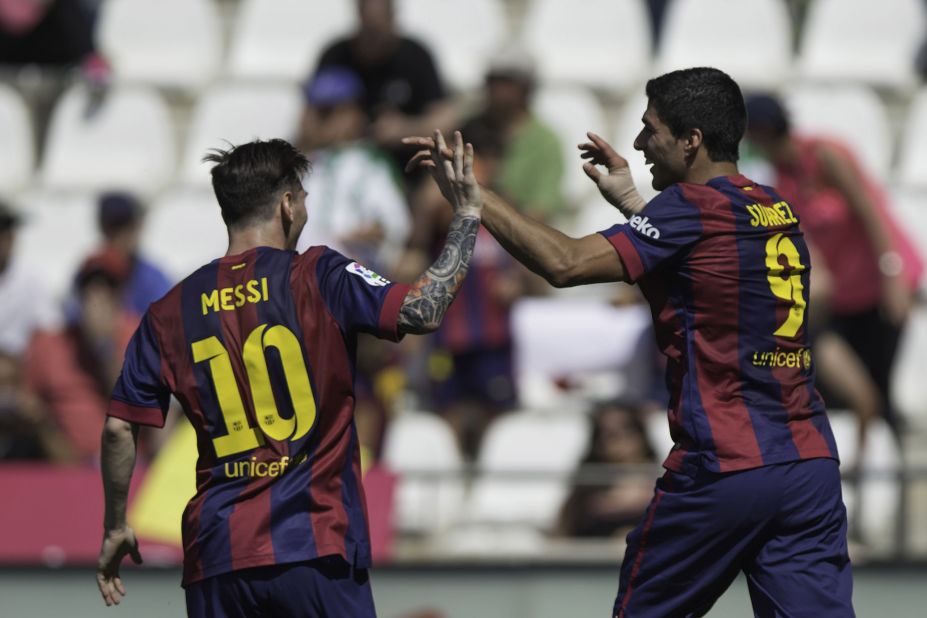 Messi and Ronaldo: Goals, goals and more goals
Over 71,000 spectators joined the France and England teams in collectively singing the French national anthem before the soccer friendly at Wembley Stadium in London on Tuesday.
Once again it was Tevez who played a starring role. The forward went on another one of his trademark runs and teased Dani Carvajal, the Real defender, into fouling him.
Carvajal's foul sent Tevez hurtling towards the ground inside the penalty area and Martin Atkinson, the referee, had no hesitation in awarding the spot kick.
Tevez, unnerved, stepped up to smash the kick straight down the middle and leave Casillas flailing on the ground.
Real, unbeaten in their previous nine matches in all competitions before arriving in Turin, was then afforded a huge let off in added time.
Andrea Pirlo, the exquisitely bearded midfield maestro, curled a free kick into the Real penalty area where Fernando Llorente rose unopposed, but the forward somehow contrived to head straight at Casillas.
It is a miss which Juventus could yet rue when it arrives in the Spanish capital for next Wednesday's all important second leg.