Editor's Note: CNN's Moni Basu reported this story last week from the region where the epicenter of Tuesday's earthquake was located.
The Goma Air flight makes a swift turn over jagged white peaks and lush Himalayan farmlands before a herky-jerky landing in what's been called the world's most dangerous airport.
Phurba Sherpa hurtles off the prop plane that on this day has carried four adults, two children and 16 gray bags that each weigh 53 pounds. Inside are industrial-strength, family-size tents donated by the German Red Cross.
In the aftermath of the enormous earthquake that shook Nepal, Phurba, a 49-year-old Kathmandu entrepreneur, has made it his business to get relief to his people. By that he means the Sherpas, the ethnic minorities who inhabit the towns and villages in the shadow of Mount Everest and are known worldwide as expert climbers.
The Sherpas prop up Nepal's lucrative trekking and tourism business, but the government, Phurba says, has never looked out for them. Isolated in remote mountainous villages, they have been a forgotten people in Nepal and now, after the earthquake, they fear being forgotten again.
For Phurba, the journey from the Kathmandu Valley up to the soaring peaks is not just a humanitarian mission to help thousands of people living in quake-affected villages.
It's personal.
"It is my duty," he says of the responsibility he feels to give back to the majestic land and people who shaped him as a man.
Phurba has no time to lose.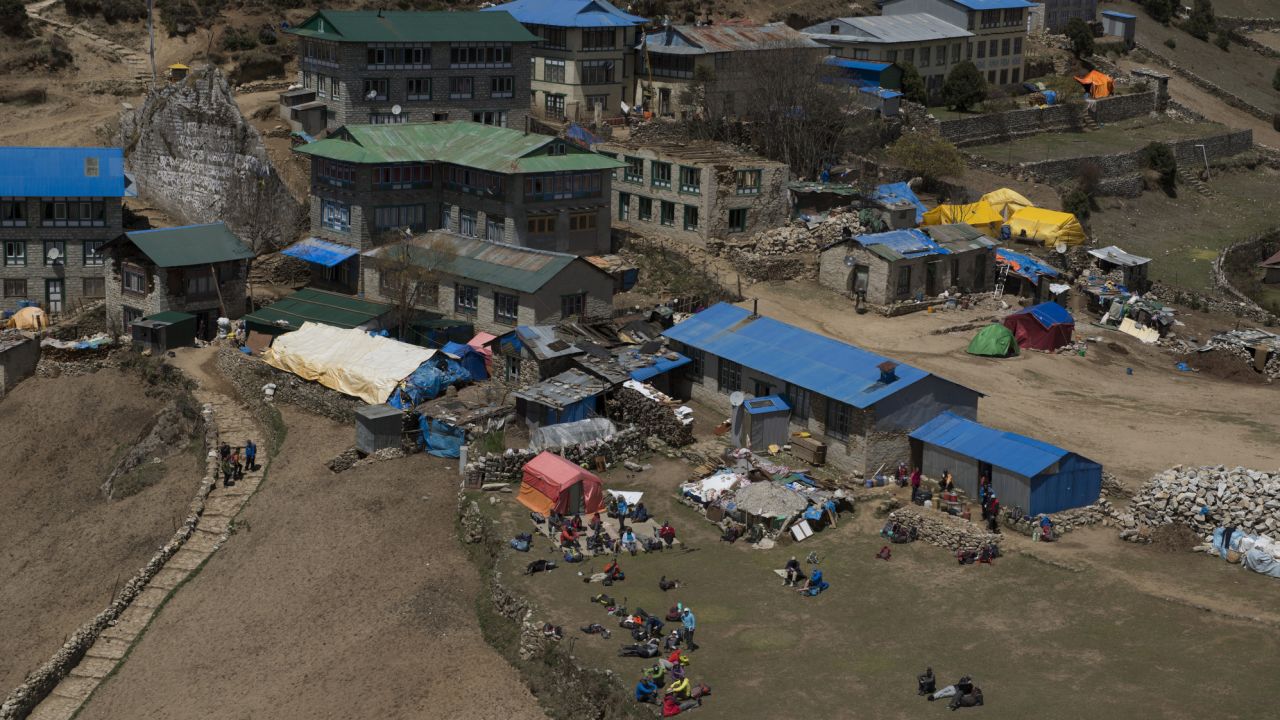 Few others are here to help. There's no Nepalese government presence. Nor do I see any of the hordes of international aid workers and members of the media who descended on Kathmandu within days of the earthquake.
Granted, the villages and towns that dot the hills and mountains under Everest are not as badly affected as other areas closer to the earthquake's epicenter. People here are not lacking for food and water at the moment. This is a region in eastern Nepal where the tourism industry has helped people fare better moneywise.
But Nepal is not just a poor nation; it is one of the poorest. And now, the tourist season has abruptly ended for two years in a row. Last year, a giant block of ice broke free and crashed down into the Khumbu Icefall just above Everest Base Camp, killing 16 Sherpas.
The people here worry if they will ever be able to recover from tragedy. They wonder if tourists and trekkers will even consider returning to a place of such risk and sorrow.
Their villages are also places that can be extremely difficult to access – there are no roads and the only way to travel is on foot. Some say it's hard to get aid delivered. But Phurba says there are ways – donkeys are a popular means of transporting goods.
"If we wait for the government, it will take a lot of time," he says, blaming red tape and a lack of will.
I watch him make arrangements in his orange puffy down jacket, standing against the Himalayan vistas that tourists pay a lot of money to experience. I see a man who is determined amid a crisis of gigantic proportions.
I'd met Phurba in Kathmandu a few days earlier when I wrote about American mountaineer and filmmaker Tom Taplin, one of 19 known to have died on Everest. Phurba, who owns his own Himalayan tourism company, helped make all the arrangements for Taplin's body to be brought back down the mountain.
Phurba lamented to me then about the plight of his people. The attention, he said, has been cast on foreigners who were killed, injured or trapped, but not the Sherpas without whom Nepal's bustling trekking industry would not be possible. He told me a young man from his village was killed at the base camp and that the family is in mourning.
I asked if I could accompany him on his whirlwind trip to Solukumbhu District, thousands of feet above sea level. Two days later, I find myself racing to keep up with him.
'Please help us'
At the Tenzing-Hillary Airport in Lukla, the town where thousands of trekkers fly in to begin their journeys toward the skies, Phurba oversees the unloading of the Red Cross tents. Then he hops into a Fishtail helicopter that whisks him away to Phakding, where the lawmaker who represents this district is waiting.
Phurba invited Bal Bahadur KC on this assessment tour because he wanted someone from the government to see the earthquake's devastation in this part of country. Maybe then, Phurba thought, someone in Kathmandu would pay attention to the needs of his people.
We land in Phakding and find Bal Bahadur with his right arm in a sling. He has trouble getting onto the chopper. I ask him if he was injured in the earthquake. "No," he laughs. "I hurt it before then. But now I know what it feels like to have a broken arm."
The helicopter has no seats – they were taken out to bring down the bodies of the dead from Everest Base Camp.
Pilot Mauritzio Folini tells me he used to love flying here – joy rides in the sky in a place that arguably has the most fantastic views on Earth. The Nepalese name for Everest is Sagarmatha. Sagar means sky in Nepalese and matha, head. I am in a land that touches the heavens. From the helicopter, it's plain to see why that name is appropriate.
Only now, after the earthquake, this land is dotted with pockets of hell.
In the last few days, maneuvering the light helicopter around the peaks and through deep canyons has turned into a gruesome chore as Folini has made countless rescue flights up and down to Everest Base Camp.
"I am a climber myself. I love my job," Folini says. "But now … it's a tragedy."
We land at a gravel heliport in front of the police station in Khunde, 13,000 feet above sea level, and walk down narrow dirt lanes that snake around clusters of stone, cement and wooden houses.
The landscape has a recent addition: hundreds of colorful tents made by North Face, Marmot and Mountain Hardwear. Households in Khunde and other Sherpa villages have at least one person employed in the tourism industry and many own high-end outdoor gear given to them by foreigners or knockoffs sold in the local markets.
Phurba surveys the destruction, writes down names and the amount of loss. Some houses have been flattened; others are severely damaged. Few have escaped unscathed.
This is where his wife grew up. It's shocking for Phurba to witness the devastation.
"How are you doing?" he asks everyone he sees.
The answer is like a song's refrain that he hears over and over.
"I was at the Saturday market and that is why I am alive," says Da Tsering Sherpa, 40. "But my house is destroyed."
"I have lost everything," says Pasang Lamu, 55, breaking down. "Please help us."
Phurba finds his wife's relatives. They are camping out in a tiny tent; their broken houses still stand as constant reminders of their suffering. Phurba has stayed in those houses so many times, shared meals there with loved ones.
"All gone," Phurba says to me. "This will all have to be rebuilt."
I can tell Phurba is making a heroic effort not to betray his emotions at this moment.
"We are the lucky ones," he says. "We are alive. There is no time to be sad. We have lots of work to do."
We trek through several villages, up and down dirt paths laden with rocks.
The same scenes of despair – and frustration – play out everywhere. Foundations shaken to the core, roads blocked off by falling rocks and with the upcoming monsoons, the threat of massive landslides along the fresh cracks in the earth.
In nearby Khumjung, Bal Bahadur doles out $400 – a token amount – to people who lost loved ones. That's what the government gave as compensation to the families of the 16 Sherpas who died on Everest last year. They saw the meager sum as derisory, government indifference to the Sherpas and the dangerous jobs they perform.
Those who lost their houses receive $100 on this afternoon. In this area alone, 164 houses are documented as gone. Bal Bahadur tries to assure residents that help is on the way.
"I will not forget you," he tells the people.
But few believe the government's intentions are true.
"We are citizens of Nepal," says Phurba's friend, Chungbu Sherpa. "And that is all. Beyond that there is no relationship. We have to take it upon ourselves to help each other."
Schoolteacher Chhunjing Dorjee Sherpa, 50, listens to what Bal Bahadur has to say but has little faith that the lawmaker will come through.
"Do you feel that aid is coming?" I ask.
"This is the Nepal government," he says. Maybe he will rely instead on a grant from a nonprofit or perhaps a bank will issue him a low-interest loan.
Near Phakding, we see a centuries-old teaching monastery that barely withstood the earthquake. The 28 Buddhist monks and 18 students who live here are busy putting up wood supports to mitigate the risks of everything crashing down.
Phurba has made it a priority to generate money to get the monastery repaired. It's his history. His culture. It's like seeing the fallen temples and palaces in Kathmandu's UNESCO World Heritage site, national treasures that will never be the same.
He stays behind to discuss reparations. Nawang Nuru Sherpa, 38, works as a guide for Phurba and accompanies me to Phakding. On the way we stop to survey Nawang's property.
He gazes at the fertile farmlands. The fields are a vibrant green with new wheat; potatoes abound in the soil the color of charcoal. Beyond that, he sees his home, still standing but precariously.
He pitched a tent for himself, his wife, 9-year-old son and infant daughter. He saved as many things as he could from the house and arranged them in the tent as though it were home.
But it isn't.
"I am afraid no tourists will come here anymore," Nawang says. "Then how will I get money to rebuild my house?"
It is something that preoccupies Phurba.
He had planned to let me stay at a lodge he built a few years ago. But we arrive instead to heavy damage to all 20 rooms and 22 bathrooms. Boulders lie in front of a fireplace on the second-floor landing as though they, like an evil Santa Claus, hurtled down the chimney.
It took Phurba five years to build this lodge; nature took a few seconds to destroy it. He suspects he will have to demolish and rebuild by mid-September when the monsoons have ended and the fall Himalayan season begins. He estimates it will easily cost $300,000 to make the necessary fixes.
I tell him I am sorry for his losses and that even amid the destruction, it's hard not to be overcome by the beauty of this land.
"Bahut sundar hai," I say in Hindi to some of Phurba's employees. "It's very beautiful here."
One replies. "Bauhut sundar tha."
"It was very beautiful."
A day of suffering
Seeing his wife's village in ruins was hard enough, but Phurba's heart shattered when he learned of the earthquake's wrath on Chaurikharka, the village he calls home. He dreaded seeing it. On the second day of our trek, he tells me to go ahead to Chaurikharka. He will follow later.
It takes six hours to reach the village. There is no doubting nature's wrath here.
Sheets of corrugated metal that flew off roofs and sides of houses obstruct the main dirt path. Chunks of stone and cement tumbled to the earth.
Nima Kiter, 74, rushes toward me waving his hands in the air.
"Everything gone," he says in broken English. "We would all be dead if this had happened at night."
Most of the residents of Chaurikharka know Phurba and are relieved that a native son has taken charge of rebuilding the village.
When Phurba was born 49 years ago, most Sherpas, including his father, either worked the land growing buckwheat and potatoes or they were traders selling goods from Tibet and India. But Phurba grew up as a new industry was blossoming: tourism.
Tenzing Norgay and Edmund Hillary scaled to the summit of the world's tallest mountain in 1953, challenging climbers from all over the world to match their feat.
Many Sherpa men began charging foreigners money for acting as their guides, porters and support staff through this unforgiving terrain.
Purbha's father pushed him from an early age to get into the trekking business. But the headmaster at his school recalls how Purbha snuck away to study. He was determined to learn, leave the village and carve out a successful life for himself.
"My parents were disappointed in me," Phurba had told me when I first met him. "But I knew education was the key to seeing the world."
He saved the money from his occasional trekking jobs and left for Kathmandu. He paid for college tuition with his earnings from an aunt's tea shop and earned a degree in journalism and then a master's in sociology.
"There were no Sherpas in journalism then," he told me. "I wanted to make a difference."
But then Mount Everest became big business, and in 1992, Phurba launched his own firm: Himalayan Sherpa Adventure. With it has come success, a large house and a comfortable existence for Phurba and his family in one of the poorest nations on Earth. A huge number of Nepalese live on $15 a month, and poverty is worst in remote mountainous villages.
The Sherpa guides I speak with all tell me Mount Everest saved them, that the trekking business has been lucrative. But the work is seasonal and meant for the young and strong. And now, after the earthquake, the future looks grim.
In popular tourist spots like Lukla and Phakding, I see empty guesthouses. Lodge owners say that after the earth shook, everyone and everything went downhill.
The planes landing at Lukla airport are normally full of people this time of year. But these days, they land only with cargo. Rice, tents, medical supplies. The tourists who are still here are clamoring to go the other way.
Phurba knows the worst may still be on the horizon for his people whose livelihoods are dependent on trekkers. The end result of falling tourism will mean no jobs.
"And the people will suffer even more," he says.
On this day, the suffering is greatest at Dawa Chiri Sherpa's house.
The 27-year-old worked as an assistant for mountaineers attempting to reach the summit. He was at the base camp when a quake-triggered avalanche thundered down the mountain.
Inside the heavily damaged family home, everyone is still mourning. They invite me inside and for a moment I think about what might happen if the second floor came crashing down. I climb the creaky stairs and see a Buddhist monk. He is sitting by a window chanting prayers in front of 13 flickering oil lamps. Dawa's mother cannot stop her tears.
Dawa owned a yak and used to work as a porter, his brother Tenzing tells me. But that was a hard life, walking uphill with hundreds of pounds of gear and not making that much money.
So Dawa completed a mountaineering course and became a climbing Sherpa; some of them earn as much as $7,000 in the two-month Everest season. That's more than 10 times the average Nepalese wage.
Everyone knew it was tiring and extremely dangerous work, especially Dawa's wife, Phura Yangzi. She last spoke with her husband the day before the earthquake.
"Tomorrow is my rest day at base camp," he told her. That was the last time she heard from him.
It took the family two days to retrieve Dawa's body, even though he worked for a trekking company that had the resources to bring him down. Ultimately, it was Phurba's friend, Chungba Sherpa, who made the arrangements.
"My brother died, but no one helped us," Tenzing tells me over a traditional Sherpa meal of boiled potatoes and freshly ground chili sauce. "No one from the government or from his company has contacted us. No one has said sorry. Who will take care of his wife and baby?"
Phura Yangzi carries 18-month old Chiring Dolma on her back as she carries on with her chores. Sometimes, she thinks it's all a bad dream; that her husband is still on Everest. She got married two years ago and at age 22, she is a widow with a child.
She tells me she is worried for her daughter's future. How will she get an education without a father earning money? She says she will try her hand as a street vendor, selling sodas and mineral water to tourists.
"It will be difficult but I will try," she says. "I have to."
The eternal mountain
I ponder the tough lives of the Sherpas on the uphill trek back to Lukla. I only have a backpack – a porter is carrying my heavier bag, just like they do for tourists. I have been walking all day and the last stretch seems the most strenuous.
On the way, I see a 63-year-old man carrying what he estimates to be 130 pounds of goods on his back. I am in awe of his strength and his ability to carry on without complaint.
In Lukla, I meet back up with Phurba, who has come from seeing his own village and is making arrangements to fix damaged structures and bring in more aid to his people.
"Base camp has become very big news, but you see how thousands of people have been affected," he says. "There are many places that are really poor, are really miserable. It is my job to support those in need."
"Wasn't it hard to see your wife's village, to see your own village lie in ruins?" I ask.
"Some people cry with their eyes," he says, "and others don't. But that doesn't mean I am not sad."
He says he has to worry about his people's livelihoods in the future.
During the recession, when his company felt the sting of fewer Americans spending money on global travel, his friends assured him.
"Don't worry," they said. "You will have no problem as long as you have Everest."
Phurba – and his people – are counting on that again.