The "Old Lady" is back.
Thanks to a 58th-minute goal by ex-Real Madrid forward Alvaro Morata, Italian football giant Juventus will play in the Champions League final against Barcelona on June 6 following Wednesday's 1-1 draw at the Santiago Bernabeu.
The 22-year-old Morata, who was sold to Juve for $23 million last July, also scored in the first leg of the semifinal last week, which Juve won 2-1. Both times the Madrid native chose not to celebrate against his home team.
Ten-time tournament winner Madrid, the defending champion, was bolstered early by a penalty decision given in the 22nd minute when Juventus defender Giorgio Chiellini clumsily bumped into James Rodriguez in the penalty box.
"Tonight I think we played at our best," Madrid manager Carlos Ancelloti told Sky Sports. "(We had) good control, good opportunity, but we were unlucky."
The match, played in front of 74,500 at Madrid's Santiago Bernabeau Stadium, saw temperatures soar into the mid-30s Celsius, with players stopping for water breaks at every opportunity.
Cristiano Ronaldo, who missed a decisive penalty over the weekend which likely cost Real its La Liga title chances, didn't miss this time around. The Portuguese forward drilled the ball high and to the center of the net, straight past a helpless Gianluigi Buffon.
It was Ronaldo's 10th goal in a Champions League semifinal, a new record, and his 10th in this season's competition – putting him level with rival Lionel Messi.
They also both now share the record of 77 career Champions League goals.
The two are involved in a remarkably prolific goals race for the season, with Ronaldo scoring 55 goals in all competitions to Messi's 53.
For Real Madrid, the buildup to the match was rife with stories. Saturday's 2-2 draw against Valencia gave Barcelona a four-point lead in La Liga with two matches to play, while veteran captain Iker Casillas endured whistles from Madrid fans; there is speculation this could be his last season in white.
Gareth Bale has also been the source of the home crowd's frustration, having been attacked in his car after a training session last month. Bale went scoreless for his seventh match in a row, and recently vented his frustration through his agent by saying he wasn't receiving enough passes.
The Welshman was lively throughout, and had several chances from close range, including a header under pressure from Patrice Evra in the 72nd minute.
"I was unlucky not to grab one," Bale told Sky Sports. "As long as I keep trying one usually goes in."
Bale also addressed his critics: "I think my general play has been good; my finishing is something to work on for next season. What doesn't kill you makes you stronger. I'll learn from this season a lot and take it into next season."
Two of the most decorated goalkeepers of their generation, Casillas and Buffon were playing in their respective 150th and 87th Champions League appearances.
The 37-year-old Buffon will be gunning for his first Champions League trophy, having represented Juventus in its most recent final appearance, a loss in 2003 against rival AC Milan. He endured a subsequent match-fixing scandal which saw Juventus relegated to the third division of Italian football in 2006 and stripped of two league titles.
French defender Evra will be playing in his fourth Champions League final, having won it with Manchester United – and then teammate Ronaldo – in 2008.
Barcelona clinched its place in the Berlin final on Tuesday with a 5-3 aggregate victory over Bayern Munich.
Buffon and midfielder Andrea Pirlo will have fond memories when returning to Berlin's Olympic Stadium, which was the scene of Italy's 2006 World Cup final victory against France, featuring both players.
Juventus will also be marking the somber 30th anniversary of the club's first European Cup success. The 1986 final against Liverpool was played despite a fatal crush at Brussels' Heysel Stadium which resulted in 39 deaths.
The tragedy resulted in all English clubs being banned from European football for five years, with Liverpool sitting out for six. After much debate, the match was played and Juventus won 1-0 on a penalty kick by Michel Platini.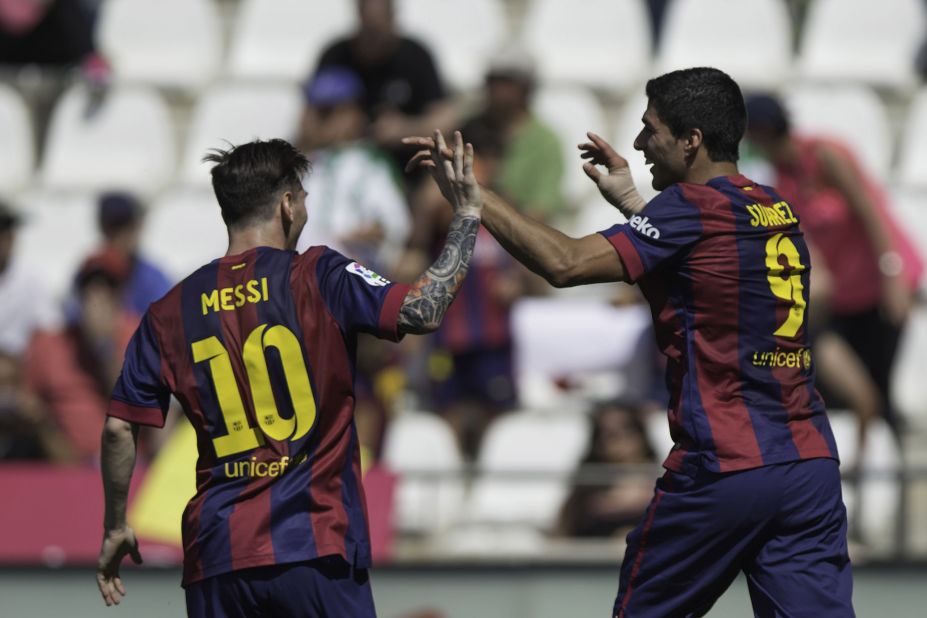 Messi and Ronaldo: Goals, goals and more goals
Read: Champions League: Neymar double helps put Barcelona in final