Editor's Note: Traders highlights the business of global trading by showcasing extraordinary individuals worldwide who are trading goods and services across borders. This article has been updated to reflect changes since the Iran nuclear deal.
It is the most expensive and sought after spice in the world, commonly known as red gold.
At $65 per gram for the highest quality crop, Saffron can cost even more than the precious metal. Its value has been kept permanently high by labor-intensive harvesting methods that require around 200,000 delicate red strands to be hand-picked from 70,000 Crocus Sativa flowers for each pound.
The undisputed capital for saffron production is Iran, where the tradition dates back over 3,000 years. The country produces over 90% of the 250 tons produced worldwide each year, boosted by unique ecological conditions that deliver a strong-flavored, aromatic crop that is a staple of local cuisine, cosmetics and traditional medicine.
The trade has received a boost from the historic deal with the P5+1 powers that scales back Iran's nuclear program in exchange for relief from crippling international sanctions – which could begin to be lifted early next year. These restrictions block access to the lucrative markets of Europe, the USA and Canada, and Iranian companies and banks have been locked out of the global financial system.
Surviving isolation
"We can't use banks," says Mehrdad Rowhani, CEO of Saffron Rowhani in Khorosan, the province which produces over 70% of Iran's crop. "We have to go through private messengers, who are expensive, and deal directly with customers and trust they will pay us. Sometimes they cheat."
Other Iranian companies have even reverted to the barter economy to circumvent banking restrictions, with Chinese and Indian partners often paying for goods in shipments of food and consumer goods.
Despite the difficulties, Rowhani has been able to maintain exports of 50 kilograms a month by reorienting his business to new markets in the Gulf and Middle East. Across the Iranian saffron industry as a whole, exports rose by 36% in 2014, according to Iran's National Saffron Council, and the price per kilo increased slightly to around $2,000 per kilo.
The nuclear deal has sent the value of the crop higher still.
"We have increased the price by 27%," says Rowhani. "For some types of saffron – like Negin Grade – by 35%."
"We have a new plan for Europe and U.S. markets. We are designing new packaging and I will get new certificates – such as the ISO 9001 (quality management system) – to assure our customers."
Saffron business have coped well with the sanctions regime, says Ali Sheikh, the London representative of Iran Hassos Ltd, and a founding member of the British Iranian Chamber of Commerce.
"Traders are very clever and when a door is closed they go through the window," says Sheikh. "None of the traditional items (including pistachios and saffron) remain unsold. The demand is greater than supply."
This success means there is no new stock until August for many traders, but Sheikh is optimistic about the new opportunities.
"There are already talks with German, French and British companies," he says. "This trade is more attractive for Iran as they (European countries) have greater purchasing power, and there is a big appetite for Iran's saffron because the quality is unique."
Most companies are waiting for sanctions to be lifted on Iranian banks to explore new deals, says Sheikh.
Reeling in the competition
Sanctions relief will give Iranian businesses a chance to regain their dominance, as competitors such as Afghanistan and Spain have taken advantage of the gap in the market, even selling disguised Iranian saffron.
"Afghanistan cultivate the stock they get from Iran, give it an original certificate and supply it to buyers," says Sheikh. "Saffron that comes to Spain is mixed with Spanish saffron and sold."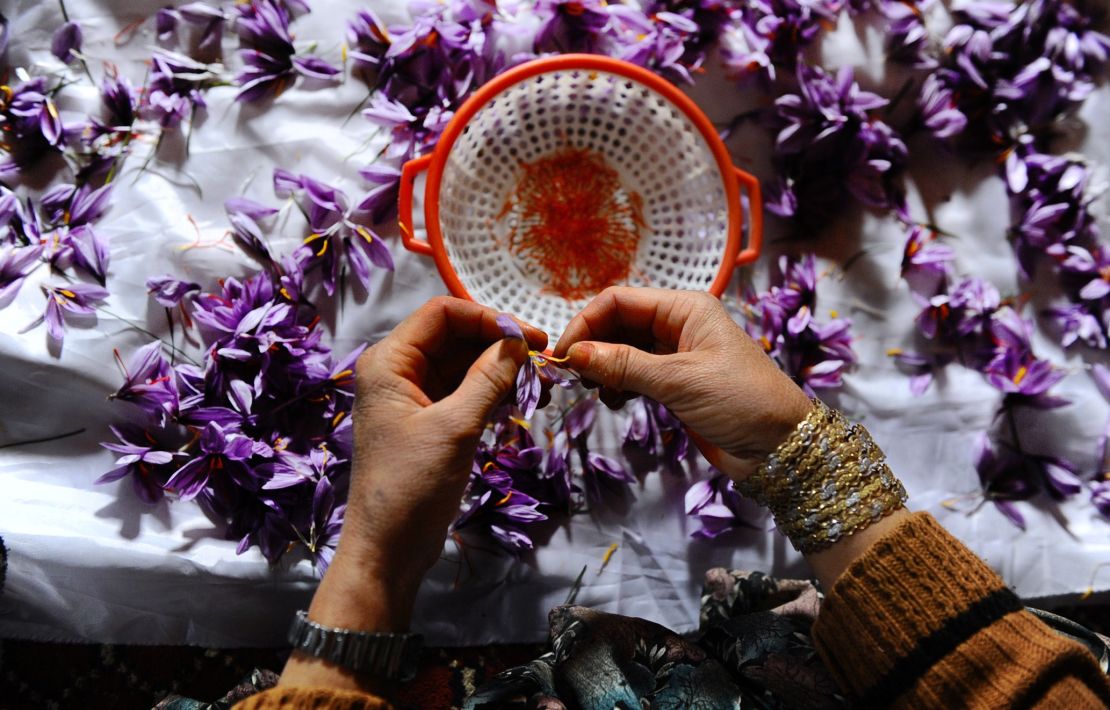 By some estimates as little as 1% of "Spanish" saffron is grown in the country. But despite this emerging threat, Iranian producers are confident that their quality cannot be beaten.
The industry is also seeking to strengthen through new technologies and applications, from saffron gum to medical treatments. The Iranian government has announced plans to encourage new areas for cultivation to increase the crop.
As sanctions are incrementally lifted, rocketing demand and prices could be the greatest challenge. Western companies are lining up to invest in the new market, and saffron is among the most prized of Iranian assets.
Producers and traders anticipate a welcome reward for their resilience.