Come rain or come shine, it's one of the signs that the English summer is here – but Wimbledon would not be Wimbledon without strawberries and cream.
Pretty much ever since the oldest and most famous of the four grand slams was first played in this leafy suburban corner of south-west London in 1877, the strawberry has had its place as an indispensable accompaniment to the tennis.
Well-to-do spectators at the All England Club's original Worple Road grounds – the club moved to its more exclusive home in the Church Road area of SW19 in the 1920s – munched strawberries as they watched matches in the early days.
And the soft red fruit remains part of the furniture at the Wimbledon of the 21st century, so much so that 28,000kg of them are eaten at the tournament each year.
So why strawberries?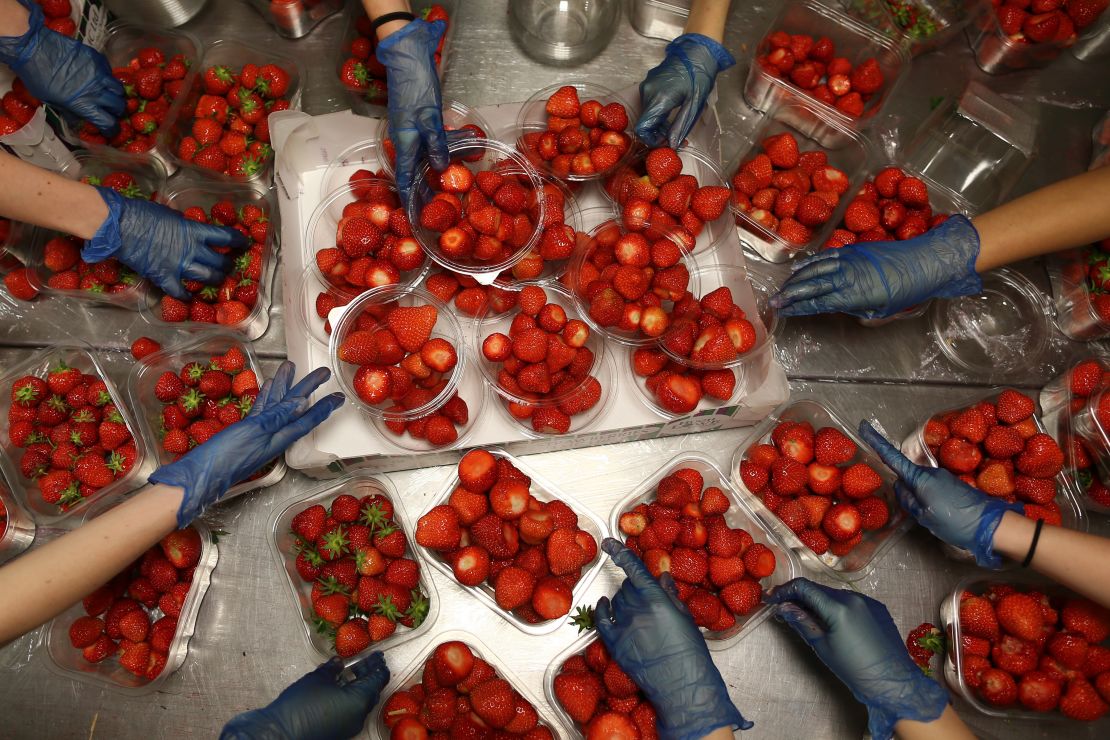 There is no definitive answer, but the most likely explanation appears to be a simple combination of circumstances.
"It was probably two things – strawberries were in season at the time the tournament was played, and in Victorian England they had become a fashionable thing to eat," explains Johnny Perkins, the All England Club's head of PR.
"They were part of afternoon tea, which had become a fashionable ritual, and that took root at Wimbledon."
Perkins says the strawberries, served in baskets of 10 costing around $3.90 (cream and sugar are optional) are part of the air of old-fashioned Englishness that pervades Wimbledon, with its ivy-covered walls and players dressed in white.
"Many people see Wimbledon as being like tennis in an English garden," he adds. "The tennis is the main thing, of course – but it is a big part of the English summer and is a day out for people as well."
An English atmosphere gets English berries: every one served during Wimbledon fortnight is grown at farms in the southern county of Kent and trucked to the capital.
But if Wimbledon is an English garden, its summer strawberry party takes quite a bit of catering for.
It is no small logistical operation, beginning before the sun comes up on every one of the 13 days of play.
"Technology has moved on in the growing world, which means there is now more certainty of supply whatever the weather," Perkins explains.
"The strawberries are now picked on the day they are served. They are harvested at around 4am and arrive at the site at about 11am to be hulled [have their leafy growths removed] and inspected.
"So it's a pretty quick turnaround between them being picked and being served to the spectators."
The All England Club is now a year-round tourist attraction, with visitors flocking to its museum and enjoying behind-the-scenes tours of the grounds and the world-famous Centre Court.
And the idea of Wimbledon as a garden, Perkins adds, is making itself felt in the way the grounds are laid out, with the emphasis on creating eye-pleasing combinations of plants.
Back in the days of Fred Perry's Wimbledon success of 1936 – until Andy Murray came along, Perry was the last Briton to win the men's singles – Wimbledon formality would have been seen in the horticultural approach as well as the dress code.
"We are trying to use imaginative planting schemes," Perkins says. "It's not so much clipped yew hedges now as creating different planted areas so they look good for visitors all year round. They look better in the summer, of course, but we are trying to green as much as possible."
But even if they're braving a blustery day in December, visitors will often turn their thoughts to sunnier climes – and to the Wimbledon food that most perfectly matches them.
"Often when people think about being at Wimbledon, they think about strawberries and cream and a glass of Pimm's [an alcohol-based fruit cup that has been popular at the Championships for more than half a century]," a museum spokesman says.
"People from all over the world like to know about the traditions that have endured here over the years – and strawberries are very much one of them."
Or, as Austrian-born author Peter Bodo put it in his 1995 book Courts of Babylon: "The public never appears to tire of endless courses of strawberries and cream, and the theory that you run the risk of boring people with endless photo montages of Chelsea Pensioners in their dress reds, or close-ups of a Pimm's Cup sprouting all kinds of flora, has yet to be proven.
"People like Wimbledon in the same way they like blue jeans or even their own spouses: for the pleasure yielded by their reliable sameness."
Be that as it may, beware this warning from history if you're partial to playing tennis as well as tucking in to a bowl of strawberries.
Back in 1907, Mrs GW Hillyard, a six-time Wimbledon winner, lost a semifinal after eating strawberries as part of what she described as a "fearful tea" during a rain delay (another, of course, of the great Wimbledon traditions.)
She complained bitterly to tournament officials – but, as irony would have it, her pleas turned out to be fruitless.