Story highlights
"Neko Atsume" means "Cat Collecting" in Japanese
The simple game has become a hit in Asia and beyond
There's an addicting new app that's taking over screens in Asia and beyond.
The goal? To feed cute stray cats in your virtual backyard. Up to 45 of them, if you're lucky.
It's called "Neko Atsume" – that's Japanese for "Cat Collecting" – and Internet users can't stop talking about it.
Playing the game is super simple: Leave food and toys out in your backyard, and wait for the cats to come. The goal is to collect all 45 cats, each with a unique look and personality.
There are the more realistic kitties – with all white fur, stripes or spots, and very special ones, like "Prince-san" who is wrapped in a Persian carpet and comes out on an elegant cushion. One cat even looks like Vogue editor Anna Wintour.
Although "Neko Atsume" is only in Japanese, it's easy enough that you can probably figure it out with some trial and error, even if you can't read the language.
'I don't understand why it became so popular'
The game seems to be all the craze for players in Japan and beyond. Since it first launched last October, "Neko Atsume" has been downloaded about 5.5 million times, both on Apple and Android devices, according to its developer.
Now it's building a following around the world. In the last week, English tweets using the hashtag #nekoatsume exploded from a few dozen to a few thousand per day.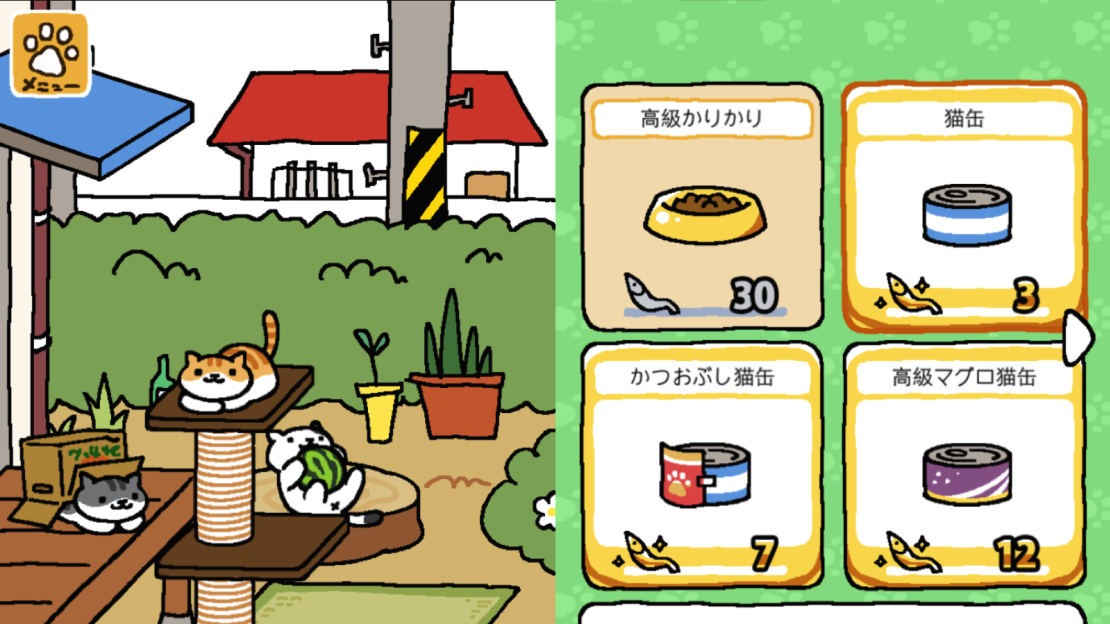 Users post screenshots to show off the different cats they've spotted, and to discuss methods for attracting more cats.
"The game is designed in such a way that players do not have to take too much time or energy (to play it), nor be a hardcore gamer," creator Yutaka Takazaki told CNN.
He added "Neko Atsume" is easily the most popular game his company Hit Point Co. Ltd., which is based in Kyoto, has produced since it was founded in 2007.
It took some time for the game to gain popularity, Takazaki said. It first started getting mentioned in blogs in January – and the following month downloads significantly increased in South Korea. That was followed by downloads from China and North America.
Now Takazaki says up to 40 percent of downloads come from outside Japan.
"We created a game that even children can understand and play," he said. "Honestly speaking, I don't understand why it became so popular."
Japan's feline love affair
Takazaki is a self-admitted cat-lover – and developed the app with that target audience in mind. A smart move – but he's not the first.
Hello Kitty is made in Japan. Even after confusion last fall over whether Hello Kitty is really a cat – she has fans and merchandise all around the world.
She celebrated her 40th birthday last year, went into space and even opened a restaurant in Hong Kong in June with dumplings in her likeness. The Hello Kitty franchise is reported to be worth some $7 billion a year.
Doraemon, though less popular in the West, is a Japanese-made cat cartoon that started as a comic strip in 1969. The chubby blue character is famous in many parts of Asia and has been featured in books, TV series, films, video games and even a musical.
Then there are real life cats – like Maru: A Scottish Fold male who lives in Japan and has been a YouTube celebrity since 2009. His initial debut video has had more than 21 million views.
And let's not forget about the island of Tashirojima in Miyagi prefecture – also known as "Cat Island," because feral cats there outnumber residents about 6 to 1 – that's 20 people and 120 cats!
"Neko Atsume" is also expanding. Its official book went on sale on Monday.
Though far behind its predecessors it comes to fame and fortune, so long as #nekoatsume keeps trending – Yutaka Takazaki stands a good chance of having Japan's next feline franchise.
Read: The animal celebs of Japan
Read: Tama the cat, Japan's cutest stationmaster, has died
CNN's Wilfred Chan contributed to this report.