Story highlights
Indonesian domestic worker describes the start of the abuse cycle under her employer
Susi's story is one of many being told through photos at an exhibition in Hong Kong
"The first time she hit me was pay day; she told me to sign my name on a piece of paper, but I asked, 'why should I sign when you didn't give me the money?' Then, she hit me."
A 30-year-old Indonesian domestic worker, who now calls herself Susi, describes the start of the abuse cycle which shaped her life for nearly a year.
She was threatened, assaulted and trapped in the house of her employer in Hong Kong, Law Wan-tung, after being placed in the job by an employment agent.
"She only allowed me to sleep from 6 a.m. to 10 a.m.; every day was only four hours of sleep," Susi said. "I was only allowed to use the bathroom three times a day. She didn't allow me to have a day off. Nothing was allowed."
Stories of suffering
Susi's story is just one example of the physical and mental abuse foreign domestic workers say they face in Asia and the Middle East.
A photography exhibition currently on display at the Foreign Correspondent's Club in Hong Kong aims to expose the extent of that suffering.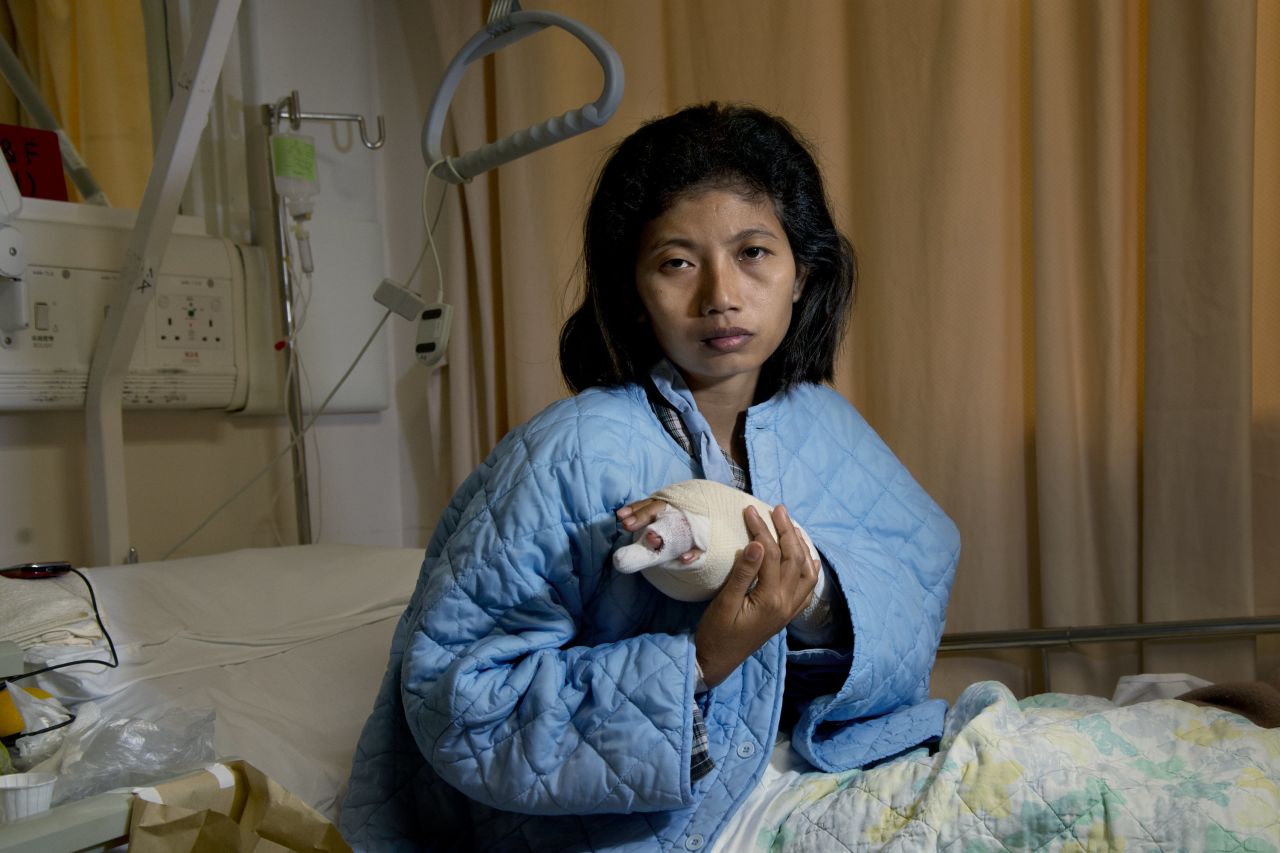 Asia's abused maids tell their stories
One victim, an Indonesian grandmother named Sumasri, had been doused in boiling water by her employer in Malaysia, leaving painful scars on her back and legs. Another, Sritak, is covered in dozens of scars, including one from a searing hot fork that was pressed into her skin by her boss in Taiwan.
The pictures were taken by award-winning photographer, Steve McCurry, and the project was organized by the United Nations agency, the International Labor Organization (ILO).
The ILO estimates that there are more than 52 million domestic workers worldwide. But activists say that in many countries, especially in Asia, they have no legal protection.
Death threats
Susi, whose real name is Tutik Lestari Ningish, said her situation got worse when her employer started threatening to kill her family in Indonesia.
"She would say: 'If you ever talk back, or try to leave, I could kill you and your family, because I'm very resourceful.' That's why I was terrified. I endured her beatings, but hoped that she wouldn't beat me to death, because I have a son who's very young."
"That was my first time working in Hong Kong; I knew nothing; I didn't even know how to make a phone call. I hated her so much, but I didn't know how to stand up for myself," she said.
Escape route
Eventually, Susi managed to escape after her family in Indonesia demanded to know what happened to their daughter, as they had not heard from her for so long.
Still, Susi did not report the case to the authorities, in case Law followed through on her threats.
But then Susi heard that another domestic worker, Erwiana Sulistyaningsih, had ended up in hospital after suffering more than seven months of abuse at the hands of Law.
"I immediately made up my mind to speak up, because if I didn't, then the next person would be mistreated by her too. Even though I was afraid, I could talk about my experience. I don't want anyone to go through what I have been through."
Susi and Erwiana successfully testified against Law who was found guilty of 18 charges including grievous bodily harm, false imprisonment and criminal intimidation.
She was jailed for six years.
Hong Kong woman found guilty in maid abuse case
'Like slaves'
"In some places, they earn as little as $9 a month. In others, they don't earn any salaries at all, so they are really like slaves," said Elizabeth Tang, General Secretary of the International Domestic Workers Federation.
Tang says attitudes won't change until workers' legal rights improve.
"It is time governments step in and take the lead to change the law, so that they are treated the same as any other workers," she said.
Journalist Karen Emmons, who produced the exhibit, said she was moved to start the project documenting the abuse because she was hearing similar stories year after year.
"I wanted to show the evidence of the abuse that's going on in the privacy of homes," she said.
"I wanted their stories and the abuse they had endured to reach out to people who can make a difference, and reach out to employers to tell them somebody is watching; we know what's going on."
Amnesty: Workers exploited in Hong Kong
CNN intern Wayne Chang provided additional reporting