Malaysia Airlines flight 370 disappeared in the early hours of March 8, 2014, less than an hour after it took off from Kuala Lumpur.
Here are maps showing what happened.
Take-off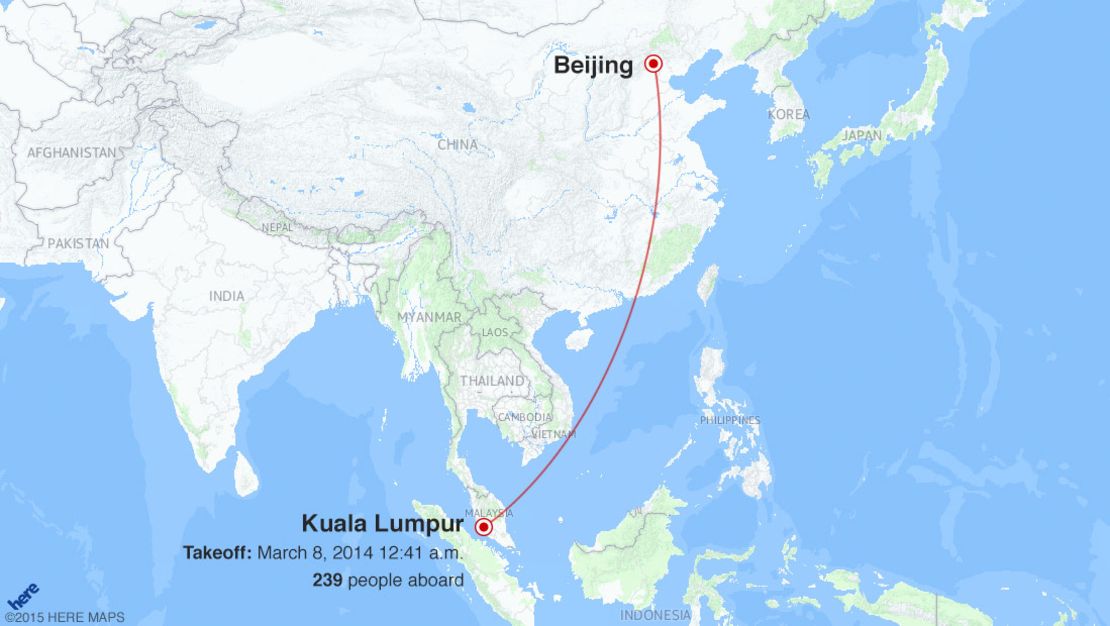 The Malaysia Airlines Boeing 777 took off at 12:41 a.m. local time, heading for Beijing in China. A total of 239 passengers and crew were on board for the flight, scheduled to take a little over six hours.
Disappearance, first searches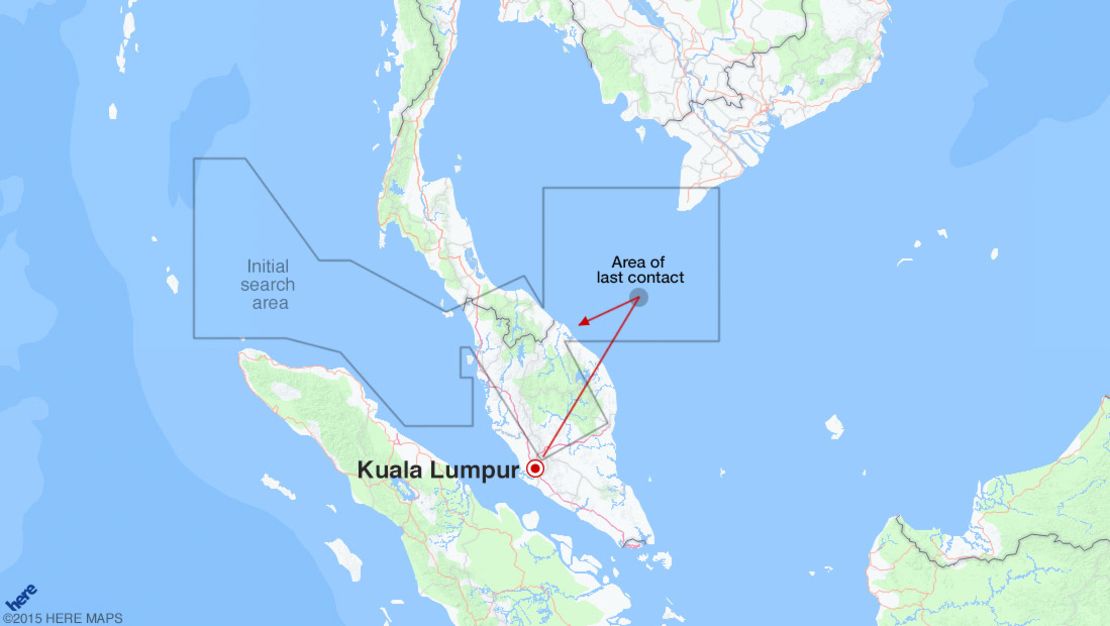 Many details and theories about the plane's route came in the hours and days after the disappearance. To start with, searches were launched on land and sea north, north-east and north-west of Kuala Lumpur. Radar transmissions and pilot communications were studied in depth:
At 1:07 a.m., a routine transmission from an onboard computer shows MH370 is on its normal route.
At 1:19 a.m., one of the pilots says "Good night, Malaysian three seven zero," to air traffic controllers as the plane moves from Malaysian to Vietnamese airspace.
At 1:21 a.m., the plane's transponder, which identifies the flight to air traffic controllers, stops communicating.
Between 1:21 a.m. and 1:28 a.m. the plane appears to change course, making a sharp left turn.
At 2:15 a.m. radar tracks a plane traveling west, then making a turn either to the north or south.
Massive search in new area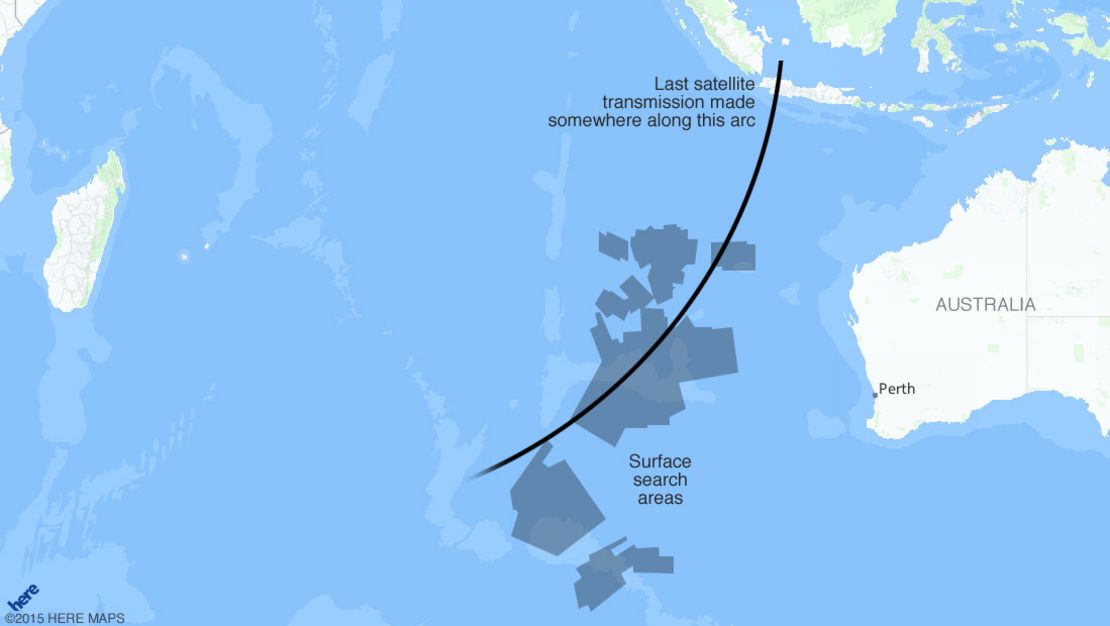 Expert research, including groundbreaking analysis of satellite data pointed to the plane traveling south, over the wide open expanse of the Indian Ocean. New search areas were computed to gauge when the plane, if on autopilot, would have run out of fuel and fallen from the sky.
Searches coordinated by Australian authorities scoured the surface of the ocean west of Perth using 21 aircraft, 19 ships and underwater vehicles equipped with sonar.
Search broadens, goes underwater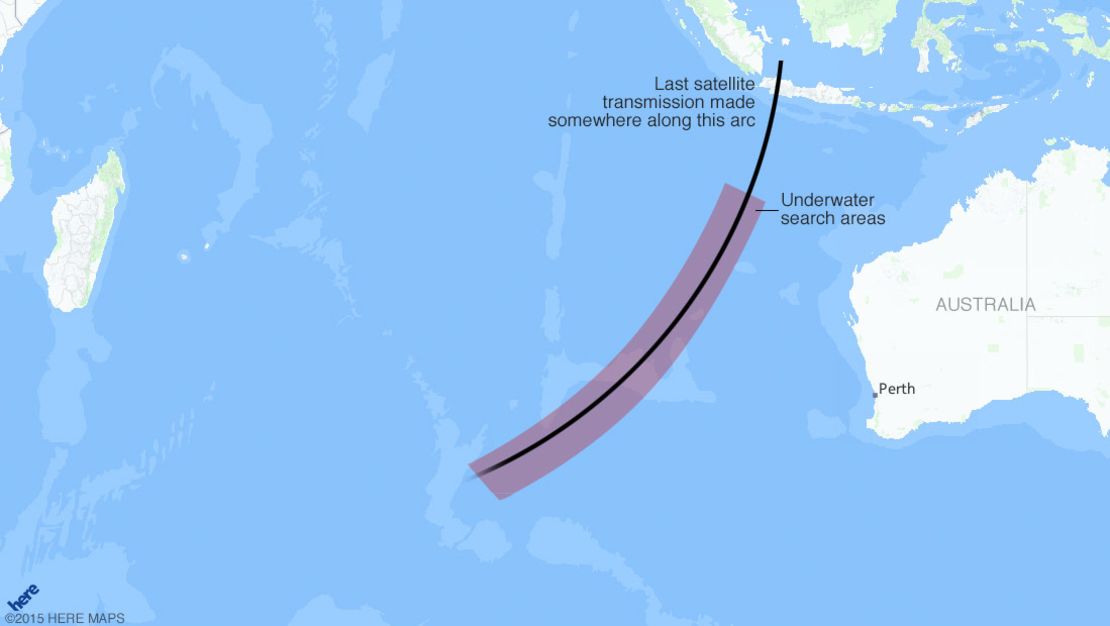 In April 2015, officials from Malaysia, Australia and China announced the search area would be increased to 120,000 square kilometers if no trace was found in the existing search zone.
That search has been contracted to private companies who have scoured 55,000 square kilometers of the ocean floor so far.
Piece of wreckage washes ashore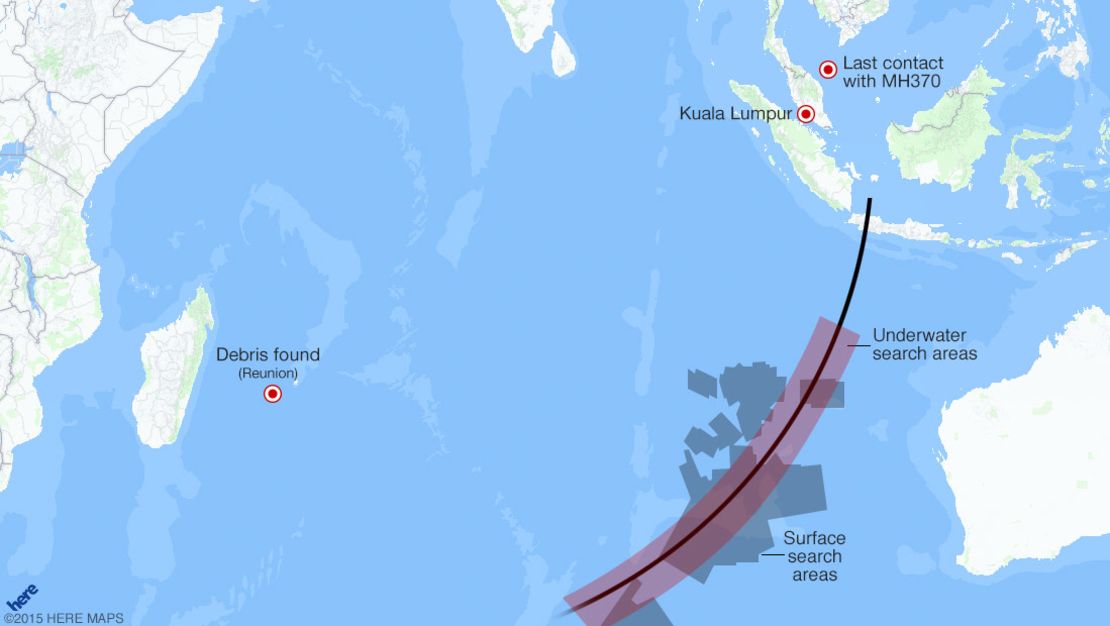 Debris from a Boeing 777 washed up on the western Indian Ocean island of Reunion in the last week of July 2015.
Ocean currents could indeed have taken the debris from where it's thought MH370 came down to Reunion, the head of the Australian Transport Safety Bureau said.
On August 5, Malaysian Prime Minister Najib Razak confirmed the debris was from the missing plane.
In the year since then, five other pieces of wreckage have been discovered which investigators say are likely from Malaysia Airlines 370.