He had defeated Jesse Owens and the world was at his feet.
Except there was one snag: Sam Stoller was Jewish.
Stoller and fellow Jewish-American athlete Marty Glickman arrived at the 1936 Summer Olympics in Berlin with dreams of glory – but they left chastened in an episode which still haunts the world's most famous Games to this very day.
"Anti-Semitism was the basic reason, I believe, that Sam and I didn't get to run at the Olympic Games," Glickman said when asked about the incident before he passed away in 2001.
As Hitler stood and watched, attempting to project his vision of Aryan dominance to the world, African-American sprinter Owens shattered the myth the Nazis so desperately craved to display.
Owens was the star of Berlin, becoming the first American in Olympic track and field history to win four gold medals at a single Games. He won the 100-yard dash, the long jump, 200-yard dash and the 4x100-yard relay.
And yet, that fourth gold medal in the relay arguably might never have been his. But for a last-minute substitution, it could have belonged to a teammate.
The story of 1936
"Hitler's Games" took place against a backdrop of increasing fear within the Jewish community, though few could imagine the horrors that would follow.
A year after the introduction of the infamous "Nuremburg Laws" in 1935 which placed restrictions on Germany's Jewish citizens, there was a movement in the U.S. to boycott the Games.
This never came to fruition – Avery Brundage, the head of the U.S. Olympic Committee, insisted that Jewish athletes would be treated equally after gaining assurances from the Germans.
On the day of the trial heat for the 4x100 relay, Stoller and Glickman were planning their route to the gold medal.
Both men had been selected to run in the event, which the U.S. team was expected to win with ease.
Stoller, who had defeated Owens at the 1931 Ohio High School's 100-yard dash championship, and Glickman, who was acknowledged as the third-fastest man in the U.S., had been selected to line up alongside Foy Draper and Frank Wykoff.
On that fateful morning, the seven members of the sprint team were called into a meeting along with their coaches Dean Cromwell and Lawson Robertson, who revealed rumors of a secret German team being lined up to surprise the Americans.
The U.S. coaches told Stoller and Glickman they would be dropped and replaced by Owens and Ralph Metcalfe, who were acknowledged as the two fastest men in the world.
Owens, who had cheered for Stoller during trials for the Olympics, protested the decision but was told to get on with the job.
"We were shocked," Glickman said in a television interview years later. "Sam was completely stunned. He didn't say a word at the meeting.
"Watching the final, all sorts of emotions flashed through my being. Frustration, certainly. Anger, certainly.
"I looked out on the track watching Metcalfe passing runners on the second leg and thinking, 'That should be me.'"
Glickman had already beaten Draper in the practice heats preceding the Games and was widely acknowledged to be a faster runner.
No secret German sprint team ever emerged – and to Glickman it was obvious why both he and his teammate had been cast aside.
The U.S. eased to win gold by 15 yards – the Germans finished back in third.
"Here were two rather obscure Jewish athletes who could be kept off the podium so to not embarrass Adolf Hitler," Glickman said.
This week, his youngest daughter, Nancy, and Stoller's second cousin, Steven, will both attend the European Maccabi Games – the Jewish Olympics – in Berlin in honor of their respective relatives.
Both were invited by Maccabi USA, the American branch of the Maccabi sporting movement, and the German government, which has been extensively involved in helping organize the event.
Around 2,300 Jewish athletes from 36 countries will compete in 19 different sports during the competition which is held every four years.
Steven Stoller, who lives in New Jersey and works in orthopedics and sports medicine, grew up with his cousin's story.
"My uncle and father would always tell me about Sam," he told CNN.
"As a youngster, I never really understood it – I never really understood the size of it."
It was only years later upon visiting the Holocaust Museum in Washington DC that he began to realize the gravity of the story.
"My feeling from all this is that this is a story about anti-Semitism," Stoller said.
"It's a story about two young men who worked pretty much all of their lives since they were children to prepare for this moment, and they prepared with an obsessive compulsive behavior that normal people couldn't understand.
"The motivation has to be something the average person can't relate to. To get to that moment, that day, and be told you can't compete, it's not like, well they didn't get to run. It's much deeper than that."
According to Stoller, the blame lies squarely with the U.S Athletics chief of the time – Brundage, who he believes bowed to pressure from Hitler to drop the two Jewish runners.
Glickman also made that accusation in numerous interviews after the event.
Brundage, who died in 1975, was suspected of having Nazi sympathies but always said that the decision was taken on the speed of the athletes and nothing else.
"An erroneous report was circulated that two athletes had been dropped from the American relay team because of their religion," Brundage wrote in his official report of the 1936 Games. "This report was absurd."
Brundage remained adamant that the decision was taken on the results of the U.S. trials and stated that in his report, while he did not mention the alleged secret German sprint team.
The U.S. Olympic Committee issued a statement in 1998. "We regret this injustice and we feel it was an injustice," said Bill Hybl, president at the time. "We're not only atoning for this but recognizing two great individuals."
While Brundage rose to become head of the International Olympic Committee from 1952-72, Glickman and Stoller would never have another opportunity.
"What a horrible human being he (Brundage) was and the damage he did to the lives of these two individuals is not understood," Steven Stoller added.
"For both Marty and Sam, it's just an unbelievable disappointment that will be devastating for the rest of your life.
"You're better off going and losing poorly than not being able to compete after putting heart and soul into it for that one moment. It was everything for them.
"I can't imagine how badly they felt."
Sam Stoller was just 21 at the time. His athletics career ended before it had begun – his hopes crushed, he never reached the heights he had dreamed of after vowing never to run again.
Stoller did briefly return to athletics in 1937, but he soon moved on to new ventures, while Glickman's life took on a hugely different trajectory as he became one of the most famous voices in U.S. sport.
Glickman's story was chronicled in a documentary by HBO which portrayed his rise from high school athlete to leading sport announcer.
Born in the Bronx, Glickman was an outstanding athlete who also played college football for Syracuse.
He went on to become the voice of basketball in New York, announcing games for various stations in the city; his iconic catchphrase of "Swish" became synonymous with the sport at the time.
But the injustice of Berlin never fully healed. In 1986 he returned to Berlin's Olympic Stadium to celebrate Owens' achievements.
"Suddenly a wave of rage overwhelmed me," he wrote in 1994 about the trip. "I thought I was going to pass out. I began to scream every dirty curse word, every obscenity I knew … being there, visualizing and reliving those moments, caused the eruption which had been gnawing at me for so long and which I thought I had expunged years ago."
Remembrance
Both Nancy Glickman and Steven Stoller will experience a Berlin that has been transformed since their relatives arrived with hopes of sporting immortality.
The new generation of Jewish athletes do not face the same barriers as their ancestors once did, though their shadow still looms large.
"I'm going, number one, to keep the Stoller legacy alive," Steven said.
"I don't have grandkids but I want to do this for the next generation. I'm going to honor someone I feel did not receive enough attention that was warranted."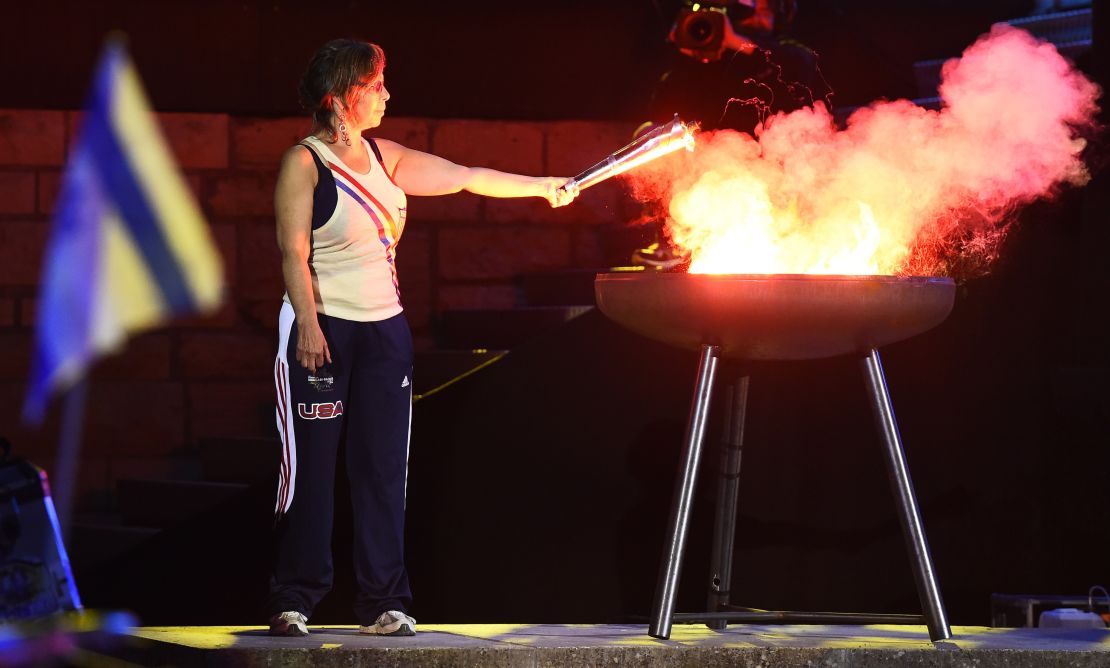 For Nancy, it is about remembering her father – but also paying tribute to a man who never allowed the anger or frustration to affect his principles.
"My father had his dream taken away from him – and then he spent the rest of his life to ensure that nobody else would ever be excluded," she said.
"It wasn't until I was 13 and I saw a documentary on television that I even knew what had happened to him.
"I waited until he came home from work and asked him about it and he told me everything.
"Then at the end, he went to a drawer, and underneath lots of stuff was his U.S. Olympic jersey.
"He gave it to me before he died – it was the only thing of his I really wanted to keep."