As far as genre-defining rock gods go, Adam Ondra doesn't immediately stand out as a trailblazing revolutionary.
With a mop of dark curly hair, youthful looks and a gangly frame, the 22-year-old doesn't appear old enough — let alone athletically able – to have scaled the incredible heights he's achieved.
But don't be fooled.
Over the past half-a-dozen years, the Czech has been quietly breaking new ground, dominating international competitions on artificial walls and conquering rock faces that have defeated the world's strongest climbers.
"There are way more powerful climbers compared to me but I think I can really take advantage of all my power due to my technique," Ondra tells CNN's Human To Hero series.
"Also, due to my mental strengths I can really reduce all the fear and doubts – I can be driven by this intuition and experience, and that's when I definitely feel I climb at my limits."
Champion climber reaches new heights
Sport climbing differs from traditional rock climbing in that bolts are already in place up the route, enabling climbers to show off their athletic ability and strength as they ascend a wall.
'We climb with ropes, with quick draws, with carabiners and it's always protected by bolts – the bolts are certificated protection and it's considered to be safe. These routes are maybe up to 30-40 meters," he says.
The hand that rocks the cradle
Ondra has been staring up rock faces almost since he was born in Brno in 1993.
"I was born into a climbing family. My parents brought me to the rocks and my introduction to climbing was gradual – hanging in a rope and taking a swing before starting more serious climbing when I was six years old."
Veteran German free climber and mountaineer Alexander Huber remembers watching Ondra firsthand during his formative years.
Sport Climbing
The International Federation of Sport Climbing (IFSC) has three disciplines: Lead, Boulder and Speed.
Lead
climbing allows rope-tied competitors eight minutes to scale an overhanging route, with the person climbing highest winning.
Boulder
competitors attempt to climb a four-meter wall in a maximum of 10 movements.
Speed
climbing pits two rope-tied climbers on parallel 15-meter walls. The fastest to the top wins!
"I first saw him at the beginning of 2000 in Osp, a popular climbing destination in southwest Slovenia," Huber tells CNN.
"In those days it was really unusual that children go climbing. He was six years old and he was climbing stronger than most of the adults. You could see he was climbing with such ease.
"He definitely was a flowing climber and obviously had the talent and the necessary power."
As Ondra has grown up, he's barely put a foot wrong.
In 2009 and 2010, he became the first climber in history to win both the Lead and Bouldering World Cup titles, and in 2014 he repeated the double at the IFSC World Championships.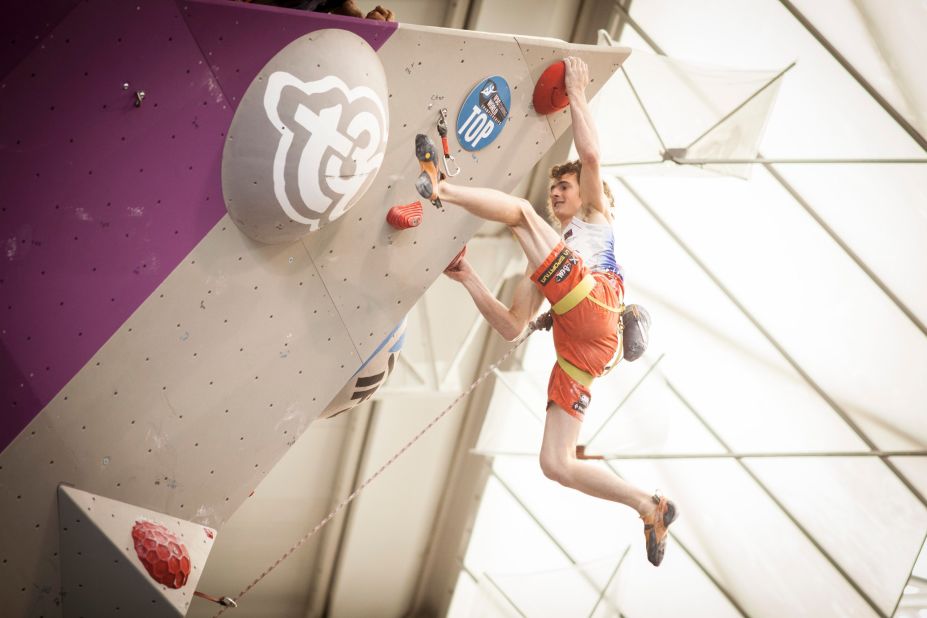 Adam Ondra: Climbing champion scales new heights
"What I like about climbing that it's so broad. For certain periods I can focus on sport climbing and then I can shift my focus more on the bouldering or I can shift my focus on climbing in the mountains," he explains.
"Climbing in a beautiful location, the goal is not to power my way up but to become for that moment a part of the landscape, part of the rock.
"To find the flow of the line of the climb and somehow to get to the top as easily as possible is something that many climbers don't do, but the style I climb a route with is also very important."
Visionary and pioneer
It's this sort of attention to detail that makes Ondra so special, Huber thinks.
"There are so many strong climbers, but only a few good climbers," he says.
"Adam is not only a very gifted and talented climber in the physical sense, but also has the right mind for it. He has the skill to see something beyond the known horizon that puts him into a position that can develop climbing even further."
Two decades ago it was Huber who was helping push the boundaries completing a series of climbs graded 9a and 9a+ – notably the "Weisse Rose" and "Open Air" routes in Austria.
Sport climbers generally use the French grading system as standard, but the U.S. and other nations have variations of their own – for example, the French 9a+ is classified a 5.15a in the U.S.
Routes are graded subjectively – "It's more or less a feeling," Huber says. "From one grade to the next is kind of like a new dimension.
"When I climbed 9a+ in the early 1990s, this was the high end in those days. Today, 25 years later we are now in a grade of 9b+ (5.15c), two difficulties higher."
Ondra became the first person in the world to climb a 9b+ in October 2012, ascending a route inside a Norwegian cave christened "Change."
The following February he repeated the feat, this time on "La Dura Dura" ("The Hard Hard") in Oliana, Spain.
The route along a 40-meter overhanging limestone cliff was bolted by the American sport climbing legend Chris Sharma in 2009 and is widely regarded as the world's toughest.
This year, Ondra has been concentrating on World Cup competitions but has still found time to scale some of the planet's trickiest outdoor routes.
In June, he successfully ascended "Jade" – an 8b+ route in Colorado – at the first attempt and last month he completed "Three Degrees of Separation" in Ceuse, France to become only the second person to conquer it since Sharma in 2007.
Dawn Wall in a day?!
"For the moment my goal is to push my boundaries a little bit higher in terms of sport climbing and maybe climb a route of grade 9c or maybe 9c+," Ondra says. "But definitely later on I would like to travel a little bit more and go in to mountains of Karakoram in Pakistan."
Huber has just returned from a six-week expedition to the Asia mountain range and thinks it's places like Karakoram – home to K2 – where Ondra will eventually write another new chapter in climbing history.
"He's proven that he is capable of climbing bigger walls without really good preparation," Huber says, noting Ondra's 2010 record-breaking one-day ascent of "Tough Enough," on Tsaranoro, a 400m wall of granite in Madagascar.
So what next for the record-breaking Czech? El Capitan's Dawn Wall, Huber reckons.
The fabled rock in Yosemite National Park made the headlines last January when Tommy Caldwell and Kevin Jorgeson completed the first free climb up the fiendishly long and difficult route.
The American pair took 19 days to scale 915 meters (3,000 feet), but Huber says Ondra won't need that long.
"I know that Adam Ondra, in terms of capabilities, is above Caldwell and Jorgeson – a dimension above them. A project could be that he climbs the route in three days, two, maybe even one day."
So does Ondra agree?
"Dawn Wall is an amazing route and totally unique as it packs so many hard pitches on the top of each other. Tommy and Kevin made an awesome job by freeing this route. I would definitely like to try it next year in autumn and possibly climb it faster," he says.
"Climbing it in one day would be my lifetime dream, but I have never climbed a single pitch on El Cap, so let's not talk about it too early."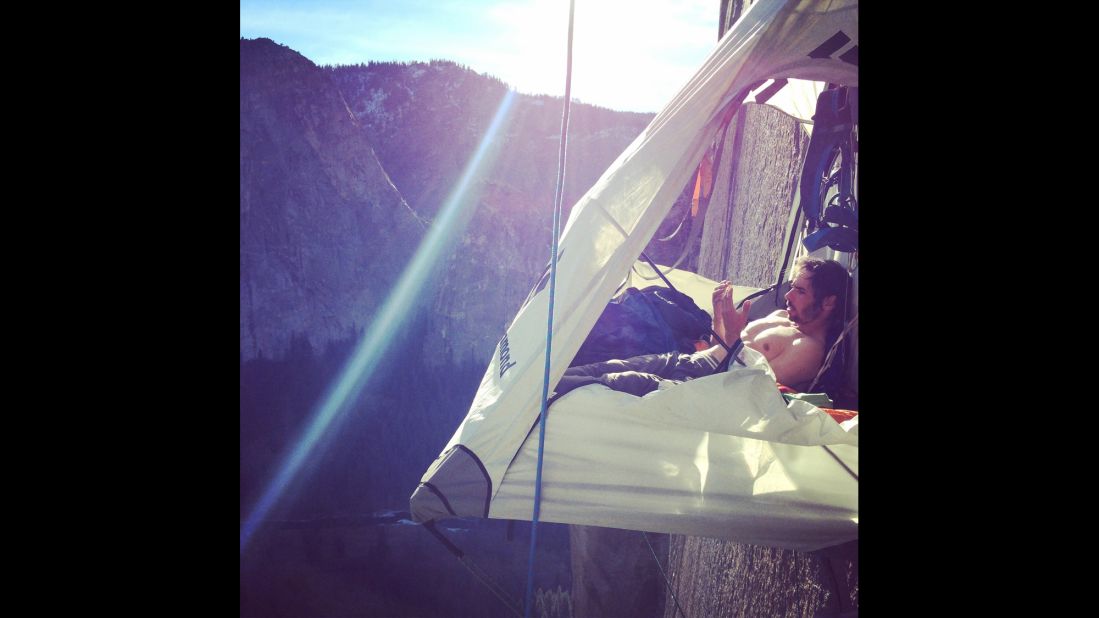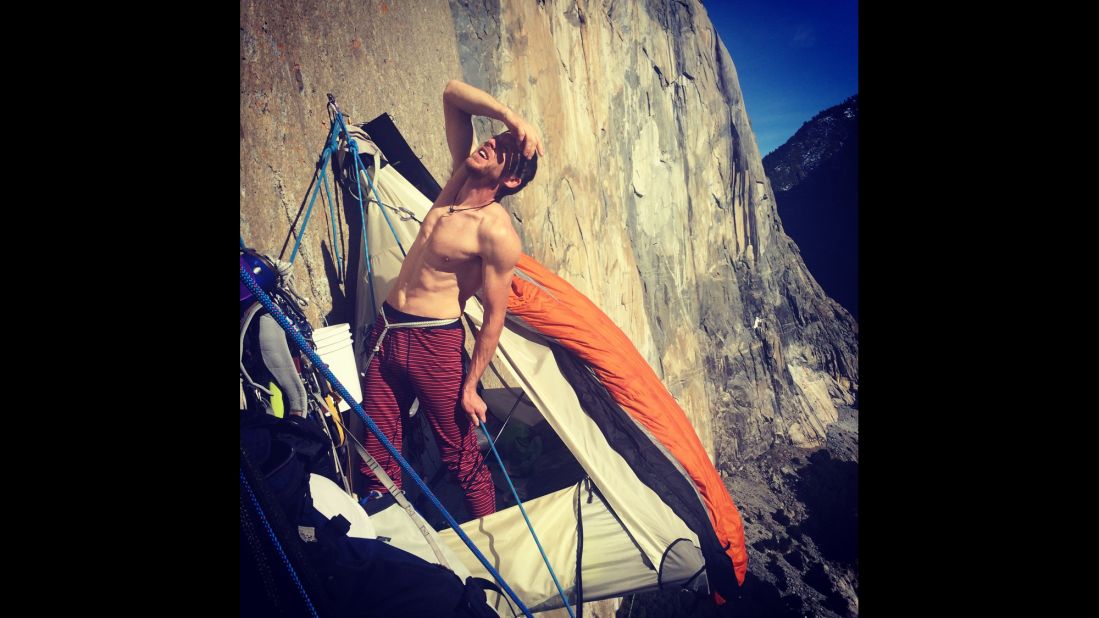 Climbing El Capitan's Dawn Wall
CNN's Human to Hero series celebrates inspiration and achievement in sport. Click here for times, videos and features.
Which athlete inspires you? Tell us on CNN Sport's Facebook page