Story highlights
Erawan Shrine is best known of the many Hindu shrines in Bangkok
Many people go there on way home from work or when sightseers gather to watch traditional Thai dancers
Attack comes as tourism industry that Thailand relies on is rebounding from earlier crises
The Erawan Shrine apparently targeted in Monday's bombing is the best known of the many Hindu shrines in Bangkok.
It's popular among Buddhists, as well as Hindu and Sikh members of Thailand's Indian community who offer flowers and incense bought from local sellers, according to CNN's Saima Mohsin. It's also a tourist hotspot.
Thais and foreign visitors make their ceremonial offerings in the hope that their wishes will be fulfilled, according to one tourist site.
The shrine, built in 1956, houses a golden statue of Phra Phrom, the Thai representation of Brahma, the Hindu god of creation. The shrine is so revered that Thanakorn Pakdeepol, a mentally ill man, was beaten to death in 2006 by two bystanders after they witnessed him vandalizing the statue.
Tourists killed in apparent attack on Bangkok shrine
Why this shrine?
The timing of the bomb – at 7 p.m. – was crucial, as many people go to the Erawan Shrine in the evening on their way home from work. It's also when sightseers gather to watch traditional Thai dancers. The fact that it's a tourist attraction and in the heart of Bangkok is crucial.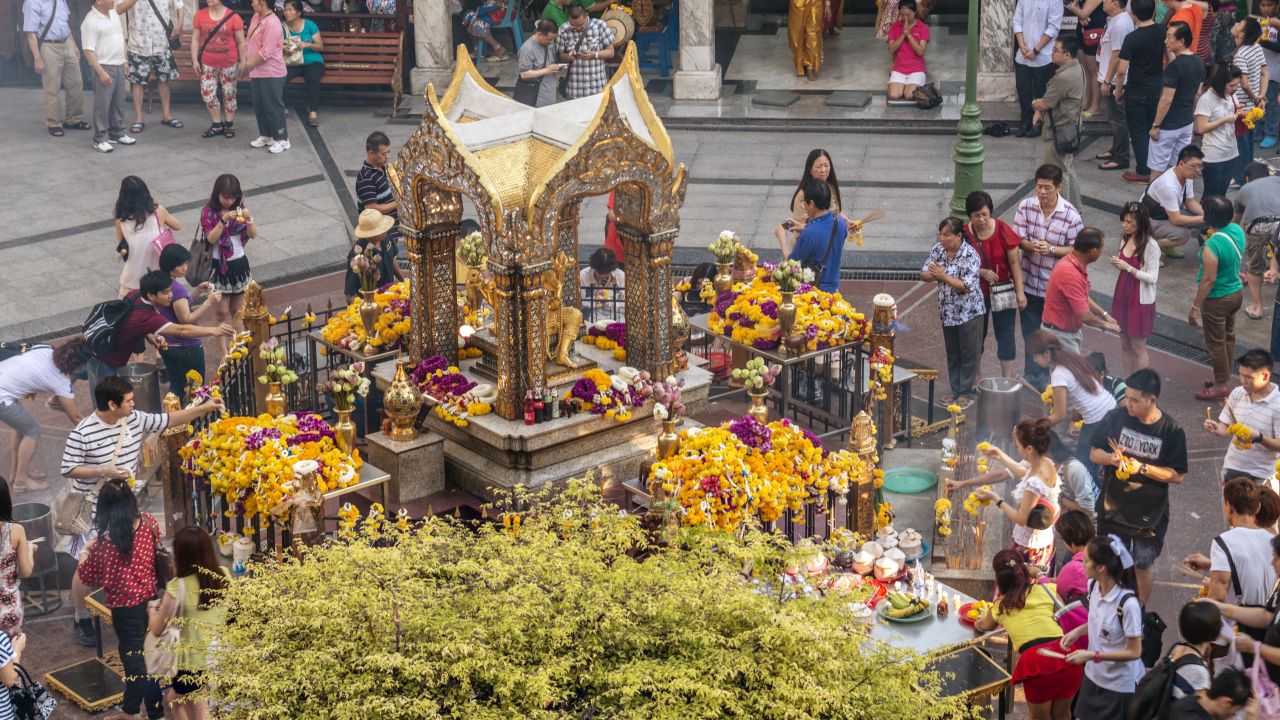 "This location has seen much turmoil over the years, but never been a target itself," Mohsin said. The shrine lies at a central intersection where months of anti-government protests took place last year. It's also opposite Central World, one of the largest shopping malls in the world, rebuilt after being burned down in previous protests in May 2010. Despite that unrest, the shrine remained untouched, being popular with many sections of society.
"For such a sacred shrine to be targeted is devastating for the local community, and a wake-up call for the military-run government of Gen. Prayuth Chan-ocha. The military staged a coup in May 2014 after violence escalated in the anti-government protests. A grenade attack killed two young children not far from the shrine. Things have been calm since then.
"But in February of this year a pipe bomb exploded one train stop away, causing injuries to passers-by – a warning perhaps of things to come."
What next – will there be a crackdown?
Thailand's military run government has been focusing on its tourist industry, trying to undo the damage done by last year's protests, martial law and subsequent coup. This bombing could have a major impact on tourism. The peak tourism season begins in a few months.
Security may well be stepped up with more visible teams on the ground, as the country saw after the coup last year. But Prime Minister Chan-ocha has been keen to avoid high-visibility security in order to promote the soft side of Thailand to its Western allies and tourists.
Officials "try to ensure Bangkok is accessible, friendly and cosmopolitan," said Sajjan Gohel, of the Asia-Pacific Foundation, a London-based think tank.
"If they bring in heavy security, that plays into hands of terrorists, who want there to be a clampdown on free mobility," he said. "But without greater levels of security, further attacks could be planned, as terrorists feel safer to operate.
"Terrorists want to cause disruption, to alter the way people live and the way they feel."
Will the attack damage Thailand's tourism industry?
The attack in Bangkok comes at a time when the tourism industry that Thailand relies on is only just rebounding from earlier crises.
In last year's coup, a temporary nightly curfew was imposed on locals and tourists alike in the capital. While many tourists were unaffected and undeterred by the political instability, the turmoil was credited with causing a drop in international visitor numbers from a record 26.5 million in 2013 to 24.8 million in 2014.
While numbers trended upwards over the preceding decade, Thailand has suffered similar setbacks that have led many governments to issue varying levels of cautionary travel advice to their citizens.
Devastating floods in 2011, political instability and unrest in 2009-10, the Indian Ocean tsunami in 2004 and SARS in 2003 all led to downturns, according to statistics from the Tourism Authority of Thailand.
In 2014, receipts from tourism amounted to $36.1 billion, contributing up to 9% of Thailand's annual GDP, according to the World Travel and Tourism Council.
CNN's Barry Neild and Ismail Wolff contributed to this report.