Story highlights
NEW: Erawan Shrine reopens to the public less than two days after attack
Police spokesman says many pieces from the first bomb were made in Thailand
Police are "very sure" man in yellow shirt is the bomber, hid backpack underneath a bench
Suspicions focused on one man as investigators picked through the wreckage of the powerful bomb blast that brought death and destruction to a popular shrine in the Thai capital.
Police said Tuesday they are hunting for a suspect seen in CCTV footage who they believe is connected to the bombing, which ripped through crowds gathered near the Erawan Shrine on Monday evening, killing at least 22 people and reportedly injuring about 120.
In one CCTV image released by police, the man carries a dark-colored backpack near the shrine. In another, he no longer has the backpack. He's wearing a yellow T-shirt and dark-framed glasses.
Royal Thai Police Commissioner Gen. Somyot Poompanmoung said authorities don't yet know the man's identity or whether he is Thai or a foreigner.
At a later news conference, police spokesman Lt. Gen. Prawut Thavornsiri said authorities were "very sure" the man in the yellow shirt was the bomber.
The commissioner said the man sat down at 6:52 p.m. local time (7:52 a.m. ET) Monday and hid the backpack underneath a bench.
Investigators believe he left a pipe bomb.
The shrine, situated at a bustling intersection near a large shopping mall, is a big draw for tourists. At least seven people from other Asian countries were reported to be among the dead as well as one Briton. The site is popular among Buddhists as well as Hindu and Sikh members of Thailand's Indian community.
After being swarmed with police investigators Tuesday, the shrine reopened to the public Wednesday morning.
Prawut told Thai TV 3's talk show "Joa Khao Den" that tips have led authorities to check out Suvarnabhumi Airport and parts of Chonburi Province, to the southeast of the capital. He didn't specify what information led investigators there.
Police believe the man assembled the bomb in Thailand because many pieces of the explosive device, including the pipe, were made in the country, he said.
"From this incident, it is apparent that there are active individuals or groups that harbor the intention to damage Thailand, who may be pursuing political gain or other intentions by damaging the economy and tourism," Prime Minister Prayuth Chan-ocha said.
Adding to the jitters, a new explosion was heard Tuesday at a pier on the Chao Phraya River that flows through Bangkok, police told CNN. No injuries were reported and the pier was closed, said Prawut.
The second explosion was caused by the same type of bomb as the earlier one, Prawut told reporters.
Police are looking into the possibility that Tuesday's blast happened when someone on a motorcycle threw a bomb toward the floating pier, he said. The second bomb eventually fell into the water, he said.
Bodies thrown, bikes mangled and a vibrant city on edge
'So many bones were broken'
The first explosion struck Monday during a busy time in the area, sending a giant plume of smoke and flames into the air.
"It was like this huge gust of wind and debris flying through you," recalled Sanjeev Vyas, a DJ from Mumbai, India, who was in the middle of the fray. "And then I see bodies everywhere; there are cars on fire, there are bikes everywhere. People are screaming."
Marko Cunningham, a paramedic who arrived soon after the explosion, described the scene as "absolutely horrific."
"I've seen a lot, but I've never seen injuries as vicious as these injuries," he told CNN, adding that "so many bones were broken."
Motorbike taxi driver Theerasak Kultham, 20, was among the injured. He told CNN he was stopped at a red light while taking a customer to a mall when he heard a loud explosion.
"I turned back to look at where the sound came from and saw people scattered on the streets everywhere. I decided to abandon my bike and ran off … to the other side," he said.
He saw his customer's arm was covered in blood and realized his own back was numb and bleeding. Doctors said he had two shrapnel injuries – and one piece may have to work its own way out.
"I've never been through (anything) like this before. I'm still scared," said Theerasak, who moved to the capital from a rural area to find work.
There has been no claim of responsibility for the attack. Thai authorities haven't made any announcements about who they believe might be behind it.
Somyot, the police commissioner, said cryptically on state-run TV that authorities had been warned about possible attacks, but they didn't know where or when they might occur.
Scale of attack shocks observers
Analysts say it's unclear which group would want to carry out the shrine attack, which is likely to hurt Thailand's tourism industry, a key part of the economy.
The capital, which was convulsed by political unrest last year, has experienced small-scale bomb and grenade attacks in the past. Two devices exploded at an upscale shopping mall in February but didn't cause any casualties.
But Monday's attack was of a different magnitude.
"It is by far the most devastating attack that Bangkok has seen – or Thailand has seen, for that matter – as far as I can remember," said Joseph Liow, a senior fellow at the Brookings Center for East Asia Policy Studies.
"CITY BOMB HORROR" blared a Tuesday headline in the Bangkok Post.
Puzzle over who might be behind bombing
Observers say the attack doesn't fit with the campaign of violence mounted by Islamist insurgents in Thailand's far south, near the border with Malaysia.
"Their complaints are very local, and they have tended to attack military and security targets," said CNN global affairs analyst Bobby Ghosh. "They have not really committed a terrorist attack of this nature against civilians, much less tourists. This does not seem to bear their fingerprints."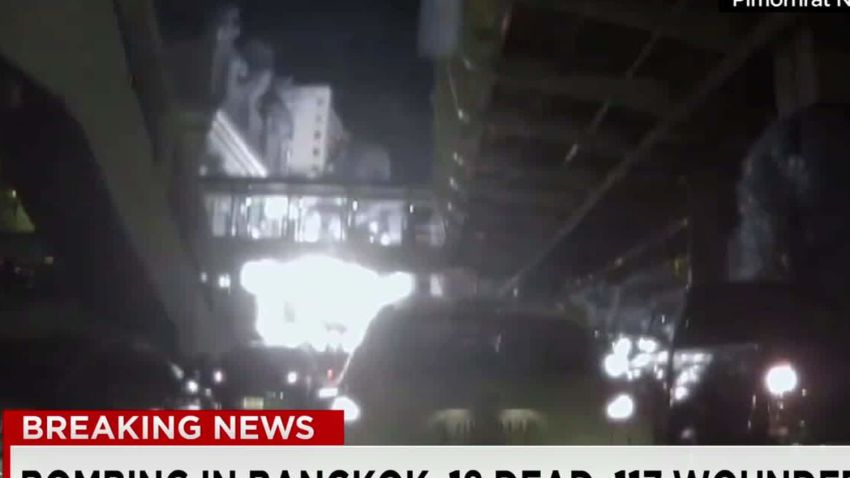 Dashcam footage shows new view of Bangkok explosion
Experts say the shrine attack could be linked to the political instability that has plagued Thailand in recent years.
The military seized power in a coup in May 2014, ousting the democratically elected government that had been beset by long-running protests in Bangkok.
"There are political groups that are opposed to military rule, but they're democrats and this is not their style either," Ghosh said. "They don't go around bombing innocent civilians. And hurting Thailand's economy, which this will do, is the last thing that they would want."
Bangkok shrine bombing: The search for a motive
Questions over explosive device
Cunningham, the paramedic who witnessed the aftermath of Monday's attack, said the bomb was "obviously designed to cause maximum damage and death" and was "really unlike the bombs that the Thailand political groups use."
Thai state media cited Somyot, the police chief, as saying the device that exploded was a pipe bomb wrapped in white cloth.
But CNN intelligence and security analyst Bob Baer expressed skepticism.
"With that much damage, that many deaths, it's very unusual," he said. "It would be a very sophisticated pipe bomb – they don't usually kill that many people."
Authorities were still identifying the attack's victims.
UK Foreign Secretary Philip Hammond said a British woman living in Hong Kong was among those killed, and condemned what he called "a callous act of violence against completely innocent and unsuspecting members of the public."
Prime Minister David Cameron said via Twitter he was deeply saddened by the news.
Five Thais, four Chinese, two Malaysians and a Singaporean were among the dead, said Maj. Gen. Witoon Nitiwarangkul, the surgeon general at Bangkok's Police General Hospital.
Singapore's Foreign Ministry confirmed the death of a young Singaporean woman and said seven other Singaporeans were wounded.
China's state news agency, Xinhua, reported six Chinese had died and one was missing, according to the Chinese embassy.
A ministry spokesman extended the country's deepest condolences to the woman's family, saying a "life of promise" had been "snatched away in a moment of terror."
Medical officials had earlier reported that a Filipino was killed in the attack, but the Philippine Department of Foreign Affairs said it was still verifying that claim, according to the state-run Philippines News Agency.
CNN's Kocha Olarn reported from Bangkok, while Jethro Mullen wrote from Hong Kong and Laura Smith-Spark from London. CNN's Pasaraporn Mongkolrueangrawi, Karen Smith, Pamela Boykoff, Elizabeth Joseph, Steve Almasy and Carol Jordan and journalist Kiki Dhitav contributed to this report.