Story highlights
Super agent Jorge Mendes is arguably soccer's most powerful agent
Involved in deals worth a reported $445 million in recent transfer window
Mendes represents Cristiano Ronaldo and Jose Mourinho
U.S. sport lawyer critical of way European soccer market works
The days leading up to September 1 were especially hectic for Jorge Mendes.
The super agent to the likes of Cristiano Ronaldo and Jose Mourinho had been working several big deals in European football over the previous few weeks, but the final hours on transfer day deadline proved especially frantic
And with time fast approaching midnight in London, the headlines came flooding in.
Whether they were making eye-watering record-breakers or bureaucratic busts – not to mention whether the 49-year-old with the slick tan was even representing the high-profile footballer – Mendes appeared to be linked to every deal.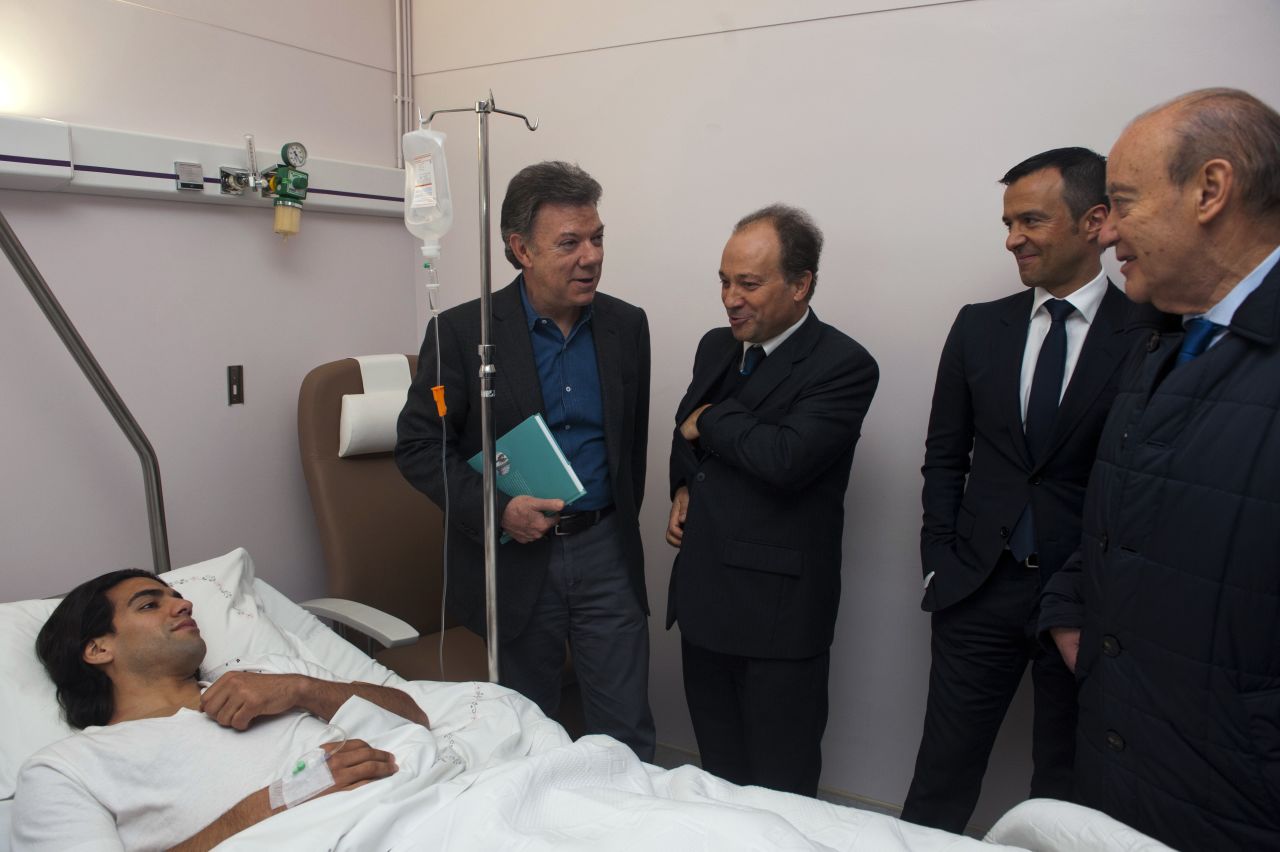 Super agent Jorge Mendes' web of influence in world football
There was his client David de Gea's down-to-the-wire finger-pointing mishap between Real Madrid and Manchester United. There was defender Nicolas Otamendi's $44 million move from Valencia to Manchester City, and to cap it off there was even Anthony Martial's deal which brought him to Manchester United from AS Monaco, breaking the teenage transfer record along the way.
Martial's move raised a few eyebrows. Just how did the fee rise so quickly – from $34 million just a week before deadline before swelling to a hammer price of $55.5 million – for a 19-year-old who had only 11 goals in 53 senior-level appearances to his name?
In the deal's aftermath, Monaco's vice president Vadim Vasilyev would cause further alarm by crowing that the fee could rise to nearly $90 million with incentives.
Interestingly, Mendes, who refused CNN's interview request via a representative at his agency GestiFute, was reportedly called in by Manchester United to act as a consultant on the deal – and that may have been the difference maker, says one fellow agent who has been friendly with Mendes since he started out in the business.
"He was obviously very influential in affecting the player's price," Barry Silkman, who once represented former Barcelona star David Villa, told CNN. "Jorge with his influence probably added value of 40%."
Paying for potential
The clout established by the super agent allows him to do more than simply get deals done. He can also lift the price of a player on the back of his endorsement – not necessarily on the open market, but, crucially, to the front office executives on his speed dial.
In this case, the $16 million premium Mendes may have lumped onto the Martial deal was misplaced, says Silkman, who enjoyed a 17-season career as a professional footballer in England before settling in as an agent in the 1990s.
"Is he worth it?" he asks. "The answer obviously is no. It's probably, in this moment in time, one of the craziest deals done in the history of football."
United's fans might disagree given Martial's sizzling debut goal at Old Trafford last weekend against Liverpool and the two goals he scored against Southampton Sunday, but Silkman says the French international still has a lot to prove.
"When you look at this player, the reality is there is not a human being in the world who can possibly value him at £40 million ($62 million)," he insists. "He hasn't achieved anything …you can't pay that for potential."
For his part, Mendes plays down any hype about his ability to shape teams or create astronomical value in world football.
"People have the wrong idea about agents," Mendes said recently in a (rare) interview with the BBC. "Being an agent means many different things. I'm someone normal; I'm working hard every day. I have ambition, determination, and (value) being honest and doing the right things."
Even though Mendes does not act on behalf of Martial, he had been active in so many deals involving both Monaco and Manchester United over the past few years, that he was erroneously reported by the British press as being the player's agent.
Martial's actual agent Philippe Lamboley told CNN he knows nothing about Mendes' reported involvement in the deal, nor is he concerned with such minor details: "I don't know at all, it doesn't interest me," he said.
Still, it's not unreasonable to think: no Mendes, no deal. Or, more likely, no Mendes, no $55.5 million.
Mendes, after all, was ranked by Forbes as the most powerful soccer agent in the world.
"I would say United have probably relied heavily on what he said," Silkman explains. "Because of the Cristiano Ronaldo complex people do listen to Jorge, and they take notice of what he says."
Mendes, Inc.
Mendes' ties to Manchester United began back in 2003, when an 18-year-old kid with bad skin and greasy hair was handed the number seven jersey after signing from Sporting Lisbon for $19 million.
It would arguably turn into the most lucrative investment a professional sports team ever made in an athlete, netting United three Premier League titles, one Champions League trophy and over $100 million from Ronaldo's sale to Real Madrid in 2009.
It was, in essence, the launch of Mendes, Inc.
"Cristiano Ronaldo made Jorge Mendes, 100%," says Silkman of the agent who only eight years prior to that deal was managing a nightclub outside of Porto.
"You have to remember that when Cristiano Ronaldo was at Sporting Lisbon, Mendes wasn't doing any big deals."
Silkman says he first met Mendes when he was shopping Ronaldo around to Premiership clubs, including Chelsea, who he was asked to approach, before the Portuguese star joined Manchester United.
Once that high-profile signing was completed, it drew other players to the dealmaker, says Silkman: "Mendes (was) just a normal agent, but with Cristiano Ronaldo's move to United, it opened the door for him."
Miguel Cuesta Rubio, who co-wrote the Mendes biography "Jorge Mendes: The Special Agent," agrees: "Of course, when you have Ronaldo it sends a (loud message) to the other players, and one goes to the next."
"Jorge and Cristiano Ronaldo have been a perfect match for each other, and Jorge has been very clever," adds Silkman. "In fact, as Cristiano Ronaldo has grown, so has Jorge Mendes."
And as the two have climbed to the top of their respective fields over the past decade, they have maintained a close friendship highlighted by Ronaldo's appearance as best man to Mendes' wedding in August.
And what do you buy an agent who has everything? A Greek island, supposedly.
Aside from Ronaldo, Mendes' wedding guest list showcased a who's who of world football.
In attendance were many of his star players, like former Barcelona midfielder Deco, former Chelsea defender Jose Bosingwa and Nuno – Mendes' first client and current coach at Valencia – along with Real Madrid president Florentino Perez and former Manchester United manager Sir Alex Ferguson.
"He is not only an agent to the football players, he's also an agent to the clubs," says Rubio, who met with Mendes about 10 times for his book project. "He tries to look after all their interests, not only the interests of the players."
In Portugal, Mendes' dominance is so established that between 2001-2010 he is said to have brokered 68% of transfer fees at the biggest three Portuguese clubs – Porto, Benfica and Sporting Lisbon.
The statistic was brandished in a 2012 investment prospectus for an offshore fund which sought to invest in players' economic rights that Mendes, along with former United and Chelsea chief executive Peter Kenyon, were co-advisers on.
The practice of third-party ownership, where businessmen purchase "shares" in a player's value and benefit from his transfer fee, was commonplace in South America and parts of Europe, but was banned by FIFA earlier this year.
The French Connection
Perhaps no club exemplifies the web Mendes weaves in European football as much as AS Monaco, which Silkman says he "knows for a fact" has a financial agreement with the agent to sell its players.
The statement is not surprising. The connection between the team and Mendes has been made by football writers ever since Russian owner Dmitry Rybolovlev purchased AS Monaco in 2011 (detailed best in a series of articles by David Conn of the Guardian).
AS Monaco would not comment on its transfer arrangements, except to say that the club works with many agents aside from Mendes. The two Manchester clubs also declined to comment, as did Real Madrid, Chelsea, Valencia, Porto, Sporting Lisbon, Benfica and Al Wasl, who were all contacted by CNN regarding their dealings with the Portuguese agent.
It does appear that Mendes is trusted by billionaire club owners like Rybolovlev and Valencia's Peter Lim for his ability to create wealth on the pitch. In a recent match between the two sides, the Portuguese agent reportedly represented a number of players on each team, as well as Valencia's coach.
Another deal Mendes facilitated for Rybolovlev was a mini-version of the Ronaldo jackpot: a one-year flip of Colombian striker James Rodriguez which netted Monaco $50 million (the buyer again being Real Madrid).
For these transfers and dozens of others, Mendes was acting not only on behalf of his clients – the stars sweating and sliding all over the pitch – but also on behalf of the teams who engaged in the buying and selling of them.
If Mendes worked on Wall Street, he'd be a stock broker taking a cut of every trade – at a reported average of 10% – and an investment adviser compensated by all the big hedge funds.
In other words, it would never happen.
But this is world football, a sport whose biggest governing body FIFA is in turmoil, which legal experts say has left a gaping regulatory hole without an SEC-equivalent to police transactions.
In fact, just last April FIFA decided to wash its hands away from overseeing agents to any degree at all, tossing the job over to each country's individual football association.
Dual representation
Currently, the only thing stopping an agent – or 'intermediary', as they are now referred to by FIFA – from being paid by his player and a club for facilitating the same transaction is a waiver form signed by the player.
The concept known as dual representation – where an agent represents a player and a club in the same deal – would not happen in the U.S., where the activities of sports agents are subject to far more scrutiny, says Mark Levinstein, the acting general council for the U.S. national soccer team's players' association.
"Taking money from the team would be impermissible, and would be viewed as a definite conflict of interest," he explains. "Representing both sides of a transaction, even with full disclosure, might be viewed as a conflict that could not be waived."
If these rules were not in place in the U.S., one wonders what kind of fee the Cleveland Cavs would have paid LeBron James' agent Maverick Carter to secure the return of their prodigal son. The practice would open an ugly can of worms in professional sports stateside.
"In Europe, without a regulatory body preventing the practice, the team and the athlete can permit the agent to engage in such activity," adds Levinstein.
The American lawyer says that he has advised players to take an offer to play in Europe if they are happy with the terms, but to be aware that their agent is probably not working in their best interests.
He even recommends they hire lawyers who are compensated on a flat rate to scrutinize their arrangements with agents.
"You can't trust his advice any more about what's a good deal or not a good deal," he said of agents who practice dual representation. "The negotiation is inside his own little head."
Levinstein argues that any money a team is willing to part with – including extra compensation to an agent for brokering the deal – is all part of the same budget, and should mainly be going to the athlete. Mendes, however, may argue that he adds more value to a deal than his own cut.
Getting deals done
Being a client of a super agent has its advantages, even if they are working for both parties, says Daniel Geey, a UK-based lawyer who specializes in football regulation.
"In a lot of cases the idea that an agent knows the club very well, and knows the inner workings of the chief executive, chief scout, sporting director, managing director etc. can work to the advantage of the player," Geey says.
"There is no doubt that there's always going to be few high profile guys doing the biggest deals, it's as simple as that," he adds.
"They are incredibly good networkers, they have fantastic connections, they can influence influencers and they can get deals across the line."
In fairness, the practice has been going on for a while, although it's unlikely that so few agents (Mino Raiola is Mendes's Italian equivalent, representing Swede Zlatan Ibrahimović and a host of Italian stars, including Mario Balotelli), have controlled so much in such a disparate sport.
And again in fairness, players don't seem to mind at all, so long as they're getting paid. And they are, in spades. And they are, even when their deals turn out to be flops. They just surface at another club for many millions more and securing another big fee for the agent.
Take the case of Argentine winger Angel Di Maria who was signed for $90 million by Manchester United in 2014 but never fitted in, scoring only three goals in 27 appearances.
One year later, United was unhappy and Di Maria was certainly not pleased. But, hey, no problem. Mendes simply negotiated another deal and before he knew it the Argentine was packing his bags and moving to Paris Saint-Germain for a cool $68 million.
Another Mendes client, Colombian striker Radamel Falcao also had a bumpy ride after his big 2014 signing by (who else?) Manchester United (scoring four goals in 26 appearances) but Mendes came to the rescue again, securing his loan to Chelsea for a reported fee of over $6 million.
Just two seasons ago the injury-riddled Falcao had been a AS Monaco player after he was signed for $77 million from Athletico Madrid. In four seasons, Falcao has played for four teams, and netted (at least) three fees to his agency: GestiFute.
Former striker Ian Rush, who broke records with transfers from Liverpool to Juventus and back to Liverpool in the mid-1980s, says he never had an issue with an agent getting a little extra payment from clubs.
"I don't have a problem with it, it's the way the world works," says Rush, Liverpool's all-time leading goal scorer.
"The agent is there to get the best deal for the player," he says. "When a big club buys, they are trying to get the best deal for the club. So really, I don't think you can blame the agent, if the agent is doing the best job for his clients."
Network of influence
And nobody does a better job quite like Mendes.
The Lisbon native has developed a network of influence over star players (though, really, only ones who speak Spanish or Portuguese) and close to a dozen teams where his clients get pinballed around to, starting from feeder clubs in Portugal and South America to money bag outfits bankrolled by sovereign wealth, like Manchester City and Paris Saint-Germain.
And on the flipside, if you're a player trying to get into a team like Chelsea (whose ex-coach Mourinho happens to be one of Mendes's first and most loyal clients), and Mendes is not part of the deal, well then good luck.
Just ask Lucho Gonzalez. The Argentine midfielder was enjoying a solid career at Porto – Mourinho's former club and a Mendes stronghold for recruiting players – before being approached by the Portuguese agent with the intent to move him to Chelsea.
Gonzalez salivated over a transfer to one of the top teams in Europe – along with a big pay spike – but made a critical error: he refused Mendes.
Chelsea never agreed to terms with Gonzalez, who ended up signing with Marseille before returning back to Porto, and winding up in the Qatari league, and then finally switching over to River Plate in Argentina.
The player recently lamented his career-changing decision in an interview with Portuguese newspaper O Jogo, saying: "I regret not signing on with Jorge Mendes. Chelsea had interest in me, but I had the wrong representation."
Levinstein, who has represented U.S. national team players since the 1990 World Cup, says he has been approached by agents offering him money to steer some of his clients their way, often with the implication that they were the only road to certain clubs in Europe. He viewed the practice as unethical.
"In a lot of cases, the agents that I knew of were speaking for a small number of teams and were suggesting that if you didn't make a deal with them, those teams were closed to you," he recalls. "The whole agent world is pretty sleazy."
So what is it about Mendes that appeals so much to top teams and players alike?
"I have a lot of time for Jorge, but his football knowledge is limited at best," says Silkman, who suited up for 14 teams including QPR, Crystal Palace and Wimbledon during his playing career.
"What Jorge does is he rely on people that he believes know about the game to give him the information … Jorge is a business man, he's not a football man. If anyone actually listens to Jorge on his verdict of a player, they'd need to be mentally institutionalized," he adds.
A football insider who has dealt with Mendes and prefers to remain anonymous finds that depiction extreme: "Mendes played at a fairly decent semi-pro level and has been picking the brains of some of the smartest people in football for decades, surely that counts for something."
The personal touch
What Mendes certainly does is exude charm. That, combined with his round-the-clock work ethic – most pictures of the agent show him with an earpiece connected to his mobile phone – acts as a magnet to both the athletes and the executives, according to his biographer.
"It's special how he talks to you, how he looks at you. He's somebody you would like to spend time with," says Rubio, who interviewed nearly 30 current and former clients of Mendes' for his book.
"He's very kind and very close to the players," he adds. "A player feels that Jorge is all the time thinking of their problems. He doesn't rest until the work is done."
Rubio adds a surprising nugget: Mendes prefers not to sign long-term contracts with his players, offering them the freedom to walk away from him if they are unsatisfied.
It's a detail that agent himself confirmed in the BBC interview given in February. "I don't need (a) contract, because normally, you can ask (the players), I sign the first contract, and during 10 years, maybe it will not happen again. It works like a family," Mendes said.
Even Mendes defectors – like the former Manchester United winger Nani who parted ways with the agent a few years back - still regard him highly.
Nani's uncle Antonio Mustafa Jalo told CNN: "Nani knows Mendes was the one that launched him, and that stays with you. They still talk and exchange ideas…they have a connection.
"A player who is not a natural talent cannot shine without him," he adds.
Nineteen-year-old Anthony Martial has talent, and, for now, he has Mendes on his side. So even if his spell at Manchester United doesn't sparkle, he'll probably land on his feet at another Mendes-linked club, commanding big headlines, coercing big dreams, and, of course, carrying a big fee.
Until recently, Jon Smith was one of the biggest football agents in the world. His former agency First Artist represented over 400 clients, including none other than Diego Maradona.