Story highlights
Indonesia has begun evacuating infants from haze affected parts of Riau province
The air pollution index in Pekanbaru has exceeded hazardous levels for a week
Officials from Singapore and Malaysia are becoming increasingly frustrated with Indonesia
Indonesian officials have begun evacuating infants and their mothers from Riau province in Indonesia as levels of air pollution from peat and forest fires on Sumatra remain hazardous across the region.
The Mayor of Pekanbaru, the capital of Riau and one of the worst-affected areas of Sumatra, issued the order to evacuate all babies under six months of age on Tuesday afternoon. Thick smog has persisted for weeks and continues to cause illness and limit visibility in the area.
The air pollution index in the region has hovered above 1,000 for over a week, while visibility in Pekanbaru has fallen below 100 meters on some days. Any air pollution reading higher than 300 is deemed hazardous.
The mayor, named Firdaus, told local news agency Antara News that the children would be evacuated to a makeshift nursery in a town hall equipped with air conditioners, cribs and a health clinic.
"Poor families do not normally have good facilities for infants, thus the air pollution inside their homes is similar to that outside," he told local reporters.
"Therefore, we are trying to provide facilities, including good air conditioning, so that the infants, the country's next generation, can breathe clean air."
The Pekanbaru city government confirmed that evacuations had begun. "Some mothers and their babies have started to move into the room on the third floor of the Mayor's office in Pekanbaru," a September 30 statement on the government website said.
More than 35,000 people have fallen ill from the air pollution in the three months up to the end of September, according to the Riau province health agency. Most of those were suffering from respiratory ailments, although eye infections and skin irritation have also been reported.
A regional problem
The air pollution, or haze as it is called regionally, has been an annual problem for the past 18 years. It's caused by thick smoke created from the burning of forest and peat fires on the islands of Sumatra and Borneo to clear old crops and new land for the production of pulp, paper and palm oil.
The haze regularly extends across the region and air pollution has soared to levels deemed unhealthy in nearby Singapore and Malaysia.
Singapore closed primary and secondary schools due to the haze for the first time in 12 years in September. Neighboring Malaysia has resorted to cloud seeding to try and encourage rain to disperse the pollution after it was also forced to temporarily close some schools.
Indonesian President, Joko Widodo, has come under increasing pressure from frustrated government officials in Singapore and Malaysia to take definitive action to extinguish the fires.
Singapore's defense minister, Ng Eng Hen, again offered Indonesia assistance from the Singapore Armed Forces to help fight the fires on September 29, an offer which Indonesia has so far refused.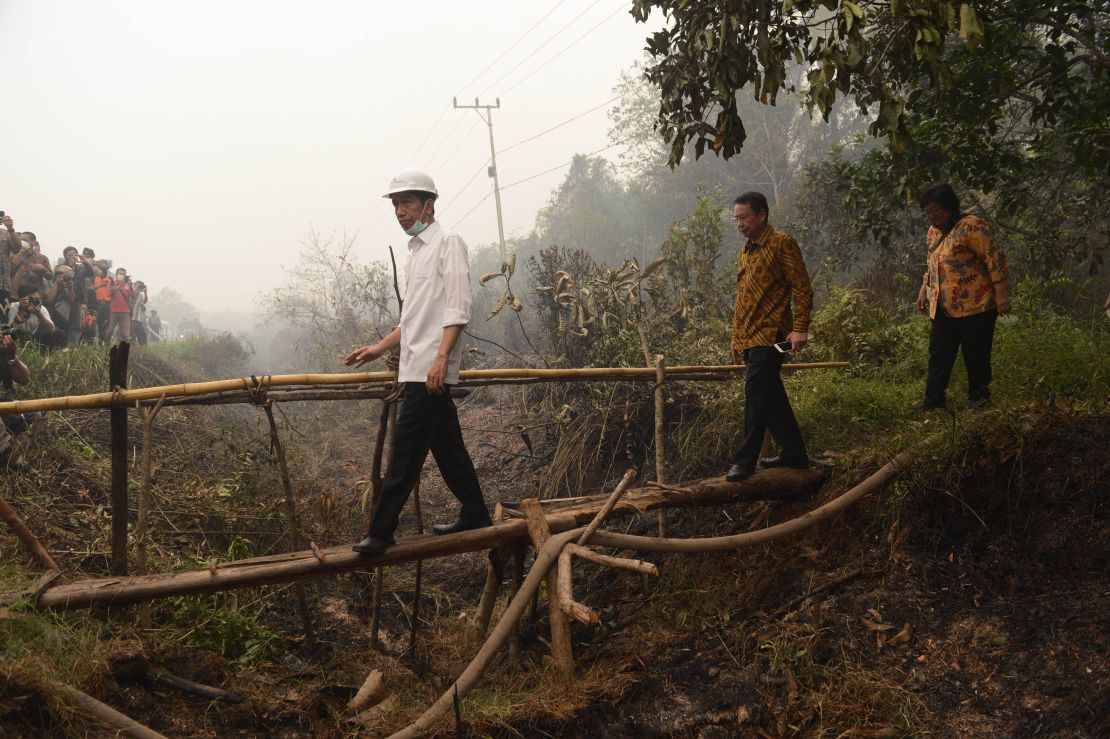 Widodo, who recently toured some of the affected areas in Indonesia, has deployed thousands of fire fighters and police throughout affected areas in Sumatra to fight the fires. Over 1,000 Indonesian Defense Force personnel were deployed to Riau alone in September.
The burning has continued despite these efforts, and Widodo recently told the BBC that it would take three years before results from policies designed to curb the illegal practices causing the fires would be realized.
CNN's Kathy Quiano in Jakarta contributed to this report.