Story highlights
Wahid was a captain in the Afghan army, fighting the Taliban on the frontline in Kunduz
Fearing extremists would harm him and his family, he fled the country and headed for Europe
Along the way, he was shot at and tear-gassed, and risked death on a boat before reaching safety in Germany
As bullets whizzed overhead, Wahid tried not to panic. He was used to being shot at; as a member of the Afghan army he regularly found himself in the Taliban's crosshairs.
He just hadn't expected it here, on his journey to what he hoped would be a new, safer life in Europe.
Back home in Afghanistan, Wahid had served on the front line of what was once the U.S.'s longest-running war, fighting the Taliban for control of the city of Kunduz.
Kunduz is where the Taliban have made ground fastest, battling an Afghan army that was well equipped and supported by the U.S. military, while they still had troops in the field.
But now NATO is leaving, and there are deep-seated fears among U.S. and Afghan officials that the Afghan military is struggling to supply and support its troops on the front lines, even as the Taliban seeks to gain territory as quickly as possible.
Speaking to CNN in Kabul before he fled the country, Wahid told of the ammunition and food shortages he and his troops faced, and how he would be asked to claim that his unit had used more fuel than it had, so the money could be spent on better food for the unit's commanders.
"Once the Taliban surrounded us in a base for 12 days," he said. "Our dead bodies began to stink, our wounded were bleeding.
"We didn't have food or ammunition to fight, but we had to watch officials tell local TV that we did and were no longer under threat."
After one break from the front, he returned to duty to find that about 75% of his unit had deserted.
When he finally managed to reach his bosses to tell them – his superiors' offices often said they were too busy to hear his appeals – he says they told him a "girl" would complain less.
The Afghanistan government did not respond to CNN's request for comment.
Threatened by the Taliban
Wahid decided it had become impossible to continue his work.
But he soon learned it was also impossible to stay in Afghanistan; on returning home from his unit, he discovered the Taliban, and even ISIS, knew where he lived.
They even rang him to try to recruit him to their ranks. He refused, but realized that while he stayed in his home, in his village, his family would also be at risk.
He had seen and heard the accounts of how dangerous it could be to flee Afghanistan using people smugglers but, terrifyingly, this now seemed the safest option.
"I know the risks, but I have to," he told us in Kabul. "They are better than being killed by the Taliban – having them behead me in front of my family, or kidnap my children."
Weeks later, hundreds of miles from his home and his family, Wahid, 32, found himself charging up the side of a mountain, somewhere between Iran and Turkey, being chased – and fired on – by Iranian border guards.
In the dead of night, the now former army captain led a group of some 50 or so migrants as they stumbled through the darkness, away from the men with guns.
The smugglers they had paid handsomely to get them safely to Turkey had melted away when the first gunshots rang out.
"I knew the bullets were fired in the air," he told CNN. "So I told people to keep running. But the bullets got closer and closer. We hid behind rocks. I got 15 people out and across. We walked for 18 hours."
The group was already weak and tired; for days before their march towards the border began, they had been kept in a 50-meter by 60-meter (about 165 feet by 200 feet) cave near the crossing.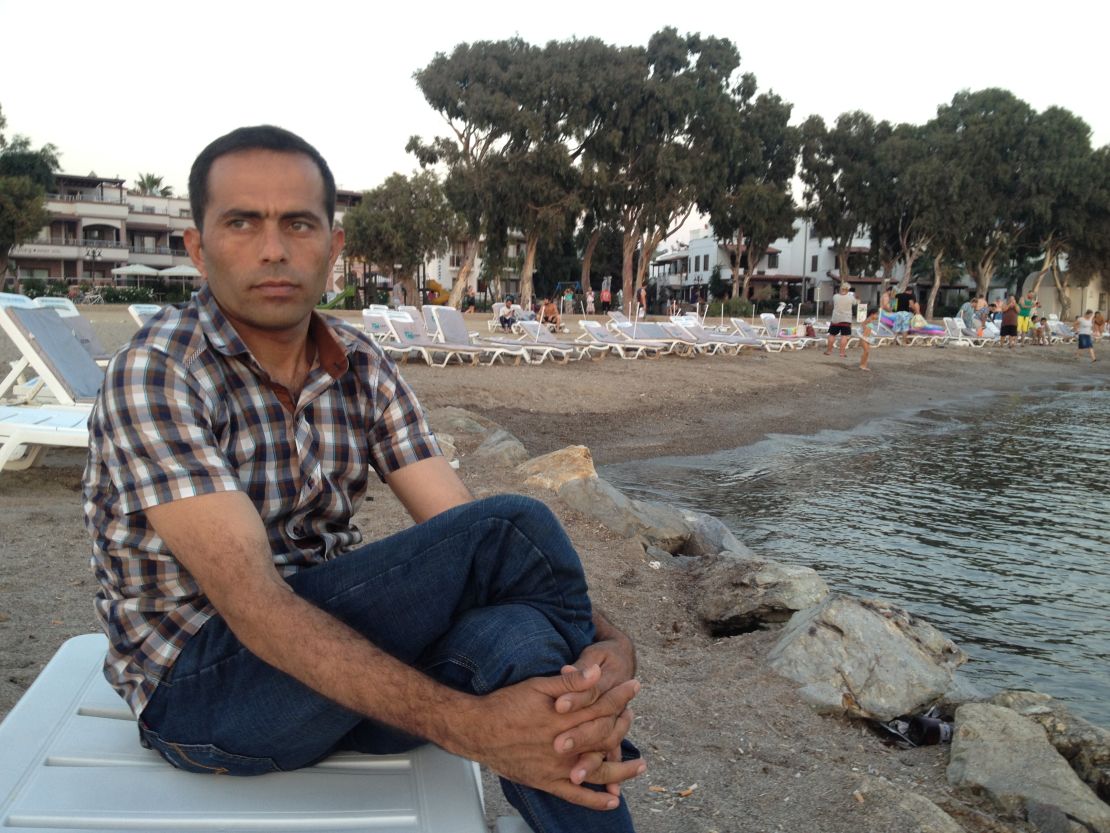 Held captive by smugglers
Food and water was scarce, the latter supplemented by the smugglers who would charge astronomical fees for a bottle. In these grim conditions, the migrants had no choice but to go to the toilet on the cave floor.
"A friend was stung by a scorpion, but got no help," Walid recalls. "I don't know what became of him."
And the ordeal did not end once Walid and his fellow migrants had evaded the Iranian guards and made it into Turkey,
Shortly after crossing the border, he says he was seized by a group of people smugglers who held him captive until his family wired them money.
A series of cramped and dirty safe houses followed, before he was able to make the long journey to the Turkish coast hidden, and struggling for breath, beneath a thick tarpaulin in the back of a truck.
Wahid filmed much of his trip on his phone, and the footage of his voyage across the short but turbulent waters separating Turkey from the Greek island of Kos is oddly calm and jubilant.
He and his friends had made the choice to pay extra – 1,800 euros, rather than the usual 1,000 – for a better boat.
Despite the investment, there were moments when, out in the open seas, Wahid says he feared high winds would flip him and his fellow passengers overboard to drown, like dozens of others on the same route just days earlier.
But once the sea calmed and the Greek shoreline came into view, shimmering in the sunlight up ahead, they were able to relax – albeit briefly – and shoot smiling "selfie" videos as their boat came ashore.
"I was so happy," he remembers. "We couldn't believe we had arrived in Greece alive. We were hugging each other."
Tear-gassed by police
There had already been plenty of highs and lows, but the most emotionally draining part of Wahid's journey was still to come.
Despite the violence he'd seen in his time on the battlefield, little in his previous life prepared him for what he would witness on the Hungary-Serbia border.
Like thousands of others, he arrived there expecting to take the shortest route to Germany; from there he planned to head to Belgium, where he has Afghan friends and hopes to have a better – and faster – chance of applying for asylum.
Instead, on arrival at the frontier, Wahid was greeted by razor-wire barricades erected by the Hungarian police.
Video footage recorded on his mobile phone shows anger mounting as the would-be migrants and refugees chant: "Open the Door, Open the Door!"
In one selfie, a young man behind him can be seen hurling a rock at the police. The police respond with water cannons and tear gas; a young protester visibly struggles to clear his airways.
Wahid says many women and children were sheltering in tents near the protest site, and that when the police responded they sparked a rush away from the fence that saw them caught in a crush of protesters and clouds of tear gas.
"I didn't see one, but tens of women and children just in their tents, who were crushed by protesters escaping tear gas and water cannons," he says.
"Serbian police quickly sent ambulances. I could not film the scene though, as I was crying. Not because of the gas, but because of what happened to these poor people."
The use of riot police to keep Wahid out of a country which is both a NATO and an EU member – for whose security he fought as an Afghan soldier against the Taliban – is one of the enduring paradoxes of his journey.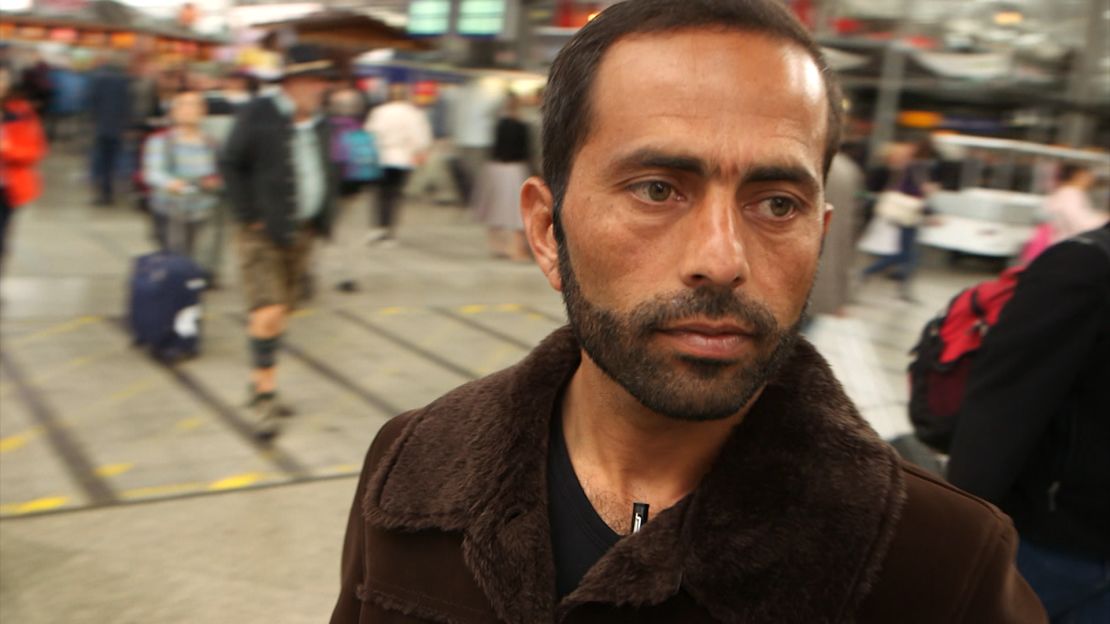 Fears for family back home
The West has entrusted the country's security to the Afghan military, hoping they can sustain whatever gains the U.S. and its allies made against the Taliban.
But the EU and some NATO members may also have to accept his right to asylum in the West, given the threat he says he faces in Afghanistan.
Wahid is one of the tens of thousands of Afghans who make the trip to Europe annually; they represent about 13% of the migrants arriving in Europe by sea, according to the UN – second only to Syrians, who make up 54% of the total – though their flight is less well known.
His journey, which continued through Croatia, Slovenia and Austria has taken almost two months, but finally he is safe, sitting comfortably outside a Starbucks café in Munich, southern Germany, and hungrily attacking a chocolate muffin as he tells his story.