Story highlights
First gymnast to win five successive world titles
Defending all-around Olympic gold at Rio 2016
Aims to compete at home 2020 Tokyo Games
In times of trouble, the world looks for superheroes – and Japan has its own "Superman."
Clad in tight red-and-white outfits, muscles rippling, he flies through the air, executing astonishing gravity-defying feats.
Standing just 5 foot 3 inches, he nevertheless summons the power to vanquish unbelieving opponents, who call him "a machine."
Widely considered the greatest gymnast of all time, Kohei Uchimura is a sporting superstar with a social conscience who lives up to his popular nickname.
When the 2011 earthquake and tsunami decimated Japan's northeast coast, killing almost 16,000 people and displacing more than 200,000, the tragedy inspired Uchimura to one of his greatest moments.
The artistry and elegance of Kohei Uchimura (2015)
"In the years of 2011 and 2012, I really felt that I was performing for the people of the afflicted areas," the 26-year-old told CNN's Human to Hero series ahead of his bid to win an unprecedented sixth consecutive all-around title at the 2015 world championships in Scotland. He led Japan to its first team gold since 1978 on Wednesday and turns to the individual event on Friday.
"Gymnastics is all I have," Uchimura added." I thought thoroughly how I could give energy with gymnastics to the people living in afflicted areas. All I could do was to give great performances."
Haunted by the mistakes that cost him a gold medal as a teenager at the 2008 Olympics in Beijing, Uchimura made his country proud at London 2012 as he ended its 28-year wait for a men's all-around champion.
"For the people of Japan, the great disaster is something they would never forget, and I thought, 'I have to do something for the people of Tohoku,'" he recalls.
"I went to the disaster-struck areas before going to the London Olympics and I thought about how people were energetic even though the area was not fully recovered yet – I received a lot of power from them."
Uchimura admits that he didn't always have such an awareness about representing his nation in the glare of the world's media.
"I was young at Beijing. I did whatever I wanted to do without fully understanding the importance of carrying the weight of the Rising Sun (national flag)," he says.
"But I began to understand. It's not only about me, my performance and behavior will be interpreted as stereotypes of a Japanese, so I always tell myself to keep my act together."
Despite winning individual gold in Britain, Uchimura was disappointed that Japan fell short once again in the team competition.
"I was not able to lead Japan to victory and that's what prevents me from feeling proud of myself," he says. "In 2020, we definitely must win a gold medal as a team."
While most athletes are looking no further forward than Rio 2016, Uchimura has every incentive to extend his remarkable career a further four years, when Tokyo will host the Olympics for the first time since 1964.
The Japanese capital was chosen in 2013, a few months after Uchimura and his wife welcomed the birth of their first child.
"I thought, 'I have to do this.' I think it's fate. Just as I will be on the verge of retiring, there will be the Tokyo Olympics. I think it will be a great motivator, and it should be my goal to perform in my local Games."
Half a century ago, Yukio Endo won Japan's first men's all-around title in front of his home fans, while the national team claimed the second of five successive Olympic golds.
"During that era, gymnastics was Japan's forte but recently there are few chances for our team to win a gold, so I want our status to become something like, if Japan participates it definitely gets a gold medal," Uchimura says.
Born in Kitakyushu, Fukuoka Prefecture, he says there was never any doubt what career he or his sister would choose – younger sibling Haruhi has also competed internationally.
"As a child born of two gymnasts, I had to do gymnastics," he says. "When I was three, they opened a gymnastics club. My house was a gym."
His parents also had high hopes for him – Uchimura says "Kohei" roughly translates as a child who grows up to be great and crosses the Pacific Ocean. "I have surpassed my name with my success," he says.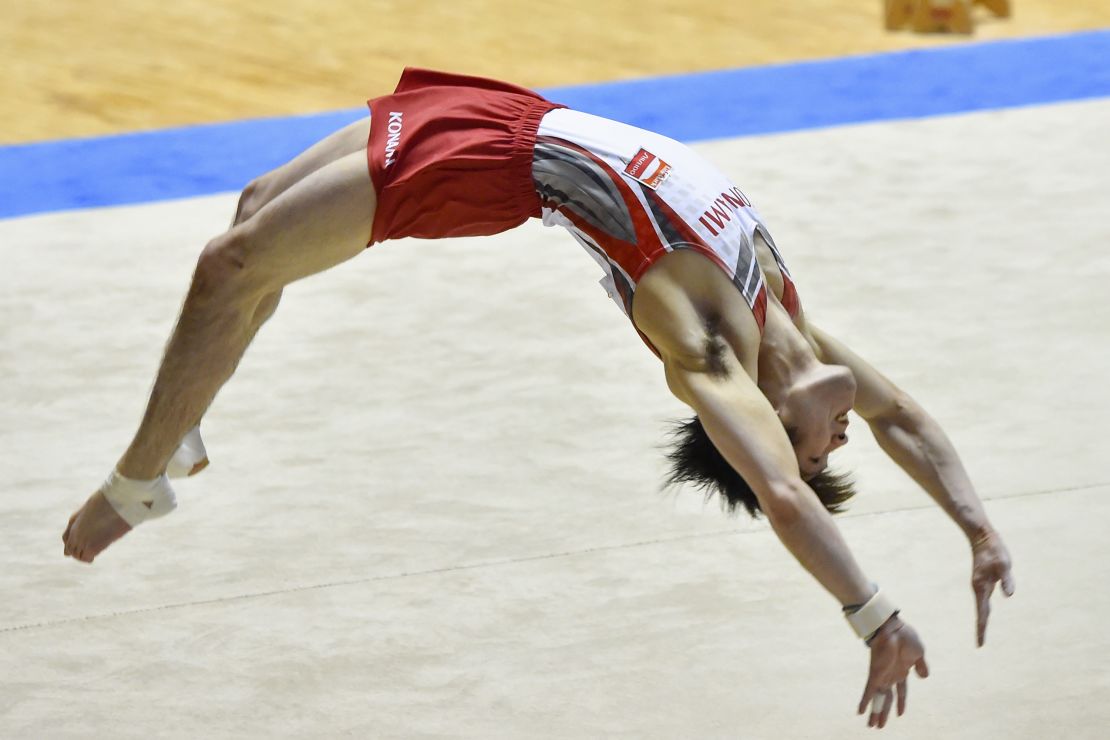 His inspiration comes from the manga/anime "Ganba! Fly High" about a high school gymnast who dreams of competing at the Olympics.
"I really love the main character," Uchimura says. "I've wanted to become an athlete like him, and I still cannot surpass him. He is my goal and motivator."
It was written by Shinji Morisue, who won gold in the horizontal bar discipline at the 1984 Los Angeles Olympics.