Story highlights
Swathes of Southeast Asia blanketed by thick smog from illegal "slash-and-burn" land clearances
Haze has been described by an Indonesian government agency as a "crime against humanity"
Rains are helping dampen down the wildfires now but ecological, environmental damage is widespread
Indonesia, Singapore and Malaysia are choking under a thick haze of wildfire smoke caused by the annual burning of land for the production of pulp, paper and palm oil on the Indonesian islands of Sumatra and Kalimantan.
The haze is so bad it's been described by the Indonesian Meteorology, Climatology and Geophysics Agency (BMKG) as a "crime against humanity." Schools are closed, transport disrupted and half a million cases of acute respiratory infection have been recorded since July.
The annual burning churns out thick smoke across parts of Southeast Asia, but this summer's haze is the worst it's been for 20 years.
Most of the forest fires that are contributing to this massive environmental disaster are started illegally by farmers who slash and burn peat forest to make way for agricultural land.
READ: Indonesian haze: Why it's everyone's problem
How far has haze spread?
While rain showers have provided relief to some of the affected areas in Sumatra and Kalimantan, a core area of dense haze remains in Central Kalimantan.
Almost 300 "hotspots" – points of significantly hotter-than-average ground temperatures, indicating localized fires – were recorded in Kalimantan, along with a few isolated points in Sumatra and as far east as the island of Sulawesi.
President Joko Widodo, who cut short a U.S. visit earlier this week to devote his full attention to the crisis, is due to visit the affected area of Sumatra Thursday, followed by other badly-affected areas in Jambi province and Palangkaraya in Central Kalimantan.
The human cost
Indonesia's haze is fueling major health concerns
Pollutant Standard Index (PSI) indices in the worst-affected areas have nudged 2,000 – anything over 300 is considered hazardous.
Forty-three million people have been exposed to particulates from wildfire smoke, according to the Jakarta Globe, while hundreds of thousands of cases of acute respiratory disease have been directly attributed to the burnings.
Nineteen people have died from haze-related ailments, Social Affairs Minister Khofifah Indar Parawansa said on Wednesday. Residents of the worst-affected areas will continue to be evacuated, she added.
"Every half an hour all district and neighborhood heads will get updates on the air quality index of their respective areas so that they can order an evacuation immediately," she told reporters.
Environmental impact
Orangutans choking on haze from illegal forest fires
Indonesia is the world's largest producer of palm oil, a crop which is frequently criticized for its environmental impact and destruction of wildlife habitat, even before considering the slash-and-burn policies of farmers in the country.
Due to an prolonged dry season and the impact of El Niño, this year's burns have been particularly devastating. As many as 100,000 active fires have been detected in Indonesia so far this year, and the environmental impact of these have, by at least one estimate, outstripped the U.S.'s daily carbon emissions.
The fires in Indonesia are particularly choking, largely due to the type of material that's being burned. Greenpeace asserts that peatland stores "a massive amount of carbon – up to 60 billion tonnes, which makes it a virtual carbon bomb if even some of it was released into the air."
Indonesia is also home to the largest group of wild orangutan in the world, but the wildfires are affecting their natural habitat. Rescuers in Borneo, central Kalimantan, are tranquilizing the apes to bring them to rescue centers, but they say even there the air quality is getting worse.
The government says it is pulling out all the stops to save the "man of the forest," as this gentle giant's name translates, but rescuers say time is running out.
Worst-affected areas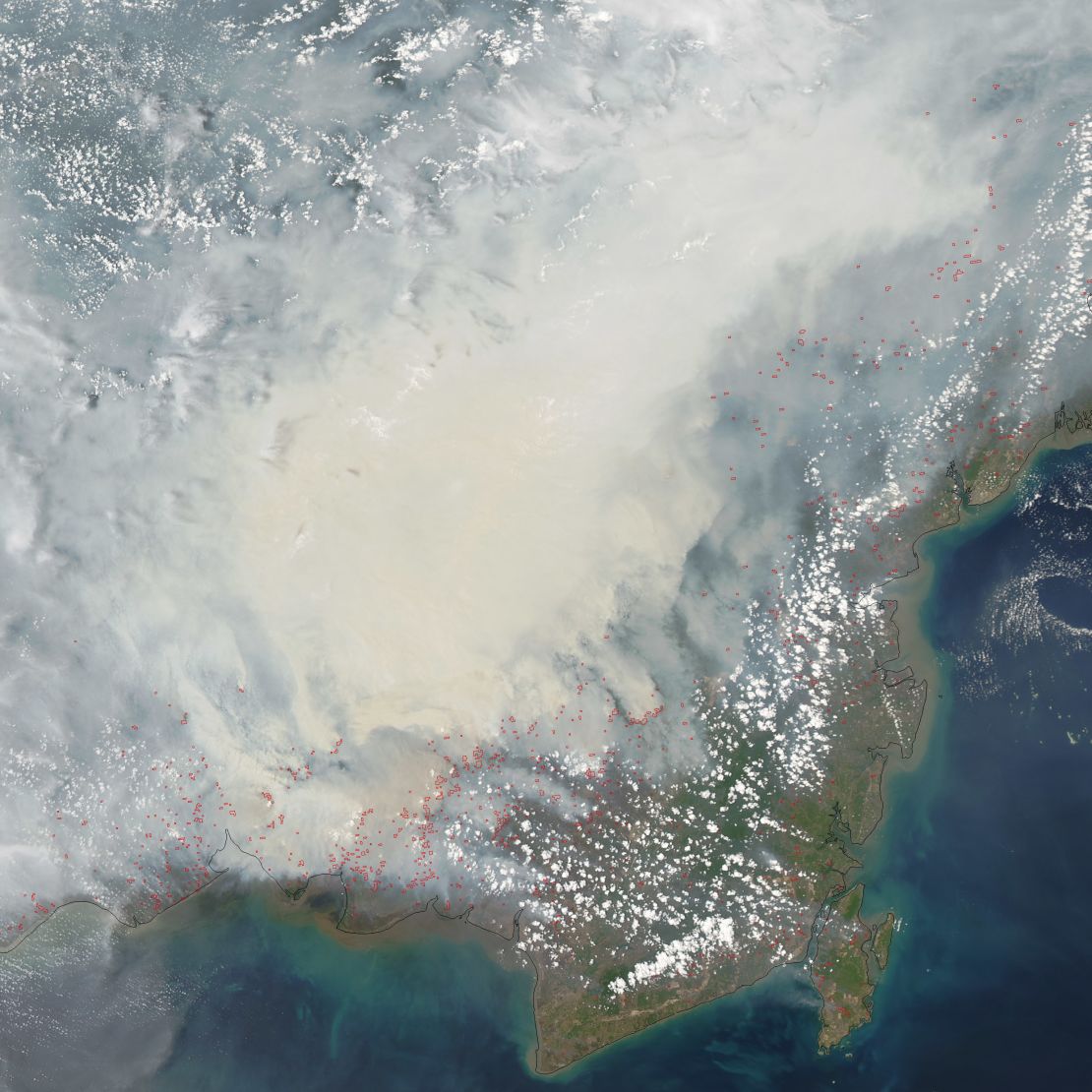 NASA, which has provided stunning satellite imagery showing the extent of the wildfire pollution, has warned that the haze will get worse before it gets better.
"The Moderate Resolution Imaging Spectroradiometer (MODIS) sensors on the Terra and Aqua satellites have detected fires burning in southern Sumatra since early September," NASA said on its Earth Observatory website.
"Scientists monitoring the fires expect the fires to continue burning until the monsoon rains arrive at the end of October. However, they caution that the dry season could be unusually long in Indonesia this year because of the strong El Niño present in the Pacific Ocean.
Evacuations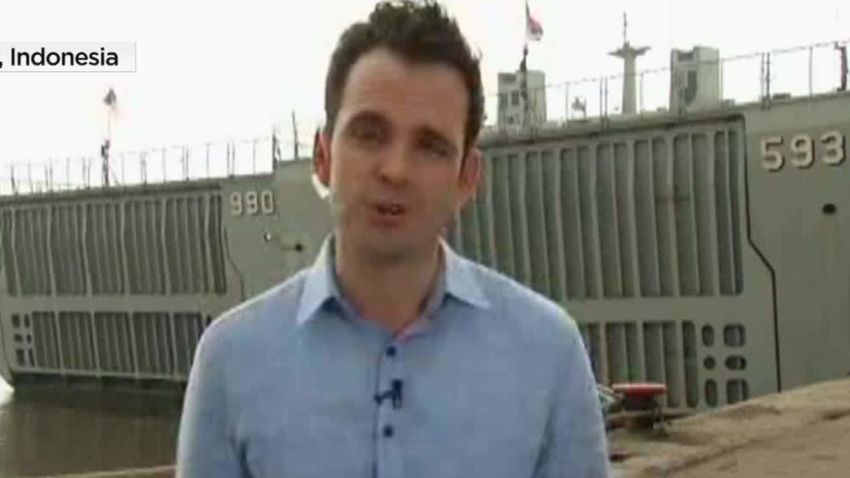 Indonesia lives at risk from fatal fire smoke and smog
A number of Indonesian navy ships, including a medical frigate, with a doctor specializing in lungs and respiratory ailments on board, have docked in Banjarmasin, South Kalimantan.
While there is no mandatory evacuation order in place, according to Navy cargo ship KRI Banda Aceh Commander Col. Edi Hariyanto, the ships can accommodate over 2,000 people, if needed.
Hariyanto said the ships were available for use by anyone who wanted come on board, adding that the Indonesian navy is ready to help those affected by the haze in any way they can.
Jan Arif Kadarman, the pulmonologist on the medical ship, told CNN he was called in especially for this mission. He says he's treated a handful of patients on board in the past few days, including a baby who was wheezing.
The air is acrid and hazy, says CNN's David Molko, but visibility is relatively good since Banjarmasin is some distance from the hotspots.
CNN's David Molko and Kathy Quiano, and journalist Jamal Uddin Masrur contributed reporting from Indonesia.