Story highlights
EU sets up fund of nearly $2 billion aid to Africa to stem the migrant crisis
Sweden to implement temporary border controls
At least 18 died Wednesday in two boat accidents off Turkey
As Europe faces its worst refugee crisis since World War II, the European Union has launched an emergency fund for Africa to tackle the spiraling number of migrants flooding its shores.
The nearly $2 billion fund was unveiled at the end of a two-day summit of EU and African leaders in Malta. The fund will support projects to combat poverty, slow down migration and speed up repatriation programs. This new money is in addition to the 20 billion euros annually donated to Africa by the EU and its 28 states.
This is the sixth time that presidents and prime ministers of the European Union have tried to tackle the issue.
"We are under no illusions that we can improve the situation overnight, but we are committed to giving people alternatives to risking their lives," said European Council President Donald Tusk.
Tusk listed five major goals to stem the tide of migrants: "The elements of action plan are designed to, one, address the root causes of migration; two, enhance cooperation on legal migration and mobility; three, reinforce protection of displaced persons; four, prevent and fight against migrant smuggling and trafficking in human beings; and five, advance on returning persons that are not entitled to stay in Europe."
Maltese Prime Minister Joseph Muscat said that while some may argue that the fund was not enough, he stressed it was an important first step.
The Mediterranean island nation of Malta is the smallest member of the European Union. About 90 kilometers (56 miles) south of Sicily, it has become one of the destinations for those fleeing Syria's bloody civil war.
"I for one am a very vocal critic of the fact that we maybe started acting a little bit too late when too many lives were lost at sea," Muscat said, adding that he hoped the summit "sowed the seeds of something that can be much more long term."
European Council President Tusk also confirmed plans for a summit with Turkey by the end of this year, seen as the key to resolving the crisis.
After an informal meeting of EU heads after the summit, Tusk said "the clock is ticking. We are under pressure. We need to act fast. As a union. And in cooperation with our partners, including Turkey, that also will have to move fast.
"But Turkey cannot be our only partner. We must not lose sight of Jordan and Lebanon, nor of the countries of the Western Balkans. They are also our allies."
18 die Wednesday off western coast of Turkey
Even as Europe tries to forge a unified response to the crisis, tens of thousands continue to embark on perilous journeys, desperate to escape the repression, violence, poverty and insecurity in North Africa, West Africa and the Middle East.
They come from more than 20 nations and with different motivations. Some are Syrians fleeing war. Others are Eritreans escaping repression or Somalis fleeing Al-Shabaab.
Many die in their attempt to find a safe haven.
On Wednesday, hours before the EU meeting was scheduled to convene, at least 18 people died off the western coast of Turkey in two boat incidents.
Mountains of life jackets piled up on the beaches of the Greek island of Lesbos offer a startling testimony to the scale of the problem.
The EU border agency Frontex, which tracks the movement of people, says 540,000 migrants arrived on Greek islands in the first 10 months of 2015. This figure is 13 times higher than in the same period of 2014.
Syrians account for the largest number of arrivals, according to the Frontex website. In recent weeks, the share of Afghan nationals has risen significantly.
Frontex has called for more than 250 officers to help screen, fingerprint and register migrants.
Sweden tightens border controls
Meanwhile, Sweden has joined the list of countries that have tightened border controls.
The Ministry of Home Affairs said it will implement temporary border controls for 10 days, and they could be extended to 20 days at some point, according to Fredrik Persson, a spokesman for the ministry.
Sweden's Prime Minister Stefan Löfven defended the move, telling CNN: "This is not closing the border, the decision we have taken is to reintroduce internal border controls … if a person comes to our country seeking asylum he or she will be given that opportunity."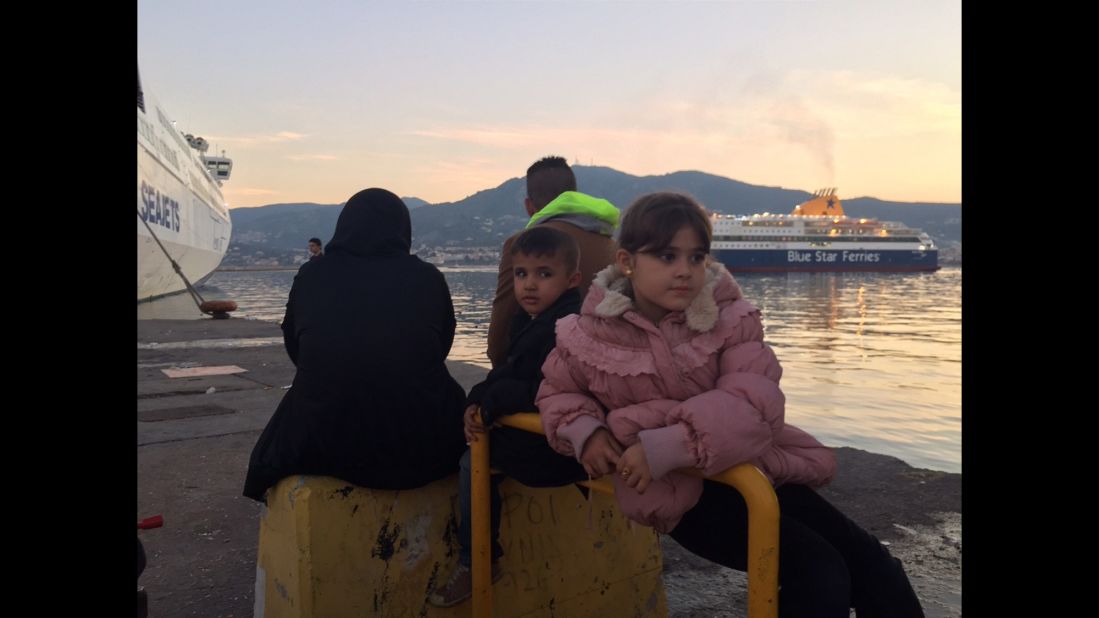 Refugees wait for a boat to a new life
CNN's Ed Payne and Damien Ward contributed to this report