Editor's Note: On Dec. 30, 2015, Ravi, one of Maggie Doyne's children at the Kopila Valley Children's Home, passed away. According to BlinkNow, her nonprofit organization in the U.S., the cause of death was accidental drowning. A formal report from local authorities is pending. Ravi was featured in video segments on CNN.com and at 'CNN Heroes: An All-Star Tribute.' In an emotional Facebook posting, Doyne expressed her grief, adding "We will still be a family, and I will be a mom again because that's what I was brought here to do."
Story highlights
2015 CNN Hero of the Year: Maggie Doyne helps women and children in Nepal
Watch "CNN Heroes: An All-Star Tribute" now on CNNGo
Nominations are open for 2016 CNN Heroes
Maggie Doyne, a New Jersey woman who used her babysitting savings to change the lives of hundreds of Nepalese women and children, was named the 2015 CNN Hero of the Year in November at a star-studded awards ceremony in New York.
A decade ago Doyne's backpacking trip to Nepal transformed into a long-term commitment. Spending $5,000 in savings from her babysitting days, Doyne bought land and worked with the community to build a school, a women's center and the Kopila Valley Children's Home. Doyne's BlinkNow Foundation supports these efforts.
"If you had told me when I turned 18 that I was going to be the mom of 50 kids, I would have told you that you were totally crazy. And I am. And to my kids, I love you so much. Don't ever forget how much I love you," Doyne said Tuesday. "And to the country of Nepal, thank you so much for loving me and accepting me as a daughter welcoming me into your country.
"And to all of you in this room and who are watching, please, please remember that we have the power to create the world that we want to live in, just as we want it. And that's what all the Heroes here have done tonight."
CNN Hero of the Year is ...
Doyne was chosen from this year's Top 10 Heroes in an online vote by CNN's audience. She'll receive $100,000 for BlinkNow in addition to $10,000 that each Hero received for being named to the Top 10.
The "All-Star Tribute" honored all the Top 10 Heroes – everyday people who've made extraordinary contributions around the world. See more about this year's Top 10 Heroes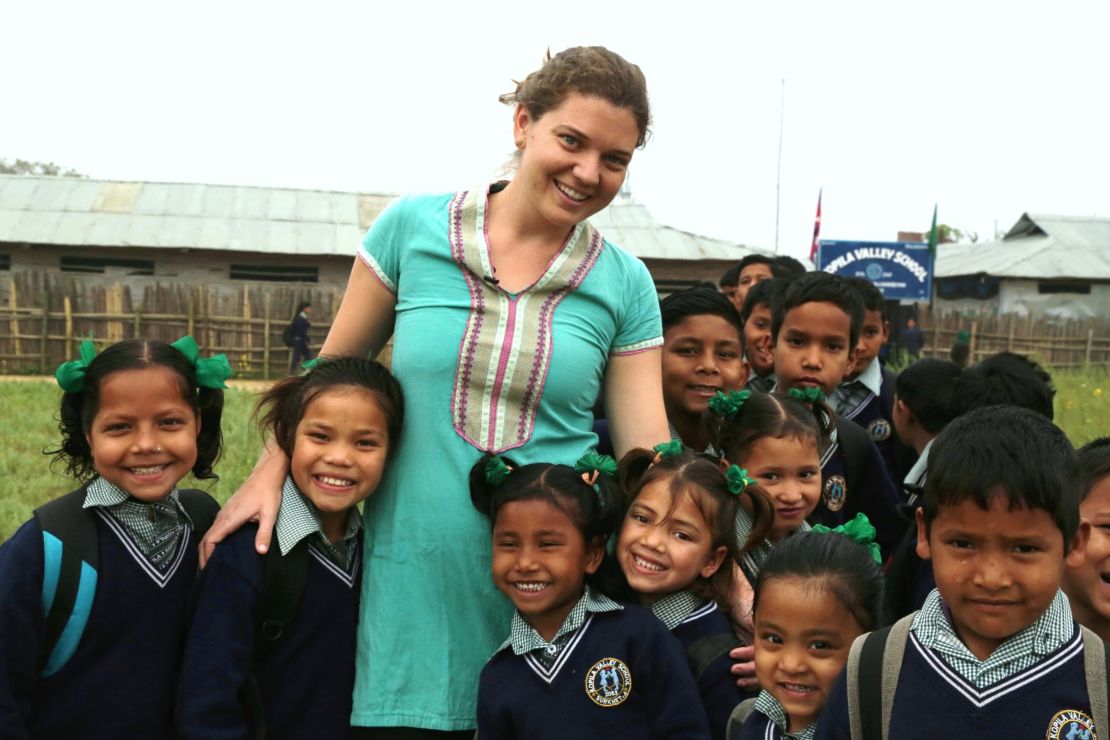 Hosted by CNN's Anderson Cooper, the show included presenters Neil Patrick Harris, Taylor Schilling, Common, Kelly Ripa, Kathy Griffin, Sharon Stone, Chris Noth and Zachary Quinto.
During the ceremony, celebrity presenters joined each Top 10 Hero on stage as they shared the personal stories about what inspired them to give back to society. Musical performers included singer Andra Day, who performed her inspiring anthem "Rise Up."
Since 2006, CNN's Peabody Award-winning, Emmy-nominated franchise has profiled more than 250 Heroes and has received more than 50,000 nominations from more than 100 countries.
As part of their award package, each Top 10 CNN Hero will also receive organizational training through the Annenberg Foundation, a global supporter of nonprofit organizations. All 10 Heroes will participate in customized versions of the Annenberg Alchemy program, tailored to help grow their individual organizations.
Nominations for 2016 are open at CNNHeroes.com.
Like Doyne, this year's nine other Top 10 CNN Heroes also have remarkable stories to tell.
Jim Withers: Street doctor
For more than 20 years, Dr. Jim Withers has taken his medical practice to the streets of Pittsburgh, offering free, quality health care to the homeless.
To win their trust, Withers used to walk the streets dressed like a homeless person, rubbing dirt in his hair and muddying up his clothes. He would search for those who needed medical attention but might be too suspicious of him otherwise. It was important for Withers to connect with people who wouldn't seek him out. Instead, he reached out to them.
"I was actually really shocked how ill people were on the street," Withers said. "Young, old, people with mental illness, runaway kids, women (who) fled domestic violence, veterans. And they all have their own story."
Withers' one-man mission became a citywide program called Operation Safety Net. Since 1992, the group has reached more than 10,000 individuals and helped more than 1,200 of them transition into housing.
He also started the Street Medicine Institute, a nonprofit that helps communities worldwide establish programs of their own.
Top 10 CNN Hero Dr. Jim Withers
Monique Pool: 'The Sloth Lady'
Monique Pool has dedicated herself to helping wild animals in the South American country of Suriname. Pool has rescued, rehabilitated and released hundreds of sloths and other mammals back to the rainforest.
It all started in 2005, when Pool's dog went missing. During her search, she called the Animal Protection Society and learned that a baby sloth had been orphaned. Pool offered to take it in.
"I didn't know anything about sloths, but I learned a lot," said Pool, who sought advice from international experts on how to care for the animals.
Today, Pool's nonprofit, Green Heritage Fund Suriname, helps protect sloths and implement other conservation efforts in the country. Her home serves as a temporary sanctuary for the mammals, and she is now a recognized local authority on