Story highlights
Tiger Woods still recognized by 97% of Americans
However, only 37% recognize Jordan Spieth
Rickie Fowler is golf's leading "trendsetter"
Only 47% see Woods as a "trendsetter"
While he may not have won a major since 2008 – or any PGA Tour title since 2013 – Tiger Woods is still by far and away the most recognizable golfer in the United States, according to a new report.
Despite the emergence of young, marketable players like Rickie Fowler and Jordan Spieth, Woods remains much better known than the game's new stars.
Repucom, a company that analyzes and provides market data, found that 97% of Americans are aware of who Woods is, compared to just 20% for Fowler and 37% for world No. 1 Spieth.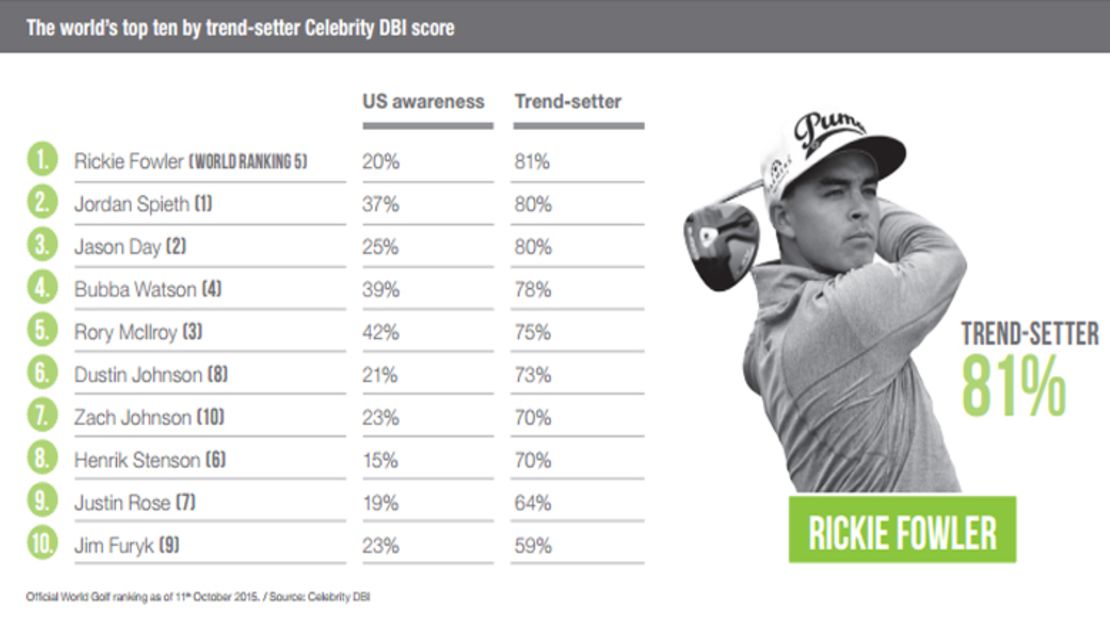 However, one area in which the 39-year-old now lags majorly behind – aside from recent trophies – is "trendsetting," where Fowler is now the world's leading golfer with an 81% rating, according to the research.
The world No. 5 caused quite a stir in May after sharing a passionate kiss with model girlfriend Alexis Randock on the 18th green following his victory at The Players Championship.
Being part of celebrity couple, combined with his Puma sponsorship – a fashionable clothing brand new to golf – boosts Fowler's brand just as much as his playing success, says Repucom managing director Jon Stainer.
"In the case of the most influential trendsetters in golf, this attribute is one in which their off-course activities play as big a role as their performances on course," Stainer told CNN.
"Their successes in the sport, of course, still play a part as it affords the players their biggest stage, but it is how they carry themselves in the public eye, what they wear, how they interact with brands and sponsors, the extent to which they drive or adhere to the latest trends in apparel, for example.
"Take Rickie Fowler, he is a young golfer who has become renowned for the bright colors he brings to the course. His Puma endorsement has seen him bring in a new brand to the game, one which speaks for values such as speed and youth.
"He is often seen at celebrity events away from the sport, and so would be someone who stands out and a personality who potentially people look to as bringing a breath of fresh air to golf more generally."
As expected, a combination of poor on-course performances and off-course scandals is detrimental to a golfer's "trendsetting" rating.
"Today, 47% of Americans see Tiger as a 'trendsetter'," explains Tom Scott, Repucom's global communications manager.
"That's so well below the others there (in the top 10) … including Jim Furyk. Needless to say, Woods' fall from grace thanks to episodes in his private life, which were made very public, have not helped here."
However, despite these issues – which have allowed younger golfers a greater share of the limelight – Woods' prodigious success over the course of his career means the 14-time major winner is still instantly recognizable to almost all Americans.
"While Tiger Woods, through his years of domination, remains by far and away the best known golfer, his declining form and injury has allowed a new generation to prosper," Repucom's study said.
"There is, though, much to be said for enduring appeal, particularly in a sport which places such a value on history and tradition.
Repucom's trendsetting percentages are calculated using the Davie-Brown Index (DBI), an independent way for brand marketers to measure public perception of almost 8,000 celebrities.
Devised in 2006, the DBI evaluates seven key attributes (appeal, aspiration, breakthrough, endorsement, influence, trendsetter and trust) and is based on a research panel of 1.5 billion consumers.
"Trendsetting is a key attribute to how we measure and ultimately define a personality's overall marketability," Stainer said.
"Alongside seven other metrics such as overall public awareness of the person, their appeal, their influence as a spokesperson and the levels of trust people have in them all add up to how they are perceived in the public eye."
Who's your favorite golfer? Tell us on CNN Sport's Facebook page