Story highlights
Police are treating it as a "terrorist incident"
One person suffers serious injuries
The suspected attacker is in custody
A man stabbed three people at an east London Tube station Saturday before police subdued him with a stun gun and made an arrest, London's Metropolitan Police said.
Police said they were treating the stabbing at Leytonstone station as a terrorist incident.
One man, 56, suffered serious knife injuries in the attack and was taken to an east London hospital, where he remains in a stable condition. His injuries are not considered life-threatening, police said.
The suspect was taken to a London police station.
Police said they were called just after 7 p.m. to reports of a number of people stabbed at the station and a man threatening others with a knife.
Commander Richard Walton, who leads the Met's Counter Terrorism Command, said: "We are treating this as a terrorist incident."
He urged the public to "remain calm but alert and vigilant" in relation to any potential threat. "The threat from terrorism remains at severe, which means that a terrorist attack is highly likely."
UK faces terrorist threat
Police released no information about the man's identity or possible motive, but the United Kingdom is facing stepped-up threats from ISIS – especially after British fighter planes began flying sorties against ISIS targets in Syria this week.
Intelligence obtained by European security agencies indicates ISIS is aiming to attack the United Kingdom as a follow-up to its attacks in Paris last month, a senior European counterterrorism official told CNN.
The Tube, also called the London Underground, is the city's subway system. It has 270 stations on 11 lines that stretch a total of 250 miles.
In 2005, suicide bombers attacked three Underground trains and a double-decker bus in a coordinated attack that left 52 people dead and more than 770 wounded. A British al Qaeda operative planned the bombings, according to internal al Qaeda documents that surfaced in 2012.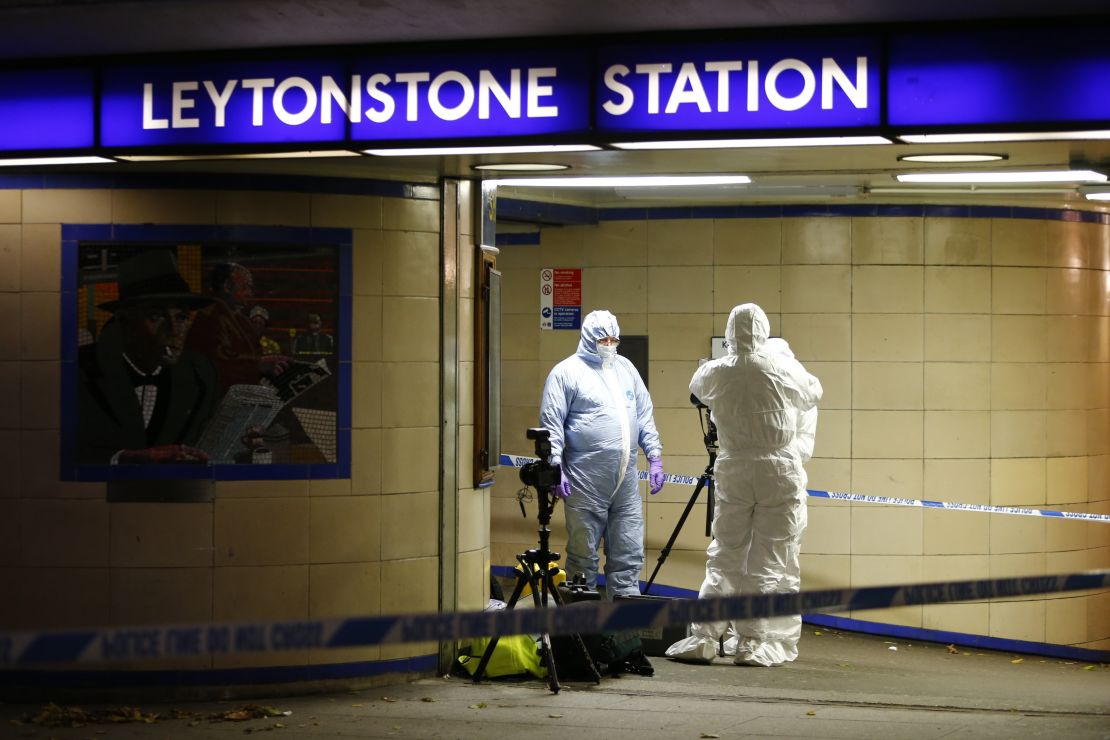 Videos show arrest
In the wake of the stabbing, footage circulated widely on social media showing scenes from the bloody attack and its chaotic aftermath.
They show police confronting a man in the ticket area of the station, who is brandishing an object in his hand. The police yell: "Drop it! Right now!"
They fire a stun gun at the man, who continues pacing in front of the officers, then lunges at them, causing bystanders to back off in fear.
In one video, a woman can be heard saying, "I just want to get out of here." The scene is loud, with voices echoing throughout the station and police repeatedly shouting at people to get back.
There is more shouting before a pop is heard, apparently from the stun gun, and the man falls to the ground. Someone watching shouts, "Yes! Stupid idiot!"
Two police officers roll the man onto his stomach and handcuff him.
A man in the crowd shouts, "You ain't no Muslim, bruv! You're no Muslim, bruv! You ain't no Muslim!"
Hours later, the station was still roped off with blue and white police tape and police officers were standing guard outside. Investigators wearing protective clothing occasionally went in and out.
Leytonstone is on the Central line, which runs roughly west to east through central London and into the northeastern suburbs.
Transport for London, which runs the Underground, shut down a large part of the eastern Central line after the incident.
CNN's Carol Jordan, Marilia Brocchetto, Kay Guerrero, Nicola Goulding and Nick Hunt contributed to this report.