Cross Platform Link: Are you within sight of floodwaters? Share your photos and videos here, or post them on Twitter or Instagram with the hashtag #CNNWeather. The weather can be unpredictable and dangerous, so please be safe.
Story highlights
An Arkansas man is missing in the flood
Memphis officials say floodwaters are approaching some structures there
Major flooding across America's heartland will be around for weeks to come as the Mississippi River surges south.
The deadly onslaught of rising waters and storms has killed more than two dozen people in Missouri and Illinois.
In all, some 7 million people in 15 states were under threat of flooding, according to CNN meteorologists.
In eastern Arkansas, the St. Francis County Sheriff's Office is looking for a man who was swept away by the floodwaters of the St. Francis River. He was riding a four-wheeler when he disappeared.
Less than 50 miles away in Memphis, Tennessee, the Mississippi isn't expected to crest until Friday but well below record levels.
Still, it was little comfort for the folks in the Harbor Town and Mud Island communities along the river's edge.
"Nervous, very nervous. It's less than a foot from my house now," Lori Wyckoff told CNN affiliate WMC-TV in Memphis on Sunday. "It almost looks like we're on a stilt house in the water. It's that high."
Residents in the area say they've seen ducks and fish swimming in their backyards. Water already is lapping at some homes there, according to CNN affiliate WREG-TV.
Mud Island, a peninsula jutting into the Mississippi, is studded with upscale homes, apartments and a popular park.
The Shelby County, Tennessee, Office of Preparedness said firefighters have gone door-to-door, warning residents of the situation.
'We learned a lot from the 2011 flood'
Memphis Chief Operating Officer Doug McGowen said the city government has been planning ways to deal with the flood for about a week, affiliate WATN-TV reported.
"We have all of our pumps that would take care of any floodwaters in place, we have barriers in place. We learned a lot from the 2011 flood," he said.
In that flood, the river crested at 48.03 feet and inundated parts of the city's famed Beale Street and other neighborhoods, causing $2 billion in damage in Shelby County alone, according to the National Weather Service.
The threat of significant flooding is forecast to persist through the week in parts of Missouri, Illinois, Kentucky, Tennessee, Arkansas, Mississippi and Louisiana, the weather service said.
The Mississippi is predicted to crest in Greenville, Mississippi, on January 12; Vicksburg, Mississippi, on January 15; Natchez, Mississippi, on January 17; and Baton Rouge, Louisiana, on January 18, according to the agency's forecast.
Southern Illinois
Flooding along the Mississippi River near Cairo, Illinois, was near its forecast peak Sunday morning as the threat from the rain-swollen waterway continued to roll south.
The Ohio River, where it joins the Mississippi, was just centimeters below its forecast peak of 56 feet – 16 feet above flood stage but well below the historic 61.72-foot peak of 2011, according to the National Weather Service.
Still, levee breaches in Alexander County, on the southern tip of Illinois, sent some residents fleeing and left others surrounded by water Saturday.
The river tore through a levee in Thebes, Illinois, early Saturday, sending water rushing as far as 6 miles away from the Mississippi's usual banks, CNN affiliate KFVS-TV reported. Cities such as Miller City and Fayville, Illinois, were cut off, the station reported, but no injuries were reported.
"Everyone from those towns are accounted for," the station quoted Horseshoe Lake Fire Chief Michael Honey as saying. "Even the folks who chose to stay in their home and are now surrounded by water, authorities have made contact with them."
Illinois Gov. Bruce Rauner toured southern Illinois flooding Saturday and said the situation in Alexander County was among the worst he's seen.
"Some communities have actually been hit harder than the '93 flood," Rauner said Saturday, referring to the costly 1993 flood that saw parts of many communities along the Mississippi under water for months.
In Memphis, Tennessee, the Mississippi was expected to crest Friday well below record levels.
Flooding is also expected from the Arkansas and Ohio rivers and some tributaries.
Cleanup in St. Louis County
In St. Louis, the river crested Friday at 42.58 feet – just shy of the 1993 level. Residents returning to waterlogged communities began the painstaking process of surveying the damage, cleaning up and salvaging whatever they could.
Several thousand people were forced to evacuate or suffered damage to their homes, hundreds of businesses also sustained damage, and hundreds of water rescues were conducted, Missouri Gov. Jay Nixon said.
The storms and floods killed 15 people in Missouri, officials have said. In Illinois, the death toll grew to nine with the discovery of an 18-year-old's body, according to Christian County Coroner Amy Calvert Winans.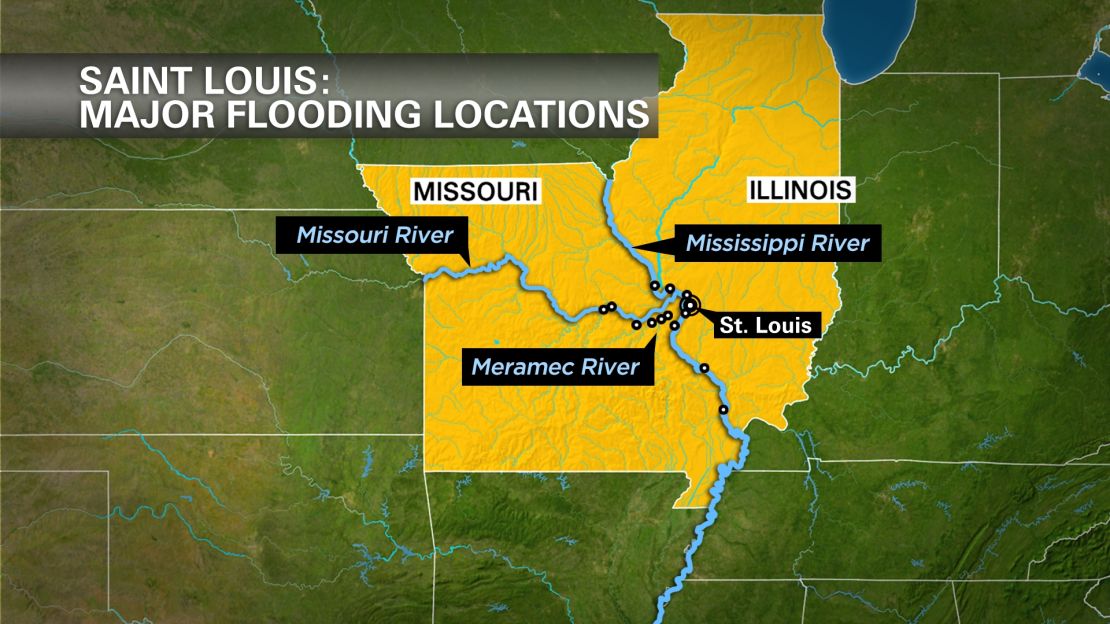 On Saturday, President Barack Obama granted a request from Nixon for a federal emergency declaration to speed debris removal and relieve the strain of recovery costs in the St. Louis region.
Jason Peck of Eureka found that three to four feet of floodwater wiped out his basement and living room. Recalling the damage to his son's room brought Peck close to tears.
Eureka, a St. Louis suburb, is on the Meramec River, which empties into the Mississippi. The Meramec rose a record 35 feet in the last three days.
Recalling the damage to his son's room brought Peck close to tears.
"I didn't believe it was going to get like this," he told CNN.
His family had planned for the flooding, he said. They placed sandbags around the house and took other precautions. After midnight on Tuesday, however, the preparations appeared inadequate.
"We heard it was coming," he said of the flooding. "Then we heard some rushing water and went downstairs and three o'clock is when it got real bad and [water] started shooting up through the drains."
Peck's son has not seen what's left of his bedroom. The family waited for an insurance adjuster. Peck said he has no flood insurance but damage from a sewer backup may be covered.
"We have a lot of grossness in there," he said.
Gov. Jay Nixon toured Eureka and said, "I'm from this part of the state and, quite frankly, it's almost hard to believe. It's almost as if you're living on some other planet."
"I'm from this part of the state and, quite frankly, it's almost hard to believe," the Missouri governor said. "It's almost as if you're living on some other planet."
How to help victims of the deadly flooding and storms
CNN's Dan Simon, Ray Sanchez, Ralph Ellis Jason Hanna, Ben Brumfield, Jennifer Gray, Sara Weisfeldt, Seth Kovar, Matt Tettelbach and Joe Sutton contributed to this report.