Story highlights
David Bowie's publicist did not elaborate on the kind of cancer
Bowie was without parallel in his showmanship
The family of iconic singer David Bowie expressed appreciation for the outpouring of love after his death, and plans to honor him at a private ceremony.
Bowie died Sunday after an 18-month battle with cancer, his publicist Steve Martin told CNN.
"David Bowie died peacefully today surrounded by his family after a courageous 18 month battle with cancer," said a statement posted on his official social media accounts. "While many of you will share in this loss, we ask that you respect the family's privacy during their time of grief."
Neither his publicist nor the statement elaborated on what type of cancer the singer had.
Bowie's death has been the regular subject of Internet hoaxes for the last several years. So the news came as a shock to fans and industry insiders when it was confirmed.
David Bowie and the soundtrack of our lives
"Very sorry and sad to say it's true. I'll be offline for a while. Love to all," his son, "Moon" film director Duncan Jones, tweeted.
Marriage of music and fashion
From a mop-topped unknown named David Jones, to his space-alien alter ego "Ziggy Stardust," to his dapper departure as the soul-influenced Thin White Duke, Bowie married music and fashion in a way few artists have been able to master.
He was theatrical, he was flamboyant, he was without parallel in his showmanship.
His albums, especially after his 1972 breakthrough "The Rise and Fall of Ziggy Stardust and the Spiders from Mars," were treated as events. His songs, including "Changes," "Fame," "Heroes" and "Modern Love," were anthemic hits, played constantly on the radio and inspiring generations of musicians.
With a voice that soared from a baritone to a falsetto, he spoke of carrying on against the odds. Of the terror in knowing what the world is about. Of turning and facing the strange.
His songs were a salve for the alienated and the misfits of the world.
He released his latest album, "Blackstar," on January 8, two days before he died.
Like his past releases, the work – generally praised by music critics – defied genres. The influential music publication NME called it an amalgamation of "warped showtunes, skronking industrial rock, soulful balladeering, airy folk-pop, even hip-hop."
An indelible mark
That in a nutshell was Bowie: There was hardly a musical style he didn't dabble in – and indelibly leave his mark upon.
Since his breakthrough with "Ziggy Stardust," Bowie's reach was eclectic: glam rock, prog rock, pop rock, electronic rock.
And the results? Electric. To the tune of more than 130 million records sold. The album titles, including "Aladdin Sane," "Station to Station" and "Scary Monsters," are familiar to any music fan.
Though he didn't have his first No. 1 single in the United States until "Fame" in 1975, he'd already been making a mark with heavily played singles, including "Space Oddity," "Changes," "Suffragette City," "Rebel Rebel" and his first Top 40 hit, 1975's "Young Americans."
After that, he was almost as present on the singles charts as the album charts, with hits such as "Golden Years," "Under Pressure" (with Queen), "Let's Dance" (another No. 1), "Blue Jean" and "Never Let Me Down."
"David Bowie was one of my most important inspirations, so fearless, so creative, he gave us magic for a lifetime," tweeted rapper Kanye West, as news of Bowie's death made the rounds.
Entertainment world mourns the loss of Bowie
Changing looks
He was born David Jones, to a waitress and a nightclub owner in South London on January 8, 1947.
Though he began his musical life with his birth name, riding the mod wave of the mid-1960s, he changed to "Bowie" to avoid confusion with Davy Jones, the lead singer of the Monkees, who was enjoying serious pop success at the time.
That reinvention was the first of many. And his timing was often impeccable.
He released his song about a doomed astronaut, "Space Oddity," just days before the 1969 moon landing.
Four years later he killed off his most famous creation, the other-worldly "Ziggy Stardust," just at the point where it threatened to overwhelm him.
He soon transformed into the Thin White Duke, a cocksure but coked-out mad aristrocrat. While Ziggy was all arena rock, the Duke was chilled soul. While Ziggy gave him "Space Oddity," the Duke gave him yet another timeless classic, "Fame," a song co-written with John Lennon, one of his many admirers.
Such speedy changes could catch his fans off guard.
"I went to the 'Diamond Dogs' show (in June 1974) expecting something like Ziggy Stardust," fan John Neilson told NPR in 2014. "And then in October I expected to see something like 'Diamond Dogs,' and it was the soul revue. It might as well have been a completely different artist."
Bowie was as much observer as observed. In a 1974 interview with Dick Cavett, he said he started carrying a cane when he noticed his fans doing so.
"He was chameleon in many ways, as we know," stage and film producer Robert Fox told CNN's Christiane Amanpour. "But he could become a very ordinary-looking man. And sometimes I'd meet him in New York at a café, and people wouldn't recognize him. And they'd be sitting three feet from him. He could just – he could fit in."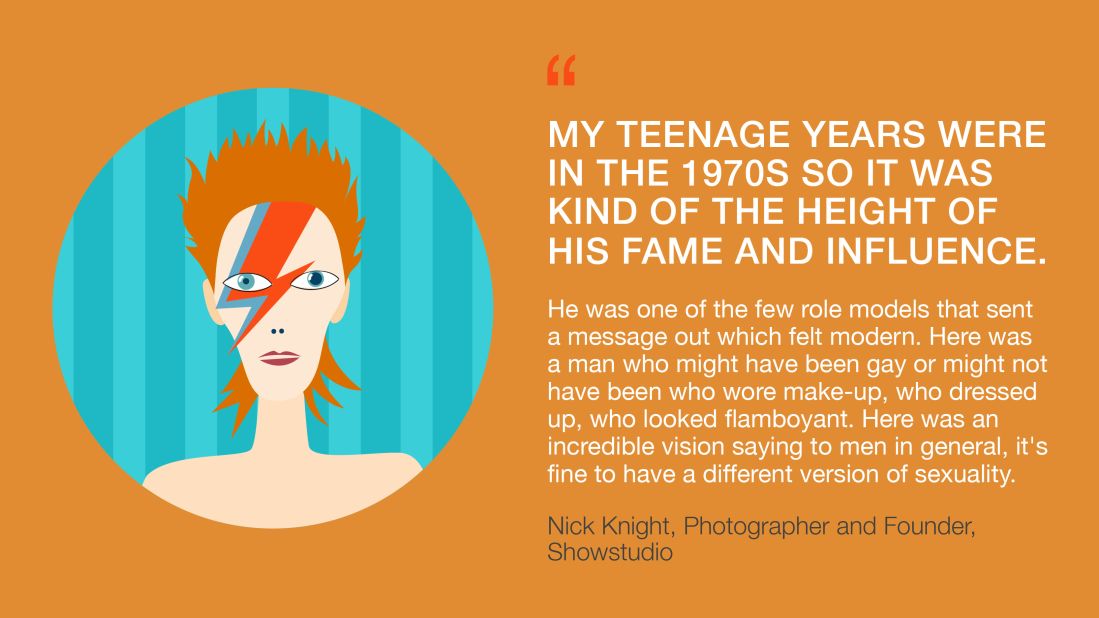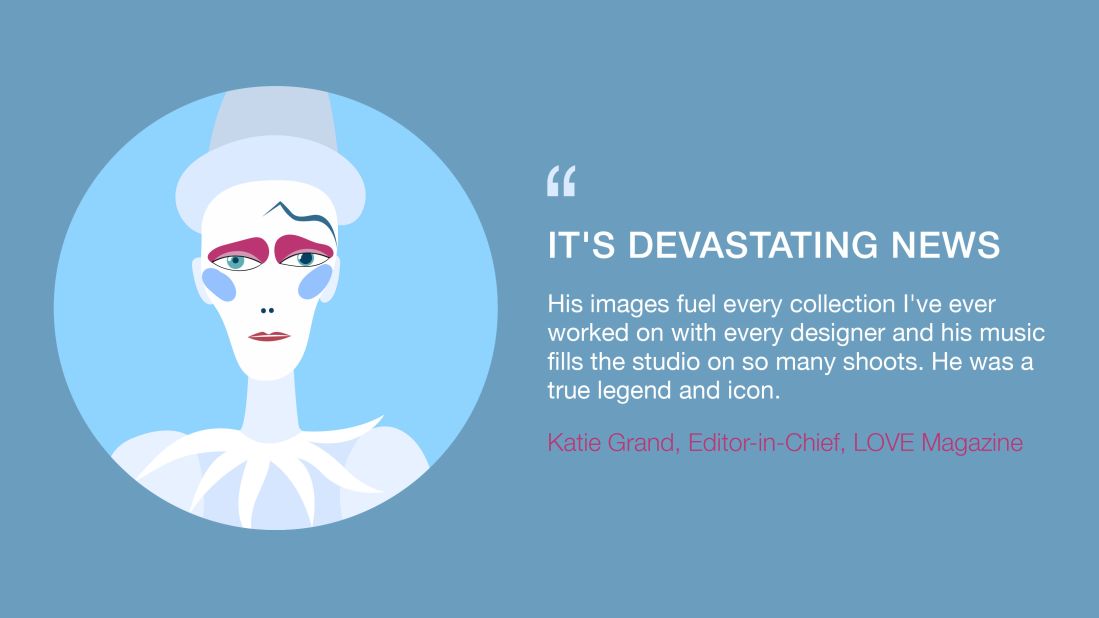 In pictures: David Bowie's fashion legacy
Taking a toll
Still, if it was all part of the package, the burden of living his art in public took a toll. By the mid-1970s, "Bowie was lost in a haze of cocaine addiction," wrote Ultimate Classic Rock's Frank Mastropolo. He finally holed up in Berlin and recorded the groundbreaking "Berlin" trilogy: "Low," " 'Heroes' " and "Lodger." (The quotation marks around the album title " 'Heroes' " were a deliberate ironic touch.)
"I had approached the brink of drug-induced calamity one too many times, and it was essential to take some kind of positive action," he said in an interview years later, according to Ultimate Classic Rock.
Musically, he kept one foot in the avant garde. On the song "Heroes," he half-sings, half-screams, with some of the atmosphere provided by white noise.
Others paid attention. Composer Philip Glass used "Low" and " 'Heroes' " as the subjects of symphonies in the 1990s.
"David Bowie was a true innovator, a true creative. May he rest in peace," tweeted uber-producer Pharrell Williams.
Despite the edginess, Bowie's work still resonated with the mainstream. "Heroes," in fact, later became a theme for many. The 2012 British Olympic team entered the stadium to the tune.
He even sang a Christmas song, "The Little Drummer Boy," with the most mainstream of American crooners, Bing Crosby, on a 1977 TV special. There were no theatrics, no frills, just Bowie's pure voice meshing with one of the oldest of the Old Guard.
The '80s and beyond
The 1980s were a great time to be Bowie.
Starting with his collaboration with Queen on "Under Pressure," he brilliantly reinvented himself to take full advantage of the music video era.
The 1983 "Let's Dance" album, produced by Chic's Nile Rodgers, became his most commercially successful album, its sound and his look influencing a new generation of musicians. The videos for the album's singles, including the title cut and "China Girl," were ubiquitous on the music video channel MTV.
Bowie, by then pushing 40, was as relevant as the era's power chord-slamming 20-somethings or synthesizer-playing Euro pop stars – musicians for whom he'd paved the way.
Through it all, his Midas touch made classics of other people's songs. He produced Lou Reed's "Transformer," with its hit "Walk on the Wild Side," and Iggy Pop's "Lust for Life," among others.
"David's friendship was the light of my life. I never met such a brilliant person. He was the best there is," Iggy Pop tweeted.
He also innovated in the sale of his work. In 1997, he raised $55 million by promising investors income from his back catalog. The financial device, labeled the "Bowie bond," was later used for artists such as James Brown and Marvin Gaye.
David Bowie made music history with 'Bowie bond'
Bowie's output thinned in the 1990s and the 2000s, but he was no less envelope-pushing. He experimented with heavy metal, with industrial rock, and with drum and bass.
Expanded horizons
Bowie's theatricality wasn't limited to performing on stage. In 1976 he played the lead in Nicholas Roeg's film "The Man Who Fell to Earth" as – perhaps appropriately – an alien. Four years later, he portrayed Joseph Merrick, who'd been deformed by a medical condition, in Broadway's "The Elephant Man."
Bowie continued acting through most of his life, often drawn to unusual characters. He played a vampire in 1983's "The Hunger," the Goblin King in 1986's "Labyrinth," Pontius Pilate in 1988's "The Last Temptation of Christ" and Andy Warhol (about whom Bowie had once written a song) in 1996's "Basquiat."
He wasn't above a little comedy, however. He had cameos in TV shows such as "SpongeBob SquarePants" and "Extras" and played himself in 2001's "Zoolander."
His androgynous look sometimes led to questions of his sexuality that, like his music, defied classification.
He told Playboy magazine in the 1970s that he was bisexual. He told Rolling Stone in the 1980s he had always been a "closet heterosexual."
He later clarified his experiences for the Telegraph.
"I was virtually trying anything. I really had a hunger to experience everything that life had to offer, from the opium den to whatever," he said. But, he added, he was "not a particularly hedonistic person – I tried my best. I was up there with the best of them. I pushed myself into areas just for experiment and bravado, to see what would happen. But, in the final analysis, it's not really me."
'Zero to 60'
In 1992, Bowie married his second wife, model Iman. Their daughter, Alexandria, was born in 2000.
Bowie had some health problems in the early 2000s, including an emergency angioplasty in 2004.
He also stopped touring after the "A Reality" tour in 2003-04 and, until 2013's "The Next Day," he hadn't put out an album in 10 years.
But recent months had seen signs of a Bowie re-emergence. Aside from "The Next Day," he co-wrote the current stage play "Lazarus," based on "The Man Who Fell to Earth," and recorded and released "Blackstar."
As usual, he gave it his all.
"He'd just go from zero to 60 once we walked out of the control room and into the studio," drummer Mark Guiliana told Rolling Stone about the "Blackstar" sessions. "And his vocal performances were always just stunning, amazing."
Longtime producer Tony Visconti reportedly turned the tables on Friday, having fans sing "Happy Birthday" to Bowie over the phone during Visconti's live performance in New York.
Fox, who produced Bowie's musical "Lazarus" and knew the singer for 40 years, told CNN that Bowie was in good spirits when the pair met only weeks ago.
"He wasn't felling particularly well. I knew that I only had a brief moment," Fox said. "But he was impeccable as ever. His manners were impeccable. And he talked about the future of the show. He talked a little about the treatment that he was going to start. And he was optimistic and hopeful and positive as ever."
Bowie was always busy, always on to the next thing.
Twenty years ago, interviewed by Mick Brown of the UK Telegraph, he coolly assessed his past, but – typically Bowie – looked to the future.
At the time, he was reveling in the paintings of Damien Hirst and had plans for another project with producer Brian Eno. And there was no sense in waiting, he said.
"I don't like wasting time," Bowie told the paper.
CNN's Elaine Yu, Pete Wilkinson and Stephy Chung contributed to this report.