Editor's Note: David Crossland is a Berlin-based journalist and author of the novel "Teutonia." This story was first published on January 14, 2016.
Story highlights
Dynamo Berlin was East Germany's top team
Backed by the state, it won 10 successive titles
Dominance ended when Berlin Wall fell
It's like a trip back to the Cold War days. The soccer stadium, deep in eastern Berlin, looks worse for wear, with rusting white railings jutting out of rough concrete stands.
Similarly, the home team's single-story prefab office building, with its narrow corridors and unwelcoming doors, hasn't changed since the days of communist East Germany.
It's lunchtime, and the club's young players and their mentors – middle-aged former players – are tucking into meatballs and mashed potatoes in the dingy canteen.
These days, Berliner FC Dynamo is a minnow in German football, confined to one of the regional leagues that make up the country's fourth division.
But before the fall of the Berlin Wall in 1989 it was the Bayern Munich of the German Democratic Republic (GDR), as East Germany called itself, and played top Western clubs including Liverpool and AS Roma in major European tournaments.
Also known as BFC, or Dynamo Berlin, it wiped the floor with rival clubs such as Lokomotive Leipzig, Dynamo Dresden, Magdeburg and Carl-Zeiss Jena in the Oberliga, the GDR's premier league, winning the title for 10 years in a row between 1979 and 1988.
Bernd Brillat played for BFC from its formation in 1966 until 1983. The defender lined up against European stars such as Michel Platini, Trevor Francis and Kevin Keegan, and says he will never forget running onto the pitch at Anfield for a UEFA Cup match against Liverpool in December 1972.
"It was amazing, the atmosphere gave you goosebumps – no one can take that away from you," the 64-year old, his eyes shining at the memory, told CNN. Today, he's BFC's kit manager and still plays football.
Now, however, the only sign of the team's past glories is a series of black and white posters covering an outside wall of the canteen. They show players grinning like champions, punching the air and holding their trophies to the sky.
Even the trophies have gone, disappearing in the turmoil after the fall of Communism, which triggered the club's decline.
'My Boys'
Celebrating its 50th anniversary on January 15, BFC has a fascinatingly checkered history. The team delighted its supporters with beautiful football played by the most gifted players in East Germany.
But the club was also loathed, not just by opposing fans but by the general public, because it was backed by the Ministry for State Security – or Stasi – the secret police force tasked with eradicating opposition to a regime that locked up dissidents without trial, tortured them and shot dead people trying to flee to the West.
"The BFC was owned by the Stasi, frowned on by football supporters and hated by the East German public," Hanns Leske, a historian who has written a number of books about football in the GDR, told CNN.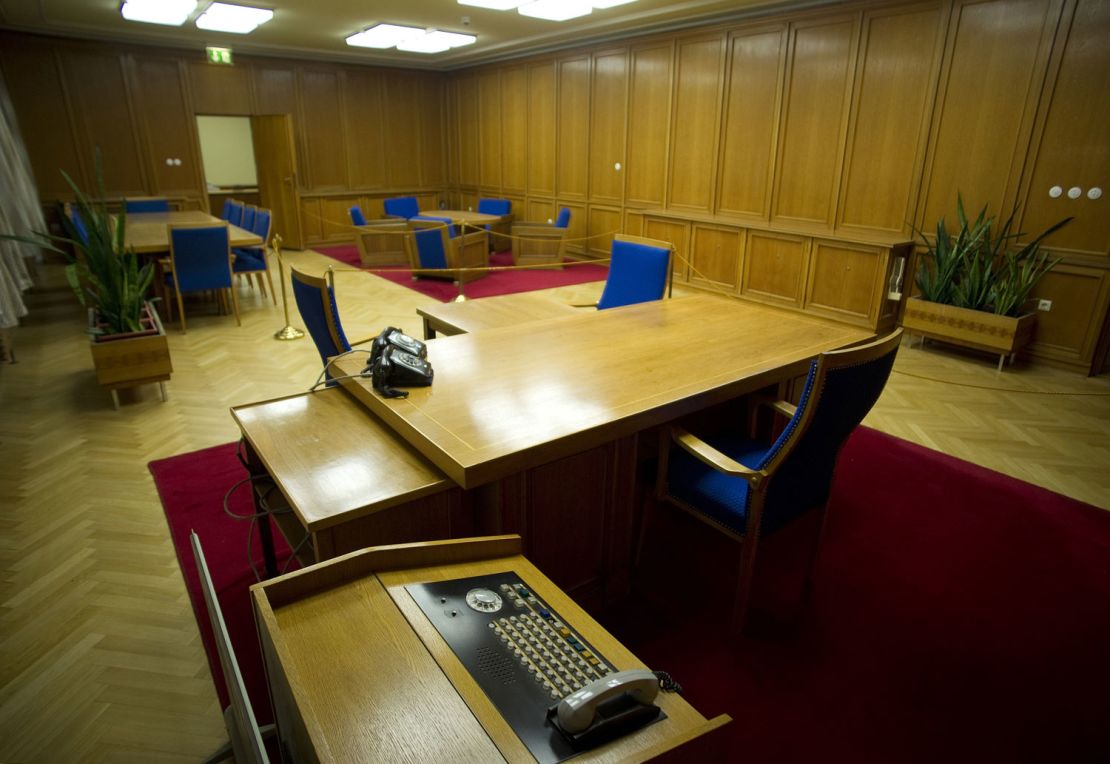 Stasi chief Erich Mielke, convicted and jailed after the collapse of the GDR, was the honorary chairman of BFC Dynamo. He attended most matches and would host parties in East Berlin's showcase Palast Hotel to celebrate league wins. He referred to the players as "My Boys."
The East German transfer system consisted of players being told where to play, and football fan Mielke made sure he got the republic's greatest talents.
He also ensured his team had the best equipment, training facilities and coaching staff, Leske says. Pooling the country's best footballers at BFC Dynamo was intended to boost the GDR's self-confidence and international reputation by providing it with socialist footballing heroes.
Referee manipulation?
That plan backfired, however, not just because of the club's association with the Stasi but also because there are strong indications that the team was helped by referees and that some players received performance-enhancing drugs.
Referees would allow blatantly offside goals, ignore BFC fouls, hand out free-kicks and penalties to BFC and even give yellow cards to key rival players in prior matches to ensure they were banned for BFC games, Leske claimed.
He said he saw footage in the German film archive of one match where a referee allowed a BFC goal that was so obviously offside that the sequence was never shown on GDR television.
Former East German referee Bernd Heynemann told a conference in September 2015 that, after BFC had suffered a defeat, "all referees were summoned" and told that "something like that mustn't happen anymore."
The phenomenon was even raised in the politburo, the executive committee of the ruling Communist party, and prompted the East German Football Federation to research the entire 1984-85 season, Leske said.
At away matches, opposing fans would hold up sarcastic banners that read "We Welcome BFC Dynamo and Its Referees," he added.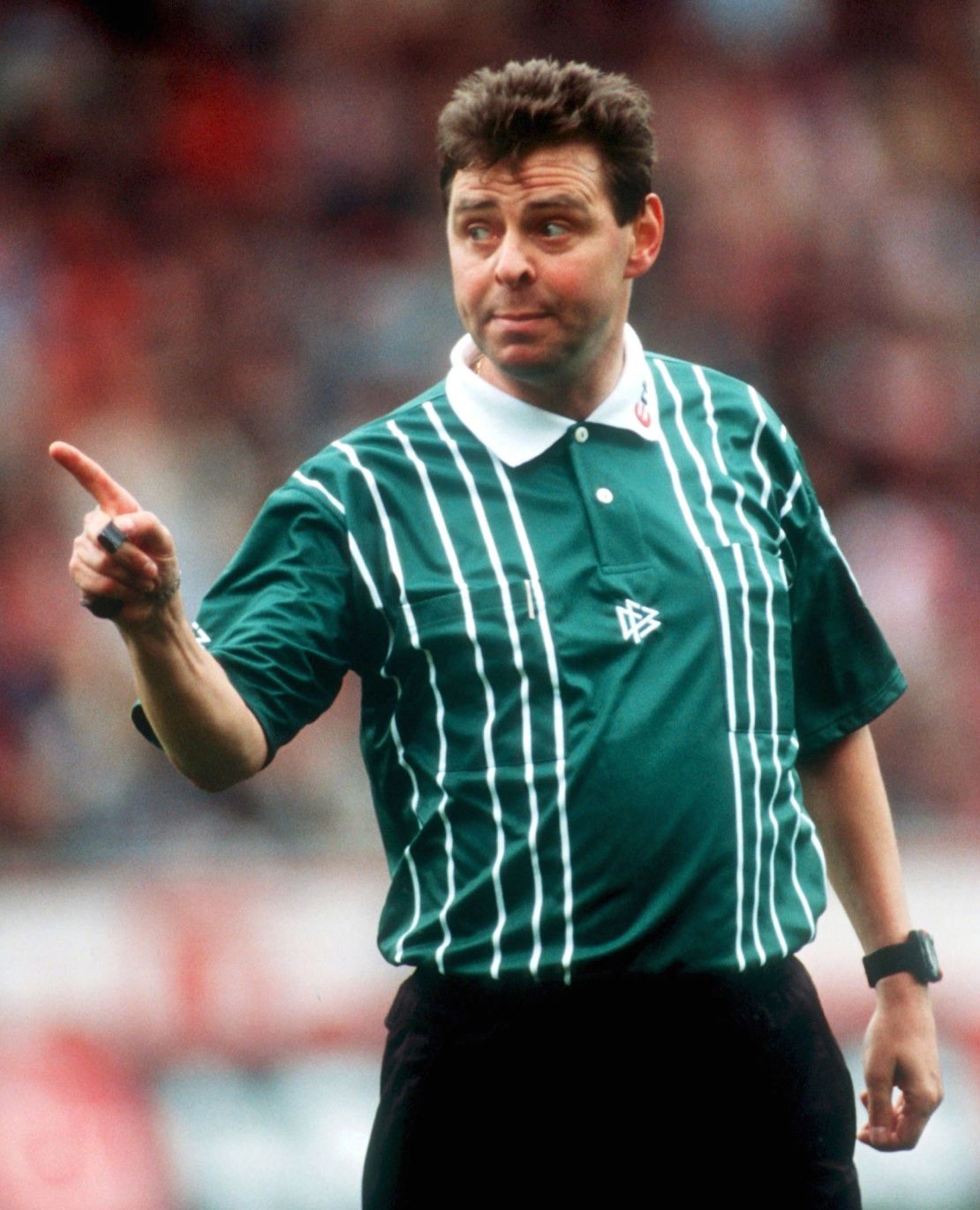 It's difficult to establish referee interference beyond all doubt, but one former player conceded that officials may indeed have given the club a helping hand on occasion.
"I can imagine there was referee manipulation due to the immense pressure from the government and Ministry for State Security," Falko Götz, a striker who played for BFC's top team from 1979 until 1983, told CNN.
"That could have made some referees nervous and influenced their decisions. But we were the strongest team at the time. We didn't need their help."
Götz and teammate Dirk Schlegel defected to the West on November 3, 1983 before a European Cup match in Belgrade, Yugoslavia, seeking refuge in the West German Embassy there.
Even the German Football Association (DFB) acknowledges that Dynamo was favored.
"It emerged after the political transition that Dynamo, as the favorite club of Stasi chief Erich Mielke, received many benefits and in some cases mild pressure was applied in its favor," the DFB reported on its website in a history of East German football.
Doping accusations
The club has also been dogged by accusations of doping. Götz, who played for top clubs such as Bayer Leverkusen, Cologne and Galatasaray before his retirement in 1997, said he was given a stimulant drug without his knowledge while at BFC.
"It's a fact there's a document at a European Cup match where I'm listed as having tested positive for playing with a stimulant substance," he said.
"I wasn't aware of having taken anything, but it was definitely the case. These stimulants were handed to us in drinks – we definitely didn't do it consciously."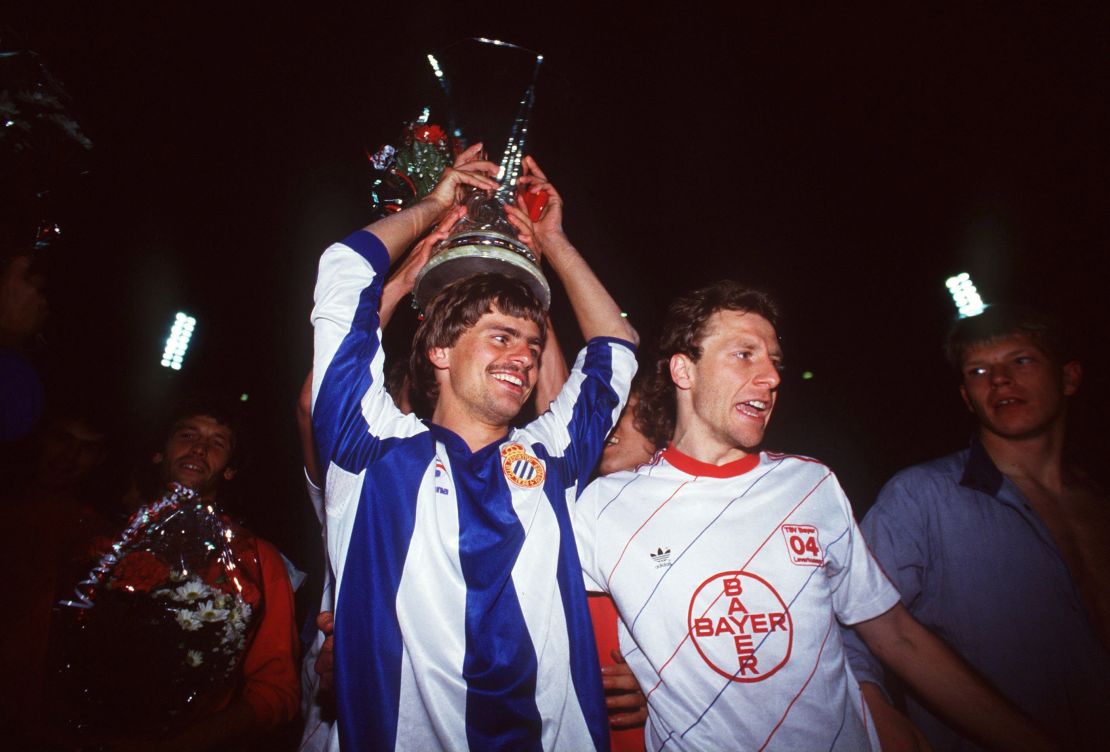 Götz described BFC as a "military club" in which some officials were addressed by their rank and players were regularly summoned for political lectures. "The tone was rough. It made you nervous."
He said the players were closely watched by Stasi minders on European Cup trips.
"We flew with Mielke's official jet. There were Stasi officers there that didn't just accompany us as fans. When you're on the fourth floor of a hotel and there are two people sitting in front of the stairs all night, you know it's definitely not fans."
Götz, who now coaches fourth division club FC Saarbrücken, said he defected because he wanted to play in West Germany's Bundesliga – now the united country's top league.
The good life
That's one side of BFC's story. There's another side, told by former players still involved with the club, who treasure the old days because they loved the football, the success, the comradeship and the privileges.
They weren't remotely interested in politics – just like their counterparts in the West. And they dismiss references to referee manipulation and doping as the talk of envious detractors.
"I never had the impression we were given any advantages in referee decisions," Waldemar Ksienzyk, a defender who played for BFC from 1984 until 1991, told CNN.
He said he wasn't aware of any doping, either.
"You can't systematically dope in football because it's a creative sport. BFC was a high point of my football career because we had a very good team and comradeship. It was a good life."
Jörn Lenz, a former BFC midfielder who is now on the backroom staff as team manager, said: "Maybe we had a small bonus in the back of referees' minds, in terms of them taking decisions in a more relaxed way in some situations than if they'd been somewhere else, but one can't say it was all manipulated.
"You can't manipulate 10 league titles. We had the best team in terms of skill, fitness and mentality. We had exceptional players."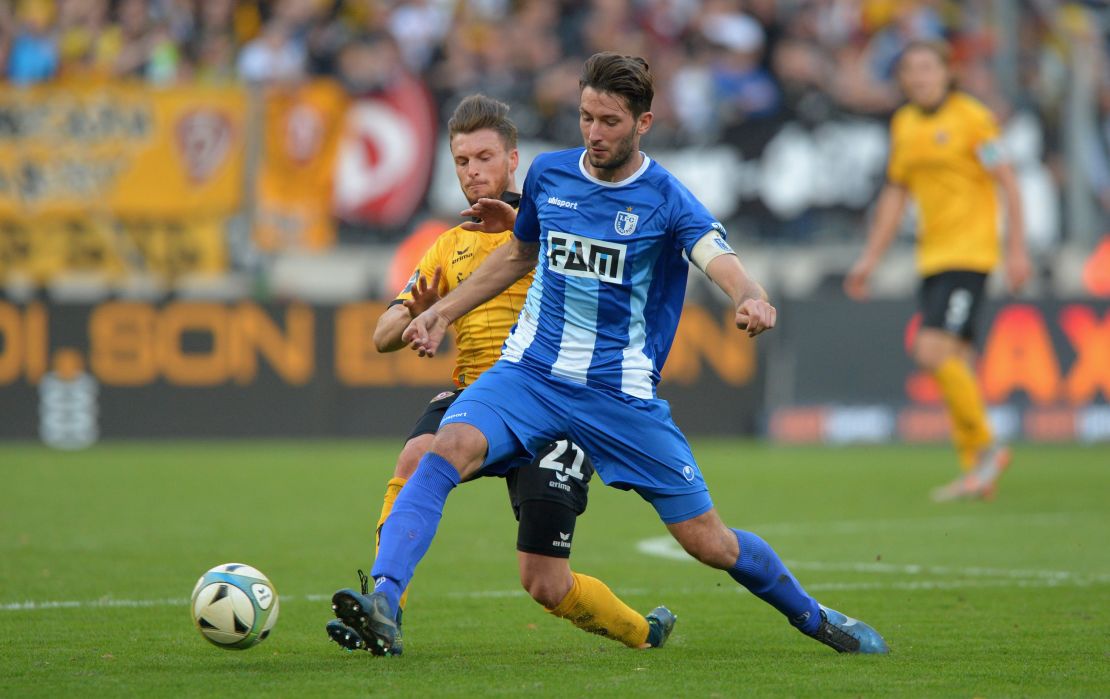 The 46-year old said he never witnessed any doping at BFC. "Like these days, we used to get vitamin drinks – but I never heard of it being stimulants or doping."
Both Lenz and Ksienzyk say they never felt any inclination to abscond to the West.
"I could have left easily, that wouldn't have been a problem at all," Ksienzyk said. "But I was well positioned at home, my family was there, I felt at home in Berlin."
Their privileges may have seemed laughable by Western standards, but were a big deal in an economy in which shortages were chronic.
Players were able to jump the 10-year waiting list for a car and were paid so well that they could in some cases stretch to a Russian-made Lada, considered a luxury at the time.
They were also allocated better accommodation and permitted to travel abroad. They even got fruit, which was a rarity in the GDR.
"The players sometimes met with hostility when they arrived at matches in the team coach eating bananas, which were almost unobtainable in the GDR," historian Leske said.
The pay varied widely. One player said it was about three times an average worker's wages. Players doing their military service were paid according to rank – if they played well, they were promoted to get more money.
Paradoxically, however, players in some lower-league clubs got even better pay if the team was affiliated with a prominent state-owned enterprise.
'Stasi pigs'
In the 1980s, as public pressure for political reforms began to build in the GDR, the hostility toward BFC mounted.
"People in the GDR let out their anger and their frustration on us, we were abused and spat at in the stadiums because everyone wanted to see us lose, they thought we're the Stasi club, we've got golden door-handles at home," Ksienzyk said.
"But nothing was handed to us. We had to work hard at Dynamo – there was huge pressure to perform."
Opposing fans would chant "Stasi pigs" and "Mielke pigs," even though such behavior could, and sometimes did, get them arrested. Meanwhile, violent fans influenced by Western punk and hooligan scenes opted to support BFC because it was the best way to be provocative, Leske said.
After the Wall fell, BFC lost its footing. Mielke was arrested and the Stasi disintegrated as furious protestors stormed its offices across the country. Bundesliga clubs lured away BFC's best players, including Andreas Thom and Thomas Doll.
Weakened by the loss of talent and bewildered by financial advisers and agents who turned up on its doorstep, the club went into rapid decline.
It tried to break with its past, changing its name to "FC Berlin," but failed to qualify even for the second division of united Germany's Bundesliga. The club renamed itself BFC Dynamo in 1999. It was relegated from the fourth to the fifth division in 2000, and filed for insolvency the following year.
It made negative headlines with violent fans who attracted national attention in 2011 when hundreds attacked visiting Kaiserslautern supporters during a German Cup match. Some fans are openly far-right, causing further damage to the club's reputation.
BFC Dynamo only made it back to the fourth division in 2014, and has its sights set on reaching the third tier in the near future.
Lenz says the club is on the up again.
"We've gone through difficult times, but we've been gradually improving in the last three years. We want to reach the next level in the next one or two years. The third Bundesliga would be just right for us, because it's got a number of traditional clubs like Magdeburg that would be crowd pullers."
These days, players and supporters shrug off the "Stasi club" label. If anything, its history adds to its gritty allure. Demand for €50 ($53) tickets for the 50th anniversary party has been so great that the club has had to move it to a bigger venue.
Some 900 people may attend, including many former players. Erich Mielke won't be there – he died in 2000. But the celebration may reawaken memories of the parties all those years ago, back in the club's glory days, when he raised his glass of East German sparkling wine to toast "My Boys."
Punks, prostitutes and St. Pauli