Story highlights
Svindal won Olympic gold in 2010
Norwegian is a five-time world champion
Missed 2014-2015 World Cup campaign
Has won five World Cup races this season
You're a downhill racing champion and an extreme skiing movie star, so how do you cope with a season out injured?
Head to Silicon Valley, of course. Well, you do if you are Aksel Lund Svindal.
The former Olympic champion tore his Achilles playing soccer in October 2014 and missed the whole of the following World Cup season.
But the driven Norwegian is not one for sitting about.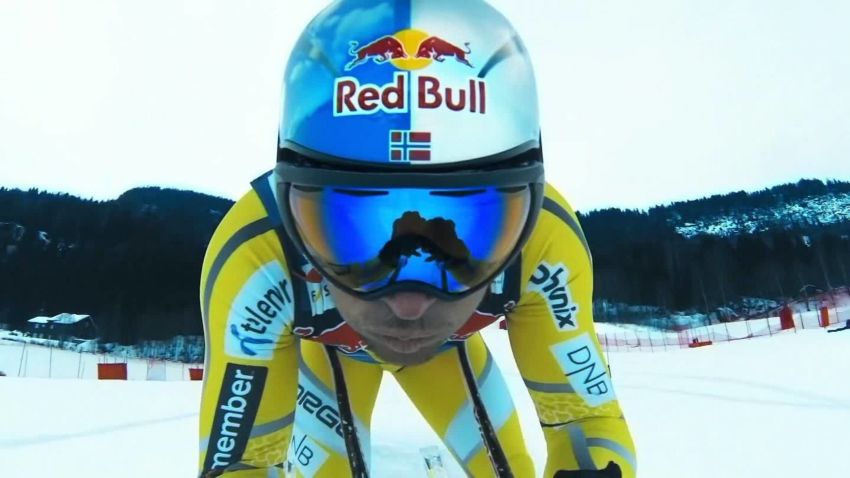 Norwegian speed king's remarkable comeback
"In any situation that's a bad situation, you want to try to flip it into something positive, right?" the 33-year-old tells CNN's Alpine Edge show.
His first thought was to accomplish one of his life goals and go to college. The dates didn't work out, so he picked plan B.
"I was like, 'What's the second-smartest thing I can do?' The most inspiring, I figured, would be to go somewhere where you meet fun and inspiring people, where people are really good and enthusiastic about something else than sports," he adds.
With his eyes fixed on a post ski-racing future as the boss of a tech start-up, Svindal headed to California with a rehab program, a pocket full of contacts and a desire to learn.
"The first thing you learn if you have a smart idea and want to try to build a company and do something cool is that there is a lot of competition," he says.
"The one thing I really like, that is very similar to sport, is that it is all about the people.
"If you really want to be good at something, and you put a lot of time in and work hard, your chances of success are pretty good because a lot of people are fooling themselves.
"They're saying, 'I want to be really good' – well, you're saying you want to be really good but this guy works out double what you do, so how are you going to beat him? Then they don't really have a good answer.
"That's the one thing I saw with everyone I met, at least the smart ones – they were sincere, had a lot of energy and were willing to invest the time and energy to make it happen. So not, 'It would be fun if this works,' but 'This is going to work.'
"It's more of a lifestyle than just a job, and I like challenges like that."
Displaying similar determination, Svindal set himself the goal of being fit enough to make a cameo from rehab at the Alpine Skiing World Championships in February 2015.
"When I tore my Achilles the worlds were just three months away, and three months is when I could maybe start skiing," he says.
"It was probably borderline. The doctor didn't say yes, he didn't say no – he was definitely skeptical.
"Someone said, 'This is impossible to ski the world championships.' I said, 'Nothing is impossible.' I didn't think I was going to ski it, but that was my response. It kind of turned into a media thing and went back and forward. I thought that would be a cool challenge to see if I could do that."
It turned out he could, and finished sixth in both downhill and super-G.
"I remember coming into the finish of the super-G and I was leading. I was like, 'Are you kidding me?' It felt way crazier than when I won Beaver Creek this winter because I really wasn't prepared for it. It was kind of a cool story."
Fully fit again, the adventure has continued this season for Svindal, who collected a complete set of gold, silver and bronze medals at the 2010 Olympics. He has won downhills in Lake Louise, Beaver Creek and Val Gardena as well as two super-G races.
Wengen's iconic downhill beckons on Saturday – a race he has never won. But the leg-sapping Lauberhorn – the longest track on the World Cup circuit – is not the only test that stands in his way.
Norwegian teammate Kjetil Jansrud has developed into one of his main rivals – he won super-G gold at the 2014 Sochi Olympics while Svindal failed to medal in his title defense as he struggled with allergies that forced him to pull out of his final event.
Jansrud edged Svindal in Friday's super-combined event at Wengen Friday, coming back from a 0.90-second deficit in the opening downhill to triumph by just 0.04 after he set the fastest time in the afternoon slalom.
Second-placed Svindal closed the gap on overall World Cup leader Marcel Hirscher to 85 points, while Jansrud is fourth.
"It sounds like a really strange situation and could be hard to manage in a team, but we've known each other for so long and for some reason it works really good," Svindal says of his 30-year-old friend.
"One of our coaches said a cool thing once, 'Skiing is a team sport except for the two minutes you are on the course.'
"We spend so much time on the road, so unless you're around cool people it's going to suck.
"We do a lot of summer training and physical training together, we inspect the course together, share the same equipment (Head), share course reports on the radio. Basically we do everything we can to make the other guy go fast, but obviously he's doing the same for you.
"If you want to be good over time you have to look at it like that because you're never going to be the best at everything yourself."
Filming the world's fastest skiers
Svindal is also a good enough free-skier to appear in a number of "extreme skiing" movies, but he takes the same team ethic into the back country.
"I'm doing something I'm good at, but in an environment where I have to learn from everyone else," he says.
"Like avalanche risk, where to put your line, how to be gentle with the snow so you don't set off avalanches – there are a lot things completely different from racing. That's a cool challenge to be in an environment where I'm the one asking the questions.
"I have to say, the whole adrenaline aspect is pretty cool, too. Some of the skiing is kind of extreme. It is fairly dangerous, but not as dangerous as downhill. If I took more risk than I do in a downhill race anywhere else in my life, I'm doing something pretty stupid.
"You have to pick your battles. Downhill racing is where I'm not going to go over the edge but I can at least push a little bit."
Individual, team player, student, visionary – Svindal seems at home out of his comfort zone. Always pushing. Just a little bit.