Story highlights
Lowest-ranked player to win men's major
Earned late entry to 1976 Australian Open
Beat legends Rosewall and Newcombe
Dropped winner's trophy after final
He had been cleaning floors in a hospital as he saved money to travel to tournaments – but within weeks Mark Edmondson shocked the tennis world by winning the Australian Open.
Back in the stifling Australian summer of 1976, Edmondson was ranked 212 in the world. Although his form was good enough to play at Wimbledon the previous year, he was not guaranteed a place in his home grand slam and was doing odd jobs as well as playing.
But by the time the tournament – then played at Melbourne's Kooyong Lawn Tennis Club – had finished, he was the lowest-ranked man to ever win a major.
That record still stands, and he also remains the last Australian man to triumph on home soil.
"I was the last or second last in," the 61-year-old Edmondson told compatriot and former Davis Cup colleague Pat Cash for CNN's Open Court as he looked back on his remarkable triumph. "It was a 64-man draw then, not 128.
Australian tennis: Generation Next
"I had qualified at the Australian the year before, and I'd qualified at Wimbledon. Then I'd qualified at the Australian Indoor, so I think I'd got 11 points. So with a 64 draw and not all the world's players coming to the Open like they do now … at the 11th hour someone pulled out, and I was in."
Edmondson's adventure began against Peter Feigl, an Austrian who would reach the quarterfinals in Melbourne two years later.
It could have ended there as Feigl battled back from two sets to one down to force a decider, but Edmondson breezed through it 6-1.
"I'd got a pretty good draw, not playing a seed but another solid player," the Australian recalls. "But from then on, everyone I played I probably shouldn't have beaten."
Beat them he did, armed with one big plus – as a rank outsider, his capabilities were largely unknown by opponents.
"I had the advantage that I knew how they played – but they had no idea how I played," he says.
Not only that, lower-ranked players were also on outside courts for the bulk of the tournament, something Edmondson said could be a problem for opponents who "were better players, who got more disgruntled with a few bad bounces."
Round two brought fellow Aussie Phil Dent, and Edmondson played "about as good as I could" before beating New Zealand's 12th seed Brian Fairlie in four sets.
Suddenly, the man nobody knew about was in the last eight, playing compatriot Dick Crealy. But just before he took on the 1970 Australian Open finalist, he had an encounter with the tennis legend he would later meet in the final.
"On the day I played Dick Crealy, John Newcombe came over and said, 'Have you ever played on the center court?'
"I said, 'No,' and he said: 'Let me give you a few hints.' I'm thinking: 'Isn't this lovely?' But in hindsight, perhaps he should have been seeing what it was I did."
What you need to know about the Australian Open
Defending champion Newcombe, a seven-time grand slam singles winner, might have helped more than he had imagined given the commanding way Edmondson defeated tough competitor Crealy.
"I managed to get him in straight sets," he says. "At this time, I was serving fantastic."
Even then, could Edmondson really have expected to get to the final given that veteran Ken Rosewall, the doyen of Australian tennis, the No. 1 seed and a personal hero, was in the way? The weather was scorching and Rosewall was favorite because of his array of elegant shots.
But Edmondson had a plan, and it helped him win in four sets.
"I had nothing to lose," he says. "I had never played him before, but I had watched him hundreds of times. I decided to serve to his backhand – because then when he hit it back I played it to his forehand, which allegedly was mediocre compared to that incredible backhand.
"Somehow, it worked. My mind sort of relaxed then, and I didn't worry about the final. I'd beaten Ken Rosewall!"
And so he waited to see who he'd face, with Newcombe playing Ray Ruffels in the other semifinal. "Newk" waltzed through in straight sets.
"After the semifinal they asked Newcombe about me and he says, 'He beat Ken today, but he doesn't realize he's got to play John Newcombe tomorrow,' Edmondson remembers. "I thought, 'That's a bit bloody rude.' He was trying to put a little doubt in my mind."
The gamesmanship didn't succeed. "I knew I was serving as good as I could serve – so if I can win my serve and we get to a tiebreaker, then who knows what happens?"
A "tough, tough first set – it was as hot as hell" duly went to a tiebreak. Newcombe won it – "He was probably better under pressure," says Edmondson – but the underdog held his nerve. He broke his opponent's serve and took the second set 6-3.
And then the weather intervened.
"It was 1-2 or 2-3 in the third set when a huge southerly change came through, and the wind was so strong that the referee decided to call the match off," Edmondson says. "Chairs were blowing over. Then, 20 minutes later, he says it's alright to go back. "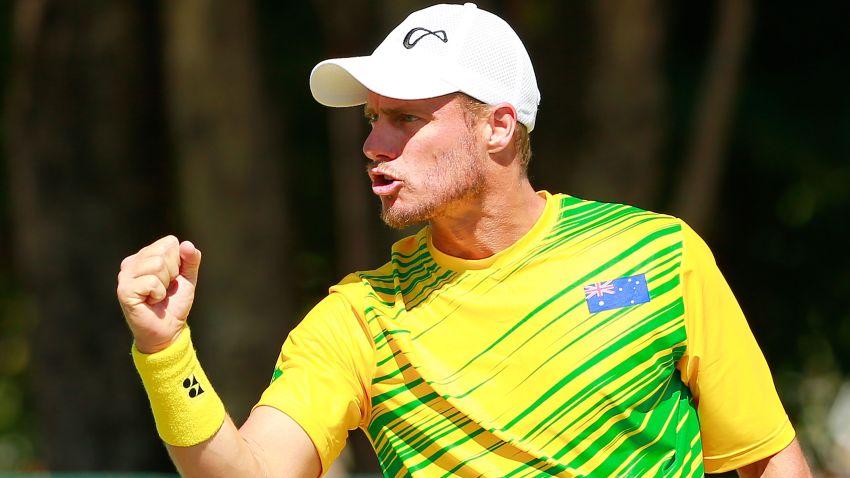 Lleyton Hewitt: Brash teenager to Aussie great
The third set also went to a tiebreak and, helped by a Newcombe double-fault at a crucial time, Edmondson prevailed to lead two sets to one.
Even so, he knew his opponent could never be ruled out.
"The fantastic player that he was, I fully expected him to come back even stronger," he says. "But as it turned out, maybe the wind went out of his sails.
"I won 6-1 in the next. I broke serve and kept going and there I was – winner of the Australian Open, from being lucky to get in the tournament a couple of weeks before."
This most unexpected victor – arguably, his achievement sits alongside 17-year-old Boris Becker's 1985 Wimbledon win as the most unexpected grand slam triumph – still had the presentation of the Norman Brookes Challenge Cup to negotiate.
The big moment didn't go as smoothly as it could have done. "Unfortunately, the trophy wasn't connected to the base," he said, wryly. "I just leaned a bit, and over it went."
Although John Marks, Kim Warwick, Cash (twice) and Lleyton Hewitt have all reached the Australian Open final since 1976, none has managed to emulate his unlikely success.
Edmondson eventually won five grand slam doubles titles, four at the Australian Open and one in France, and reached one more singles semifinal in Melbourne in 1981 before retiring and going on to run a tennis court construction business.
He attributes his successful career to that magical run four decades ago. "It probably secured my life as a tennis player," he said.