Story highlights
CNN reaches an airstrip that's being extended to aid U.S. military operations in Syria
It's in a region where Kurds are having some success in driving back ISIS
Nearby, young soldiers request and assess airstrikes
The rutted road stretches into the distance across the plains of Hasakah. Herdsmen watch over their few dozen sheep. A scattering of oil pumps nod lazily as they extract a few dollars of crude from deep below. Above, the contrails left by coalition warplanes drift across the blue sky in hazy circles.
We bump through the mud-brick villages. Wide-eyed children stop playing marbles in the dirt to gaze at us. Old men wearing keffiyehs, the traditional red and white headscarf, peer suspiciously. This corner of northern Syria – close to the border with Iraq – is a mix of Arab tribes and Kurds, Muslims and Christians. It has long been neglected, despite its oil and farming, by the Syrian regime hundreds of miles away in Damascus. But in the war against ISIS, Hasakah is suddenly a place of interest, and especially for the Pentagon.
Our destination is an airstrip used for crop-spraying. From satellite images we've worked out where it is. It would be easy to miss: just a strip of concrete that almost sinks into the dark soil. But for all its modesty, this is the United States' latest outpost in its deepening campaign against ISIS.
An elderly farmer living nearby, rake-thin with a weathered brown face, offers tea to the minibus of strange visitors, breaking off from his duties tending sheep on behalf of a sheikh of the Shammar tribe, a powerful Arab group that has good relations with the Kurds.
He says he has heard helicopters and other aircraft. But he's not seen anything land here. He seems bemused by the interest.
This location has been chosen because it's just 100 miles (160 kilometers) from ISIS frontline positions and some of its lucrative oil fields, but well within territory held by Kurdish fighters known as the YPG. The runway is being nearly doubled in length from about 2,300 feet to 4,330 feet (700 to 1,320 meters) – long enough, say, to receive C130 transport planes. A small apron is also being paved.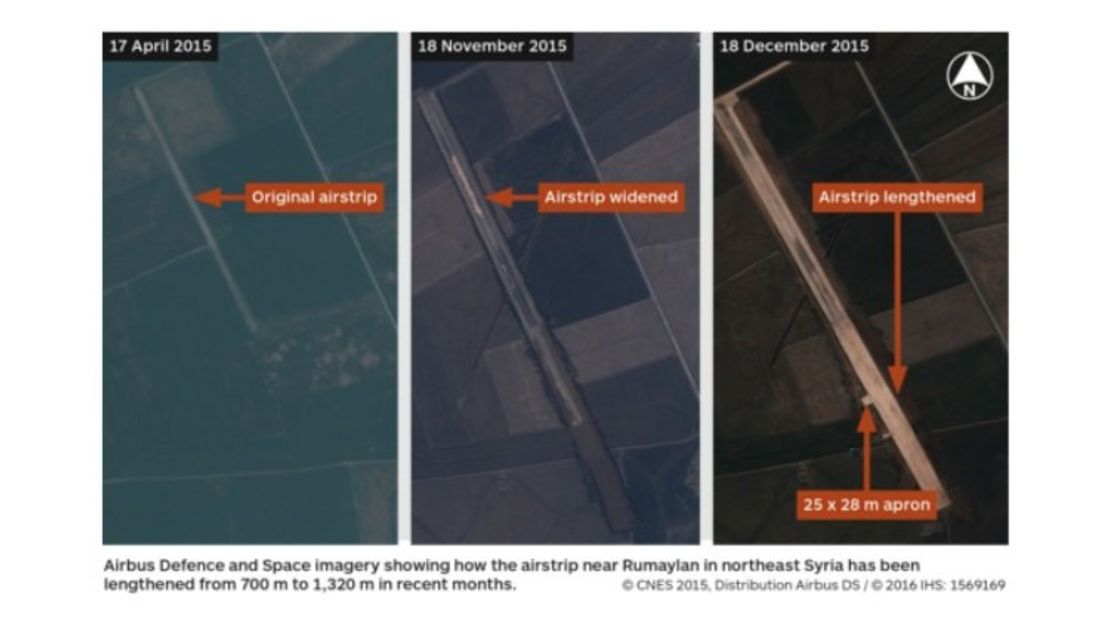 There is no control tower, no lights, certainly no U.S. uniforms to be seen – just a berm of fresh earth thrown up to mark the perimeter and a tractor chugging along as it flattens the surface of the newly extended runway. A barrier is manned by two local men who lounge in the sunshine smoking. But there is more security than at first appears. Minutes after we begin filming, two men of the YPG's Asaish security force arrive in a pickup truck and escort us away.
"It's a closed military zone," says one of them. Suicide bombings – invariably claimed by ISIS – are not uncommon in Hasakah.
This "drop-and-go" strip will help the U.S. supply the Kurds and the Arab tribes allied with them and assist the handful of U.S. Special Forces deployed to this part of Syria.
Choosing its words carefully, the U.S. Defense Department says it has not "taken control" of any airfield in Syria.
"That said, U.S. forces in Syria are consistently looking for ways to increase efficiency for logistics and personnel recovery support," said a spokesman for U.S. Central Command last month.
The YPG – which can field some 25,000 men and women – has gradually become one of the most effective partners on the ground for the U.S. After forcing ISIS out of the town of Kobani on the Turkish border in 2014, with the help of intense airstrikes, its fighters have driven ISIS out of hundreds of square miles of territory. They now control much of the border with Turkey, hindering ISIS access to the outside world.
There are regime pockets in towns like Qamishli and Hasakah, redoubts blocked by street barriers and watched over by giant posters of Syrian President Bashar al-Assad and his late father Hafez. But the Kurds are the dominant military force in this region, despite having little more than rifles and pickup trucks.
Read: Meet the men fighting ISIS with hunting rifles
The United States has been wary of arming the YPG directly, preferring to say that its ammunition drops are for a broader coalition of Arab factions so as not to infuriate Turkey, which regards the YPG as a terrorist group. Turkey has declared it will not tolerate any further expansion of the group's presence along the border. It's a delicate balancing act for Washington, but the presence in Kobani last weekend of the U.S. Special Envoy to the anti-ISIS coalition, Brett McGurk, underlines the importance of the relationship – in a region where effective allies have been difficult to come by.
In part, McGurk's visit to Kobani appears to have been aimed at appeasing the YPG, whose commanders are furious the group's representatives have been excluded from Syrian talks in Geneva – at Turkey's insistence. One official even told us that unless the YPG was admitted to the process, it would suspend co-operation on the ground with the United States.
Read: ISIS executed 2,114 civilians in 19 months, human rights group says
Calling in airstrikes … on a tablet
For now, the Syrian Democratic Forces (SDF) – a makeshift alliance of Kurds and Arab groups – continue to close in on some ISIS oilfields and squeeze their supply lines. They get help almost daily from coalition airstrikes, thanks to a "Joint Operations Center."
It is a modest setup in an abandoned apartment block on the southern outskirts of Hasakah City. The building is pockmarked by fierce battles fought here last August. Bullet casings still litter the hallways, curtains flutter from shattered windows.
Three young men sit in a small room with tablets and a radio that rests on two packs of cigarettes. An electric heater takes the edge off the winter chill. From here they communicate with frontline units, passing on their coordinates and any reports of enemy movements to a coalition command center. Then coalition bombers can be brought in.
Twenty-one-year-old Daham Hassaki deftly scrolls from one screen to another as he plots positions on a Google map and sends text messages to headquarters.
"Right now this is the frontline of Hasakah," he says, opening a map that shows the vast spaces of this part of Syria. "Our fighters there have seen the movement of two of the enemy and so we sent this message and their coordinates to the command center."
He says a group of Americans and other foreigners have trained the YPG in how to use the equipment, to ensure friendly forces are not mistakenly targeted and that intelligence on ISIS movements is passed up the chain.
ISIS, he says, has changed the way it operates – deploying very small units of a half-dozen men that are more difficult to detect.
When an offensive is underway, the Operations Room team moves to the frontline. Daham and his colleagues move in after a strike to see what damage has been done. He shows us videos of their missions. They do not make for easy viewing.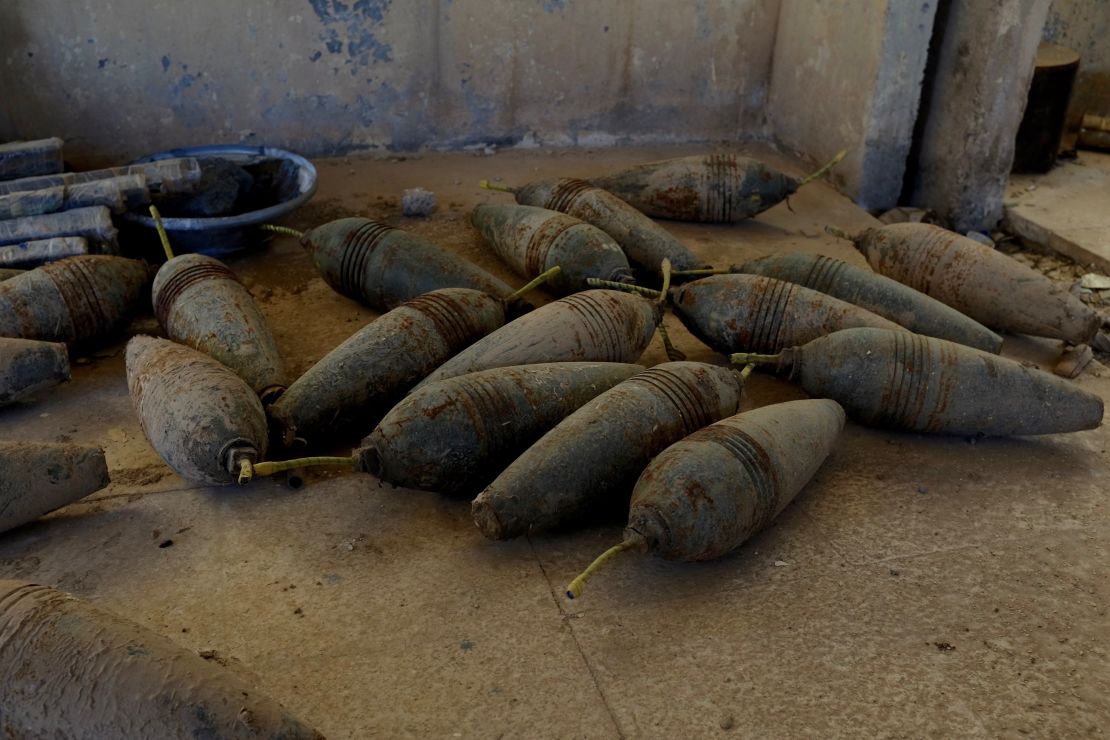 Daham says he's not aware of any civilians killed by the strikes, but no one can be sure. In this area, ISIS fighters have coerced whole villages of Arabs to leave with them as they retreat. Local activists say that early in December, a convoy leaving a tiny settlement close to the Iraqi border was struck from the air. They claim that more than 30 civilians, including women and children, were killed. U.S. Central Command told CNN that "the allegation was deemed as not credible since there were no Coalition airstrikes in the vicinity" on that day.
In the next month or two, the Kurdish-led coalition is expected to launch an attack on the ISIS-held town of Ash Shaddadi, a critical road junction for the group that will not be lightly surrendered. Activists in the area say ISIS is essentially holding the civilian population hostage as a collective human shield, and has cut off communications with the outside world.
The area is targeted almost daily by airstrikes. In the countryside to the north of the town, we heard distant thuds as ISIS defensive positions and arms depots were targeted.
If the SDF take Ash-Shaddadi, ISIS will have a logistical headache in connecting Raqqa in Syria with Mosul in Iraq, its most important cities. It is likely the next test for the new U.S. strategy of identifying and supplying reliable local forces to battle ISIS. And an old airstrip amid the farmsteads of northern Syria may have a new lease of life.