Story highlights
Swiss-Italian, 45, is UEFA general secretary
One of five candidates in FIFA presidential race
Denies he is "puppet" for Michel Platini
Election takes place on February 26
(CNN)He has been accused of being the "puppet" of disgraced UEFA boss Michel Platini, but FIFA presidential candidate Gianni Infantino insists he is his own man.
Infantino, 45, is one of five candidates at this month's special election. After agreeing to stand down just days after winning last year's vote, president Sepp Blatter, 79, was then banned alongside Platini for breaking ethics codes relating to conflicts of interest, breach of loyalty and gifts. Both are appealing against the ruling.
Infantino previously suggested he would withdraw if Platini was allowed to stand, so when it was suggested he was merely acting for the Frenchman, he told CNN: "That is certainly not the case.
"I have been nominated by the UEFA executive committee; I have received support in South America, Central America, Caribbean, Africa, Asia.
"I share a lot with Platini, we worked together for nine years, of course. But Platini has his own strengths and weaknesses. I have my own strengths and weaknesses. I am committed to show it to the whole world."
Infantino is one of two European candidates alongside France's Jerome Champagne, a former FIFA deputy secretary general.
They are up against Sheikh Salman bin Ebrahim Al Khalifa, the Bahraini head of the Asian Football Confederation, Prince Ali Bin Al Hussein of Jordan and South African Tokyo Sexwale.








































Infantino joined the presidential race just hours before the October 26 deadline, but insists he "definitely" wants the job and is totally committed to improving football and FIFA.
"Until some months ago I was not thinking of this possibility at all but circumstances were such that, sometimes in life you have to make decisions to stand up, you have to do things that you believe in and I believe in the possibility of taking FIFA forward," he said.
"I believe in the possibility of doing something for football. I cannot simply sit down and watch FIFA destroy itself."
Sheikh Salman has emerged as favorite to win the February 26 vote, but Infantino denies any deals are in place which would see him working under the Bahraini.
"No, I would not be the general secretary of FIFA," he said.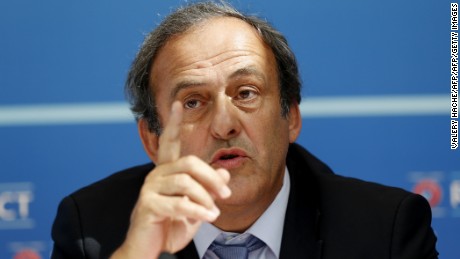 JUST WATCHED

Michel Platini will not run in FIFA presidential election
MUST WATCH
"I would go fishing probably if I lose the election. I'm confident to win and that's why my plans, they are until February 26.
"I go in this election with great pleasure on my side, with great confidence. I think you should ask these questions to the other candidates what they will do if they lose because this is an option I don't contemplate."
On Monday, Infantino appeared at Wembley -- the home of English football -- to present his "90-day" plan to reform the scandal-hit governing body, which he admits is undergoing a "very difficult situation."
Blatter's resignation came in the wake of a U.S. investigation into corruption at FIFA,
which has expanded
since 14 of its current and past officials were indicted.
"You need today more than ever somebody who knows exactly what to do, somebody who knows exactly where to start with all the reforms, to lead them, to implement them. Somebody who brings football back to FIFA," Infantino said.
Ultimately, he wants to restore FIFA's credibility with football fans around the world.
"We have to make them care again, more about football than of FIFA of course, but FIFA has an important role to play," he added.