Story highlights
Turkey's President slams the U.S. for supporting Syrian Kurdish groups he considers terrorist organizations
"It is not possible to understand what type of partnership" this is, he says of U.S.-Turkey relations
A U.S. official said the U.S. will continue supporting the Kurds, notes the disagreement with Turkey
Turkish President Recep Tayyip Erdogan has had no shortage of harsh, withering words for enemies involved in the bloody civil war in neighboring Syria.
Now, he's turning his verbal barrage on a key NATO ally: the United States.
Erdogan ripped into Washington on Wednesday, claiming it's responsible for a "sea of blood" in Syria for what he called its ignorance about dangers posed by other groups, not just ISIS, in the region. Specifically, he slammed America's refusal not just to resist branding Syrian Kurdish fighters as terrorists but in supporting them militarily.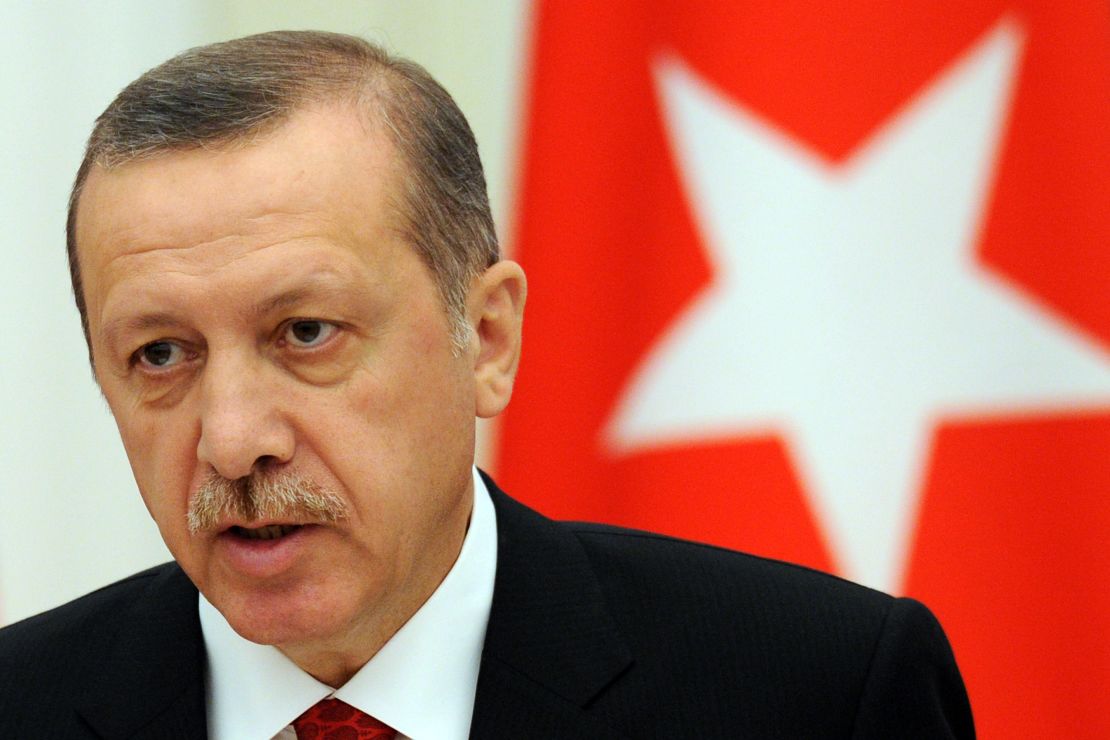 "I told you many times: Are you with us or with this terrorist organization?" a fiery Erdogan told a gathering of village leaders, according to Turkish state media.
Such anger against Washington is noteworthy, though a Turkish leader lashing out at Kurds is nothing new. The ethnic group has been a thorn in Ankara's side for decades, having been blamed for violence as part of its separatist push. Ankara has fought back and is still fighting back, with the Kurds viewed as a very real threat.
Generally, Turkey's allies haven't gotten involved in this fight. But what's happening in Syria – specifically, the rise of ISIS, which is widely regarded as a ruthless and, at times, barbaric terrorist group – has changed the equation.
Kurds may participate in Syria peace talks
The YPG, a Kurdish group of some 30,000 fighters, has been among the most successful in taking the fight to the group that calls itself the Islamic State. It's done so with help from a U.S.-led coalition and despite the fact that Turkey labels it a terrorist group. That's because the YPG is the military arm of the Democratic Union Party (a.k.a. PYD), a large and well-organized Kurdish opposition party within Syria that's seen as an affiliate of Turkey's own Kurdistan Workers' Party.
On the frontlines with Kurdish fighters in Syria
Much to Turkey's chagrin, the PYD could be invited to take park in ongoing Syria peace talks. And on Monday, U.S. State Department spokesman John Kirby – after first expressing gratitude for Turkey's contributions in the battle against ISIS – said that the United States does not "recognize the PYD as a terrorist organization" and will not back away from America's support for the Kurdish group's fighters in Syria.
"We recognize that the Turks do (label the PYD as terrorists), and I understand that. Even the best of friends aren't going to agree on everything," Kirby said. "Kurdish fighters have been some of the most successful in going after Daesh (ISIS) inside Syria. We have provided a measure of support, mostly through the air, and that support will continue."
Turkey summons U.S. ambassador
Even before Erdogan spoke, Kirby's remarks were met with anger in Ankara. Turkey summoned U.S. Ambassador John Bass to its own Foreign Ministry in response, according to a report from Turkey's semi-official Anadolu news agency.
Kurds' ambitions add explosive element
Turkey has become a bigger player in the anti-ISIS fight in recent months, in part due to its decision to let U.S. and allied warplanes launch attacks out of Incirlik Air Base. Now, it's an open question as to whether that support will be threatened by the United States and others backing Kurdish fighters in Syria.
Erdogan suggested he's not sure after U.S. President Barack Obama's envoy on ISIS, Brett McGurk, met with PYD leaders in Kobani, Syria.
"How will we ever be able trust you?" the Turkish leader said Wednesday about the U.S. government, according to state broadcaster TRT. "Am I your regional partner or are the terrorists in Kobani?"
He appeared particularly irked about this meeting and about Kirby's comments, which came despite the fact Ankara has "warned the U.S. many times" about Kurdish groups that, Erdogan said, couldn't be relied on to shed their violent, terrorist ways.
"They do not say anything to our faces, but they make different statements elsewhere," Erdogan said about U.S. officials. "It is not possible to understand what type of partnership this is."
Opinion: Who is Turkey really fighting anyway?
CNN's Hamdi Alkhshali contributed to this report.