Story highlights
The Cascadia runs from British Columbia's Vancouver Island California's Cape Mendocino
The fault can deliver a quake with 30 times more energy than the more famous San Andreas
It already caused one of the world's biggest quakes in 1700, sending a tsunami to Japan
Mother Earth slowly reveals her secrets, and this time, it's a fault line deep in the belly of the planet.
Its name is a whopper: The Cascadia subduction zone.
Its gargantuan size and potential power amaze earthquake experts, who say it could cause the worst natural disaster in the history of North America – if it ruptures entirely.
This quake-maker sits at the bottom of the Pacific Ocean, where the seabed meets the North American tectonic plate. In all, it stretches 700 miles along the Pacific Northwest, from British Columbia's Vancouver Island to Washington to Oregon to northern California's Cape Mendocino.
In fact, "the Cascadia" already has made history, causing the largest earthquake in the continental United States on January 26, 1700. That's when the Cascadia unleashed one of the world's biggest quakes, causing a tsunami so big that it rampaged across the Pacific and damaged coastal villages in Japan.
Now it's a question of when the Cascadia will strike again, scientists say.
That big one could "hit at any time," and there's even a website called Aftershock that allows Oregonians to enter their address for a custom report on seismic risks. If the Cascadia were to experience a large-magnitude earthquake, the temblor and resulting tsunami could kill more than 11,000 people and injure more than 26,000, according to one FEMA model.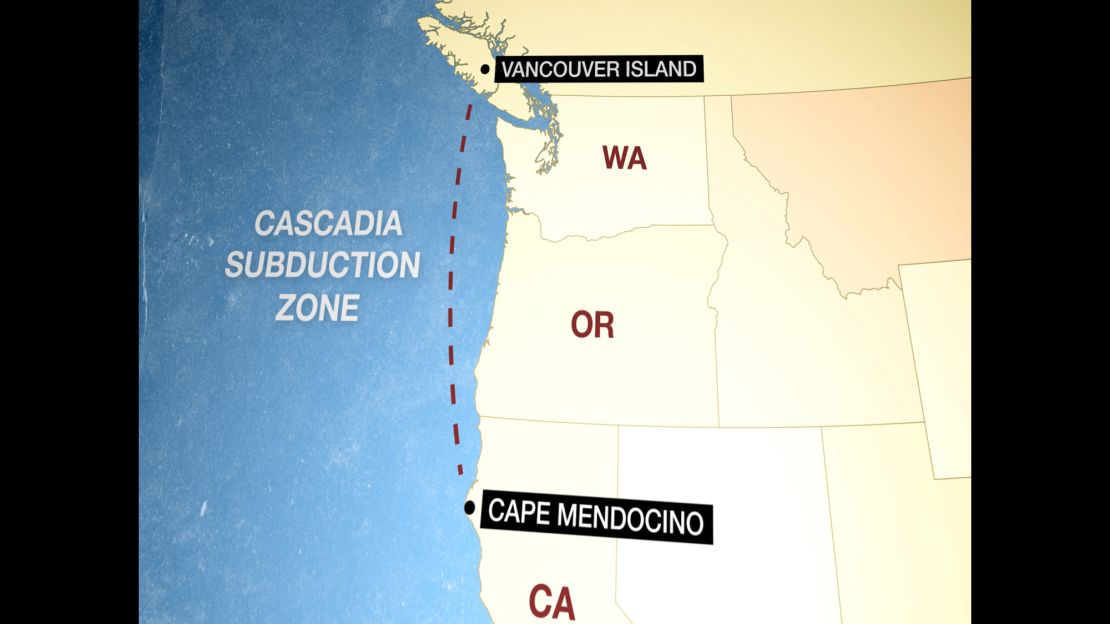 Cascadia more fearsome than San Andreas
Everyone knows the Cascadia's cousin in California: the San Andreas Fault. It gets all the scary glamor, with even a movie this year, "San Andreas," dramatizing an apocalypse in the western U.S.
Truth is, the San Andreas is a lightweight compared with the Cascadia.
The Cascadia can deliver a quake that's many times stronger – plus a tsunami.
"Cascadia can make an earthquake almost 30 times more energetic than the San Andreas to start with, and then it generates a tsunami at the same time, which the side-by-side motion of the San Andreas can't do," said Chris Goldfinger, a professor of geophysics at Oregon State University.
The Cascadia is capable of delivering a 9.0-magnitude quake – an awesome show of force by Mother Nature.
"You're going to have three to five minutes of shaking, and if you're used to earthquakes in California, they typically last 15 to 30 seconds and before you are really sure of what is happening, it is over," Goldfinger says.
A 9.0 will be different.
"In this case, three minutes – and I've been in a 9 in Japan – three minutes is an eternity. It is a very, very long time," Goldfinger says. "We'll lose a lot of bridges. We'll lose our highway routes. The coast will probably be closed by down bridges or landslides or both."
You may as well read this now in case you're ever caught in such a disaster: Rescue crews will be overwhelmed.
"Because there will be damage to all of the roadway, the various highways, various infrastructure, and it will be very difficult to get around and assess what is going on and how you might be able to reach people and provide them with some of the resources they may need," said Maj. Richard Ouellette of the Civil Air Patrol's Pacific region.
Revelation of Cascadia's lethality
Prior to the 1980s, the Cascadia was overlooked because it didn't seem to move or cause quakes.
Scientists now know differently.
"The more we learn about it, the less we like it, because it is turning out to be a big hazard as well," Goldfinger says.
To prove that Cascadia has ruptured before, scientists studied the so-called "ghost forests" of the Pacific Northwest.
Underneath the plants and trees, dirt and mud, is a record of changes to the landscape. By digging into it, U.S. Geological Survey geologist Brian Atwater found the proof for one of the world's biggest earthquakes.