Nervous cigarette smoke fills the lounge, wafting through the night's preparatory chaos. The crinkling of scripts mixes with the hum of crew members ironing costumes and makeup artists adding final touches.
Cast members polish their characters in front of mirrors, perfecting movements. The curtain rises in an hour on the first episode of "Saturday Night Live in Arabic."
In the shadow of the Pyramids of Giza lies Studio Misr, Egypt's oldest production house. A large marquee broadcasts the show's name in lights. The recently renovated studio smells of wet paint from the night's sets.
The cast is as humble as they are funny. For many, this is their first time doing comedy. They are young; ranging between 19 years old to their mid-30s. The oldest staff member is 41. Some appear insecure about their new roles, but that evaporates in front of the live studio audience.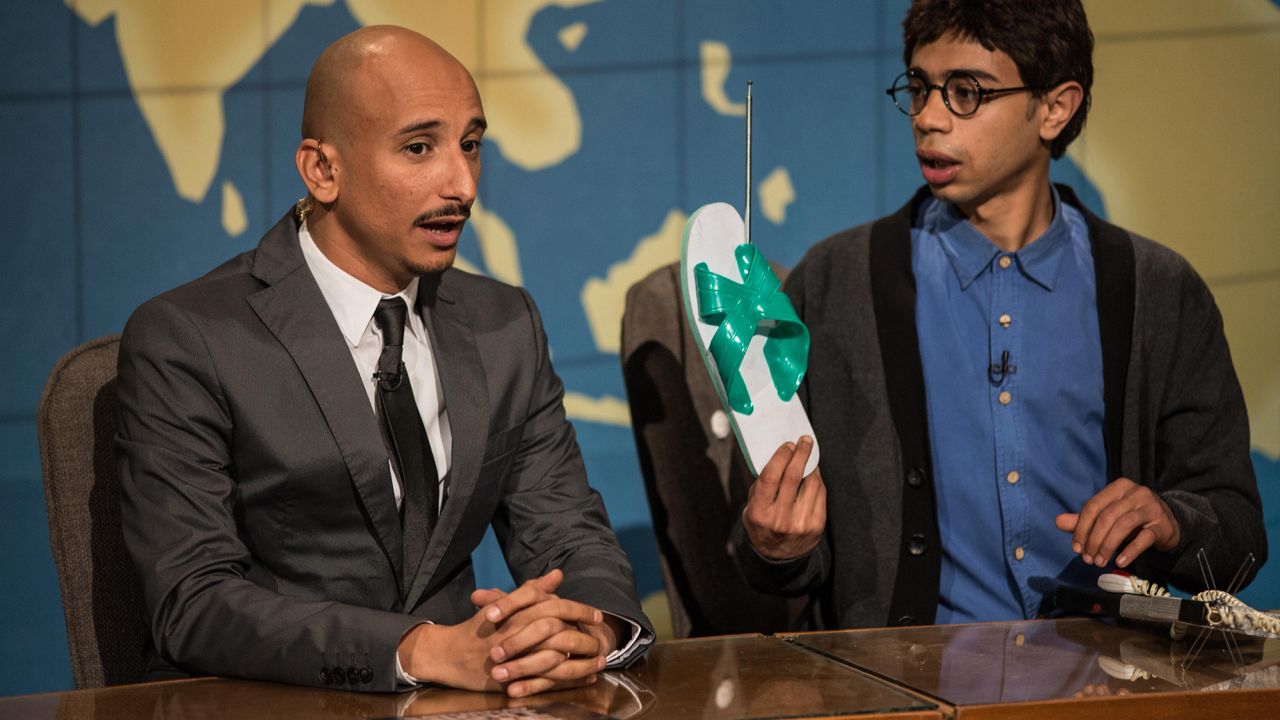 At a glance, there is not much that is funny about the current state of the Middle East. Civil war rages in multiple countries, ISIS' tentacles spread across the region, and millions of refugees flock to Europe.
But cast member Shadi Alfons says there is "way more to this part of the world than what people see in the news."
He says he and fellow cast member Khalid Mansour are an example: "We are just a couple of bald, idiot comedians who try to get on TV and make people laugh about things we shouldn't make them laugh about."
SNL vs. ISIS
One sketch opens with twin babies in the womb, trying to determine where they are going to be born.
First they think Sweden and they'll be rich and successful.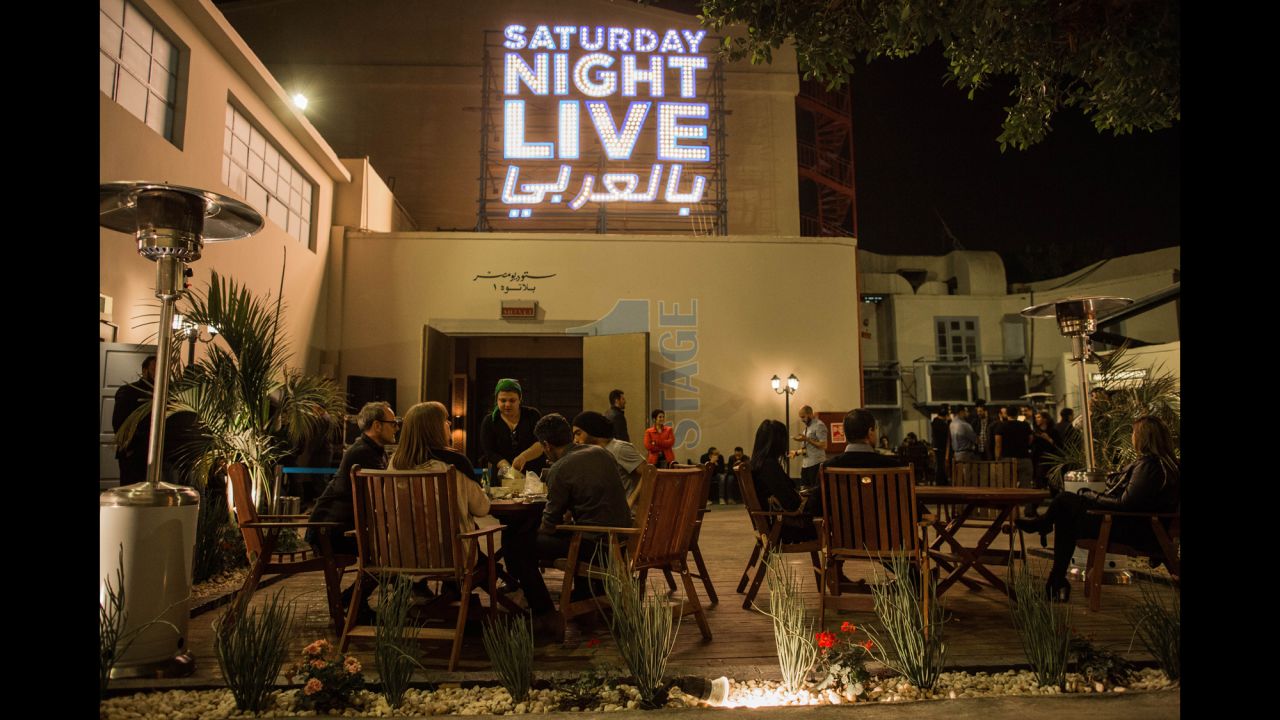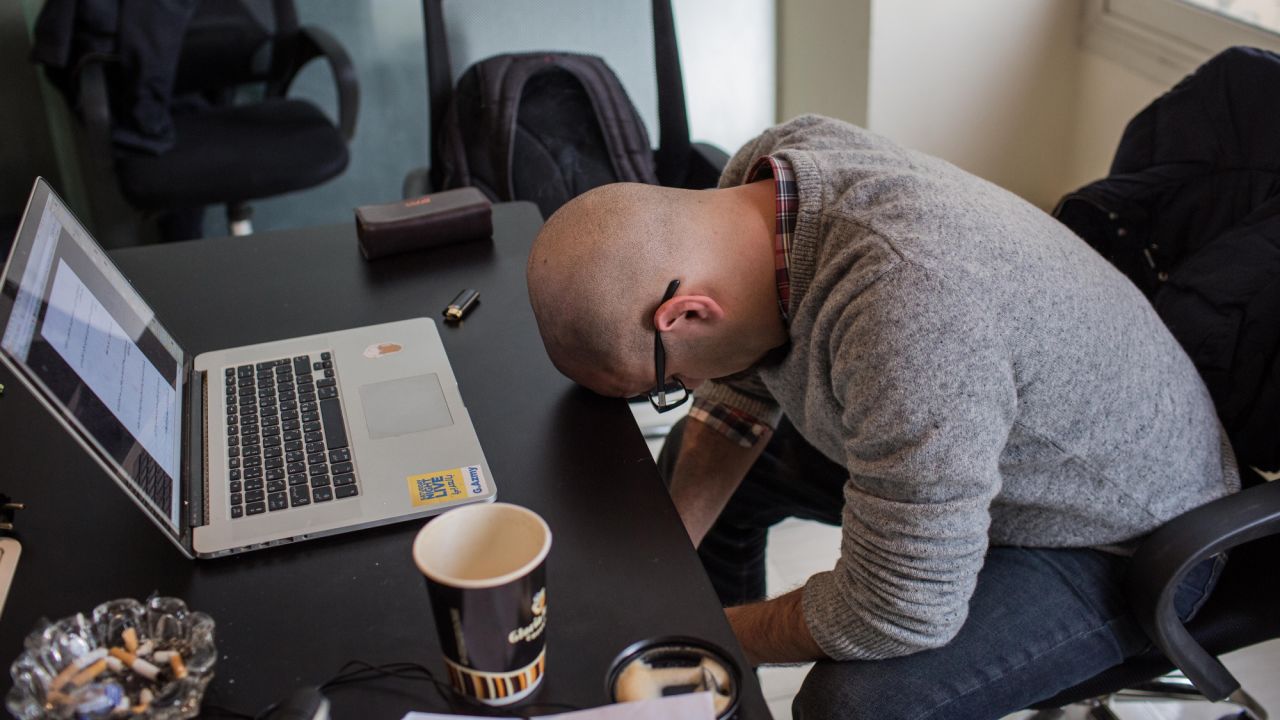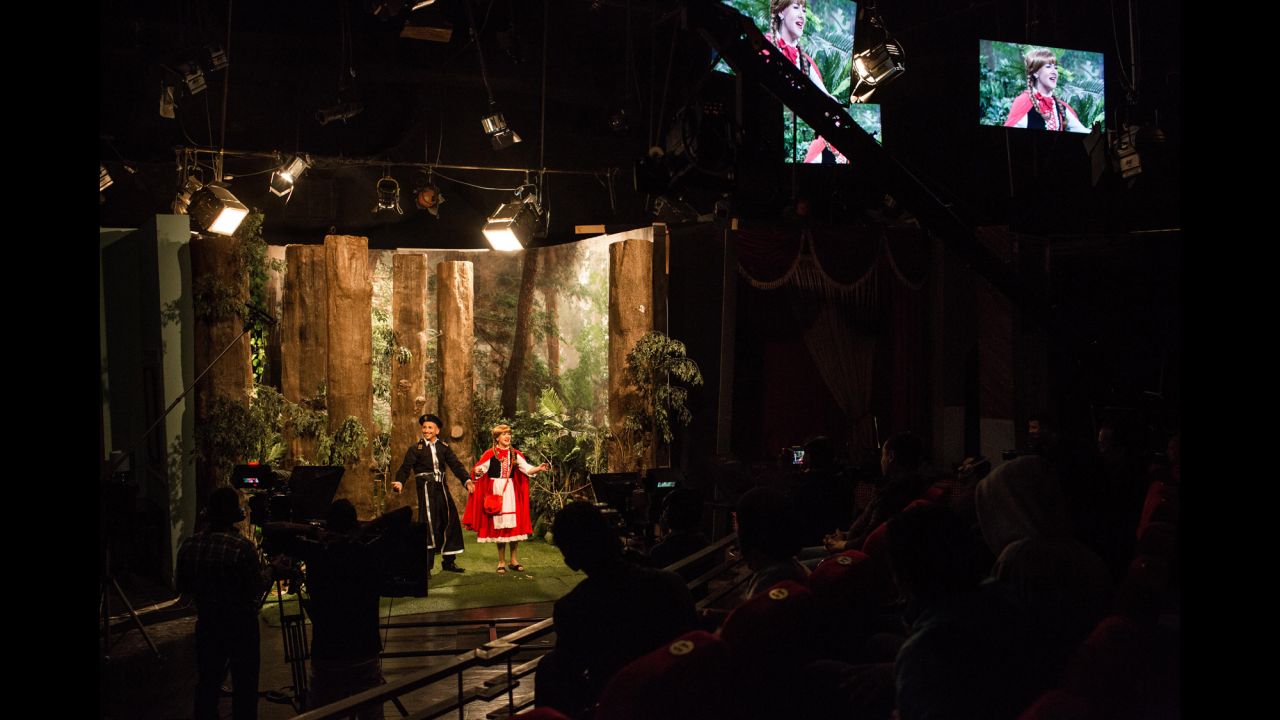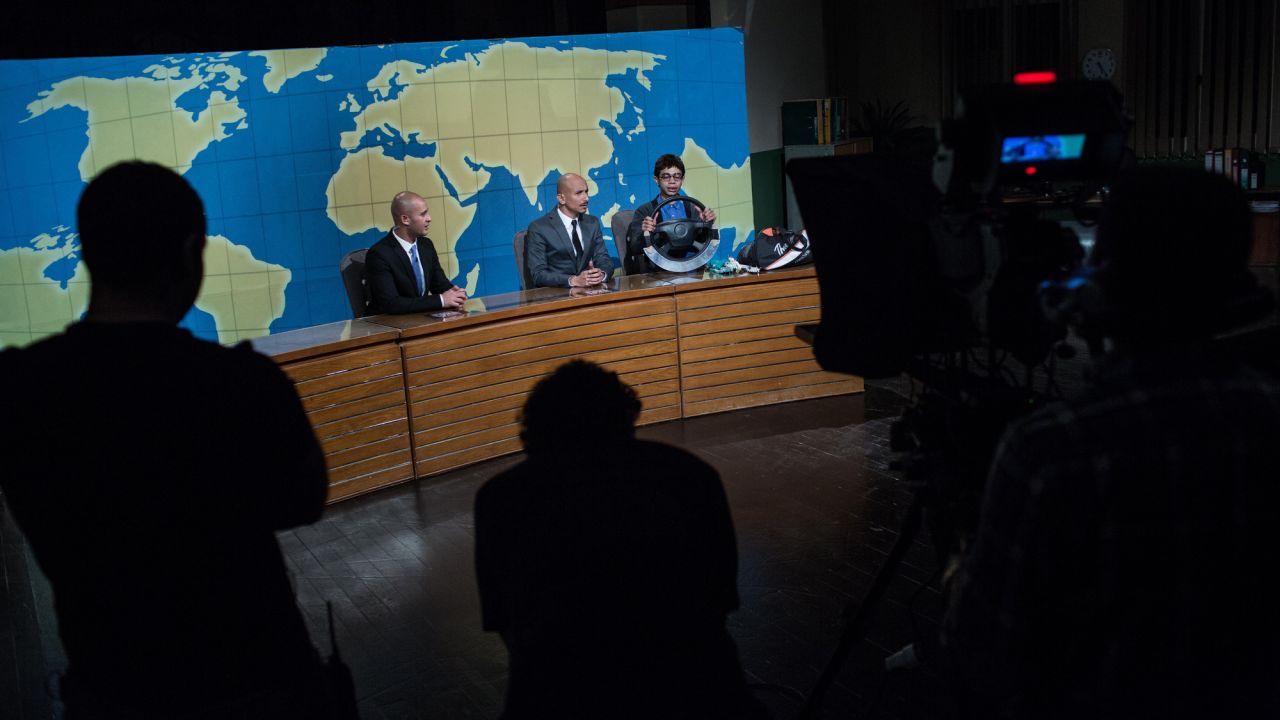 Live, from Cairo, it's Saturday Night!
Then they realize their skin color is darker so they think maybe Italy or Spain.
Listening to the conversation in the room, they hear Arabic and think they'll be rich in Dubai.
Finally, they hear a very Egyptian word and freak out, refusing to be born.
The show won't shy away from the region's mounting problems, but hopes to tackle them with a unique sense of humor.
"We are trying to do something original. We aren't trying to break taboos but like one the way we do but not intentionally," explains Mansour. "We are trying to make it suitable for a Middle East audience."
Even the terror group ISIS is fair game. "SNL in Arabic" is pointedly referring to them by the derogatory Arabic name, Daesh.
"They get pissed off from [being called] Daesh, so we say Daesh," Mansour adds. "It's quite different if you know that enemy and know all the inside information that could give you the upper hand to make people laugh."
'They are doomed'
It took two years of planning to get the show on air.
The Cairo version will follow the original "Saturday Night Live" satirical sketch comedy model, codified in the SNL bible for franchises around the world.
Last May, several members traveled to New York to meet the original show's cast.
"They had 40 years of figuring it out and to write it in one format book," says Alfons. "It's just a matter of finding the right content for our audience and tweaking the jokes so they are relevant and funny to the entire Middle East."
There will be weekly celebrity hosts. The premiere's guest is one of the region's biggest movie stars, Egyptian actress Donia Samir Ghanem.
They'll also have the other "SNL" mainstays of sketches, digital shorts, the news with "Weekend Update," and live performances.
Three members of the New York cast – Pete Davidson, Taran Killam and Aidy Bryant – posted a video wishing their Egyptian colleagues well.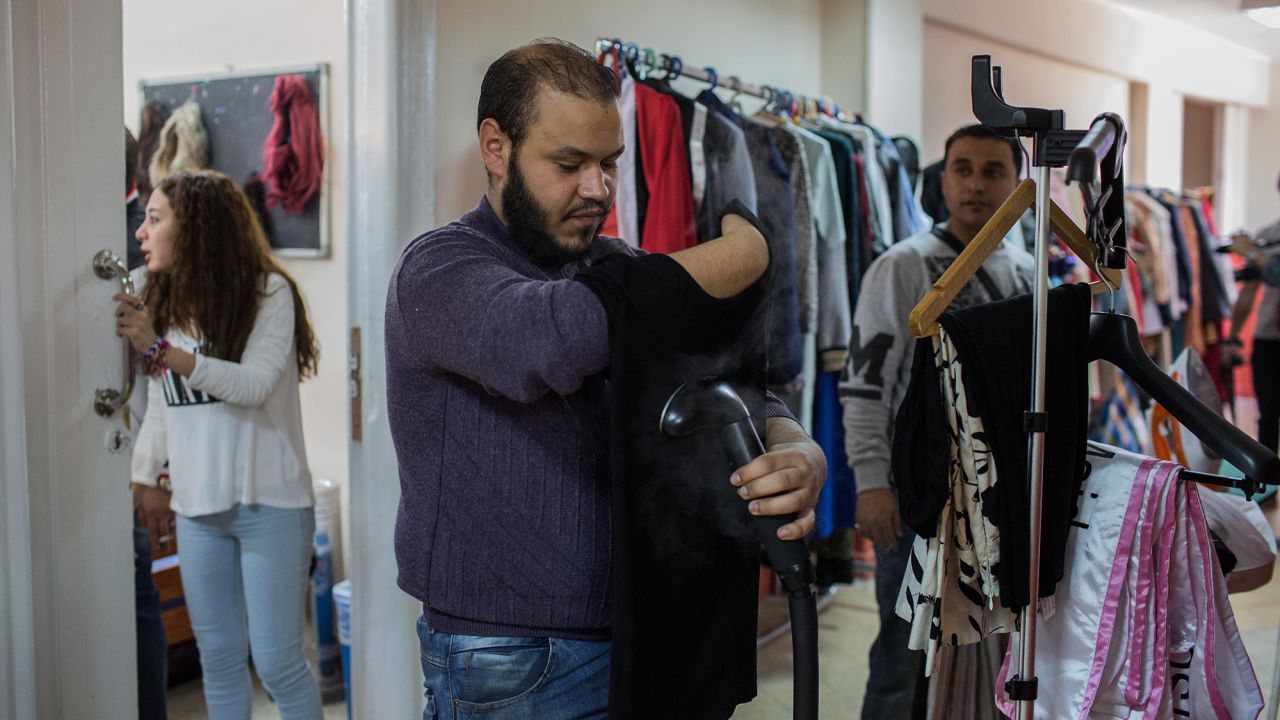 "Welcome to the 'SNL' family and good luck!" they say. "Bye! Later!"
"We done? Yeah, good luck. … They are doomed," adds Killam.
"It's going to be tough, it's a tough job," says Bryant.
It is a tough job. "SNL in Arabic" puts on two shows a week with a quarter of the staff of the parent show. While they do a one-take performance in front of a live studio audience, the show isn't broadcast live for technical reasons.
They hope that will change soon.
Newbie binge watching
"It is hell, (Davidson, Killam and Bryant) were right about that," says Yara Fahmy, one of the four female cast members. "It's an amazing kind of hell."
Fahmy worked a desk job before auditioning with hundreds of other Egyptians to make the final cut of 12 cast members.
She admits she didn't know about the original "Saturday Night Live" before her audition.
"I went online and looked it up then I started binge watching 'SNL.' I was totally in love," she says. "Kristen Wiig, she is amazing. Every character she does is different. She just appears and people start to laugh. So confident."
"SNL in Arabic" isn't the first satire show in the Middle East.
"'ElBernameg' set the tone for this kind of comedy. It was satire, political and social," says Mansour. "It kind of set a bar for everyone to try to meet. We are trying to live off that legacy."
"ElBernameg" rose out Egypt's 2011 revolution.
Host Bassem Youssef, was dubbed the Middle East's Jon Stewart. Alfons and Mansour both worked on the groundbreaking program that boasted a weekly audience of tens of millions of people across the Middle East.
But in July 2013, the military overthrew one of the main targets of Youssef's satire, Egyptian President Mohamed Morsy. When Youssef applied the same sharp wit to the country's new rulers, the show was quickly taken off air. Bassem Youssef now lives in self-imposed exile.
WATCH: Bassem Youssef crashes CNN
The new comedy show will appear on OSN, a private, paid satellite service in the Middle East that is known for its lack of censorship.
"'SNL' will ruffle some feathers for sure, but we will always be respectful to our cultural identity. One can criticize without prejudice," says OSN's EVP of programming and creative services, Khulud Abu Homos. "It's a thin line sometimes, but we are determined to make sure a balance is set between edgy comedy and responsible comedy."
Mansour and Alfons also know the red lines firsthand.
"We can't really push so hard we repel people. We have to build a fan base and foundation first," explains Alfons. "We still push the envelope, and by some people's standards that's not cool. But we will crush them."
"No," Mansour interrupts. "That's a little bit ISIS-y, don't say that."