Story highlights
Boris Johnson was favorite to take over from David Cameron as prime minister
The eccentric former journalist is one of Britain's most popular politicians
But a week after Brexit vote he has ducked out of the race for prime minister
He is one of the the country's most popular and eccentric politicians and excels when it comes to hosting satirical television shows – but Boris Johnson has ducked out of the race for prime minister of the United Kingdom.
Never one to shy away from the camera or shoot from the lip, the former mayor of London was a serious contender to replace David Cameron as leader of the UK.
All eyes were on Johnson after Cameron announced he would be resigning after the UK voted to leave the European Union.
But a week after Britons voted for Brexit, Johnson announced he would not be entering the race for leader of the Conservative Party.
A leading voice in the Leave campaign, Johnson said in a press conference on Thursday that the Brexit vote was "our moment to stand tall in the world".
But added: "Having consulted colleagues and in view of the circumstances in Parliament, I have concluded that person cannot be me."
Known almost exclusively by his first name, or his nickname, "BoJo," the idiosyncratic Conservative is routinely labeled a reckless loose cannon by his critics.
Biographers have likened Johnson's appearance, tousled blond mop and all, to a "human laundry basket" or a "haystack on a bicycle."
Public gaffes
He is well known for making gaffes in public and was forced to apologize for racist comments after referring to black people as "piccaninnies" in 2008.
But while popular during his eight years as mayor, presiding over the London 2012 Olympics and introducing his successful cycling program, he was met with a chorus of boos and jeers when he left his home in London on Friday.
The Leave campaign triumphed with 51.9% of the vote to win by 1,269.501 votes, with turnout at 72%.
"I think he has earned his place on the shortlist," Johnson's father, Stanley, told CNN's Christiane Amanpour in an interview where he defended his son's campaign, despite backing the Remain vote.
Top job
Johnson was mayor of London from 2008 until May this year where he re-entered Westminster as a member of Parliament for Uxbridge and South Ruislip.
By disposition, the Oxford-educated former journalist is a "maverick – a man who can't see an apple cart without wanting to overturn it," said Andrew Gimson, author of a biography on the 52-year-old.
"He's not an old-style 'Euroskeptic' who takes his own tea bag with him when he gets on the channel ferry to go to some place full of ghastly foreigners.
"He's very good at putting the moderate case and speaking of having a relationship with Europe – he just doesn't want Europe to be telling us what to do."
'Intellectually more capable'
Johnson, said Gimson, "undoubtedly considers himself to be a great deal more gifted" than Cameron.
"I think he feels the clock ticking – he's two years older than Cameron. If he doesn't have a crack … now, he's unlikely to ever get a better opportunity."
To Gimson, Johnson's sense of his greater abilities stems back to their school days, where the mayor developed a dazzling intellectual reputation.
"I think he feels intellectually more capable. Here is a man with a knowledge of Latin and Greek who actually reads books for pleasure," he said.
Johnson outshone Cameron for years – first at Eton, then Oxford, and then as The Daily Telegraph's Brussels correspondent.
Johnson quickly became an influential voice for his Euroskeptic writings, "lobbing bricks over the wall and hearing the crash of glass on the other side." He went on to become editor of British magazine The Spectator.
By contrast, Cameron made his professional name working as a political insider "totally unknown to the general public."
Signature style
It was also during his schooldays that Johnson began to develop his signature performance style – one that has become a hallmark of his public appearances.
"He realized it was more amusing to give a performance which wasn't immaculate and where you sometimes appear to forget your lines than to do something smooth and immaculate."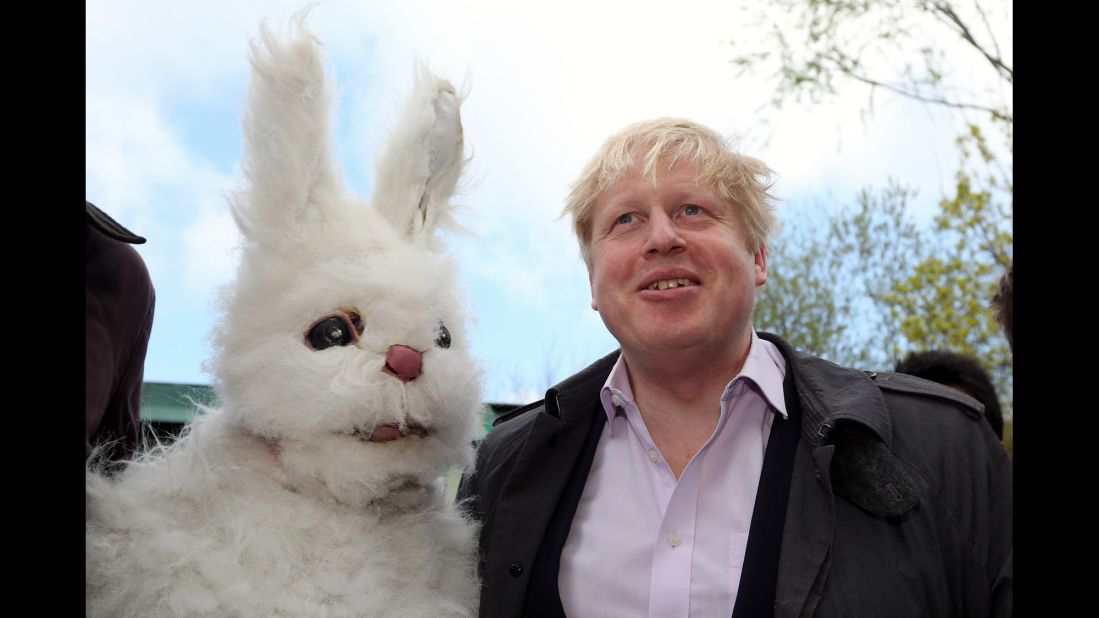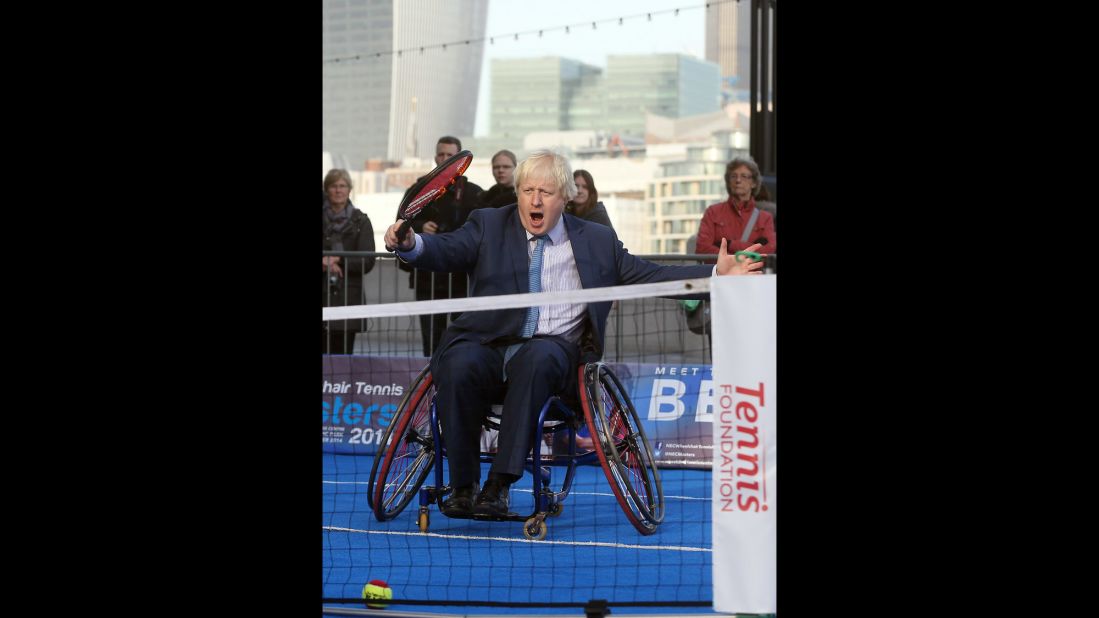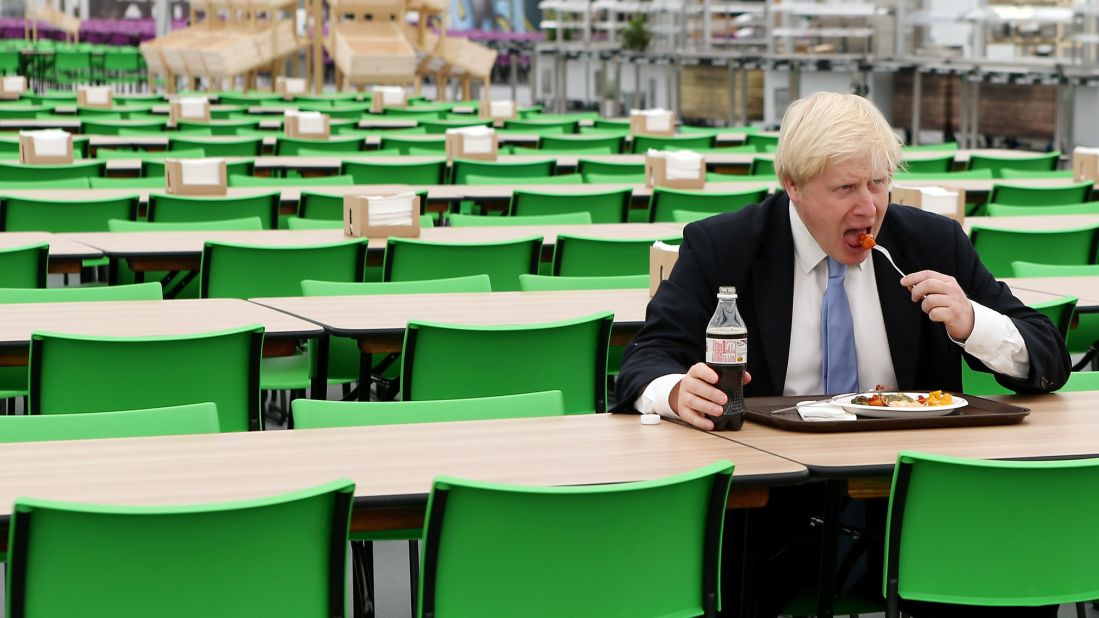 The many faces of Boris Johnson
Johnson is said to muss his mop of blond hair before public speeches, giving him his trademark unkempt appearance, and is not afraid of being laughed at – or even of appearing buffoonish.
In 2012, in a promotional appearance for the London Olympics, he rode a zip-line only to become stuck, dangling comically in his suit with a British flag in each hand. Pictures of the malfunction went global.
In Gimson's estimation though, Johnson succeeded in upstaging Cameron during the Games, London's big moment on the international stage.
"Boris is not really a team player," he said.
"He's a leader, and either his party and the country will accept him as leader, or he'll be in the wilderness."