Story highlights
Two Kansas moms are raising three daughters with microcephaly
The rare birth defect results in an underdeveloped head and brain
Microcephaly is potentially linked to the Zika virus outbreak
Six-year-old Anika Aramburu darts in and out of the rooms of her small home. In just minutes her attention flits from a toy train to a colorful plastic matryoshka nesting doll to a wooden puzzle piece to a Cabbage Patch Kid doll. Everywhere she goes, one of her parents holds her hand so she won't fall down.
"She loves to just go constantly," her mother, Angelina, said. "She never sits down, which, you know, isn't too bad for a little girl that wasn't supposed to walk."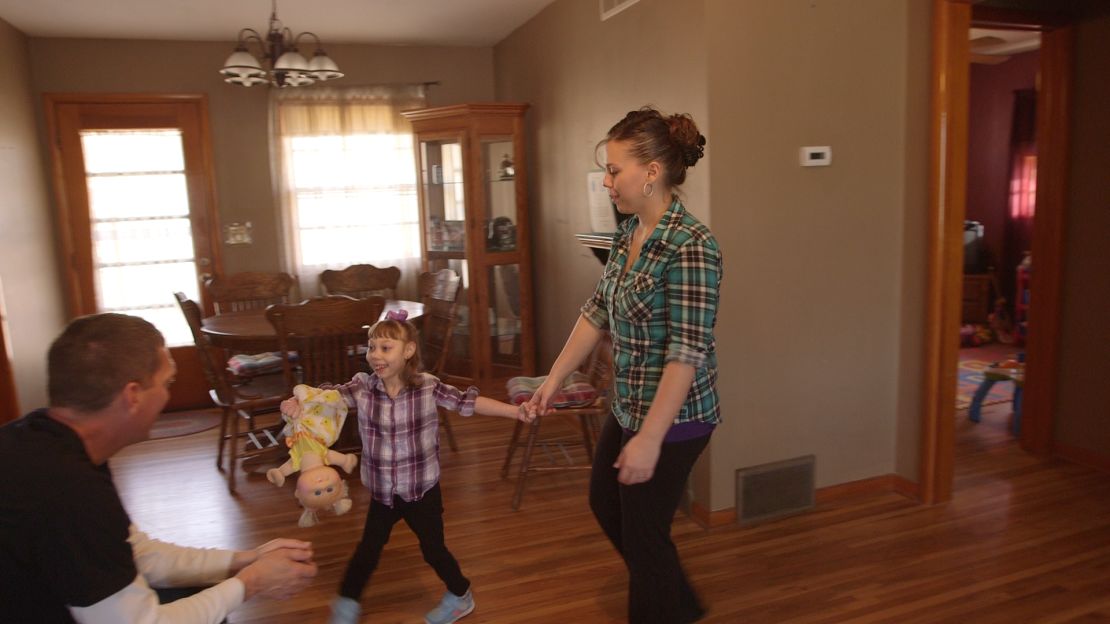 Anika's head and brain are underdeveloped, the result of a rare birth defect called microcephaly.
In the U.S., for every 10,000 babies born, only two to 12 will have the condition. Although the cause is largely a mystery, it's been linked to random or inherited genetics, malnutrition and certain infections during pregnancy.
An unproven but strongly suspected link to the Zika virus that is rapidly spreading across the Americas has raised recent fear and concern. Brazil and French Polynesia are seeing alarming spikes in babies born with microcephaly, and the World Health Organization estimates 3 to 4 million people in the Americas will contract Zika within the next 12 months.
"We just want people to see that she's not scary," Angelina said about Anika. "There's nothing scary about microcephaly. It's not always easy, but she's a blessing."
'Micro mommies'
On the day Anika was born, a neurologist told Angelina and the baby's father, Jesse Carter, that their daughter would never show emotion, or be able to eat on her own, or recognize them as her parents. Her life would be short, perhaps no longer than a year.
Angelina was undeterred. If doctors couldn't help Anika, she figured maybe other families raising children with microcephaly could. She found 50 moms on the Internet. Among them, by utter providence, was a mom in her own city, Gwen Hartley, who had two daughters with the condition.
"She opened her arms to us immediately," Angelina said. "I lean on Gwen all the time. She's who I cry to, and who I vent to. She's always been there for us."
Gwen and her husband, Scott, received a devastatingly similar microcephaly diagnosis years earlier after their daughter, Claire, was born. The signs and symptoms were evident even on the day of her birth.
"She looked so cute, and she was so tiny. And I remember my first words were, 'Oh my gosh, you forget how tiny their little heads are.'"
The doctor asked Gwen what she was going to name her baby. "Claire," Gwen answered.
"Claire is a beautiful name," the doctor told her. "I just want to let you know that there could be some problems with Claire."
"Well, we'll fix them," Gwen casually replied.
"I'm just not sure we can," the doctor said.
The Hartleys were crushed. They were told Claire would likely be dead within a year.
The months that followed were full of anxiety. Their young son, Cal, who was born healthy, once asked, "Mom, when is Jesus coming for Claire?" His question made his mother cry, saddened that her son had to worry about losing his little sister.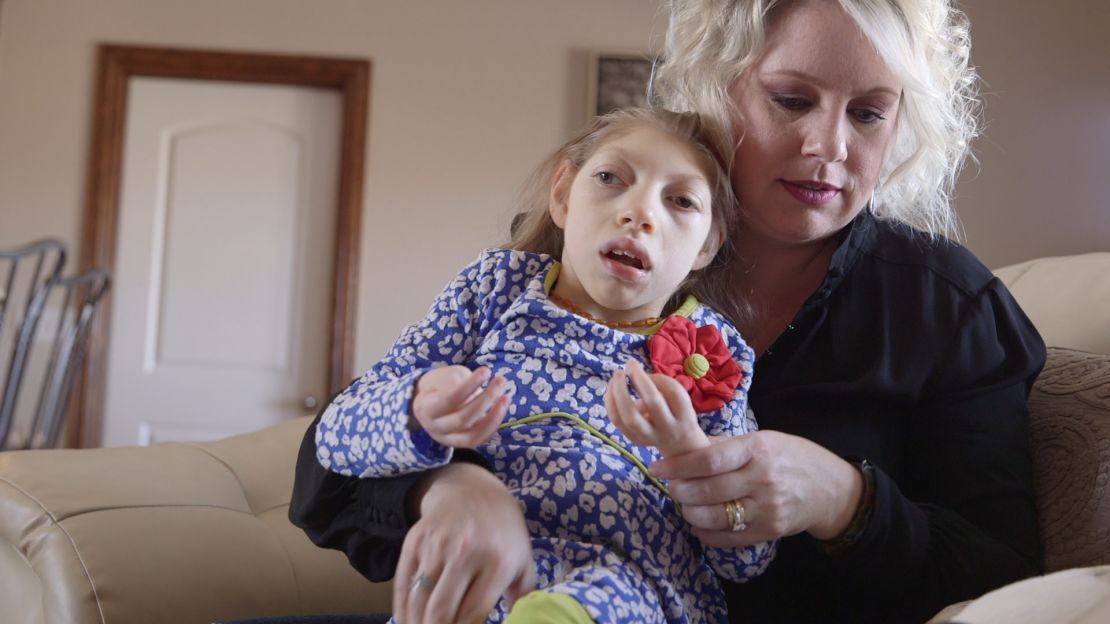 But Claire did not die that year. Or the next one. Or the one after that. When she was 4, the Hartleys decided to have a third child. Their perinatologist, a doctor who works with mothers on complicated, high-risk pregnancies, encouraged them.
"I remember him saying, 'You guys seriously have a 75% chance or greater that it's going to be fine, so just go in knowing that – knowing we'll check the whole pregnancy and it's going to be fine.'"
The pregnancy was not fine. At 26 weeks, doctors confirmed microcephaly. The Hartleys' second daughter, Lola, was born with the same condition as her older sister.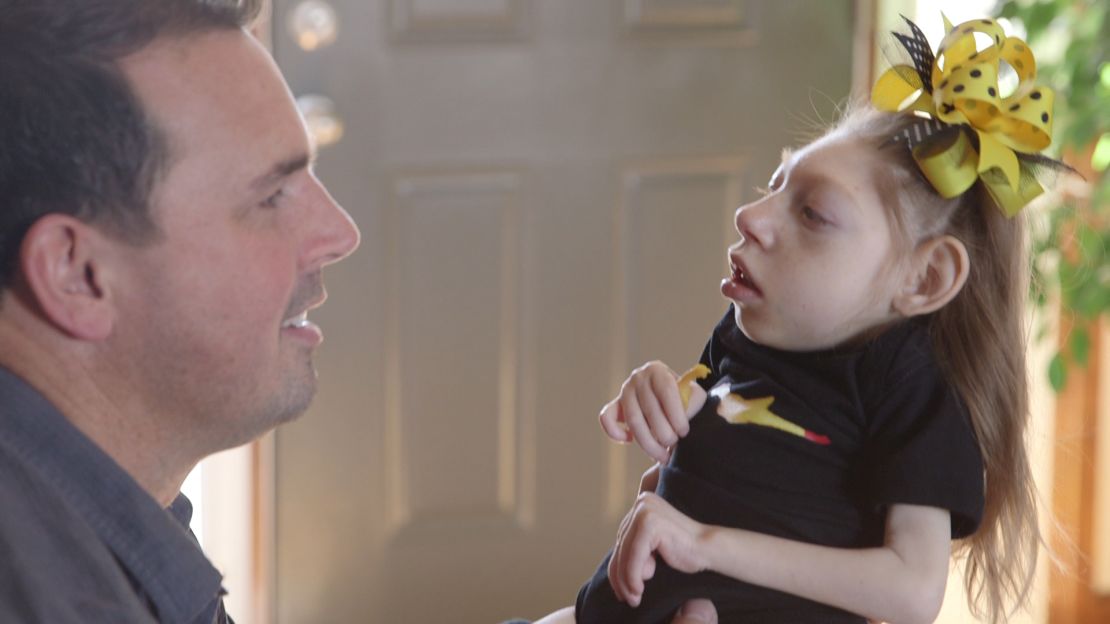 Today, Claire is 14 years old and Lola is 9. In addition to microcephaly, the girls have dwarfism, epilepsy and cerebral palsy. They are still tiny – roughly the size of a toddler and a large baby. Claire weighs about 23 pounds and Lola weighs about 12 pounds. They suffer seizures and have stiff muscle tone.
"You can diagnose them however you want, but they're just the sweetest, cutest little girls that I've ever been around," Scott said. "We just love them to death."
Angelina and Gwen like to bring their girls together for barbecues, hot tub swim sessions and other play dates.
"The girls have a chance to be around kids like them, rather than going to the park and having everybody point and stare," Angelina said. "The girls can just be themselves and hang out."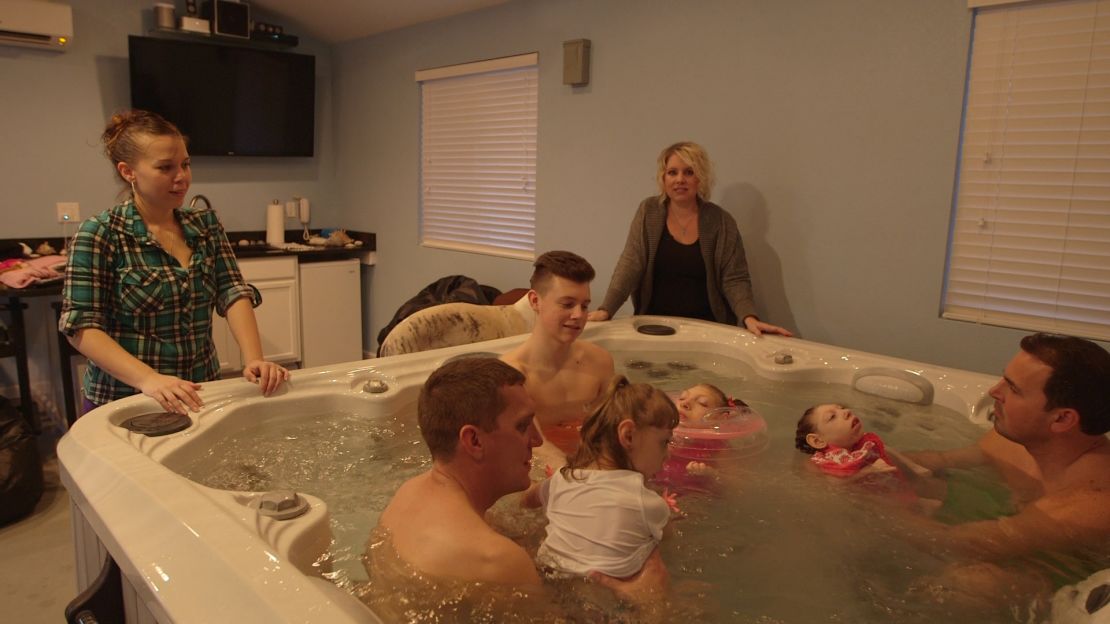 For Angelina, Gwen has become a source of inspiration – a time-tested, veteran "micro mommy" who's helped Claire and Lola far outlive the doctors' prognosis for their lives.
"You have spouses to lean on, or other families, but it's different with a mom that goes through it every single day," Angelina said.
Gwen is equally impressed by Angelina. "She's a badass mom," Gwen said. "She's probably one of the only other moms I know that's literally tried like a bazillion different things to make things work for her kid, and has found things that worked and defied odds."
Other moms can 'totally do this'
Gwen prays the moms in Brazil and French Polynesia who are now raising babies born with microcephaly, potentially from Zika, get help and resources. She knows the support system needed for them will be huge.
"I couldn't have done it without my team of therapists and doctors and people that cared about me and helped me figure how to do this and find my path," she said.
For moms living in a region far poorer than her own, she knows it's a lot to pray for. "They can totally do this," she said. "It's going to be the most trying experience of their life, but also the most rewarding."
As Zika continues its spread throughout the Americas, the United Nations high commissioner for human rights, Zeid Ra'ad Al Hussein, has called for a repeal of strict abortion laws that exist in many Latin American countries, including Brazil, so that women can choose whether to end their pregnancies.
"Upholding human rights is essential to an effective public health response and this requires that governments ensure women … have access to … safe abortion services," Hussein said in a U.N. statement issued last week.
In Colombia, where abortion is legal in some instances, pregnant women are, according to The New York Times, "considering – and, in some cases, having – abortions before any microcephaly cases have appeared in the country."
"The first time we heard doctors were encouraging abortion, it broke my heart," Angelina said.
Angelina and Jesse were encouraged to abort her pregnancy. "They told us, you know, no one is going to judge you if you go ahead and abort the baby and have healthy children later on. And if we had listened to them and believed that Anika was never going to do anything, she wouldn't be where she is today," Angelina said.
"That's the best decision we've ever had because she's just an amazing girl," Jesse said.
After Lola's microcephaly was detected, the Hartleys were also offered an abortion. "I gave it a lot of thought. For me it didn't feel right," Gwen said. "Knowing I had Claire, knowing I knew how to take care of her already, I just knew I could do it a second time."
She added that she would not judge women in Zika-affected countries who make the other choice. "I'm not walking in their shoes," Gwen said. "Alternately, if they choose to have this child I can guarantee them that it's going to change their lives in a positive way, and they're going to realize the depths of love that they're capable of."