Editor's Note: Explore America's most dramatic presidential elections on CNN's Original Series "Race for the White House," narrated by Kevin Spacey, Sundays at 9 p.m. ET. The article below first published in 2004.
Story highlights
The first televised U.S. presidential debate happened on September 26, 1960
A youthful and healthy-looking JFK won the TV debate over Nixon
About 40% of Americans tuned into the "Great Debates" of 1960 between Kennedy and Nixon
On radio, most pundits and polls scored the September 26, 1960, debate between presidential candidates Richard M. Nixon and John F. Kennedy a draw, with some giving the Republican contender the edge.
But on television, it was no contest.
Throughout the 60-minute program set in a Chicago TV studio, the 43-year-old Kennedy "looked to be radiating health," said presidential historian Robert Gilbert. Kennedy wore a dark suit and had a wide smile and vivid tan.
Nixon, on the other hand, appeared pale and a bit listless. He had just gotten out of the hospital, where he had lost weight after a knee injury. In a gray, ill-fitting suit and hastily added pancake makeup, Nixon looked – even if he did not necessarily sound – a pale shadow of the aggressive, composed senator from Massachusetts.
"I was listening to it on the radio coming into Lincoln, Kansas, and I thought Nixon was doing a great job," former Sen. Bob Dole, the GOP's 1996 presidential nominee, recalled in a PBS interview. "Then I saw the TV clips the next morning, and he … didn't look well. Kennedy was young and articulate and … wiped him out."
Don't miss this 'Race for the White House' sneak peek!
About 40% of the nation's 180 million people tuned into the "Great Debates" of 1960, a series of four televised matchups between Kennedy and Nixon. Many political experts, like the New York Herald-Tribune's Washington bureau chief Earl Mazzo, credited Kennedy's debate performances for lifting him over the top in a tight election.
The forums' wide exposure and impact on the election made them perhaps the most renowned political debates since 1858, when U.S. Senate candidates Abraham Lincoln and Stephen Douglas faced off in Illinois towns.
The Nixon-Kennedy debates' significance extended well beyond 1960. The use of television to transmit an image or idea instantly to millions soon made presidential campaigns more of a spectator sport.
"I don't think it's overstating the fact that, on that date, politics and television changed forever," said Bruce DuMont, a nationally syndicated radio talk show host and president of the Museum of Broadcast Communications. "After that debate, it was not just what you said in a campaign that was important, but how you looked saying it."
Cosmetic politics
Not everyone was impressed with the first debate or excited about the prospect that TV could change the face of politics.
One day after the Chicago encounter, CBS-TV newsman Edward R. Murrow said, "After last night's debate, the reputation of Messieurs Lincoln and Douglas is secure."
Historian Henry Steele Commager, in a subsequent New York Times piece, said he hoped "TV debates will be eliminated from future presidential campaigns" after the 1960 affairs.
"The present formula of TV debate is designed to corrupt the public judgment and, eventually, the whole political process," he wrote. "The American presidency is too great an office to be subjected to the indignity of this technique."
John and Jackie: A love story
While the debate's "cosmetic aspect" dominated the postmortem commentary, according to DuMont, Kennedy and Nixon did touch on weighty issues, including civil rights and the threats posed by communist China and the Soviet Union.
"The question now is: Can freedom be maintained under the most severe attack it has ever known? I think it can be," Kennedy said.
Before the debates, Nixon had the higher public profile as vice president to the popular President Dwight D. Eisenhower. So – much like his challenge to veteran Sen. Henry Cabot Lodge in debates during a 1952 senatorial race – Kennedy gained in stature simply by sharing the stage with his Republican opponent.
"The fact that a person can stand next to a famous person and go toe to toe with them, it elevates them in the public eye," said DuMont.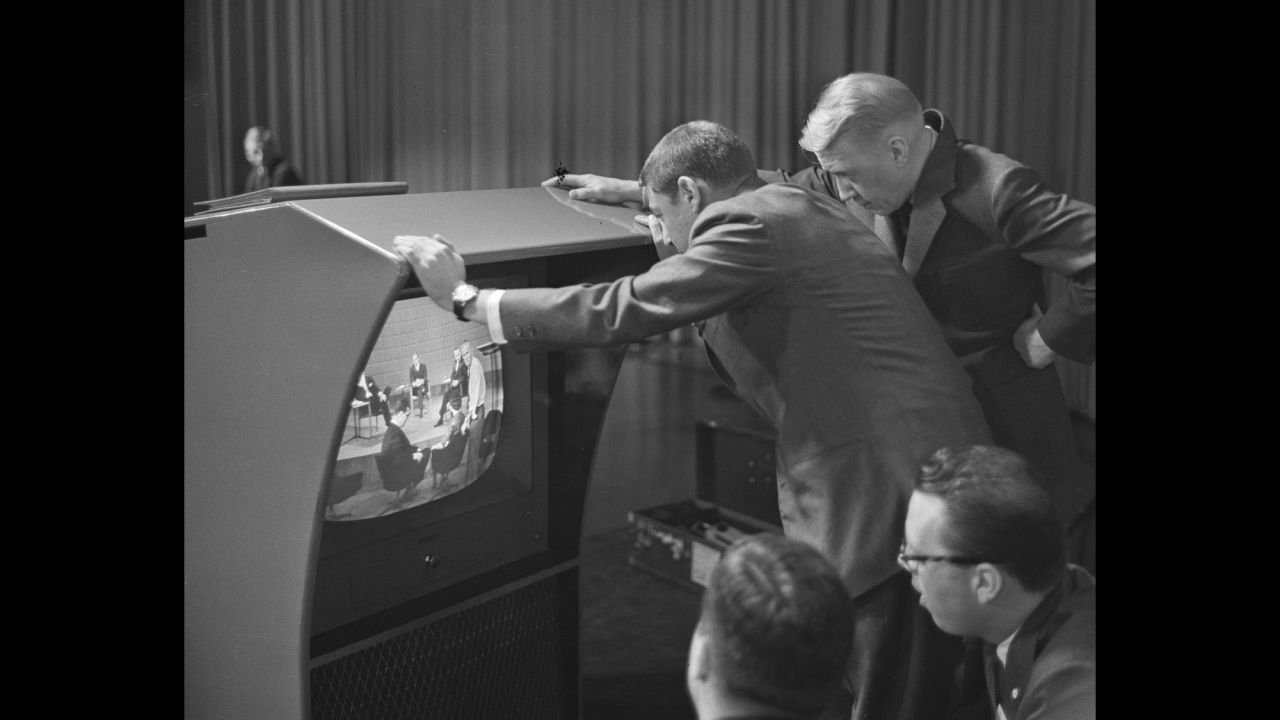 The first televised debate
Some publications initially gave the vice president a slight edge, with The New York Times writing, "On sound points of argument, Nixon probably took most of the honors."
But as the buzz grew about Nixon's pallor and Kennedy's vigor, most pundits identified the senator from Massachusetts as the clear winner – a strong enough verdict, say historians, to discourage Nixon from debating in 1968 or 1972.
After citing its support for Nixon, even the staunchly conservative Union Leader newspaper in Manchester, New Hampshire, concluded, "Frankly, we thought Nixon was clobbered."
A turn in television
To air the 1960 debate, CBS bumped one of its most popular programs, "The Andy Griffith Show," a lighthearted program about a sheriff raising his son set in a quaint North Carolina town.
"The innocence of the 1950s ended with (the bumping of) 'The Andy Griffith Show,' and the seriousness of the 1960s began with the first Kennedy-Nixon debate," said DuMont, noting television until 1960 was largely defined by comedies, variety acts and game shows but little hard news.
The medium also gave politicians the chance to address tens of millions of people at once. About 90% of Americans could access television and its three major networks by 1960, said Alan Schroeder, author of "Presidential Debates: 40 Years of High-Risk TV."
"The 1960 debates are the turning point from retail politics – glad handing and meeting everyone face to face – to the politics of mass media," said Schroeder.
Politicians, careful to avoid Nixon's pitfalls, have stressed style as well as substance in recent decades, knowing that their words and actions not only will appear in newspaper accounts but will be repeated over and over in Americans' living rooms.
"Since the age of television, presidents have become like movie stars," said Gilbert.