Story highlights
Splinter group of Pakistani Taliban claims responsibility for the bombing
Suicide bombing hits park Sunday evening when many families are out
Islamabad, Pakistan
CNN
—
On Easter Sunday, a crisp spring day, some of the city's Christian population mingled with their Muslim neighbors, celebrating in a neighborhood park – taking their kids on rides or pushing them on swings. Then, the sound of tragedy.
Without warning, a blast tore through the park, killing indiscriminately.
Because of the innocent setting, an unusually high number of those injured were women and children. But the attack, claimed by a splinter group of the Pakistani Taliban, intentionally targeted Christians, the perpetrators say.
The suicide blast, in the eastern Pakistan city of Lahore, killed at least 69 people, a local government spokesman told CNN.
More than 341 others were injured, according to Punjab government spokesperson Jehangir Awan.
It comes at a difficult time for Pakistan's Christians, some of whom were in the city's Gulshan Iqbal Park to celebrate the holiday Sunday evening, only to see their Easter Sunday fragment into terror and chaos.
The religious group makes up only 2% of the population, and tensions are high between them and a hardline Muslim core which wants to see a strict interpretation of Islamic law take precedence in Pakistan's legal system.
'Dead bodies … everywhere'
Sunday's attack came at a poignant time for Pakistan's Christians, some of whom were in the city's Gulshan Iqbal Park to celebrate Easter on Sunday evening.
"It was so crowded that there was even no way of entering it," he told reporters. "There was suddenly a big blast. Everyone panicked, running to all directions. Many of them were blocked at the gate of the park. Dead bodies can be found everywhere."
He said one of his sisters died; the other was wounded.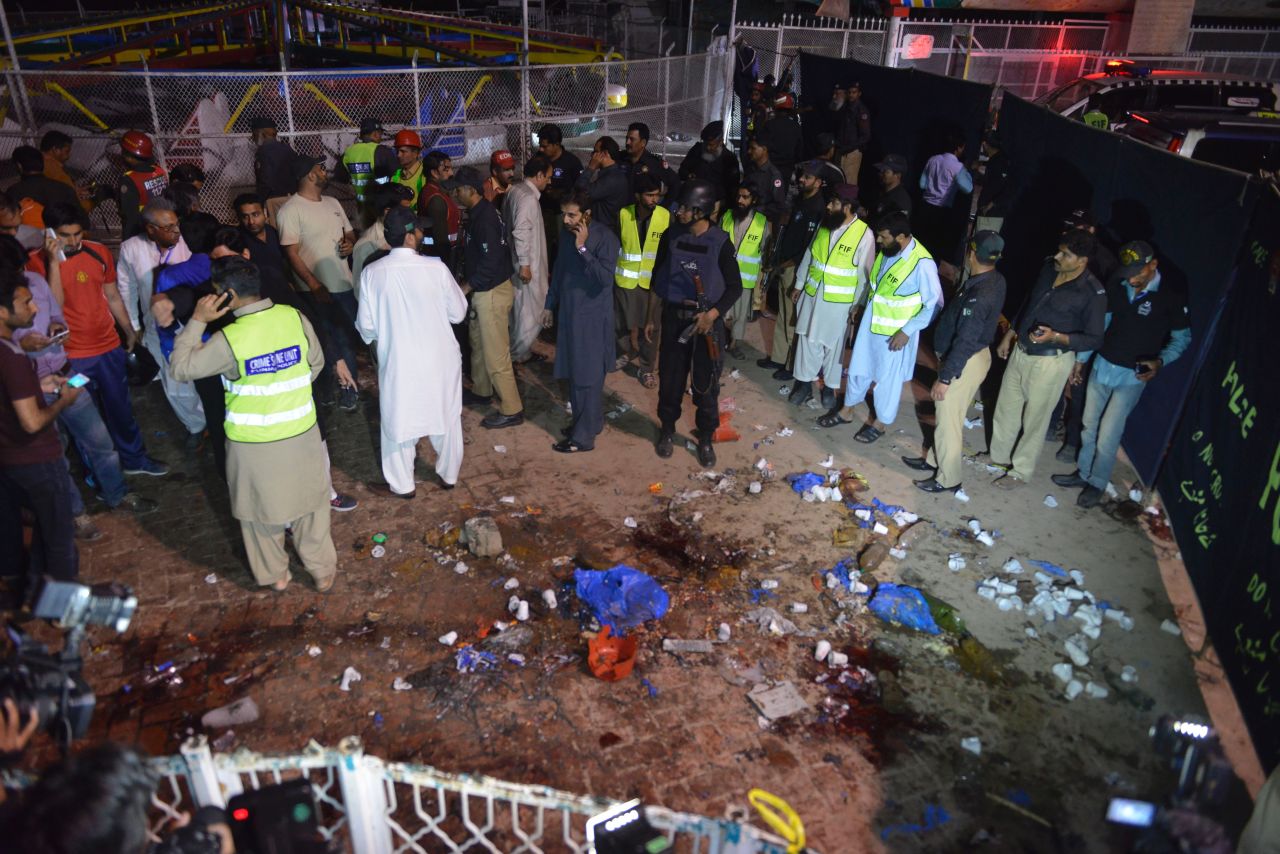 Scores killed in Pakistan blast
Sharif, a Lahore native, condemned the blast and met with law enforcement and intelligence officials Monday.
"I want more proactive coordination between law enforcement and intelligence agencies. Provinces should speed up intelligence-based operations against terrorists. We must take this war to the doors of terrorist outfits before they are able to hit our innocent countrymen."
The two main military operations that are ongoing are in the city of Karachi and in the northern tribal areas of North Waziristan.
Blasphemy law protests erupt
Protests erupted again Sunday, almost a month after a former bodyguard who assassinated a moderate politician was executed. Mumtaz Qadri, was hanged in a Rawalpindi prison February 29, five years after being found guilty of shooting and killing Punjab Gov. Salman Taseer.
The governor had spoken out against the blasphemy law that makes insulting Islam a crime punishable by death.
As many as 10,000 demonstrators gathered in the capital, Islamabad, Friday, praising Qadri and demanding changes to Pakistan's laws, including the adoption of Sharia law, according to local media reports.
International condemnation
Indian Prime Minister Narendra Modi, who has worked to thaw the icy relations between his country and Pakistan, called Sharif on Sunday to express his grief over the bombing.
The Indian leader expressed solidarity with Pakistan, the Pakistani state-run news agency reported.
"Modi said coward terrorists had targeted females and kids which was highly condemnable and regrettable," according to the news agency, the Associated Press of Pakistan.
The United States and Australia also condemned the attack.
"This cowardly act in what has long been a scenic and placid park has killed dozens of innocent civilians and left scores injured," U.S. National Security Council spokesman Ned Price said in a statement.
Australian Foreign Minister Julie Bishop echoed the sentiment.
"As Christians worldwide celebrate Easter, a shocking terrorist attack in Lahore, Pakistan, reminds us that terrorism is a global scourge," she said Monday.
"The Australian Government condemns this horrific act that has killed dozens of civilians, including children, and expresses our condolences to the people of Pakistan and its government at this time."
History of violence
In March of last year, suicide bombers attacked a Christian community, also in Lahore, setting off two blasts that killed at least 14 people and wounded dozens more, officials said.
The Pakistani Taliban claimed responsibility for those attacks. And they warned of more to come.
The explosions, which struck the Nishtar Colony area in the city of Lahore, wounded at least 78 people, a Lahore General Hospital official said at the time.
And in 2013, suicide bombers struck a church in the northwestern city of Peshawar, killing more than 80 people.
CNN's Adeel Raja, Zahir Sherazi, Yuli Yang and Jethro Mullen, and journalist Daniyal Hassan in Lahore contributed to this report.