China's workers have driven the explosive growth of its economy in recent decades. Now, with record numbers of strikes across the country, the government views them as an existential threat, and it may just be right.
The eight migrant workers gazed out at the crowd as the verdict was read out.
Flanked by two guards apiece and watched over by armed police they listened as the judge sentenced them to between six and eight months in prison.
Their crime: protesting for unpaid wages.
The scene looked like something out of the Cultural Revolution.
Hundreds of local residents massed in the public square, under banners denouncing the "crime of severely obstructing social-administrative order" and urging people to pursue "rational efforts in seeking unpaid wages", as judges and prosecutors gave those gathered what they called an "education in the law," according to state media.
But this was Sichuan province in March 2016, and a dark sign of how far labor relations have worsened in Communist China as economic growth has slowed to its weakest in a quarter of a century.
Country in revolt
From 2011 to 2013, China Labor Bulletin (CLB), a Hong Kong-based workers' rights group, recorded around 1,200 strikes and protests across the country. In 2014 alone, there were more than 1,300 incidents.
The following year, that number rose to over 2,700 — more than one a day in Guangdong province — a pattern that has continued into 2016.
A glance at the map of incidents shows no province of China unaffected by strikes or worker protests, a far sight from the image of technocratic control and permanent growth that the ruling Communist Party likes to present to the world.
"The fundamental cause has been the systematic failure of employers to respect the basic rights of employees, such as being paid on time and receiving their legally mandated benefits, and the failure of local government officials to enforce labor law," according to CLB.
With protests already at record rates according to CLB, Beijing is preparing for a mass-downsizing of China's bloated state-owned industries, beginning with the laying off of more than 1.8 million steel and coal workers.
The government has promised to allocate up to 100 billion yuan ($15.4 billion) in two years to help laid-off workers find new employment, according to state media.
While some strikes — generally those involving foreign companies, such as a September 2014 walkout involving more than 10,000 workers at an Apple supplier in Dongguan — are widely reported, most go largely unreported outside their immediate areas, with information only seeping out later via human rights monitors and activist groups.
Frustration over wage disputes and labor issues has led to violence.
In January, a migrant worker in northwest Ningxia province set fire to a bus after a financial dispute with a construction contractor, killing 17 people, according to local officials.
Turning point
A 2010 strike at the Nanhai Honda car plant in southern China was a turning point for the country's labor movement – showing for the first time that a young migrant workforce could stand up and successfully fight for their rights, according to Eli Friedman, author of "Insurgency Trap: Labor Politics in Postsocialist China."
The production line was brought to a halt by 23-year-old Tan Guocheng, who shouted: "Don't work for such low wages! Don't work for such low wages!" as he hit the emergency stop button.
Dressed in matching, formless white uniforms and red Honda-branded baseball caps, dozens and then hundreds of young workers filled the factory's courtyard, chanting slogans and singing patriotic songs.
The strike would last 19 days and grow to include almost the entire factory's workforce, crippling its production schedule and forcing management and government officials to cede to strikers' demands in a rare decisive victory for workers.
While it acknowledged the extreme pressure put on its production chain by the strike, Honda did not officially comment on its resolution or negotiations with workers.
"There were many strikes that summer in which workers won large wage increases, and in some cases, democratic union elections," says Friedman.
Analysts say such worker activism happens in spite of, not thanks to, Chinese trade unions, all of which fall under the official control of the All-China Federation of Trade Unions (AFCTU), the world's largest labor organization.
Established in 1925 under the auspices of the nascent Chinese Communist Party (CCP), the AFCTU quickly grew to represent millions of workers across the country.
The union's control of the Chinese labor movement is total, any attempt by workers to organize or negotiate outside of the official structure is seen as an attack on state power.
"It was never designed to function as a real trade union," says Geoff Crothall, CLB communications director.
Except in rare circumstances, workers do not freely elect their own union representatives and corruption and abuse of power are endemic problems.
"Most of the so-called union officials know nothing about labor organizing or what it's like to work on a factory production line or construction site," Crothall says.
"They have a huge vested interest in maintaining their position."
ACFTU did not respond to a request to comment for this article.
The union recently named a migrant worker as vice chairman for the first time in what officials described as an effort to better represent grassroots labor.
The fall of China's industrial heartland
Worst to come?
While the economic slowdown saw 2015 become a banner year for worker protests, it may seem just a blip compared to what is to come, as Beijing prepares to cut millions of jobs across multiple state-owned industries.
With millions of more jobs on the line, according to Reuters, the restructuring would be the most significant reform of the state sector since the late 1990s and early 2000s, at which time 28 million workers were laid off and the government paid out more than 73 billion yuan ($11.2 billion) in severance packages.
The cost of mass layoffs may be what led some government officials to voice criticism of existing labor laws.
During the annual National People's Congress in March Finance Minister Lou Jiwei, a longtime critic of the Labor Contract Law, said current policy is "unbalanced" and overprotective of workers, meaning employers are unwilling to create new jobs and invest in training.
"An employee may not work hard and the law makes it difficult for the employer to deal with by, for example, firing him or her," he said, according to the state-run Xinhua news agency.
In February, Yin Weimin, Minister of Human Resources and Social Security, said the law had created a "lack of flexibility in the labor market and high labor costs for employers."
The Ministry of Human Resources and Social Security did not immediately respond to a request for comment.
In Benxi, in the industrial heartland of Liaoning province, workers are feeling the squeeze already.
The state-owned Benxi Iron and Steel company has cut wages dramatically and many employees have been laid off as the company faces slumping demand and a global steel glut.
One worker, who declined to give his name, said he'd been made redundant and then rehired as a day worker, meaning he no longer gets company health insurance or benefits.
"I have no choice," he said. "Life has to carry on. I have to work because I have a kid to take care of."
Chinese firms are becoming 'allergic' to hiring
Economic slowdown in China leaves trail of ghost towns
NGOs under pressure
With ever increasing numbers of strikes and protests, "it's been easy for local governments to blame NGOs for worker activism," even though the number of these groups is relatively small, says Manfred Elfstrom, a Cornell-based researcher who studies the Chinese labor movement.
Independent labor groups have been particularly hard hit in President Xi Jinping's crackdown on NGOS.  According to the U.S. Congressional-Executive Commission on China (CECC), in December 18 labor rights activists were detained in Guangdong province alone, with almost two dozen more interrogated, "contributing to an overall climate of fear."
"Pressure on these groups has ebbed and flowed in recent years. About a decade ago, at least one municipal trade union used to send staff to help out with NGO training," Elfstrom says.
Many NGOs have found it almost impossible to carry out their work, with at least one Guangdong group reduced to keeping all its materials in packing boxes ready for the next time it is forced to flee its premises.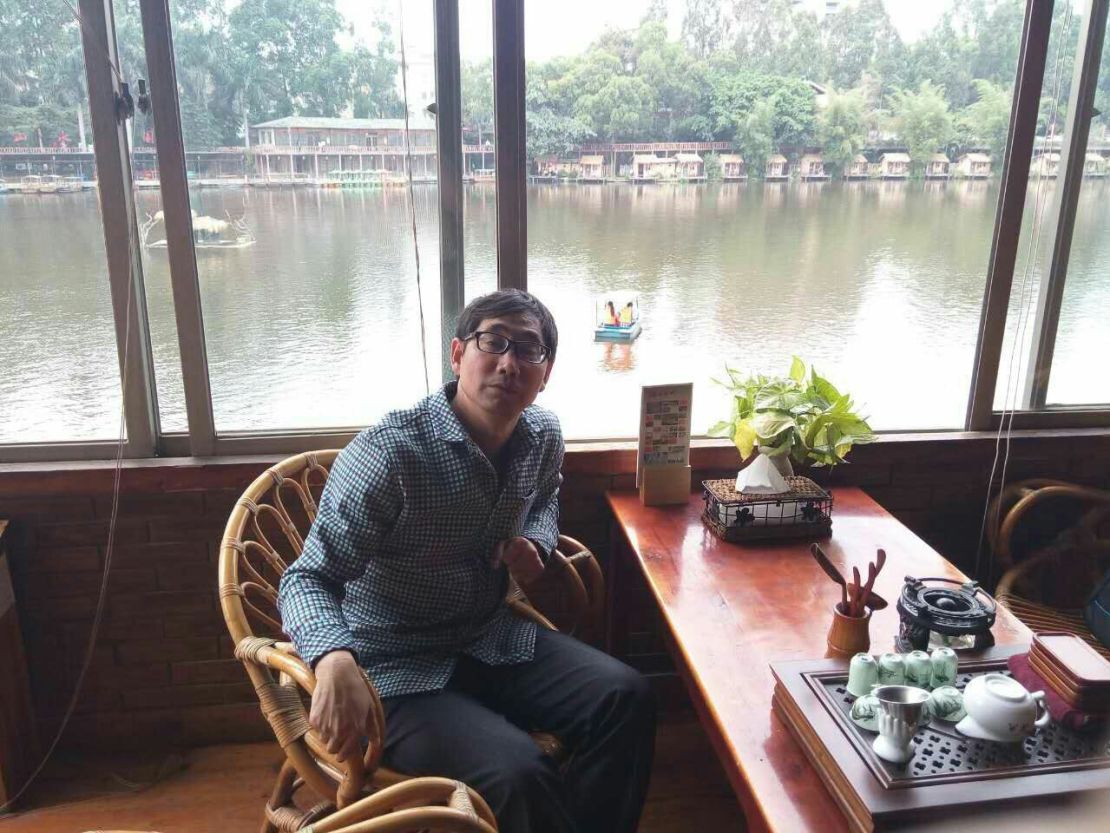 Wu Guijun, a former factory worker and longtime labor activist based in Shenzhen, knows the pressure well.
In May 2013, Wu, a bespectacled 43-year-old with neat, short-cropped black hair, helped organize a protest of around 200 workers against plans to relocate their factory to another city. He was detained for more than a year on charges of "gathering a crowd to disrupt traffic" before prosecutors dropped the case against him and ordered his release.
Using the 74,000 yuan ($11,350) compensation he received as part of his acquittal, Wu established his one-man labor rights group Xin Gong Yi, which provides legal advice to workers and helps them fight for their rights.
Despite having been imprisoned and the constant pressure from authorities and factory bosses, Wu says his biggest problem is fundraising.
"I'm a one-man band, with help from volunteers. Without money I can't hire people."
NGOs that receive funding or donations from overseas have to jump through regulatory hoops and seek official approval before they can access the money, according to the International Center for Not-for-profit Law, a U.S.-based NGO that promotes civil society.
While a new national Charity Law, due to come into effect in September, does purport to ease restrictions on fundraising and provide for tax benefits for registered charities, it is unclear whether labor organizations and other political NGOs will be granted official approval, and restrictions on foreign donations and support remain in place.
The Ministry of Civil Affairs did not immediately respond to a request for comment on how the new law would affect labor NGOs.
Fears of revolution
Thanks to concerted censorship of both traditional and social media, many protesting workers "often don't understand they aren't the only ones," says Maya Wang, China researcher at Human Rights Watch.
"They don't recognize that these are systematic failures not local grievances."
Because of this, protests and strikes "do not generate a kind of solidarity and political understanding within the greater population or facilitate a greater political consciousness."
"The absolute bottom line is making sure their workers are not coordinating," Friedman says.
While unrest in Xinjiang, Tibet and Hong Kong gains the most attention overseas, "in terms of actual number of disputes, labor is almost certainly the biggest source of conflict," Freidman adds.
"The authorities are concerned that this could cohere into a political force."
Signs of such resistance were on view in March, as coal workers in Heilongjiang province took to the streets to protest plans by state-run Longmay Mining Group to lay off more than 100,000 employees.
The protests forced an embarrassing reversal by governor Lu Hao, who had previously held Longmay up as an example of how Xi Jinping's push for restructuring of the state sector could be carried out.
Following the protests, Lu issued a statement vowing to "financially support" the firm to ensure that workers received unpaid wages, blaming managers at the company for withholding information.
"I had known that above ground workers had wages in arrears, but it's also true that workers down shafts are also in arrears, and I spoke wrongly about that," Lu told state media, which did not mention the protests.
Longmay Mining Group did not immediately respond to a request for comment.
Beijing is worried that any kind of greater political consciousness among workers "would lead to a bigger movement" that could threaten their hold on power, Wang says.
"If you look at the crackdown, it is specifically aimed at the pillars of civil society that have been most effective in pushing the government to do things."
This thinking is heavily influenced by the experiences of other Communist regimes, says Friedman.
The decision by the Polish government to allow workers greater freedoms after a series of huge strikes in 1980 led to the rise of the Solidarity Union – the first non-Communist controlled labor organization in a Warsaw Pact country – and the eventual end of one-party rule.
"Solidarity played an absolutely decisive role in ending Communist Party rule in Poland," Friedman says.
While it may have been able to buy off disgruntled newly-unemployed workers in the 2000s with resettlement packages and the promise of jobs in the booming private sector, Beijing may be facing far greater instability this time around, Wu, the labor activist, warns, and much more resistance.
"Workers used to have little awareness of the rights they had; nowadays the first thought they have after encountering issues is to protect their own rights, instead of giving up."
CNN's Shen Lu and intern Anna Kook contributed reporting from Beijing. CNN's Andrew Stevens and Felicia Wong contributed reporting from Benxi, Liaoning province.