Story highlights
The North Carolina law requires people to use the bathroom of their birth gender
HB2 is a civil act, not a criminal statute that could lead to arrest
Charlie Comero was disappointed when he learned last week that he had to start using the women's restroom in North Carolina, thanks to a new state law signed by Gov. Pat McCrory.
Under the Public Facilities Privacy & Security Act, in schools and government buildings people must use the bathroom that corresponds with their "biological sex," defined as the one "stated on a person's birth certificate."
That puts transgender people such as Comero, who does not identify with the gender on his birth certificate, in the uncomfortable position of being forced to pee with women.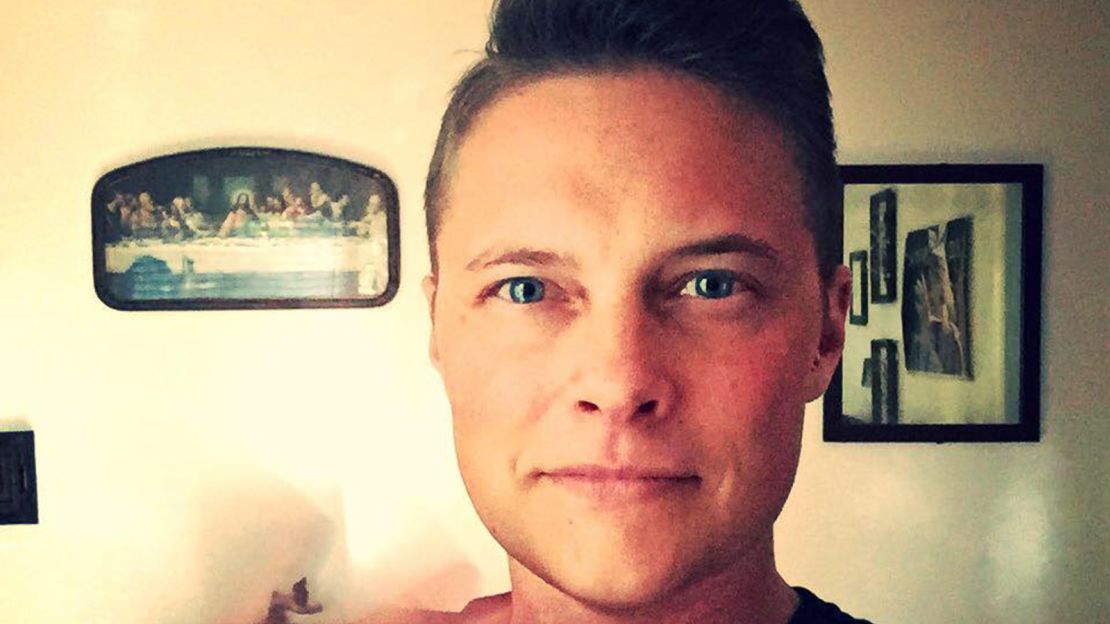 The Charlotte resident decided to prepare for the confusion that could arise from a man with a high and tight fade in the women's room.
He printed cards to hand out that read, "I'm following a law that was passed on March 23. I am a transgender man who would rather be using the men's room right now. This is likely uncomfortable for both of us. Please contact your legislature and tell them you oppose HB2."
The card, he learned, doesn't cover every circumstance.
Critics of HB2 warned of the potential downsides of restricting bathroom access based on a person's "biological sex."
Research shows that denying transgender and gender nonconforming people access to bathrooms of their choosing in schools and the workplace can have negative consequences on their education and employment. Many avoid using public restrooms altogether, leading to health problems such as dehydration, kidney infections and urinary tract infections.
Transgender people of color, especially transgender women of color, face disproportionate levels of harassment and violence when they are forced to use bathrooms based on their birth certificates, said Kris Hayashi, executive director of the Transgender Law Center.
Plus, it's a violation of federal law the prohibits discrimination based on sexual or gender identity, said Hayashi, echoing arguments in a lawsuit challenging the act. House Bill 2 also prevents cities from passing antidiscrimination ordinances to protect gay and transgender people.
Transgender people should keep in mind that HB2 is a civil act, not a criminal statute, Hayashi said. It does not make using the bathroom a criminal offense for which people can be arrested. Still, bearing in mind there's no way to predict how people will react to seeing transgender people in bathrooms, they should proceed with caution, Hayashi said.
"Transgender people should do what they need to do to feel safe when using restrooms, knowing police could be called, and they could face harassment even though this is not a criminal or arrestable offense," he said.
Other times, it can lead to awkward encounters, as Comero experienced.
'Transgender people are diverse'
While running errands in downtown Charlotte on Monday, he ducked into the government center to use the women's restroom. On his way out, he passed a woman who kindly pointed out he was using the women's room.
"I know," he said, and tried to hand her a card. She refused to take it and walked away. When he bumped into her again in the elevator and apologized for startling her, he said that she replied, "I hope I don't make that mistake again."
He's not sure what she meant by it, but the thought dawned on him: Many people probably don't know what it means to be a transgender man or woman.
Their perceptions might be based on pop culture caricatures such as Tim Curry's "sweet transvestite" from the "Rocky Horror Picture Show." For some, the word "transgender" might bring to mind "RuPaul's Drag Race," a celebration of pageantry focused more on performance skills than gender identity.
Whatever the case, Comero hopes to turn those awkward encounters into teachable moments, whether it's through his card or a conversation. "These micromoments are what's needed to create the paradigm shift in mindset," he said.
"How I feel and who I am does not match my birth certificate, but the law is making me go to the women's restroom because I identify as a transgender man."
First, he wants to change the card to say that his birth certificate – which says he's female – makes him subject to the law.
"Transgender people are diverse," he wrote in a Facebook post showing his cards.
"Some of us transition physically, some of us don't. Some of us are more feminine or more masculine with no correlation to what gender we are. Some of us identify as nonbinary/gender nonconforming, and I realize these might be new terms for folks. Look it up. Educate. I am a transgender male and nonbinary, and yes, that is possible."