Story highlights
Long Beach ePrix on April 2
Street circuit dubbed "America's Monaco"
Long Beach a "true classic" - Mario Andretti
Monaco may be the ritziest – and the richest – street circuit venue, but California's Long Beach could be the coolest place to go racing anywhere in the world.
This weekend, the street circuit in the Golden State is promising to serve up "shoreline shockwaves" as it hosts the Long Beach ePrix.
Round six of the Formula E World Championship is heading to the iconic seaside city for its only race in the United States and the last stop before the world's only all electric racing series returns to its European heartland.
'America's Monaco'
Long Beach is dubbed "America's Monaco" by U.S. motorsport fans – a nod to its picturesque coastal setting.
The Southern Californian track may not exude the wealth and glamor of Monte Carlo but it has the distinction of being the oldest and most enduring street circuit anywhere in the U.S.
"It's become a true classic," American racing legend Mario Andretti told CNN. "Who would have thought it would have become a marquee event as far as street racing was concerned?
"It could be America's Monaco, it's got some flavor like that. When you're sailing down the straight you have the harbor on the left, ships and you can even see the Queen Mary.
"But Monaco will always be Monaco and Long Beach will always be Long Beach."
Long Beach opened its doors in 1975 and the following year F1 added a second race, the United States Grand Prix West, at the popular seashore circuit.
Andretti took the checkered flag there in 1977 – one year before he was crowned F1 world champion – and the Pennsylvanian racer remains the last American to win a U.S. Grand Prix.
"My memory of the '77 win is that I followed Jody Scheckter for almost the entire race and I then made a 'Hail Mary' pass on the very last lap at the end of the shoreline straight and that gave me a win.
"I go way back at Long Beach and that's very special for me."
Just like Monaco, Long Beach throws up some unique challenges for Formula E's drivers, including bumpy asphalt and close walls.
The 1.30-mile (2.1-kilometer) circuit is a abbreviated version of the classic 2-mile (3.3-km) Long Beach layout, taking in the Marina's start-finish line and a tricky final hairpin.
"It's got some uniques, like the iconic hairpin which is probably the slowest hairpin anywhere in the world," adds Andretti, who has the distinction of winning at Long Beach in Formula One and IndyCar.
"As a driver you look at the circuit to see if it's technical enough to keep your interest throughout and Long Beach certainly is."
Andretti's son Michael is keeping family interest alive this weekend, as president of the Andretti Formula E team, which will field drivers Robin Frijns and Simona di Silvestro – the sports only female racer.
For 76-year-old Andretti Sr, the advent of electric racing at Long Beach is further proof of the circuit's relevance and reinvention.
"That's something that I could never have predicted," Andretti said of the world championship for electric cars. "Things have evolved over time. Long Beach has come of age, hosting a little bit of everything. It's pretty much completing the cycle."
Seaside playground
In the first half of the 20th century, Long Beach was famous for its board walk, rollercoaster and seashore amusements along "The Pike."
The Pike may be gone but the modern city still takes pride in its status as a waterfront playground, so there's no excuse to miss sightseeing So-Cal style.
"Long Beach was not a thriving city, it became so," says Andretti. "The Convention Center, hotels and restaurants flourished. Now it's a place to be. There's so much action there."
If Long Beach does not satiate a party-goer's appetite then wide Pacific Coast beaches, Disneyland and Los Angeles' star-studded Hollywood Boulevard are all in range – a 20-mile drive north.
"I simply love the atmosphere in the States, the climate, the cities, the whole way of life," says self-confessed Americanophile and Abt Schaeffler driver Daniel Abt.
"I'm looking forward to wandering around Los Angeles before focusing on Formula E."
For locals looking for something a bit racy, the Long Beach ePrix is a hot ticket with entry starting at $25.
Fastest tree on wheels
Formula E may be taking the iconic Long Beach circuit to a new level but is the fastest tree on wheels taking the idea of "green" racing to new heights?
Formula E continues to celebrate green technology by hosting "The Cedar Rocket" race car at the Long Beach ePrix this weekend.
The car, carved from a single section of Western Red Cedar, entered the Guinness Book of Records in 2016 as the world's "fastest motorized log."
The vehicle, powered by an electric motor, clocked 47.64 miles per hour (76.63 kph) in Arizona earlier this year to earn its place in motoring history.
How things stand
Approaching the halfway stage of the Formula E season, Renault e.Dams racer Sebastien Buemi leads the drivers' championship by 22 points.
Second-placed Di Grassi remains in the hunt and aims to make amends after he was stripped of his victory last time out in Mexico when the car he used for the first half of the race was found to be under weight.
"In Mexico we lost together, the next time we'll win together," said Di Grassi. "Being disqualified in Mexico was obviously a setback in the fight for the title.
"My goal is clear – I aim to fight for a podium finish and if possible victory. We've achieved this at ever race so far this season."
Sam Bird, this season's winner in Buenos Aires, and Jerome D'Ambrosio, who inherited victory in Mexico City, are third and fourth in the championship.
Begian D'Ambrosio can expect plenty of home support this weekend – The Dragon Racing team he drives for was founded by American entrepreneur Jay Penske and has its headquarters in Los Angeles.
Watch CNN's dedicated Formula E show "Supercharged" on April 9 for the lowdown on Long Beach.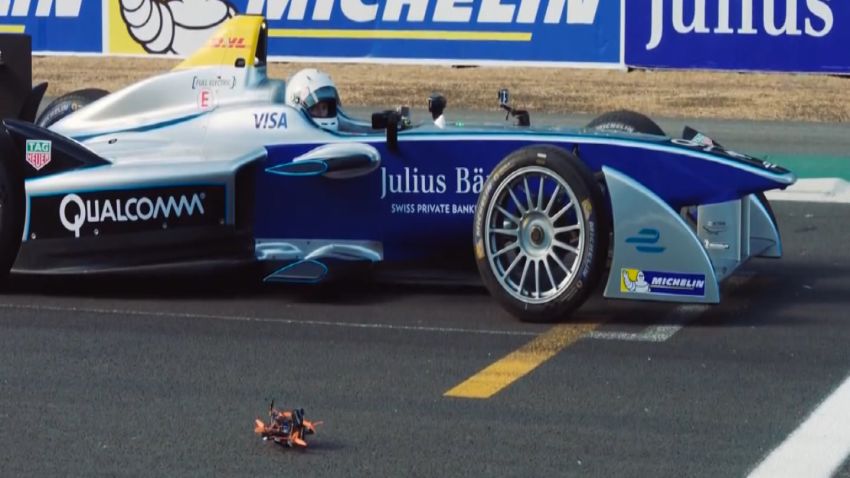 Formula E car vs. drone - who wins this race?