Story highlights
Romain Langasque poised to play in his first ever Masters
Frenchman has invited Rory McIlroy and Jordan Spieth for practice rounds
The 20-year-old won the British Amateur to qualify for Augusta
Langasque tells CNN he's determined to be himself and "have fun"
Romain Langasque is still waiting to hear back from Messrs Rory McIlroy, Jordan Spieth and Bubba Watson.
As a first-time qualifier for the Masters the 20-year-old Frenchman is afforded five practice rounds at Augusta National, to examine the crevices and contours of its revered course.
And as soon as his place was confirmed as victor of the British Amateur, Langasque put in the calls, hoping for some inside knowledge before the biggest weekend of his career to date.
"I think Rory will be out because he wants to prepare solo but I don't have any information for Jordan and Bubba for the moment," Langasque told CNN at his home course of Sant Donat, near Nice in the south of France.
"If they say yes it will be really good but if they say no I understand – they want to prepare normally. It's not that important.
"If you are on the tee and Jason Day is there you can ask if you can play together. All the players at the Masters are good."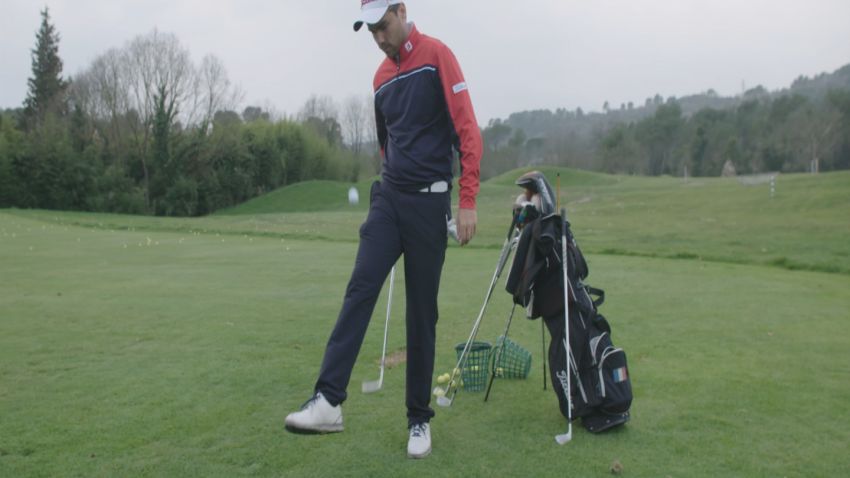 Masters 2016: Bubba, Rory, Jordan ... Langasque?
Aside from pitching to that trio of golfing superstars – who boast three Masters titles among their collective eight majors – there has been plenty of other things for Lanagasque to organize.
Not least, whether he'll take up Augusta's offer to stay in the clubhouse, how many of those five allocated practice rounds he will use and, crucially, who'll make up his 15-strong Masters squad.
"You get a ticket for your mum, dad and girlfriend then eight extras, plus you can buy four more," Langasque explained.
"In total 15 people are going including my old coach and my best friend. I just took one best friend – I want to have fun but not too much. We took two houses to sleep."
And yes, he will be sleeping in Augusta's clubhouse – as is his right as an amateur.
"I will stay in the clubhouse just one night for the amateur dinner," he added."It's important to sleep there once to say I've done it and see the inside.
"But I want to play this tournament like other tournaments. I was told in the clubhouse is good but you don't get out of the atmosphere of Augusta.
"At night I want to have fun with my family. At night at Augusta I would just be by myself, with my phone maybe without wifi."
Langasque's mantra ahead of what will be his last tournament before turning professional is simple: be yourself.
Having secured the British Amateur title in June, his first taste of a major came the following month with The Open at St Andrews, known as the home of golf.
He survived two days of awful Scottish weather, Langasque made the cut and finished in a tie for 65th – a hugely creditable return.
And though he has vowed to be more "aggressive" should he make it to the weekend this time round, he's determined to savor the whole experience.
He heads to Georgia in good form too, having recently finished second in the Kenya Open on the European Challenge Tour, a professional tier below the full tour.
Romain's Masters kit
One set of clubs
Seven shirts
36 Titleist balls
Three pairs of shoes
Two umbrellas. Two towels
One suitcase to buy souvenirs
"I don't want to set an objective, I just want to play my game – to be Romain and not be another player," he said.
"I think I will have pressure – that's normal – every player has pressure, but I just want to have fun, to be all the time happy to be there.
"I know I can maybe play 68 or 78, I want to be the same Romain for both scores. It is my dream so I want to have fun.
"Many good players have not played at the Masters. Sometimes you will play bad but I am doing my passion."
He's had had nine months to prepare for that first drive down Augusta's unmistakable Magnolia Lane and is ready to adopt a "go big or go home" strategy.
So how will he try and combat those first tee shakes on Thursday?
"I think I will just try to hit a big one, and go long – why not? I don't want to be nervous, I want to have fun," he explained.
"The best solution to have fun is to do what I'm best at. Play a Romain shot. I will not play safe. I will try to play it how Jordan played it last year."
The Frenchman cites Tiger Woods' memorable chip in at the 16th hole on his way to his fourth green jacket win in 2005 as his most memorable Masters moment.
Unsurprisingly, that is the hole he is most looking forward to playing having been captivated watching on the television as a 10-year-old.
Augusta: Beyond the greens and green jackets
"I know the atmosphere and the public is special," he said. "It is like a dream for the public to watch the players live and for me my dream is to play in the Masters."
Augusta's par three competition, which serves as a prelude to main event, has also been praying on Langasque's mind.
Traditionally, nobody who wins the par three contest at Augusta goes on to win the Masters in the same week.
"There is a short nine-hole here at my own course and everybody tells me the par three contest is amazing," Langasque said.
McIlroy, Spieth and Watson again feature when asked who his ideal playing partners for the first two rounds would be.
"I really love the big hitters, the big drivers, he said.
"I think if you play with aggressive players you will be more aggressive. You want to fight and I want to fight with the really good players."
Who do you think will win the Masters? Have your say on CNN's Facebook page.