Editor's Note: Initially published in July 2016
In August 1996, Tiger Woods turned professional and set about changing the game of golf forever.
Over the intervening 20 years, he's set records on the course and off it with his prodigious talent and immense marketability.
He might not have played competitively since August 2015 after undergoing multiple back surgeries, but the former world No.1 – now ranked 898th – is finally set to return this week at the Hero World Challenge, a $3.5 million invitational event hosted by his own foundation.
Woods had previously planned to return to action at the October 13-16 Safeway Open, but withdrew from the PGA Tour season-opener after deciding he was "not yet ready to play."
And, while the 14-time major winner hasn't been out of the game entirely, taking on the role of US vice-captain at Hazeltine for September's victorious Ryder Cup campaign, 17 months of injury turmoil will finally come to an end when he tees off in the Bahamas this Thursday.
Woods may never reach his previous heights again; aged 40, he's cast doubt on his lifelong quest to break Jack Nicklaus' record of 18 major titles.
But, given the Golden Bear won his 16th, 17th and 18th majors after his 40th birthday, a revitalized Tiger certainly has plenty to play for.
As he prepares to put troubled times behind him, CNN reporters recall the times they met one of history's most fascinating sportsmen.
1997, Atlantic City - Gary Tuchman
Woods' first major triumph came at Augusta in 1997 when he became the youngest Masters champion in history and its first non-white winner. The next day, he was in New Jersey, and so was CNN correspondent Gary Tuchman …
Tiger Woods speaks to CNN after 1997 Masters win
"I have long been a sports fan and followed Woods' amateur career. When CNN asked me if I would like to meet Tiger and interview him, I jumped at the opportunity. I believed he would likely become the best golfer to ever play the game.
"People were very excited to meet him. There was a buzz on the boardwalk in Atlantic City, New Jersey where this all took place. People knew he was a young man who was likely to make history.
"Woods was polite, thoughtful, and considerate. I remember thinking to myself that I hoped he would always stay that way because I was so certain he would be immensely successful and so many people who become rich and famous don't keep the values they had when it all began.
"Tiger clearly knew what he was capable of at a young age. And I also had little doubt about his capabilities. It is amazing now to look back and know that what he, I, and so many others thought would happen did indeed happen.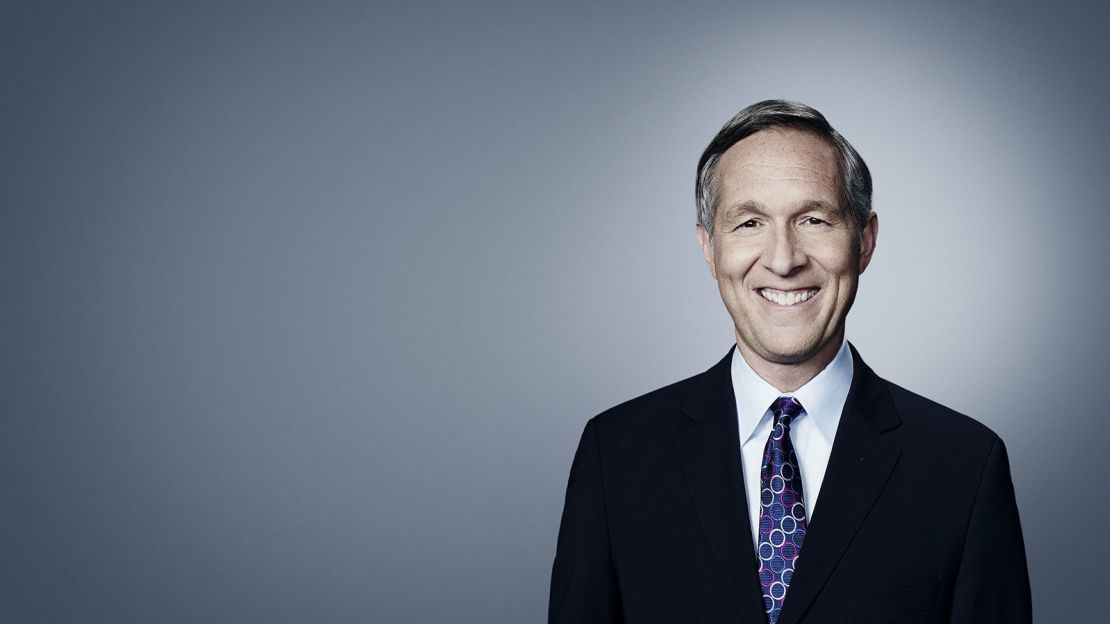 "The difference of course is that he was relatively innocent and naive back then. Now, he has the physical and emotional scars that one often gets as the years go by.
"With the benefit of hindsight, I would ask him if he was concerned about the pressures of being on the PGA Tour and his personal life off the tour. I would ask him if he felt he had the support to deal with all of that.
"And then I wish I said to him that I hope he has a happy and healthy career. I try to be polite when I interview people and I don't think I got the chance to say that to him as he began his path to fame and fortune."
Related: Story behind golfer's $17M smile
2008, Dubai - Don Riddell
Fast forward 11 years and Woods was living up to the hype. Aged 32, he was ranked as the world's No. 1 golfer having won a further 12 majors – including four in a row between June 2000 and April 2001. But away from the course, it had been a turbulent couple of years. His father Earl passed away in 2006, the sadness of which was somewhat offset by the birth of Woods' first daughter Sam in June 2007. Both events were discussed when Woods sat down with CNN World Sport's Don Riddell in 2008 …
2008: Tiger Woods opens up on becoming a father
"I interviewed Tiger five or six times over a three-year period and I felt like we got to know each other pretty well during that time … but it seems like a lifetime ago now.
"So much has changed, he's no longer the golfer and athlete who dominated the world and obviously his personal life is totally different.
"For three consecutive years we met in Dubai at the Dubai Desert Classic, always on Wednesday lunchtime after his pro-am round and always in the same elevated location above the lush practice green.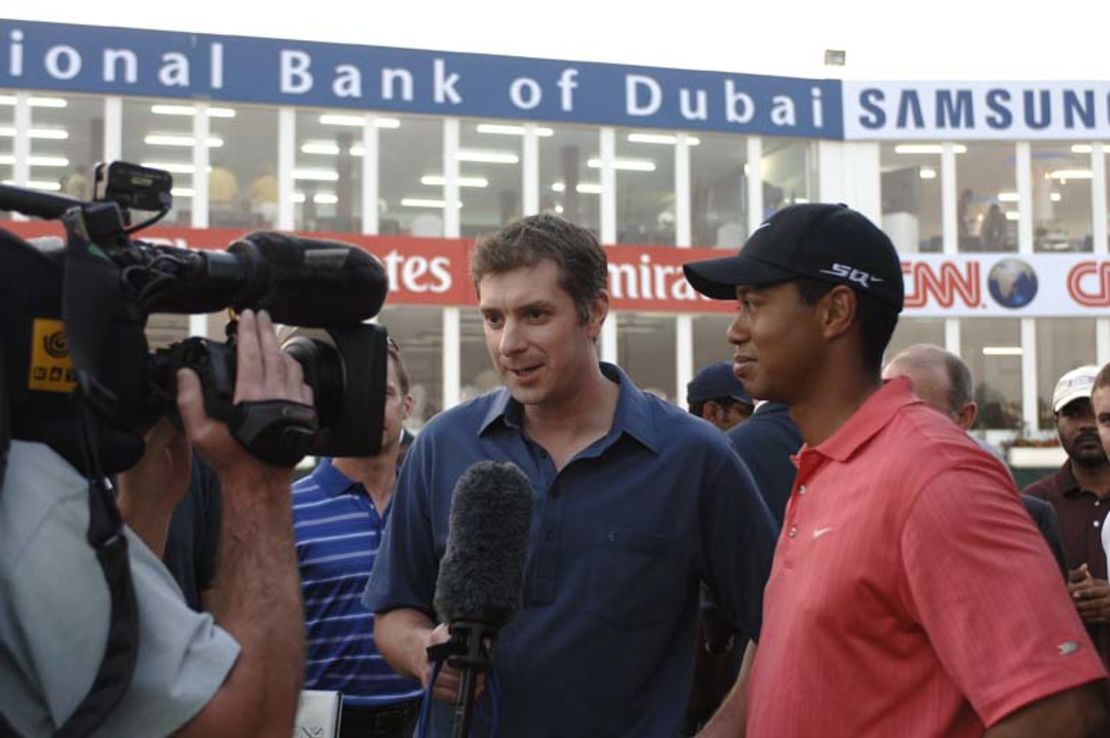 "We used to talk a lot – both on camera and off – about our families and how lucky we were. I think he was genuinely excited to be a Dad and absolutely devastated when his father passed away.
"I'll always remember his reaction when I told him I had twin boys in 2006 'Twins?,' he exclaimed, 'Holy s**t!'
"I guess my reaction was similar when he hit the fire hydrant in 2009 and everything fell apart; turns out I'd been getting an overly varnished account of his marital bliss.
"He once told me that he didn't want to be remembered for his achievements as a golfer, more for his 'actions as a human being.'
"Hopefully I'll get to see him again one day. If so, I'd ask what has been the single biggest regret of his life. Whether it's personal or professional, I think that would be very revealing."
Related: The quest for a green jacket starts with … a white boiler suit
2012, China - Shane O'Donoghue
By 2012, Woods' life had unraveled in spectacular fashion. A minor car crash in November 2009 began a chain of events which led to the revealing of multiple infidelities and, ultimately, the break-up of Woods' marriage to Elin Nordegren. His golf game had suffered too. He won the U.S. Open in 2008 but a severe loss of form and fitness meant he'd failed to win a major in over three years by the time he sat down with CNN Living Golf's Shane O'Donoghue in November 2012. And he wasn't alone. A new generation of golfers, who'd grown up idolizing Woods, were now overtaking their hero at the top of the game. Chief among them was Northern Irishman Rory McIlroy …
Exclusive: Tiger and Rory's 'bromance'
"It was a whirlwind trip to China for 36 hours. A long way to go, but it was an opportunity to host the first ever sit-down interview with Tiger and Rory McIlroy. Rory had yet to be announced as a Nike player, but the rumors had begun of a multimillion dollar deal. I remember noting that he wore Nike trainers to the interview.
"That was revealing, but we couldn't really speak about it, as he was still under contract to his other clothing sponsors. Rory and Tiger had both decided not to compete in the WGC event later that week in Shanghai, which caused a bit of a fuss.
"They were here in Zhengzhou for a big money match and we were the only television interview that they were doing, so it was a real exclusive. I'd interviewed him once in Dubai for CNN about 18 months previously.
"I'd also interviewed him after various rounds at the Masters, in my previous role for the BBC.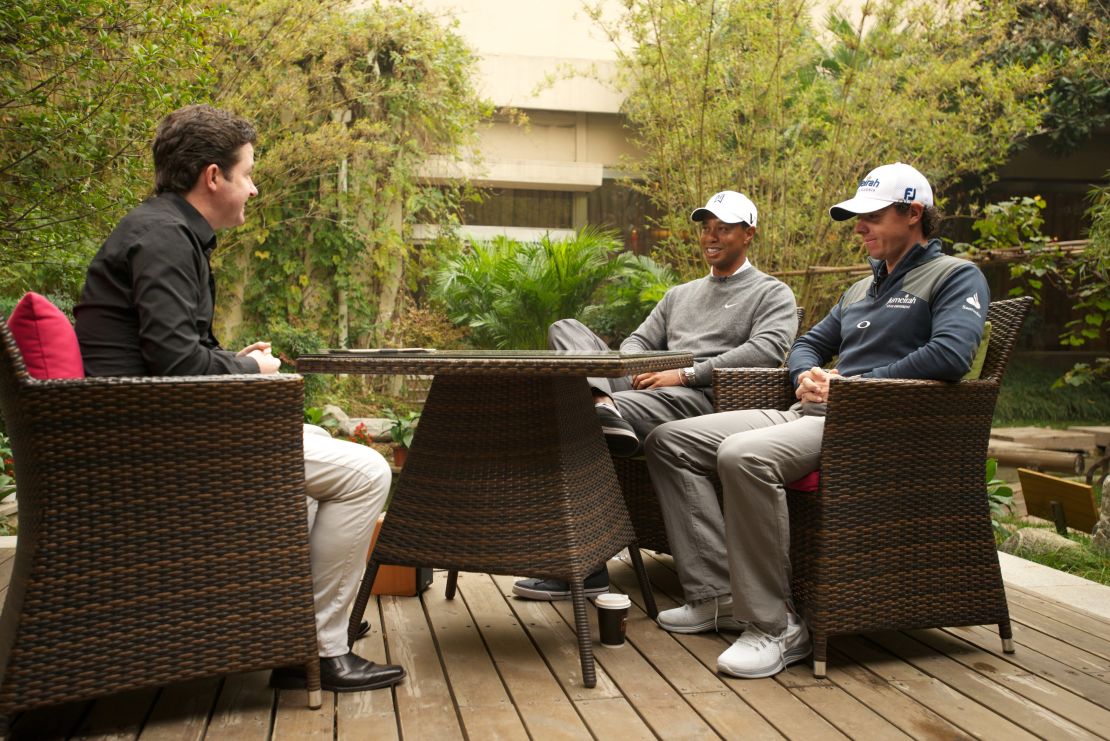 "Tiger was very friendly. He arrived early for the interview and came straight over to me. We spoke about his other sporting passion, NFL.
"He is a great friend of the Dallas Cowboys quarterback Tony Romo, and they had been beaten a few hours before and he was still smarting at the loss, so we spoke about that and how Romo is also a good golfer.
"Tiger was very relaxed and very good humored. We were off to a good start and then Rory turned up, also in good form. The two had a very natural friendship and it certainly wasn't forced. They were laughing and joking. It was clear that they were genuinely friendly.
"It was a good atmosphere. However, it was very noticeable how Tiger changed the minute the red light went on and we began recording the interview. It wasn't bad or anything, just a very noticeable change in his demeanor as soon as we started. He doesn't really like interviews.
"He was lighthearted again once we finished and wished me a safe trip home. I hope to interview Tiger many more times in the future!
Related: Golfer hits hole in one with Masters fast approaching
"I expect him to return to top class golf, and to win again. We have seen the best of him, but there are still a few more chapters left in his extraordinary story, so I hope to be in a position to bring those stories to the CNN audience."
CNN's Henry Young contributed to this report