Story highlights
XVs specialist Nick Cummins targets Olympics
Missed World Cup to help his sick family
His nickname is "Honey Badger"
Joins Aussie Sevens after a stint in Japan
On the face of it, Nick Cummins is your archetypal Australian.
He refers to his girlfriend as "his Sheila" and his notorious "Ocker" catchphrases have made him a fan favorite in the rugby world.
It led one Australian TV network to refer to him as "the world's most Australian man."
Such soundbites, added to his '70s-style long hair and mustache, have led to the Wallabies winger being pigeonholed as a bit of a joker, but he doesn't see it that way.
"Everyone thinks it's a thing but it's just the natural language I grew up on – it's all very normal to me," he tells CNN ahead of this weekend's Hong Kong Sevens, where he begins his bid to win a place in Australia's Olympic Games squad.
"That's just how it is. Our view is to be upbeat and enjoy life. What's the point if you don't enjoy it?"
Keeping a straight face in Cummins' company is no mean feat. Even the straightest of questions about his rugby future warrant amusing answers.
"There's no fat lady belting out tunes just yet," he says. "There's an expression that if you want to make God laugh, tell him your plan because as soon as you think things are sorted, there comes a big spanner.
"So I don't know where I'll end up. It might be here in Australia, in Japan or in Europe. Right now, I'm just focused on getting to the Olympics."
There is no denying the personality of the so-called "Honey Badger" is an infectious one.
He got the nickname after watching a nature documentary in which a honey badger fought off a lion. It even manifests itself on his Twitter biography with the words "Never corner a Honey Badger."
But to compartmentalize the player as a one-dimensional "Ocker" is wide of the mark.
His outpourings may be infamous – there is a three-minute highlights reel watched more than 700,000 times on YouTube – but there is more complexity to him.
This is a man who effectively gave up his chances of selection for the 2015 Rugby World Cup to sign a lucrative contract to play in Japan and thereby help support his cancer-stricken father Mark and two of his seven siblings, who have cystic fibrosis.
Cummins has made it his quest to find a cure – none is currently known for the latter condition – and has sought out alternative remedies.
The 28-year-old also has an alternative approach to life.
"While out in Japan, I bought this inflatable boat with a two-horsepower engine to drive around the islands," he explains. "Where we were in the southwest of Japan, there's a lot of islands.
"So I'd drive to some caves that were pitch black and you can't see a single thing. That's one of the experiences I most liked to do.
"Sometimes I'd go with the rugby boys and sometimes with my Sheila but then she wanted to jack it off and chill out instead, but I have to explore things. The more nature and stuff, the better. The source of our power comes from nature and the closer to nature you are, the more you can power up."
Cummins relished his time in Japan, which recently drew to a close. He says he has no regrets about making the move there – often a career end-point for international players looking for one more pay day – even though it meant the Rugby World Cup in which Australia reached the final was painful viewing at times.
He barely considers it to be a sacrifice, and downplays the role he has played in supporting his family.
"I think there's been too much talk on this and I'm sure my family get sick of it," he says. "There's a lot of crook-ness (sickness) about. Everyone thinks of their old man as a Superman and I certainly think that, looking after eight kids on his own."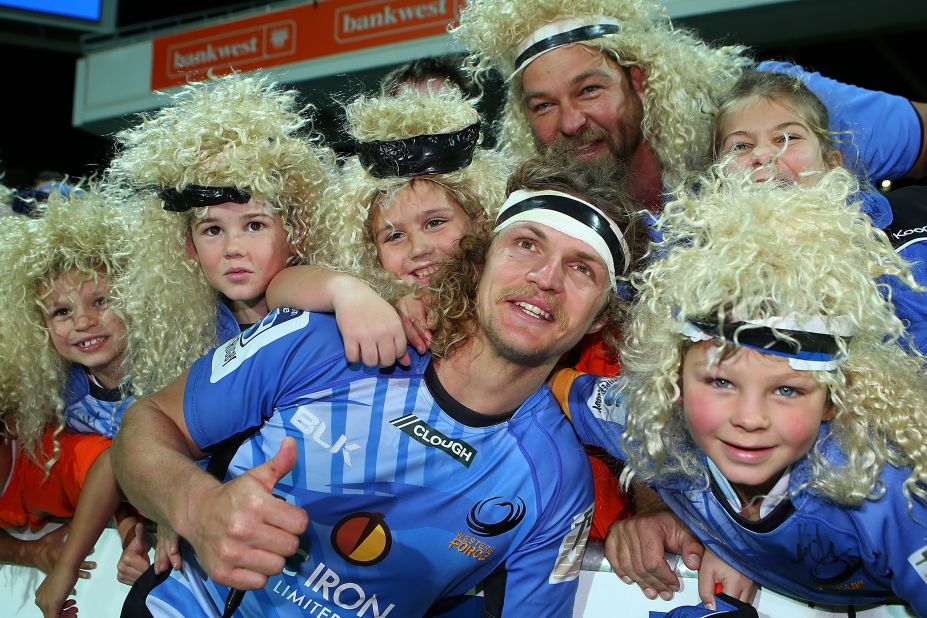 Nick Cummins aiming for Rio
Cummins Sr. is responsible for offspring ranging from 19 to 35, having divorced from their mother.
Nick is still in contact with his mum, but brushes off questions about what happened, saying merely "she needed a bit of a break as she had a tough run looking after us nuisances."
Based in Queensland, his father was named the state's parent of the year in 2012 – and it is clear Cummins is still in awe of his father.
"He's had eight kids to look after and the stress of work and yet he's always still managed to do it with a smile on his face," he says. "That's pretty inspiring."
Of siblings Joe and Lizzy, with cystic fibrosis, Cummins adds: "Look, it's a life-limiting and quite serious thing. People don't know much about it but they're both quite strong and quite strong-minded. They're fighting their way through it, their view is just to get on with it."
Cummins credits his father's genes for giving them the "tough stuff" needed for the fight, likewise him for his rugby-playing prowess, while he claims the skill set for a sporting family – one brother represents Norway at rugby, a sister plays netball in Thailand – comes from his mother.
His international career began in the sevens format, and it is perhaps befitting for such an expressive character that he should return to the more open format at a tournament renowned for being the biggest party on the circuit.
"I love sevens as you can make it up on the hoof, you've got a license to run and it's missing the robotic nature of XVs," he says.
"Gaps can be made in sevens and you can have that split-second moment where you see if someone's tired or has a weakness and you go for it."
Cummins has been welcomed back by the Australian Rugby Union after he asked about returning to sevens with the Olympic Games in mind, but he admits there is no guarantee he will make the squad.
After the prestigious Hong Kong event, the Sevens World Series goes to Singapore and Paris before the London finale.
"I'd love to go to the Olympics, I grew up watching it on TV and I was always very patriotic and passionate watching that," he says. "I'd like to give that back to my country but I know I can't just walk into the side. I need to earn the respect of the other boys first and that's my first target. It's very possible I won't make the cut."
Television audiences around the world will be hoping "the Badge" does get the nod.
Who will win gold at Rio? Tell us on CNN Sport's Facebook page
Visit CNN's World Rugby page for more oval-ball news
CNN World Rugby
00:30
- Source: CNN Promos