Join Nima Elbagir and Stephanie Busari on Facebook Live, Thursday at 2 p.m. ET.
They were stolen from their beds in a school dormitory – hundreds of teenage girls kidnapped by gunmen.
A few dozen escaped to tell of the night that Boko Haram militants brought terror to a Nigerian girls' school.
From the rest, silence. No sign of where they had been taken or what could have happened to them for almost two years, even as the world screamed #BringBackOurGirls.
Hundreds of parents left, day after day, night after night, and then months with no information.
Until now.
CNN has obtained a video of some of the "Chibok Girls" sent to negotiators by their captors as a "proof of life."
The video had been seen by negotiators and some members of the government.
But no one had shown the parents. Until now.
Boko Haram victim: I cried for someone to help
'Proof of life' recording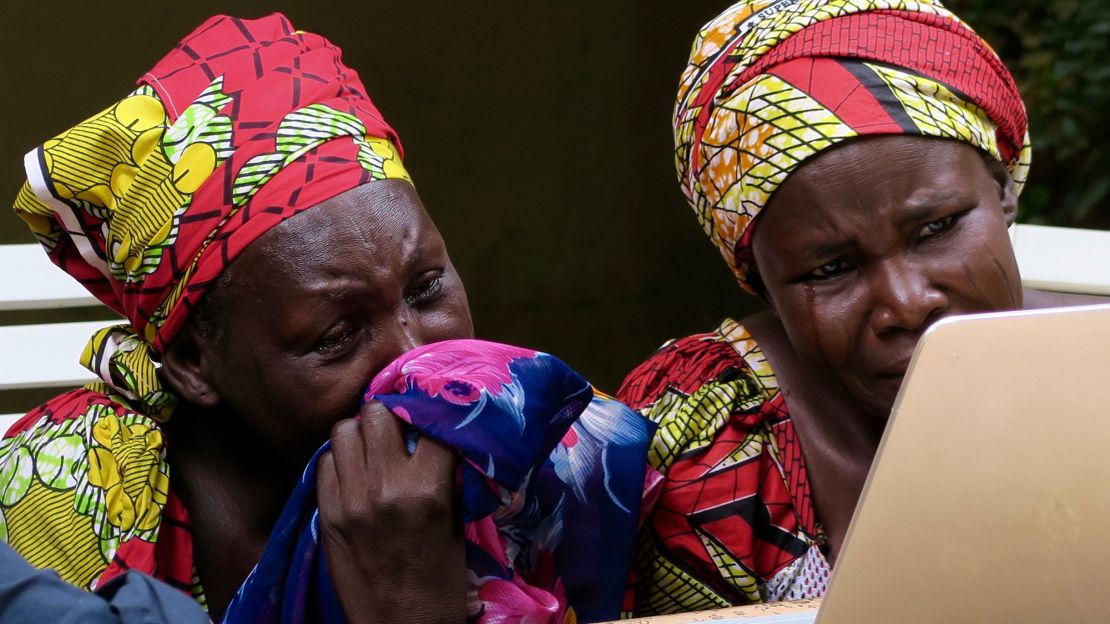 Rifkatu Ayuba catches sight of her long-lost, desperately missed, now 17-year-old. "My Saratu!" she wails, reaching out to a laptop screen, the closest she's been to her child in two years. She is desperate to comfort her little girl, but helpless.
Saratu Ayuba is one of 15 girls seen in the recording shown to some of the families for the first time at an emotional meeting this week. Wearing a purple abaya, with a patterned brown scarf covering her hair, Saratu stares directly into the camera.
"I felt like removing her from the screen," Ayuba tells us, desperate to pluck Saratu from the mysterious location where she is being held and bring her home. "If I could, I would have removed her from the screen."
The video is believed to have been made last December as part of negotiations between the government and Boko Haram.
It was released by someone keen to give the girls' parents hope that some of their daughters are still alive, and to motivate the government to help release them.
The girls, their hair covered and wearing long, flowing robes, line up against a dirty yellow wall. They show no obvious signs of maltreatment.
READ MORE: 800,000 kids displaced by Boko Haram
Scripted appeal
As the camera focuses in on each of them, a man behind the camera fires off questions: "What's your name? Was that your name at school? Where were you taken from?"
One by one, each girl calmly states her name and explains that she was taken from Chibok Government Secondary School. Only the occasional hesitation betrays a flicker of fear and emotion.
As the two minute clip comes to an end, one of the girls, Naomi Zakaria, makes a final – apparently scripted – appeal to whoever is watching, urging the Nigerian authorities to help reunite the girls with their families.
"I am speaking on 25 December 2015, on behalf of the all the Chibok girls and we are all well," she says, stressing the word "all." Her intonation seems to imply that the 15 teens seen in the video have been chosen to represent the group as a whole.
A glimpse at the Chibok girls
The date given by Naomi matches information embedded in the video, suggesting it was filmed on Christmas Day, though whether that's true or whether the day was picked deliberately is unknown.
Most of the 276 girls taken from Chibok on April 14, 2014 were Christian. They are believed to have been forced to convert to Islam by their terrorist captors.
Their kidnapping – and a lack of progress in tracking down and returning the girls – sparked mass protests in Nigeria and across the world, with luminaries including Michelle Obama and Malala Yousafzai joining the social media campaign to #BringBackOurGirls
READ MORE: Malala's letter to Chibok girls offers 'love, hope'
Classmate's lucky escape
The Nigerian government says it has a copy of the "proof of life" video, and that it is in negotiations with those who supplied it to secure the girls' release, but says it remains unable to confirm or reject the recording's authenticity.
Lai Mohammed, the country's Minister of Information, said there were concerns that the girls did not appear to have changed sufficiently, that they are not as different as one might expect, given the two years that have elapsed since their disappearance.
CNN spoke to a classmate of the girls seen in the footage, who confirmed the identity of several of her friends.
The soft-spoken teen, whose identity we will not reveal for her safety, was supposed to be at the school that Sunday night to sit exams along with the other girls, but made a last minute decision to go home, from where she could hear the school being attacked.
"We ran into the bush and stayed there for a month," she says.
Watching the video, she becomes emotional, exclaiming 'Oh my God!' as she recognizes a close friend, points out another who was in the same hostel as her, and identifies one of the school's prefects, a leader in her class.
While she considers herself one of the "lucky ones," the teenager says she still has nightmares about the experience.
"If I hear something on the news about them, it makes me have bad dreams and I cry," she confides.
READ MORE: The women who escaped Boko Haram
Two years of pain