Story highlights
Disaster agency: 43 now known dead, 9 missing from two quakes
Japan's Meteorological Agency warns of more building collapses
At least 42 are dead from quakes; bad weather hampers rescue efforts
180,000 people are in shelters
Like many buildings in Mashiki town, Kiyomi Matsuoka's wooden house withstood Thursday's quake. But not the magnitude-7.0 one that mercilessly hit two days later.
"This is surreal," said Matsuoka, who returned to look at the rubble that was once her house and the hair salon business her family ran.
After the first shock on Thursday, Matsuoka and her family evacuated.
Japan earthquakes: How you can help
Her 80-year-old father insisted on staying with the family home – barely managing to claw out of the debris when Saturday's quake hit and toppled the house in its entirety.
It was a miracle, she said, he came out alive at all.
Tearing up as she spoke, she said she was determined to rebuild business in Mashiki, where three generations of her family had been.
"We have been running this business right here in this town over 40 years," she said. "I will rebuild our business here no matter what."
Saturday's Kyushu earthquake in southern Japan took 38 lives, Kumamoto Prefecture's disaster management office said Monday. It was preceded by Thursday's foreshock, which took nine lives.
Eight people remain missing, the disaster agency said.
The quakes left 1,055 people injured, according to the disaster management office on Monday.
Prime Minister Shinzo Abe described the search for survivors amid piles of rubble as a "race against the clock," noting bad weather, continuing aftershocks and the threat of landslides made a dire situation worse.
U.S. forces will provide operational airlift support in the Japanese government's relief efforts.
Seismic activity is continuing in Kumamoto and Oita prefectures with no sign of subsiding, said Gen Aoki, the head of Japan's Meteorological Agency. Kumamoto continued to endure as many as hundreds of aftershocks, according to the agency.
Aoki warned of further building collapses and landslides from rainfall that has loosened the surrounding soil.
About 25,000 Japanese troops have been sent to help with rescue efforts, along with six planes and nine ships to deliver food, blankets and all emergency necessities.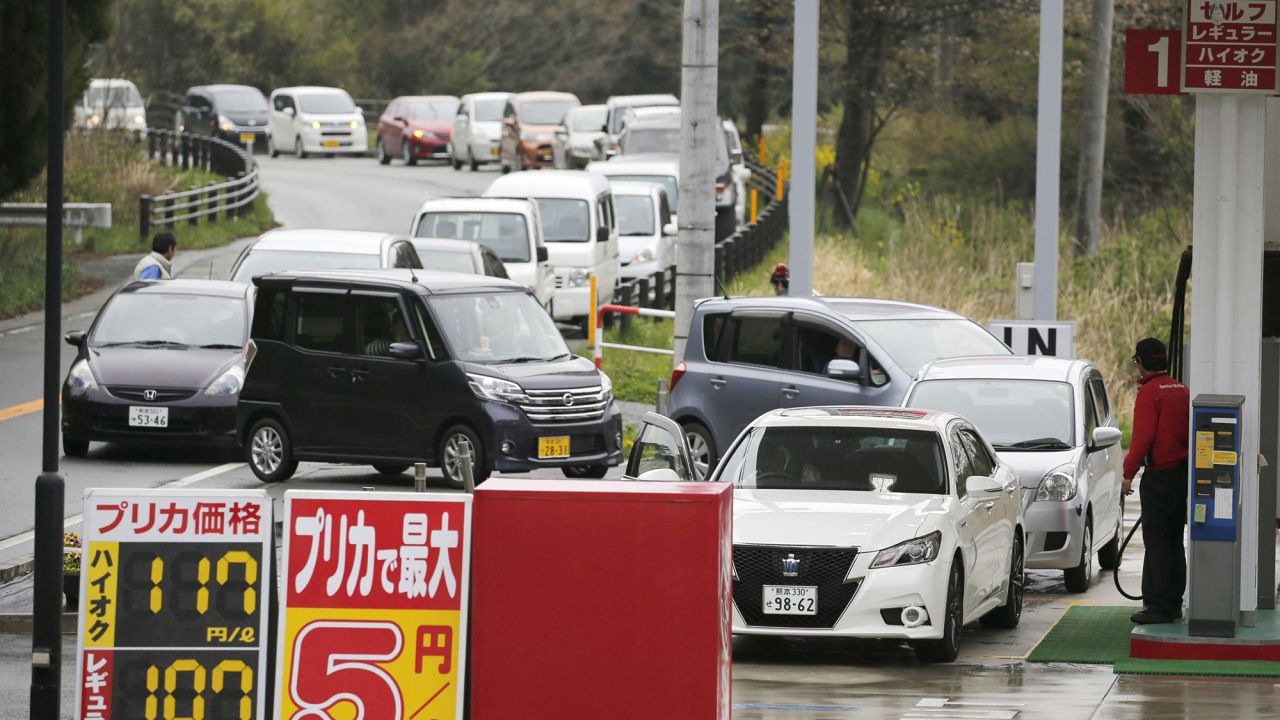 Earthquakes strike Japan
Japan's Nuclear Regulatory Agency assessed the conditions of the nuclear plants after the series of earthquakes in Kyushu and reported no impact on the plants' safety.
Scramble for aid
One of the 180,000 people who fled to an evacuation center, the smile on 61-year-old Yoshitada Shimamura's face hides the trauma he's just experienced.
But he says he's just got to forget about what happened to his home, now completely gone.
He's happy to have excavated a small gas canister from the debris, which will allow him to cook warm food for himself and fellow refugees, he says.
Food aid at evacuation centers is getting thin as the damage area widens.
"There wasn't actually enough food for everyone, which was the only problem," Samuel Borer a U.S. citizen living in Kumamoto, said at an elementary school used as a shelter.
"Most of the food went to the elderly and children first."
Television images and photos showed empty shelves at supermarkets and stores, leaving many evacuees to line up for food and water at shelters.
CNN's Matt Rivers, reporting from a shelter, said the aftershocks are creating anxiety among rescuers and residents.
"You're seeing people assigned here from one of two sorts of tracks," he said. "On the one hand, people who had their homes destroyed so they have nowhere to go. (But) the reality is that most people inside this evacuation shelter here are afraid to go home. They're not sure that maybe there might be another aftershock."
Ecuador and Japan earthquakes: Are they related?
The earthquakes have also disrupted the Japanese economy, as Toyota suspended production on its vehicle assembly line until April 28 due to a parts shortage. Honda and Sony have also suspended operations at their Kumamoto sites.
The tremors caused extensive damage, overturning cars, splitting roads and triggering a landslide. Television images showed flattened houses, shards of broken glass and debris piled onto the streets. Over 3,000 buildings have been damaged, according to the disaster management office.
"When the second earthquake came everything shook and I thought I might die," said Taiki Hishida, 38, who evacuated with his wife and two young children to a crowded shelter.
Noel Vincent felt both earthquakes.
"This extremely intense shaking began," he said. "And whereas the first earthquake was more of an up-and-down type of shaking, this was a side-to-side shaking … it was very intense and I feared for my life."
Matt Rivers, Junko Ogura and Yoko Wakatsuki reported from Mashiki, Kumamoto prefecture in Japan, Tiffany Ap wrote from Hong Kong.