Story highlights
Current and former pros take sides on U.S. elections
Trump lands endorsement of NASCAR CEO
Sanders has backing of Ronda Rousey
Hillary Clinton supported by Abby Wambach, Grant Hill, Michelle Kwan
When the collective brain trust of Mike Tyson, John Rocker and Dennis Rodman all agree on one thing, it's bound to be controversial.
No strangers to tabloid drama, the outspoken retired athletes all endorse Republican frontrunner Donald Trump, joining a chorus of sports personalities who are weighing in on the U.S. presidential election.
The backing of popular sports figures – depending on their background – can add a level of cache to a budding presidential nominee, senior political strategist Jeremy Bird tells CNN.
"They do give validation to candidates, especially candidates who need validation," says Bird, who worked on both of Barack Obama's campaigns, serving as national field director in 2012. Bird went on to establish the consultancy 270 Strategies which counts Hillary Clinton as one of its clients.
"For candidates that are less well known, having the endorsement of somebody famous, somebody (trustworthy) – that can have an impact on shaping a voter's overall view of a candidate, especially if that's coupled with two or three other people that are figures that (command) respect generally."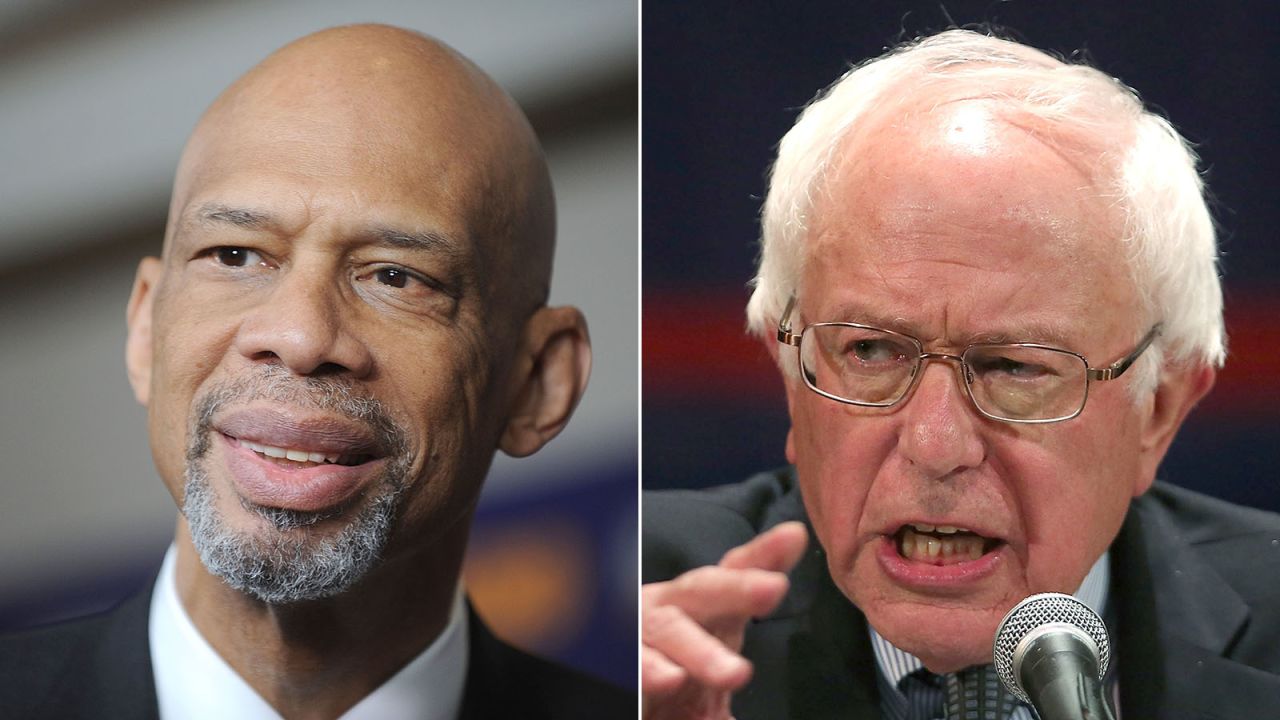 Athletes going political: Who's endorsing who?
One such candidate in the run-up to the 2008 campaign happened to be Obama, who was buoyed by a number of endorsements from celebrity athletes, particularly from the world of the NBA, where LeBron James, Magic Johnson and Michael Jordan – who famously stayed out of politics throughout his career – all threw their support behind the upstart senator from Illinois.
The current White House resident turned out to be a natural at courting votes from athletes. "He might be one of the only presidents who wasn't tuned into CNN or MSNBC on the campaign bus – he was tuned into ESPN," Bird recalls. "So it was unique in a sense that he really loves sports, and it was nice for him to have those athletes support him who he had watched play and cheer on the court."
James, in particular, was a key get, according to Bird, because of his status as the most popular athlete in Ohio, a crucial swing state.
"We spent a lot of time courting him and his people because we felt like he was such a star, especially in the Cleveland area, that having him (endorse Obama) was not necessarily going to be the difference between somebody supporting us and not supporting us – but it was going to have a difference in their enthusiasm.
"How one uses it does matter too," explains Bird. "Saying LeBron is an endorsement in a press release is not going to have much impact. But doing an event at a big basketball arena with LeBron and Jay Z where people could sign up and register – now that could have a big impact."
"There are cases of individual endorsements where either that figure is so important in that state, or so important to that demographic, it can have a bigger impact; but I think that's probably few or far between," he adds.
Read: Sanders – Clooney is backing the wrong house
A polarizing figure by nature, Trump has by far the most public declarations of support from within the sports world to date – though many have come from athletes who themselves have been cast as social pariahs once. They include the likes of Tyson, Rodman, golfer John Daly, ex-NFL star Terrell Owens and college hoops coach Bob Knight.
"When you look at everybody endorsing a certain candidate, it says a lot about that candidate," says Bird.
Former Atlanta Braves closer Rocker made headlines in 1999 for a derisive interview with Sports Illustrated where he knocked homosexuals and minorities. "The biggest thing I don't like about New York are the foreigners. I'm not a very big fan of foreigners," he said.
"I wish someone … would have the backbone to make unpopular comments," Rocker told The Daily Caller in January. "Trump is that guy."
Endorsements from figures like Rocker can actually be detrimental to a campaign if they are not isolated, Bird says.
"You can embrace that support or you can say that you don't agree with that person's view on certain things, even if they do support you," he says. "I think they can hurt, especially when you get a bunch of people supporting you who are divisive characters in the public eye who have said things that have turned off a lot of voters."
It could be argued, however, that Trump's own divisiveness is what attracts him to certain voter groups and celebrity endorsements.
"These types of personalities are all heroes to non-college, blue collar males," Larry Sabato, professor of politics at the University of Virginia told CNN, mentioning the likes of Rodman and Tyson. "Who supports Trump disproportionately? Non-college, blue collar males. So they only serve to reinforce Trump's fundamental appeal to his constituency."
"The biggest thing that these endorsements do for a candidate is help build name recognition," Sabato adds. "But if there's one thing Donald Trump doesn't need is more name recognition. So in a sense they are irrelevant."
Pro wrestler Hulk Hogan – who half-jokingly volunteered to run alongside Trump early in his campaign – recently won a $115 million lawsuit against Gawker for posting a sex tape of him with a friend's wife. However, he was axed by the WWE in 2015 for making a racist slur about his daughter's boyfriend.
Baseball legend Pete Rose was wrongly assumed to have come out in support of Trump, after the candidate flaunted a signed baseball from the former Cincinnati Red. Rose, who has been banned from the game since 1989 for his gambling misdeeds, says voters should simply decide for themselves.
"Both the left and right are baseball fans – and it is those institutions and their people that make America exceptional," Rose said through his lawyer.
Trump has, however, landed mainstream support from baseball and elsewhere, including the endorsements of respected former Yankees Paul O'Neill and Johnny Damon.
NASCAR CEO Brian France, who greeted Trump at a rally in North Carolina, is also one of his biggest backers. Trump interpreted the endorsement (intentionally or not) as one stamped by the association itself: "NASCAR endorsed Trump, can you believe that?" he said at the rally.
"I tell you what, if the people that like and watch NASCAR vote for Donald Trump, they can cancel the election right now," he added. "Nobody can win."
NASCAR has made it clear that the stance is France's personal decision and not an endorsement by the association, but political analyst Kevin Madden, who worked on the campaigns of George W. Bush and Mitt Romney, says Trump's eagerness to associate himself with the motor sport's brand could be damaging.
"He continues to repeat falsehoods in a way that really does become problematic for NASCAR trying to dismiss the idea that they have endorsed (Trump). He just keeps repeating it over and over. He doesn't even care, he just repeats it in a way that suits him. And NASCAR be damned – and the truth be damned," Madden said on ESPN's Capital Games podcast. "That's a much more problematic issue for the sports league than it is for the candidate."
Trump's campaign did not respond to CNN's request for comment on the support he had garnered from athletes and sports officials.
Like NASCAR's France, UFC founder Dana White has also jumped on the Trump bandwagon – highlighting the inherent dangers of league officials backing candidates: The potential of alienating sections of their fan base.
"I do think that there is a false sense that NASCAR voters are monolithic, and I don't think that's true," Bird says. "There are a lot of (fans) that like the sport but don't necessarily like the rhetoric that Donald Trump is spewing."
Indeed, although NFL commissioner Roger Goodell donated to Chris Christie's campaign and NBA chief Adam Silver contributed to Hillary Clinton's, both have been careful not to voice their support publicly.
Clinton has her fair share of backing from athletes too, including former U.S. women's soccer captain Abby Wambach, retired tennis champs Chris Evert and Billy Jean King, and Jason Collins, known for being the first openly gay NBA player. Ex-hoops star Grant Hill, whose mother Janet roomed with the Democratic hopeful at Wellesley College, has given money to Clinton's campaign and attended one of her rallies in Atlanta.
Cerebral former NBA great Kareem Abdul-Jabbar initially sided with Bernie Sanders, before publicly endorsing Hillary Clinton in April. "She can actually get things done," he told CNN's Christiane Amanpour. "She knows who the bad guys are and how to deal with them."
Watch: Abdul-Jabbar – 'People have a lot to complain about'
Former figure skating champion Michelle Kwan went a step further last June when she joined Clinton's campaign as a full-time staffer at its Brooklyn headquarters.
"Her endorsements (from sports) are from athletes with backgrounds that are strong in her camp," said political forecaster Sabato. "I might be wrong but there are not a lot of non-college, blue collar males who follow figure skating."
"You look at the figures who are supporting either Sanders or Clinton, they are not the same kind of sports figures or public figures who are supporting Trump," added Bird, who cites World Cup and Olympic winner Wambach as "somebody who really brings this country together." (Although Wambach, a champion of equal pay for female soccer players, recently plead guilty for driving under the influence.)
Clinton also posed with transgender former Olympian Caitlyn Jenner at a recent function. Jenner – a registered Republican – has been noncommittal with her pick so far, but has voiced disdain for Clinton on her reality show "I Am Cait."
Jenner went as far as to say she'd like to be Cruz's trans ambassador, before adding, "I never said I endorsed Ted Cruz."
"I would never ever, ever vote for Hillary," Jenner said. "We are done if Hillary becomes president, the country is over." Trump, on the other hand, figured higher with the reality star. "He would be very good for women's issues," she added.
Meanwhile, Sanders has the backing of MMA fighter Ronda Rousey, and Seattle Seahawks defensive end Michael Bennett.
Ultimately, support from well-known athletes can benefit both parties by injecting enthusiasm in voters who otherwise wouldn't bother going to the polls, says Bird.
"The challenge that a Democratic nominee has is that of turnout and registration," he explains. "So getting folks who can reach that right demographic: We're talking about young people, we're talking about African-Americans, Hispanics, Asian-Americans – voters who are not traditionally coming out as a the same percentage of other voters, who happen to be sports fans or happen to be fans of certain celebrities.
"There are people on the Republican side who are (also) not turning out as much. They tend to be very different demographics than the Democrats, but they are watching sports," he says. "They may be different sports, but they are watching sports."
This article was updated on April 20 to reflect Kareem Abdul-Jabbar's endorsement of Hillary Clinton.