Story highlights
Egyptian police gunned down five men in March, then blamed them for an Italian student's death
One woman lost her husband, brother and father among the five; she says they did not kill the student
Egyptian leader denies claims that security forces are behind the death of student Giulio Regeni
It was still dark when Rasha Tarek saw her husband Salah for the last time.
Salah woke up at dawn on March 24 to go to an affluent neighborhood of the Egyptian capital for a painting job, his wife told CNN.
He was due to travel to Upper Egypt after that.
But Tarek suspected that her husband was being unfaithful to her, so she sent her brother, father and a family friend to tag along.
She spoke with her husband while he and the others were en route to their destination. But by 8 a.m. he stopped answering her calls. She tried the others but was unsuccessful in reaching them.
It took almost an hour before someone answered her husband's phone.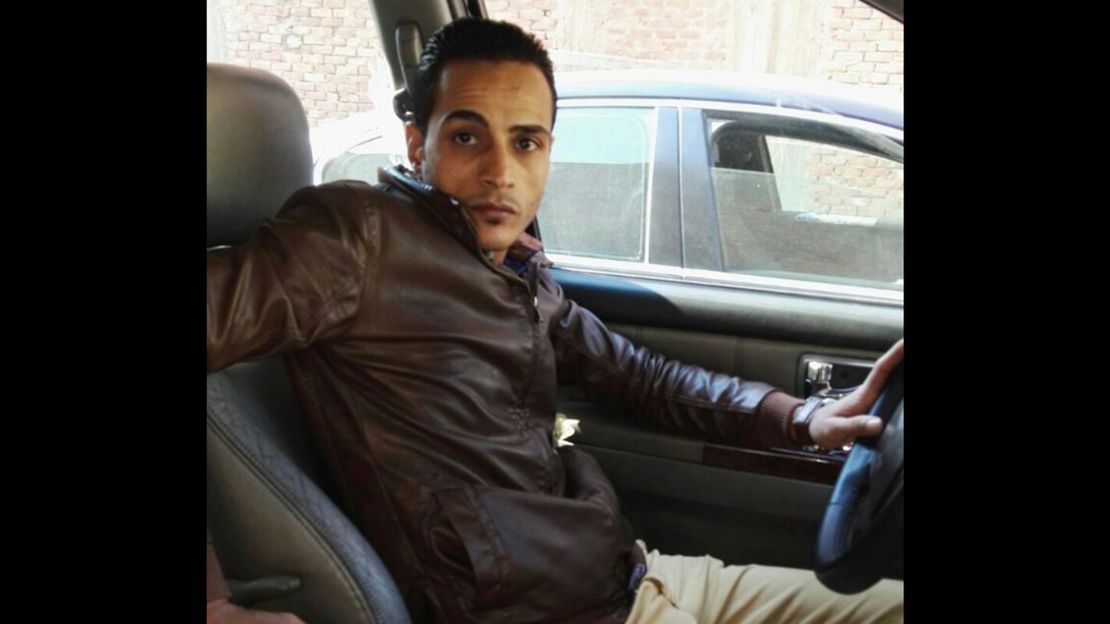 "I heard a noise that I couldn't understand. So I thought it was a network problem. I waited and heard my brother Saad saying, 'Yes, basha. Why are you upset, basha? Just tell me what you want. I swear to God, I'll do what you want, basha,'" she said.
"Basha" is customarily used to address people of higher status, especially the police.
Tarek never saw her husband, father or brother alive again. She thinks her brother answered the phone as they were being killed by Egyptian security forces.
"What I didn't realize then was that the noise I was hearing was the sound of my husband dying," Tarek said.
Salah Ali, Saad Tarek, Tarek Abdel Fattah and Mostafa Bakr – Rasha's husband, brother, father and family friend, respectively – were killed that morning, along with another man that the police didn't immediately identify.
It later turned out to be the driver of their vehicle, Ibrahim Farouk, according to his family.
Egypt's Interior Ministry said in an official statement that the men were outlaws, killed in a shootout with the police
Italian student mystery
The deaths might have attracted little attention outside the men's families, but officials quickly linked them to the killing of a young Italian man in Cairo two months earlier.
Giulio Regeni, a Cambridge University graduate student, disappeared in Cairo on January 25. His battered and bruised body was found in early February.
The incident would spark outrage in Italy, where officials question the various explanations Egypt has offered for young man's death.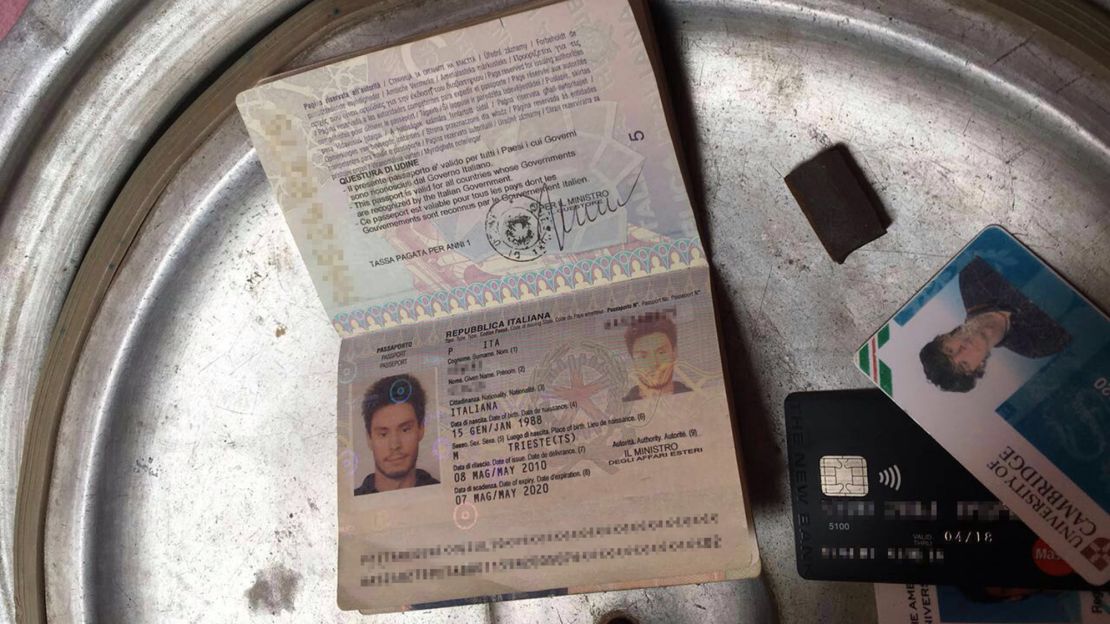 One official explanation involves the family of Rasha Tarek.
After the shooting of Tarek's husband and others, seven weeks after Regeni's death, authorities said the men were involved in the student's killing.
Police said they had extensive criminal records and specialized in kidnapping and mugging foreigners, impersonating policemen to do so.
Regeni's passport, credit card and university ID were found at the apartment of Rasha Tarek's aunt, Egyptian police said, along with a bundle of stolen wallets, sunglasses and phones in a red bag bearing the Italian flag. The bag also contained fake police IDs, officials said.
Tarek and other relatives of the dead men contend they had nothing to do with Regeni's disappearance. She says she believes authorities planted Regeni's passport at her aunt's home.
And she found the claims of kidnapping foreigners absurd: Her father and brother couldn't read or write, much less speak another language to communicate with foreigners, she said.
How did Giulio Regeni die?
Regeni, 28, had gone to Cairo to conduct research on Egyptian trade unions for his doctorate at Cambridge, according to friends and colleagues.
He disappeared while en route to a birthday party on January 25, the fifth anniversary of the start of the uprising that ended the reign of President Hosni Mubarak.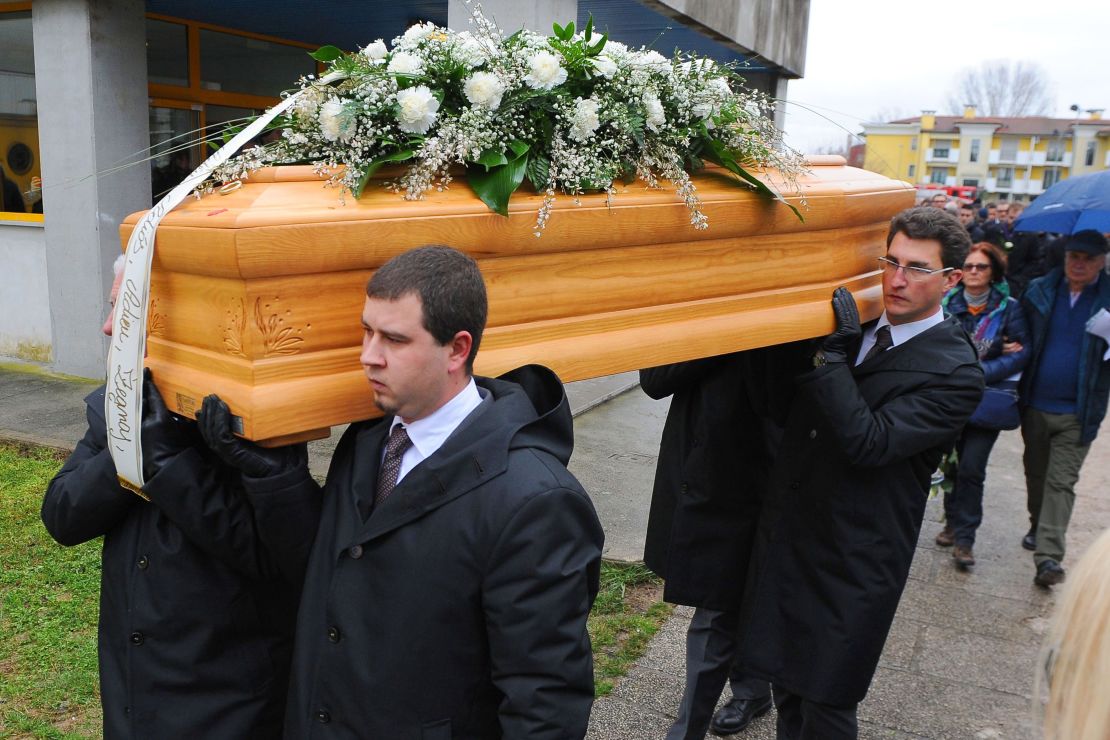 Police were deployed by the thousands to the streets that day to prevent any demonstrations.
Regeni's body was found nine days later on the western outskirts of the capital, with the corpse bearing signs of "inhumane, animal-like violence," according to the Italian interior minister.
There is currently no official Egyptian statement about the cause of Regeni's death. But over time, authorities and local media have presented several different scenarios.
The day Regeni's body was found, the police official who now leads the investigation said it was a car accident.
The first prosecutor assigned to the case rejected that explanation immediately.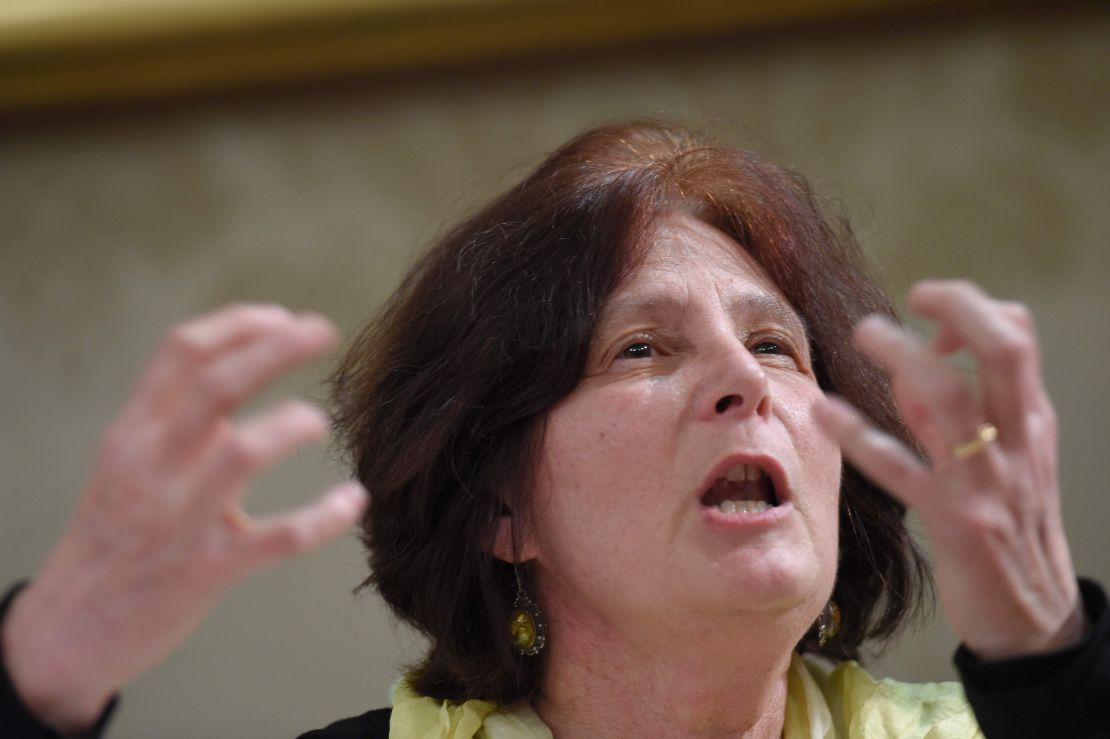 Journalists and other observers questioned whether Egyptian security was involved.
But Egyptian Interior Minister Magdy Abdel-Ghaffar said Regeni was never detained by the police.
Later, the independent daily Al-Wafd quoted an unnamed security source claiming the Italian was a spy working for the UK.
His family rejects that, denying that Regeni ever worked with or for any intelligence agency.
Shootout, or something else?
Rasha Tarek concedes that her husband, father and family friend had criminal records.
That made them easy targets for the police, she believes.
They had been convicted of impersonating a police official, she admits, but says that is because they found a wallet containing a police ID. She says they never used it, but were charged with the crime when police caught them with it at a checkpoint. Her husband and the family friend, Bakr, also had drug possession convictions, she said.
And regardless of their pasts, they did not deserve their fate, Tarek said.
"Even if they broke into a checkpoint and did something wrong, who gave you the right to execute them this way?" she asked. "Their entire bodies looked as if they were used for shooting practice."
The Interior Ministry said the men were killed in a shootout as they fired at the police at a checkpoint in El-Tagamou El-Khames, the eastern suburb of Cairo dotted with villas and gated compounds.
Local media published what they said were pictures of the dead men and the vehicle. One shows two bloodied men seated inside a microbus with a pool of blood on the seats.
Another shows the vehicle's bullet-riddled windshield.
But no photos have been released showing the weapons used or the damage to police vehicles described in official statements.
Tarek's family said their kin were not armed.
Murky details, grisly deaths
One high-ranking government official who spoke to CNN suggested there might not have been a shootout per se.
But, the official said, they probably "didn't stop and drew their weapon(s). Police don't have to wait for the criminals to shoot. They have to act and shoot at them. Whoever shoots first will kill the other."