Story highlights
Eubank Jr. wins British Middleweight title
Opponent Nick Blackwell in coma for a week
Father Chris Eubank Sr. put boxer in coma
Michael Watson left disabled after 1991 bout
The left side of his head was unrecognizably distorted. His eye sealed shut beneath a forehead bulging and disfigured after 10 rounds of brutal combat.
Standing on the other side of the ring was the victor, Chris Eubank Jr., who had just won the British middleweight title. Except any sense of triumph was quickly evaporating as it dawned on him just how much damage he'd done to opponent Nick Blackwell's eye-wateringly swollen head.
"I'm celebrating. And then I turn around and Nick's on the floor with an oxygen mask on his face and paramedics all around him," says Eubank, reliving the fight that put Blackwell in a coma last month.
"It was a shock, you don't expect that. As a fighter, even if it's tough you don't expect somebody to go to hospital afterward."
That night, as 26-year-old Eubank held his shimmering belt aloft for the cameras, he noticed that the white tape around his wrists had turned red with Blackwell's blood.
Blackwell was taken to hospital with bleeding on the brain and put into an induced coma – he regained consciousness seven days later. The 25-year-old is now "getting better day by day," according to a post on his brother's Facebook page.
But he will never fight again, announcing his retirement from the sport this week.
Watching the drama unfold ringside was Eubank's father and coach, Chris Eubank Sr., who 25 years earlier had also been in a fight which landed his opponent in a coma.
That fight for the 1991 WBO super middleweight title put Michael Watson in a coma for 40 days, and left him disabled for life.
Today, Watson is blind in one eye and needs a full-time carer. Though neurosurgeons say it's something of a miracle he's alive at all.
While Eubank Sr. has always said the Watson fight made him lose his killer instinct, almost a quarter of a century later it appears to have had the opposite effect on his son.
"I'm going to be even more relentless," says the younger Eubank after his encounter with Blackwell.
He describes the feeling of being in the ring, how even in an arena packed with 20,000 roaring spectators all he can see and hear is the man in front of him.
"I call it beast mode," Eubank Jr. explains. "And that zone will be intensified 10-fold from now on because I can see what can really happen to you in boxing.
"This isn't something in a movie or a book. This is something I've been in – a fight with a man who's been in a coma.
"So I know it can happen to anybody at any time. And I don't want it to happen to me. So I have to improve. I have to be the best I can be."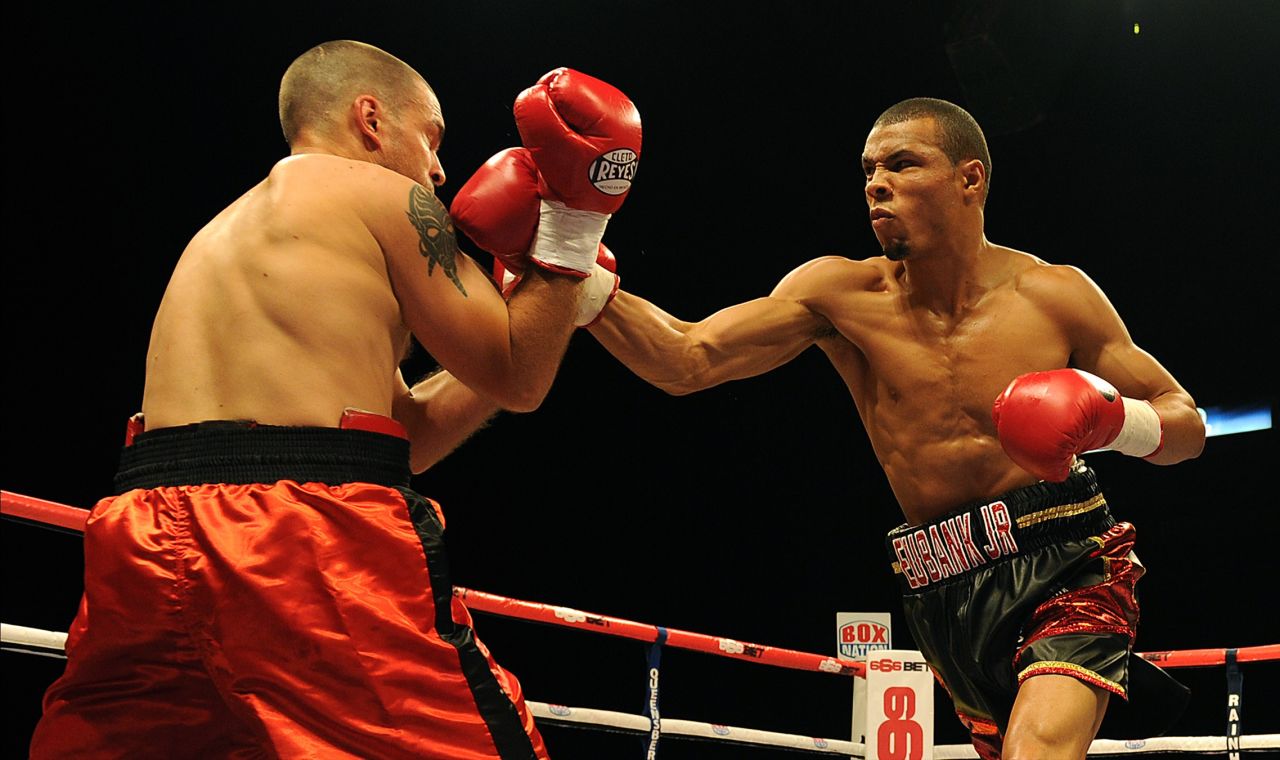 The father-son boxing duo mixing 'manners' with 'beast mode'
In the fight against Blackwell, it was Eubank Sr. who apparently saw the warning signs even before the referee, and told his son to start aiming for the torso rather than the young man's head.
The elder Eubank says his experience with Watson two decades earlier is "a scar within me" that has given him the insight to know when to hold back.
"This scar is what gives me the ability to steer this uncontrollable energy," he says sagely, gesturing at Jr.
"His spirit wants to gallop, and I am staying on the back of him and I'm trying to steer him."
Indeed, dressed in a pinstripe suit jacket, jodhpur-style jeans, and luminous pointed leather boots, Eubank Sr. appears to be the most fashionable jockey in town.
The 49-year-old's flamboyant style – often pictured with a gentleman's cane, behind the wheel of a monster truck, or wearing a fake monocle on reality TV show "I'm a Celebrity…Get Me Out of Here!" – have made him a British household name far beyond the boxing ring.
When asked a question, Eubank Sr. has a tendency to recite poetry, the words flowing out of him like a preacher at his lectern.
"I AM the great pretender" booms the elder Eubank when asked where he got his eye-catching boots from. "Nothing is original. So STEAL. Steal architecture, street signs, trees, clouds….Because originality is non-existent."
Eubank Sr. requests that I call him by his nickname: English. Why English? "Because I ADORE England," he says with a wide smile. "I'm a patriot to the core," adds the man who was born in south London to Jamaican parents.
Above all, Eubank Sr. wants to be seen as "a man with manners," he says. "My achievements should be secondary to that."
"Manners first, good conduct, respecting the community at large – these are all principles that boxing teaches."
Yet when asked if he would allow his 22-year-old daughter Emily to also take up professional boxing, the tide of words momentarily dries up.
"What goes along with masculinity is: fortitude, the act of aggression, to be fierce," Eubank Sr. says after a pause.
"So even though times may have changed, and the female has the right to box, the conditioning I've been subjected to is just a little bit difficult…" he says, appearing at pains to pull his argument together.
"I need a little bit more time to give it a chance for the female, who is effeminate, to act in a masculine way," he says finally.
Until recently, Eubank Sr. was determined to keep boxing out of the family home.
Growing up in Brighton, in the south of England, Eubank Jr. was banned from even seeing his world champion father competing. It was only as a 12-year-old at a friend's sleepover that he happened to find a VHS with his dad on the cover – and for the first time saw Sr. in the ring.
"I thought, 'well if he can do it – I can do it,'" says the younger Eubank.
Today, one of the things Eubank Jr. loves most about boxing is the heightened level of respect he gains.
"It's a different type of respect that you earn from being a great fighter," he says. "That type of competition is the purest form of competing, in my eyes.
"Anyone who steps into that ring and puts it all on the line, deserves respect. And I'm no different."
While Eubank Sr. describes boxers as "artists," recalls the "intoxication of the heat of battle," and recites the "Warrior's Code," Junior is less romantic about his chosen profession.
"Boxing is about scoring points. It's about out-gaming, out-thinking. It's not about causing long-term damage," he says.
"Yes, you want to get the man out of the ring on the night. But after that you want the man to go home – and nine times out of 10 they do."
For Nick Blackwell, the journey home will take a little longer.
READ MORE: Transgender boxing promoter Kellie Maloney opens up