Editor's Note: Former Secretary of State Hillary Clinton is a candidate for the Democratic nomination for president. The opinions expressed in this commentary are hers.
Story highlights
Clinton says women and their families are being crushed by the justice system
The system costs far too much in money and in lives derailed without making us safer, she says
Since 1991, the number of children with a mother in prison has more than doubled
When Tanya was 20, she made a new friend on the basketball court. For two months, they rode his motorcycle all over town, just hanging out. Then one day, he told her he needed to pick something up from his sister. He actually went and robbed a house. When the police caught up with them, Tanya was arrested. She was sentenced to 12 years in prison for a robbery she didn't commit.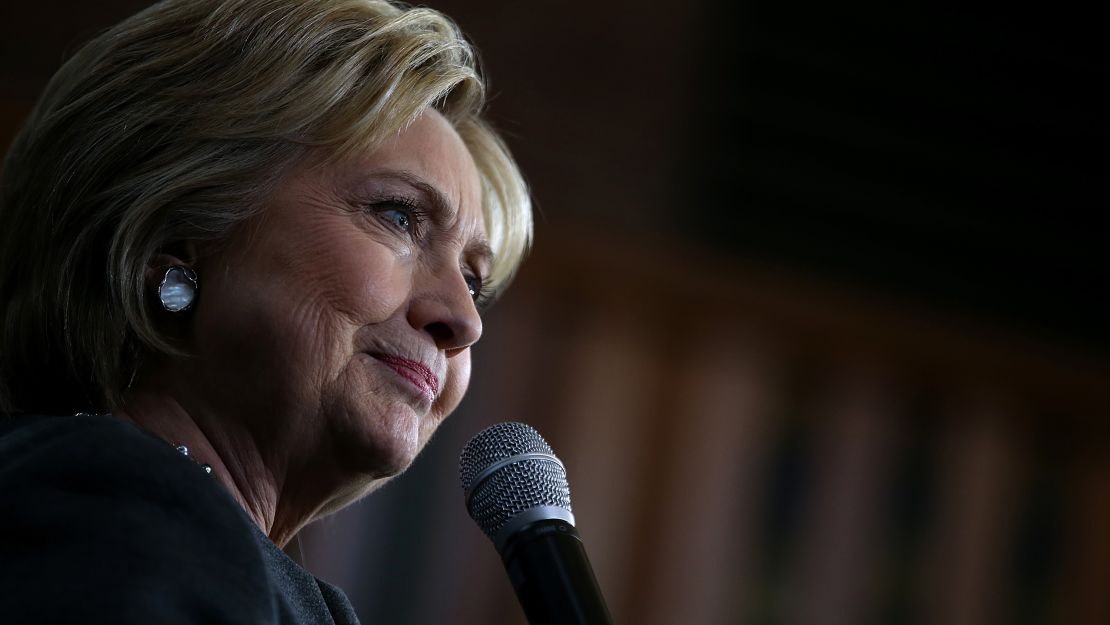 Alice grew up in a home scarred by domestic violence, though at the time she didn't know that's what it was called. She got pregnant at 15, and wound up in an abusive relationship herself. She ran afoul of the law and when she went to prison, her daughters were 10 and 2 years old. For 17 years, she missed every birthday, every graduation, while her children moved from family member to family member.
Mass incarceration has torn families apart, impoverished communities, and kept too many Americans from living up to their God-given potential. But mass incarceration's impact on women and their families has been particularly acute — and it doesn't get the attention it deserves. I learned about Alice and Tanya's experiences through a nonprofit organization that works with women in the justice system. (Both women's names have been changed to protect their privacy.)
The United States' prison and jail population includes 215,000 women — nearly one-third of all female prisoners worldwide, and 800% more women than were in prison four decades ago. African-American women are more than twice as likely to be in prison than white women.
But women aren't the only ones affected when they are sent to prison. The high number of women in prison — and the long lengths of their sentences — destabilizes families and communities, especially their children. Since 1991, the number of children with a mother in prison has more than doubled. Mothers in prison are five times more likely than fathers in prison to have to put their children in foster care while they serve their sentences.
Time for reform
We can't go on like this. It is time we reform our broken criminal justice system. First, we need to reform policing practices, end racial profiling, and eradicate racial disparities in sentencing. Second, we need to promote alternatives to incarceration, particularly for nonviolent and first-time offenders, so families aren't broken up. We need to improve access to high-quality treatment for substance abuse, inside and outside the prison system, because drug and alcohol addiction is a disease, not a crime — and we need to treat it as such.
And third, we need to be deliberate about understanding the different paths that can land women in prison, be more attentive to women's unique needs while they are incarcerated, and do more to support women and their families once they are released. I will institute gender-responsive policies in the federal prison system and encourage states to do the same—because women follow different paths to crime than men, and face different risks and challenges both inside and outside the prison walls, and every part of the justice system, from sentencing to the conditions of confinement to re-entry services, should reflect women's unique needs.
Research shows that women's relationships, like Tanya's friendship with the man from the basketball court, are often a significant risk factor for becoming involved with the justice system. Most women in prison are there because of nonviolent drug or property crimes. Over 60% of them report drug dependence or abuse in the year before they went to prison. Many of them grew up in abusive households, like Alice, and they are more likely than men in prison to have experienced sexual abuse or trauma in their life before prison.
And too often, a woman and her children continue to live with the consequences even after she has served her time and paid her debt to society. Because formerly incarcerated people face limited job opportunities, an entire family is effectively punished by a woman's time in prison.
"Banning the box" – preventing an employer from asking about criminal history at the initial application stage, so that individuals have a chance to compete for jobs on a fair basis — is a necessary and important step, but it isn't enough. In addition to job training and interview coaching, women returning to their communities after years behind bars need safe housing for themselves and their children, continuity of health care, and above all a supportive community.
Rebuilding their lives
Both Tanya and Alice have been released and are rebuilding their lives. It's not easy. Tanya spent all of her 20s in prison, and knows that growing up behind bars takes different skills than making it in the real world. But she's smart and committed, earned her associate's degree on the inside and is now working toward a B.A. Alice's kids are all grown up —her older daughter works in the corrections system herself, and she's looking forward to seeing her younger daughter graduate from college this spring, the first rite of passage she'll get to see in person. Things are going well. But together, Alice and Tanya spent nearly 30 years behind bars.
Women and the families they support are being crushed by a criminal justice system that costs far too much — in state and federal budgets, and in lives derailed and economic opportunity lost — without making us safer. Too often, people are prejudiced against the formerly incarcerated — in employment, in housing, in everyday interactions.
We say we are a nation of second chances — and it's time that we act like it.
Join us on Facebook.com/CNNOpinion.
Read CNNOpinion's Flipboard magazine.
Former Secretary of State Hillary Clinton is a candidate for the Democratic nomination for president. The opinions expressed in this commentary are hers.